Anyone fond of recording audio might be aware of the value of reliable audio recorders. If you are a budding artist, you must have a clue of its importance. It creates extraordinary podcasts and records different music tracks that play through your PC. You will find many free and paid ones. If you are a Mac user, then it becomes a daunting task to choose reliable software because there are only a few audio recording software for Mac. However, there are still some applications and software that could be used and installed in Mac for recording purposes. In this guide, we have listed the 11 best audio recorders for your Mac computer.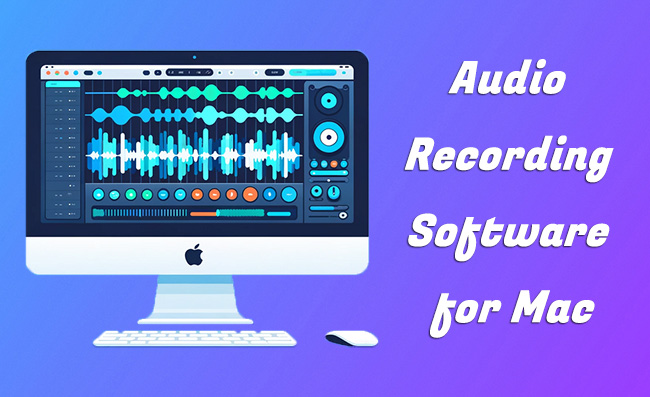 1. Joyoshare VidiKit
Because of its high-quality video and audio capturing feature, Joyoshare VidiKit - Screen Recorder is counted among the best Mac audio recording software. You can record the entire or the half screen, or any specific area on your screen. You get a wide variety of options to add watermark, schedule recordings, and a lot more. This application is compatible with Mac and contains all the advanced tools necessary for screen and audio recording.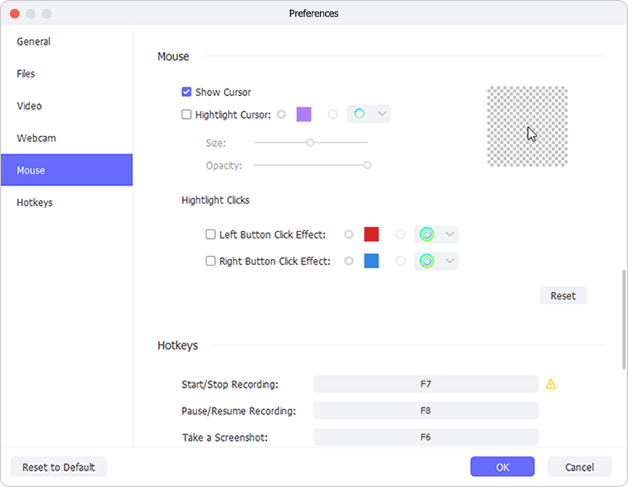 Pros:
Simple but intuitive layout
Easiest of all the tools to save recordings and take screenshots
Best tool to record streaming audio, Discord audio, computer audio and more
Record the video with external and system sound
Cons:
The free trial leaves watermark
2. GarageBand
In 2004, Apple launched the entry-level application GarageBand for iPhone users. GarageBand is the best Mac audio recorder software because it overrides the features of other recorders on Mac. It has an intuitive interface and contains different built-in audio filters that help you to add effects to your recorded audio. However, it has some specific pros and cons. So, let's have a look below.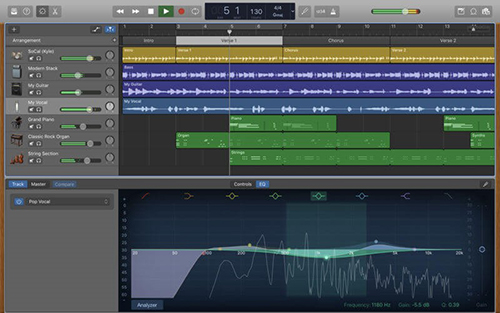 Pros:
By default in Mac
Built-in audio filters and editing features
Built for professionals
Cons:
Not a good pick for fast recording
Lack some editing capacity
3. Audio Hijack
With Audio Hijack, you can record whatever you hear. As an audio recorder for Mac, it records the audio easily from microphones and input devices. It allows you to record the audio from different applications. It supports the following formats to save the audio such as AAC files, MP3, AIFF formats. You can even record the whole audio that you hear on your Mac.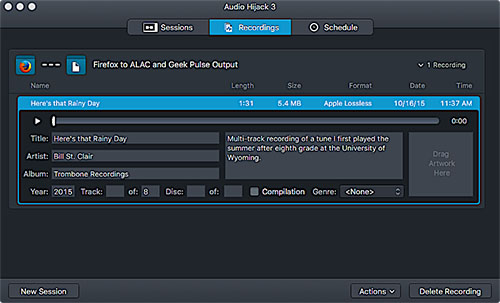 Pros:
Simple and intuitive interface
It consists of built-in filters for sound effects
Cons:
Recording procedures may complicate you
4. Adobe Audition
Being a multipurpose software, you will find it is the best audio recorder on mac. You can record, edit, create audio, as it has the best features. You can think of picking it for your audio recording and editing needs. The key features of Adobe Audition are high-end recording, production of best quality sound, clean UI, and many other things. This tool is powered by Artificial intelligence, hence making the recording an effortless task for you.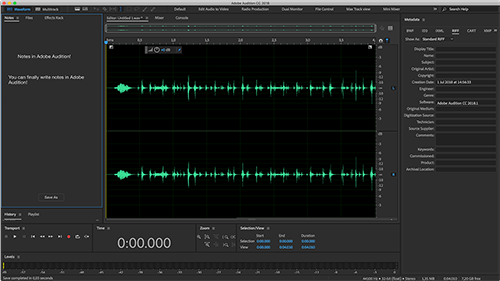 Pros:
Consist of some special effects
Allow the import and export of various audio formats
Cons:
You may find it a hassle to do a lot of settings
5. Apowersoft Free Online Audio Recorder
Well, due to its easy layout and features it is loved by both beginners and professionals. Apowersoft Free Online Audio Recorder is a free audio recording tool for Mac. It supports a few formats like OCG, WAV, AAC, and more. It works seamlessly well when it comes to recording high-quality audio and allows you to record the audio for up to 3 minutes. By default, your recorded audio will be saved in MP3 format only.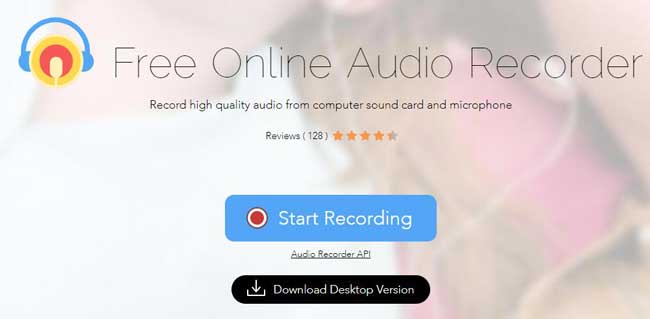 Pros:
Allow you to monitor and evaluate your screen in real-time
It is lightweight and has a user-friendly layout
Cons:
Crash on mac
Free version has limited functionality
6. WavePad
WavePad is another audio recorder for Mac that you can consider using. It is filled with a lot of professional audio recording features. No matter, if you want to record at a sound studio or your home, its key features will deliver high-quality audio recording. You are free to use any of the effects like echo, amplification, and many other in-built features to edit the audio. It has a tremendous basket containing various characteristics to take your recording to the next level.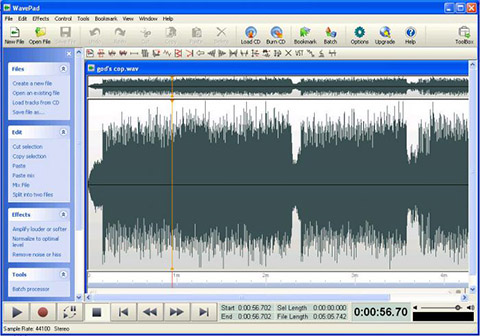 Pros:
Save a huge amount of time with its recording features
Remove noise while recording
Cons:
Allow you to work with a single music/audio track
7. Logic Pro X
It is a full-fledged and best audio recording software for Mac. It consists of a basket of features for editing your audio. The features of this application are quite complex. It has a famous plugin named "Drum Synth" which produces snare, toms, and cymbals.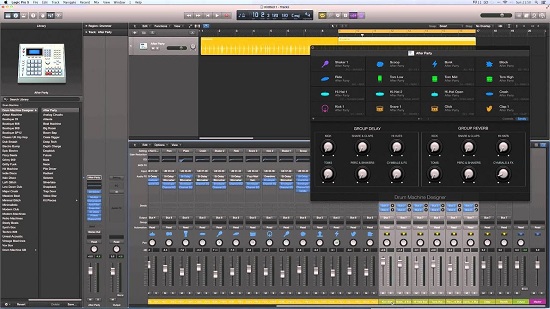 Pros:
Allow compression
Allow audio editing (cutting and clipping) whenever required
It works smoothly
Cons:
It may be complex and confusing for a newbie
You need to rely on the "help bar"
8. RecordPad Sound Recorder
RecordPad Sound Recorder is an easy-to-use audio recorder on mac. Due to its simplicity and adaptable interface, it is loved by many people. Both beginners and professionals can use this tool for adjusting sounds. You can find many features that can help you in enhancing your recorded audio. You can also record any sort of sound, audio, voice, or music.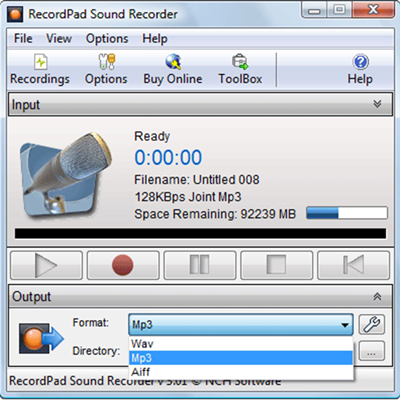 Pros:
Allow sharing the files via email
It has a clean interface
Allow burning the recorded audio to CD-ROM
Cons:
Fall short on compatibility issues with various formats
9. Reaper
Due to its easy-to-customize feature, it serves as the best audio recording software for mac. The layout and interface of this application are easy to use, and it can become a famous recording software soon. It remains updated, and with each update, you will find modifications in features. The new updated version supports retina-ready graphics.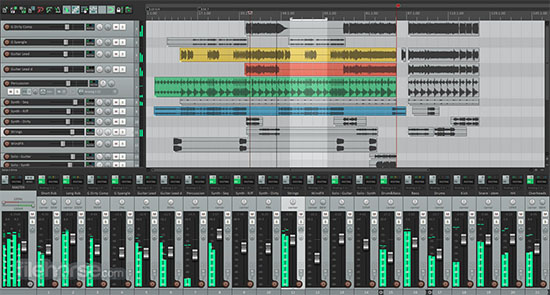 Pros:
Pocket-friendly software for audio recording
You won't face system lag issues
This software is light-weighted
Cons:
The layout and the looks of the software can make you feel uninviting
10. Ardour
Because of its high-quality features, Ardour is counted among the best digital workstation. It is compatible with Mac and is also counted as the best audio recording software for Mac. It can turn the recorded audio into the formats you want like it can save the audio effortlessly to CD. No matter, you are a beginner or professional, it will work as an ideal solution.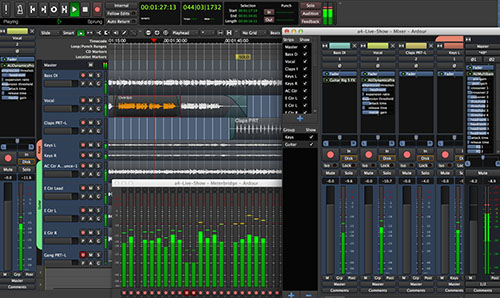 Pros:
Open-source and easy-to-use recording software
Enjoy the drag and drop functionality of this application
Perform multi-track recording
Cons:
Less extensive features
Difficult or maybe complex for new users
11. MuLab 8
MuLab 8 is the best free audio recording software for Mac. The free version of this software provides you with many editing and recording features. This software was released by MUtools and it makes the recording and audio capturing quite easy. You can use it at the time when your system speed is slow or it is lagging.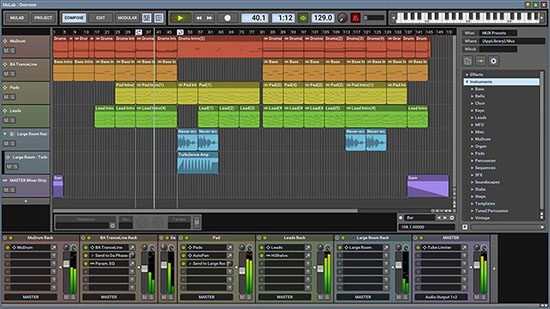 Pros:
An easy interface that gives you the freedom to access all the features
Allow third-party plugins
Different features for your audio recording and editing
Cons:
Cannot export multiple projects
Cannot support multiple processing units
Conclusion
The final thoughts are that you should never compromise on quality. There are several tools compatible with Mac when it comes to the audio recording. However, you must not hesitate to choose the best for yourself. You should take time to study the key features of each software to choose the best for your work. Well, the audio recording software mentioned above is the best for both professionals and newbies. You can try Joyoshare VidiKit. It has all the qualities that everyone wants in the audio recording software for Mac.