Technology advancement has made the world that we live in a true global village. With your iPhone, you cannot only communicate with people across the world but you can also access the internet and do more than communicate with others. What's even more interesting is that with the voice control feature everyone can use their iPhone even those individuals with limited skills and those with medical conditions that limits their ability to hold gadgets.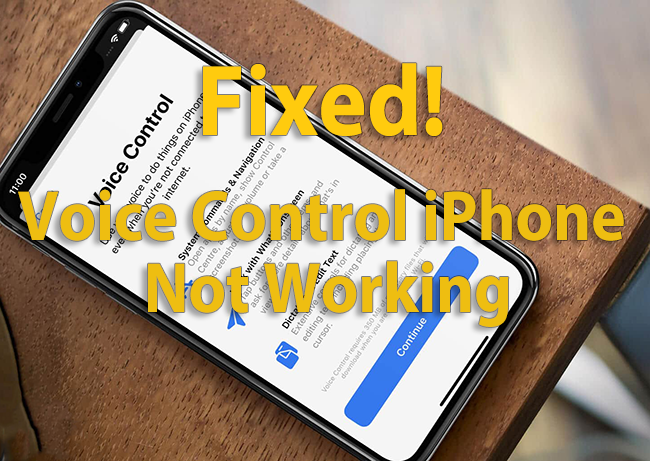 However, if you depend on this feature, you are likely to get frustrated if it stops working suddenly. This has been the case with many iPhone users in the recent past. Should your iPhone's voice control feature stop working then below are some of the ways you can restore it. There are several methods you can use to resolve any problem with the voice control feature on the iPhone. Some of the methods you should consider using if the voice control on your iPhone stops working include the following:
Tip 1. Switch on Voice Control
If the voice control suddenly stops working on your iPhone chances are it has been deactivated. Instead of panicking, the first step to take is to check and confirm that indeed the feature is switched off and turn it on. To do this simply follow these steps:
Step 1. Open the settings window on your iPhone.
Step 2. Find and hit the "Accessibility" icon to open the window.
Step 3. In the accessibility window find the "Voice Control" icon and click on it. You should tell if it is turned on or off. If it is off make sure you turn it on before you quite the window.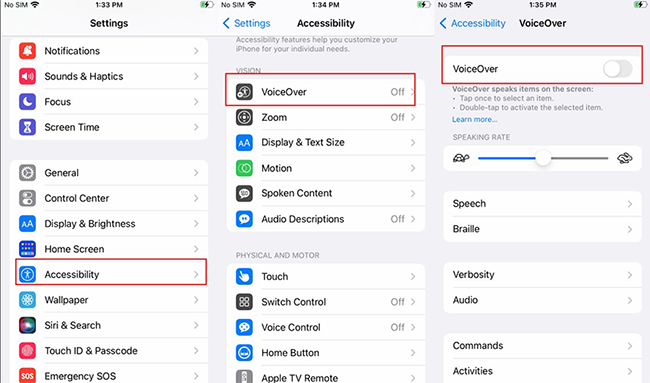 Tip 2. Update Your iPhone's iOS Version
The performance of iPhone features such as the voice control feature depends on the kind of iOS system that you have. This is because every feature is constantly being updated and sometimes an updated feature may not run on an old operating system. If your iPhone voice control stops working it is important to check the iOS version you have and if it is not the latest make sure that you update it as required. To update your iOS simply follow these steps:
Step 1. On your, iPhone open the settings window.
Step 2. Click the "General" icon.
Step 3. Select "Software Update" to commence the updating of your iOS software.
Step 4. To start the actual installation click the "Install Now" button on your screen. Wait until the update is complete for you to use your iPhone.
Step 5. Reset your Network and then check if the voice control is working. If not try switching it on and off and see if it works.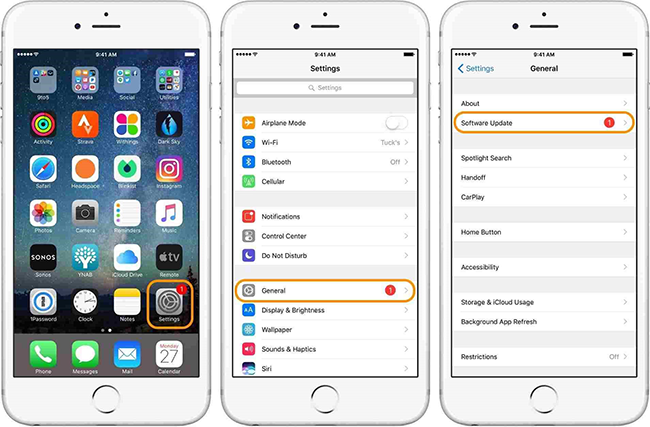 Tip 3. Restore Your iPhone in Recovery Mode
Sometimes the voice control may fail to work due to some software change on your iPhone. It, therefore, works if you restore your device to an earlier date. If you suspect that a software update or change might have been the main reason why your voice control is not working, then consider restoring your device in recovery mode. To do this, simply follow these steps:
Step 1. Confirm the MacOS system on your computer and the iTunes version you are using. It is always important to make sure that you are using the latest versions.
Step 2. Connect your iPhone to your Mac computer and then open iTunes on the computer.
Step 3. Put your iPhone into recovery mode.
Step 4. Search iTunes to find your iPhone and then opt to restore.
Step 5. Once the update is done restart your iPhone and then enable the voice control.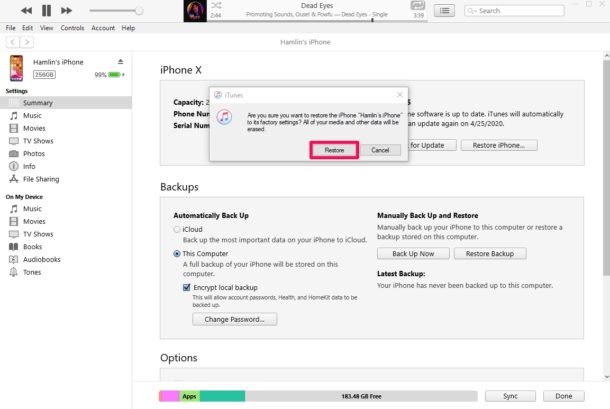 Tip 4. Use a Third-party Tool [Clean & Safe 100%]
If you want to make sure that the voice control feature is working on your device without any danger of losing your data during the process then the best solution is to use a third-party tool. One of the best tools to use to solve not just the voice control problem but also a host of other iPhone issues is the Joyoshare UltFix iOS System Recovery Tool. This is a powerful tool for recovery the iOS system. This makes it the perfect tool for solving any iOS problem with the loss of your data or causing damage to your iPhone.
To use the Joyoshare UltFix iOS recovery tool to solve the voice control not working problem follow these steps:
Step 1

Connect your iPhone and then Run Joyoshare UltFix

Connect your iPhone to a computer. Next, launch the program and then select the "Start" icon to start the process.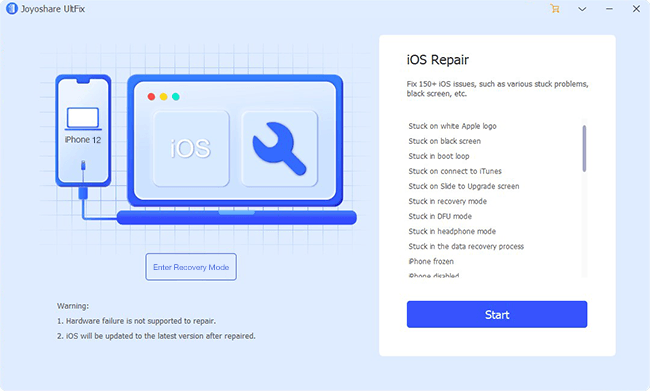 Step 2

Select the Right repair mode

If you don't want to lose your data make sure that you select the standard Mode as your preferred mode. However, if you want to erase everything from your iPhone then select the Advanced Mode.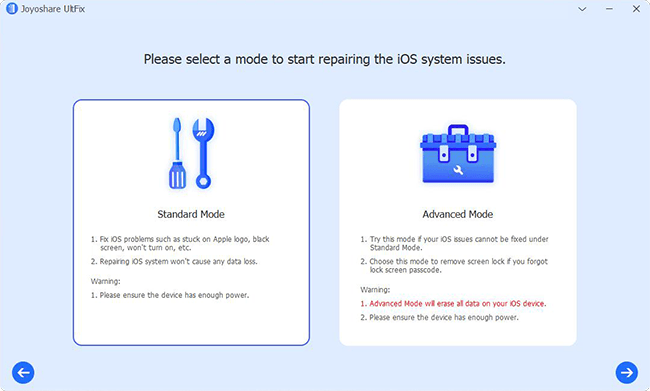 Step 3

Download firmware

Once you have selected your repair mode simply click the "Next" button and the program will start downloading the right firmware to use. Remember to confirm all your device information when prompted to.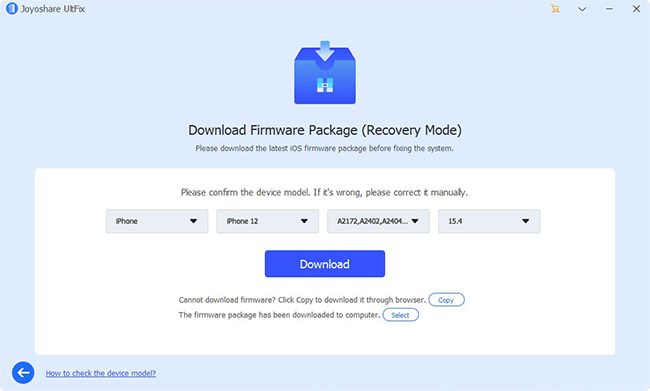 Step 4

Start the Repair process

Wait until the firmware is downloaded and confirmed. Once this is done select "Repair" to start the process of solving your Voice control problem. Once this is done restart your iPhone and check to see if the voice control is working.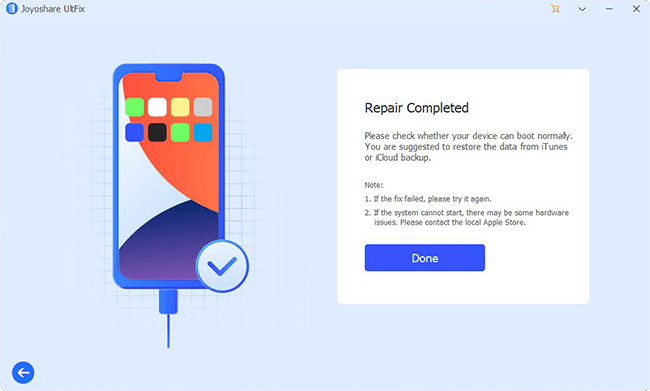 Tips to Avoid Voice Control iPhone Not Working Problems
To make sure that your voice control is working optimally at all times there are several things you can do. These include:
1. Keep an eye on your iOS system
Often voice control, not working problems come as a result of problems with your iOS. If your iOS system is outdated then many applications and features on your iPhone may not work properly. It is therefore important you make sure that you regularly check your iOS and update it often. This way your voice control feature will work optimally at all times.
2. Keep an eye on your Network Connectivity
Sometimes you may think that your voice control feature is not working when in reality your network connection is the problem. The iPhone voice control feature relies on the network connection to work. Make sure that you check on your network at all times.
3. Confirm the iPhone's Voice Control Limitation
The voice control feature has limitations delimiting the extent to which it can work. This usually depends on the iOS system on your iPhone and the iPhone version that you have. Checking these limitations will let you form realistic expectations from the feature.
Summary
iPhone voice control is an awesome feature that makes it easy to use your iPhone when your hands are too busy with other things. However, sometimes the feature may not work. There are some ways of solving the problem. The best method, however, is to use the Joyoshare UltFix iOS System Recovery tool. This tool will not only restore your voice control feature but will solve any other problem your iPhone may be having.