Q: "The thing is I followed a tutorial on how to reset an iPhone and it told me to set it in DFU mode, which I did. But now, the iPhone has been stuck on the Apple logo with the empty progression bar beneath it... I can't get it out of DFU mode either... What can I do? I just want to reset my phone anyway..." - from Apple Community
While jailbreaking your iPhone, resetting iOS devices, or downgrading to the former iOS version, you have to put your iPhone in DFU mode. Occasionally, your iPhone gets stuck into DFU mode and is unable to get rid of it even though you make many attempts. Before discussing the methods to fix iPhone stuck in DFU mode, let us have brief information about what DFU mode is and why it occurs on your iPhone. In addition, some questions that you may be concerned about DFU mode will be answered in this article.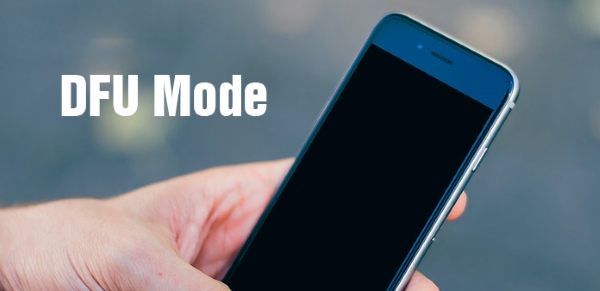 Part 1. Brief Introduction of DFU Mode
DFU mode, aka Device Firmware Update mode, is designed to bypass the iBoot bootloader when your iPhone meets severe software problems. So, you are allowed to directly downgrade your current firmware due to the absence of the iBoot agent. Also, DFU mode is used for the deepest restoration of your mobile phone because it has the potential to restore the problem on a permanent basis. When you enter DFU mode, your screen is completely black. Not so with recovery mode.
Functions of DFU mode:

Upgrade or downgrade iOS system
Remove a Beta version from iPhone
Jailbreak iOS devices
Restore iPhone or iPad
Part 2. FAQs about DFU Mode
Q1: Does DFU mode damage iPhone?
A: No, it does not damage your device. You can take advantage of DFU mode to troubleshoot your device problems. However, it is risky when you use it to jailbreak, because the device warranty will be invalid.
Q2: Could DFU mode fix jailbreak iPhone?
A: No, DFU mode is an essential step in jailbreaking, but it cannot be used to repair your jailbreak iPhone. Besides, Apple doesn't support repairing jailbroken iPhones under warranty, which means you need to find a third-party tool to fix your issue.
Q3: Can I use DFU mode on a hardware-damaged iPhone?
A: Theoretically, it works. However, I don't recommend you doing this because your iPhone will be unusable. Hence, a hardware-damaged iPhone would be better to be repaired in a physical Apple Store.
Q4: Will DFU mode erase my data?
A: If you only enter DFU mode, your data will not be deleted. But if you are using it to make other operations, such as restoring iPhone, it will erase your information.
Part 3. Reasons for iPhone Stuck in DFU Mode
Your iPhone can get stuck into DFU mode unintentionally for various reasons, and this can be concluded as a software issue or hardware problem. The former glitches like jailbreaking the device, updating software, etc. could be the root cause of the DFU mode sticking. If you have mishandled your device then there can be a hardware problem, such as getting wet, dropping it or other annoying scenarios, which may stick your iPhone in DFU mode.
Part 4. Video Tutorial to Exit DFU Mode
Without reading words, go straight to watch this video figuring out how to get out of stuck DFU mode. In this video tutorial, you could learn several solutions, including hard resetting, restoring iPhone, repairing the iOS system without losing data and so on. You could follow the tutorial step by step. Or, if you are willing to know more details after watching it, move on to the next part.
Part 5. How to Get iPhone Out of DFU Mode
Method 1: Exit DFU Mode Manually
When your iPhone is unresponsive, malfunctioning, or flashing, you may acquire DFU mode as an aid. What if your iPhone is stuck in DFU mode making your iPhone unworkable? Calm down and be patient, you may exit DFU mode in the wrong way. Try again to follow the correct steps below.
iPhone 8 and later:

Step 1: Quickly press and release the Volume Up button, and quickly press and release the Volume Down button.
Step 2: Keep holding the Power button and release it until the Apple logo shows on the screen.

iPhone 7 and 7 Plus:

Step 1: Hold the Volume Down button and the Power button at the same time for around 10 seconds.
Step 2: Release both of them when the Apple logo appears on the screen.

iPhone 6s and earlier:

Step 1: Simultaneously hold the Home button and the Power button.
Step 2: Release them when you see the Apple logo on the screen.
Note: If you accidentally switch into recovery mode due to wrong operation, then, exit the recovery mode by hand or using Joyoshare UltFix with one click.
Method 2: Repair iOS System via Joyoshare UltFix
If your iPhone is stuck in DFU mode black screen then you can fix it quickly without losing data just by using software for the recovery of the iOS system. Normally Joyoshare UltFix iOS System Recovery is one of the professionals for this purpose. Likewise, this software can also resolve the issues of iPhone stuck in recovery mode, white screen and iPhone boot loops etc. There is no need to jailbreak your iPhone to downgrade your iOS version with Joyoshare UltFix. It also allows you to enter or exit recovery mode with only one click for free.
Key Features of Joyoshare UltFix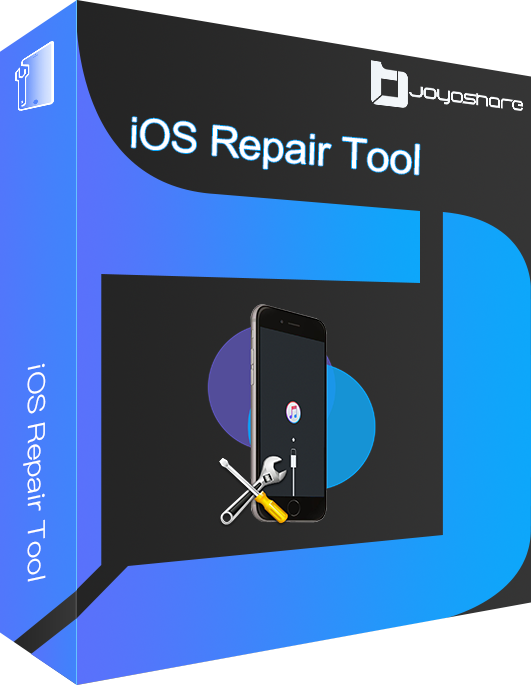 Fix iPhone stuck in DFU mode with no data loss
Upgrade and downgrade iOS to the previous version
Free to enter/exit recovery mode with one-click
Compatible with the latest iOS and almost all the iPhone models
Step 1

Connect iPhone to Computer

First of all, connect your device to your computer and then download and install Joyoshare UltFix on the desktop. On the main interface, choose iOS System Repair.

Step 2

Enter Standard Repair Module

After previewing the possible problems, click the Start button and choose Standard Repair to repair the stuck-in DFU mode iPhone without data loss. Since your iPhone is stuck in DFU mode and if it can be detected without any problem, you will be guided to the next step.

Step 3

Select a Firmware Package to Download and Verify

It will prompt you to select a firmware package suitable for your iPhone model to download. After completing the download, it takes some time to get verification.

Step 4

Get Out of DFU Mode

The software may take a few minutes to repair your iPhone. You will get your iPhone in its original condition after completing the process.
Method 3: Force Restart iPhone
A force restart of the iPhone can be the most common solution and the easiest way to take your iPhone out from DFU mode. If there is indeed nothing wrong with your iPhone, force restart will be helpful. You can do it in a few easy steps.
iPhone 6 and former: simultaneously hold down the Wake/Sleep button along with the Home button for a few seconds, and release them when the logo of Apple appears on your screen.
iPhone 7 (Plus): simultaneously hold down the Power and Volume Down buttons until you see the Apple logo on the screen.
iPhone 8 and later: quick press and release the Volume Up button and then quickly press and release the Volume Down button. Keep holding the Power button till the Apple logo occurs.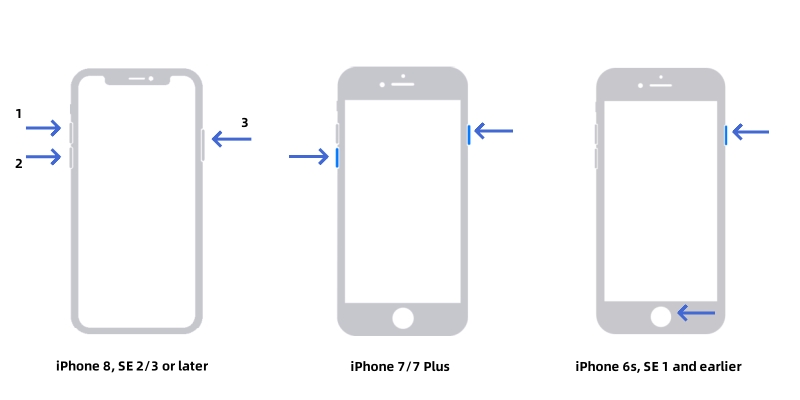 Method 4: Restore iPhone Using iTunes
You can use iTunes to recover your iPhone caught in DFU mode in factory settings, if you can afford to lose the entire data on it. Moreover, in case you want to downgrade iOS, you should be told that iPhone will be update to the latest iOS version after this progress. And the following is how to do it.
Step 1: Install the newest version of iTunes on your computer and attach your iPhone to it.
Step 2: Open iTunes and, because your iPhone have already in DFU mode, a pop-up will prompt you to restore your iPhone.
Step 3: Click the OK button, choose the Restore iPhone option and confirm your action.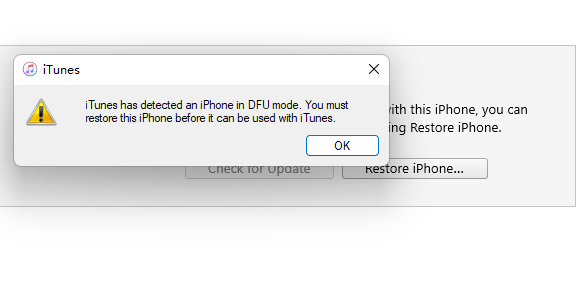 Method 5: Contact Apple Support
If you are unable to restore your iPhone trapped in DFU mode by using any of the above tips then there can be some problem with its hardware. So, it is better to find an authorized service provider of Apple or bring it to an Apple Store to fix the problem. You should have your Apple ID password ready along with all the accessories provided with it while taking your device to Apple Store to restore it.
Conclusion
Remember, the first and foremost thing you should suspect is that you did the incorrect exiting operation. Therefore, all tips for fixing iPhone stuck in DFU mode issue in this article are worth trying one by one until your problem is solved. One point you need to pay attention to is that, you may lose your important data when your iPhone is jammed in this DFU mode. But the Standard Repair mode offered by Joyoshare UltFix will preserve your data well. It is the optimal choice among all the solutions.