With over 2 billion users and over 600 million downloads in 2020, WhatsApp is arguably the number one most used chatting application globally. Even with its enhanced end-to-end encryption, many iPhone users have raised concerns on Apple's official developer forum about their WhatsApp notifications issues. This means that you cannot reply to text messages on time unless you keep opening your WhatsApp application, which can be very frustrating. On the platform, there is no one official cause or solution to the notification on WhatsApp not working problem. Therefore, we have taken the liberty to share some top tips on how to fix the problem.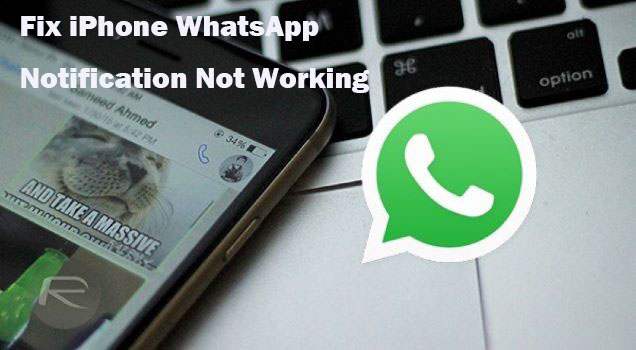 Why WhatsApp Notification Not Working?
There is no one particular reason why you are experiencing problems with your WhatsApp notification feature. Well, here are few common causes for the problem.
• Network connection failure/ unstable internet.
• Cellular data restrictions.
• WhatsApp caches.
• Wrong application preferences.
• Firmware problems.
How to Fix iPhone WhatsApp Notification Not Working?
Fix 1: Close WhatsApp
The first easy fix for the WhatsApp notification not working on iPhone problem is a simple WhatsApp application restart. The application may have developed a temporary error that may be causing the problem.
For iPhone 8 and earlier models:
• Unlock your iPhone and tap twice on the Home button to start the app switcher.
• Find the running WhatsApp application.
• Swipe up to stop the application from running in the background.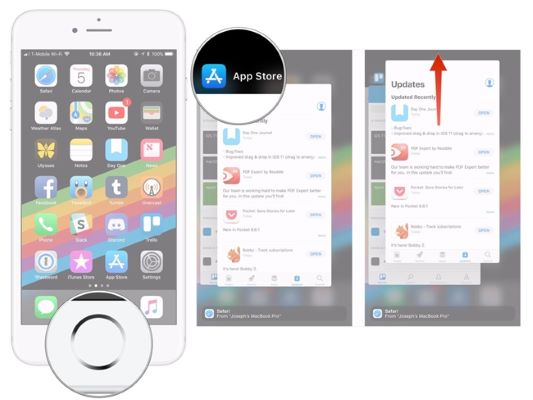 For iPhone X and later models:
• On your main screen, swipe from the bottom of the screen to the middle until the app switcher appears.
• Locate WhatsApp from the list.
• Swipe up the app to remove it from the app switcher.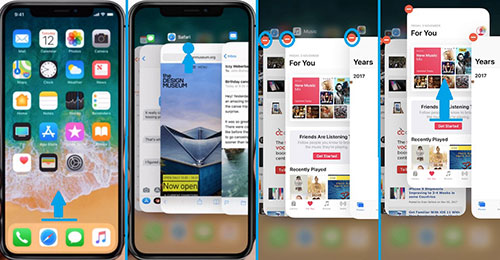 Fix 2: Restart Your iPhone
If the app restart does not work, you might as well consider restarting your iPhone to fix the WhatsApp notification not working iPhone issue. The notification problem could probably be resulting from a software glitch. The restart provides your fresh start and therefore eliminating any occurring glitches.
Step 1: Press and hold the either Volume button and the Side button for iPhone X and later models. For other models. Keep holding the Side/Top button until the power off slider occurs.
Step 2: Drag the slider to power off the device.
Step 3: Wait for minutes and then press the Side/Top button to turn iPhone back on again.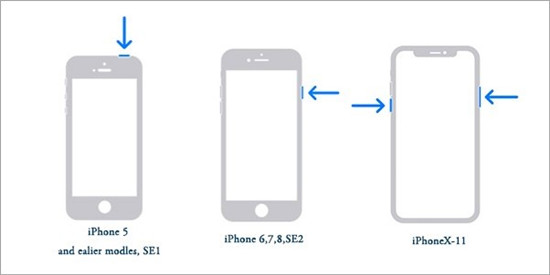 Fix 3: Disable Airplane Mode
To solve the iPhone WhatsApp notification not working error, you should check if the Airplane Mode feature is inactive. The Airplane mode function cuts off all wireless communication to your iPhone, including cellular data. Just go to Settings > Airplane Mode and then toggle off the button to ensure it is off. Or you can do this from Control Center.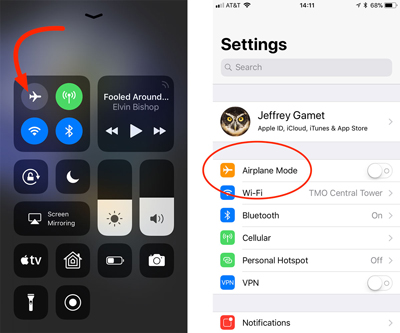 Fix 4: Check Internet Connection
If your internet connection is weak or unstable, you will most likely encounter the WhatsApp iPhone notification not working problem. Just tap Settings and check the status of the network of your iPhone.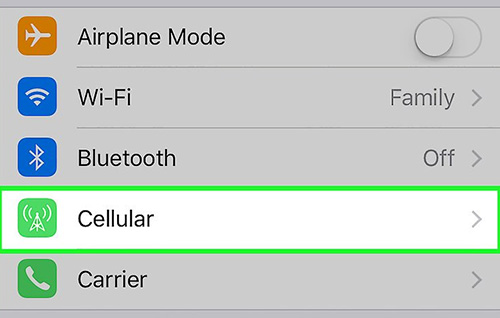 Fix 5: Enable WhatsApp Notification
Like most iOS devices, iPhone users have the freedom to customize their notifications and thus can select applications from which they want to receive notifications. If your WhatsApp app is blocked from relaying text message notifications, then you will experience an iPhone WhatsApp notification not working problem.
Just go to Settings > Notifications. Find and tap on WhatsApp and the Allow Notifications.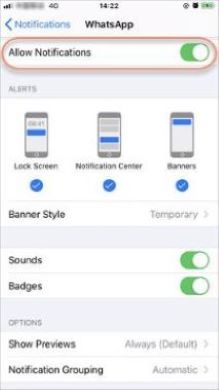 Fix 6: Turn off Do Not Disturb
The Do Not Disturb feature is used to cease all calls, message alerts, and notifications. So, if you unknowingly switch on the feature, you will not receive WhatsApp notifications on your iPhone. You need to disable the feature.
Go to Settings > Do Not Disturb. Tap on the button to disable it. Additionally, from the Control Center, you can turn off the feature quickly.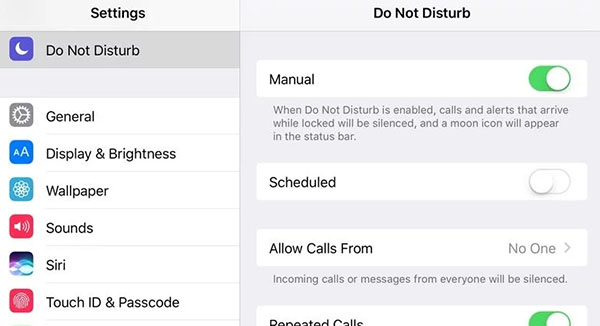 Fix 7: Clear WhatsApp Caches
You might not be aware of this, but your WhatsApp application may have built up a lot of caches over time, making it difficult for the application to run properly. Eventually, you encounter the iPhone WhatsApp notification not working issue. To fix this eventuality, you need to free up or clear WhatsApp caches. Tap Settings > Apps > WhatsApp > App Info > Storage and Caches > Clear Caches.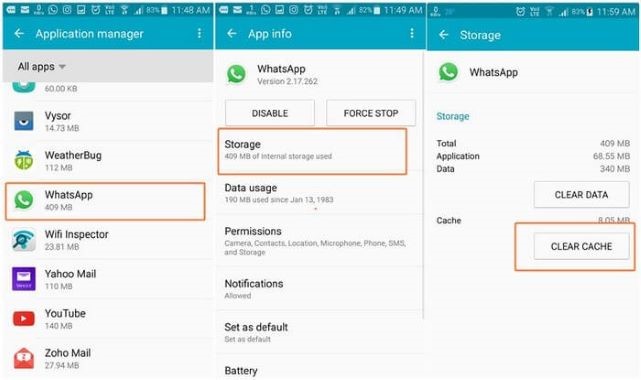 Fix 8: Log out from WhatsApp Web
If you have logged in to your WhatsApp account on multiple devices, you may be getting notifications on another device and not on your iPhone. You should therefore log out of your WhatsApp account on other devices. Remember, the WhatsApp application has no Sign Out option - which is unlike most social media account. It would help if you deleted the application from your other device.
Fix 9: Reset All Settings
Resetting all settings is also an excellent fix for the WhatsApp notification tone not working problem. This will not roll back all your customized Setting to factory settings. This is how you do it.
Go to Settings > General > Reset > Reset All Settings. Then, verify the process by entering your passcode.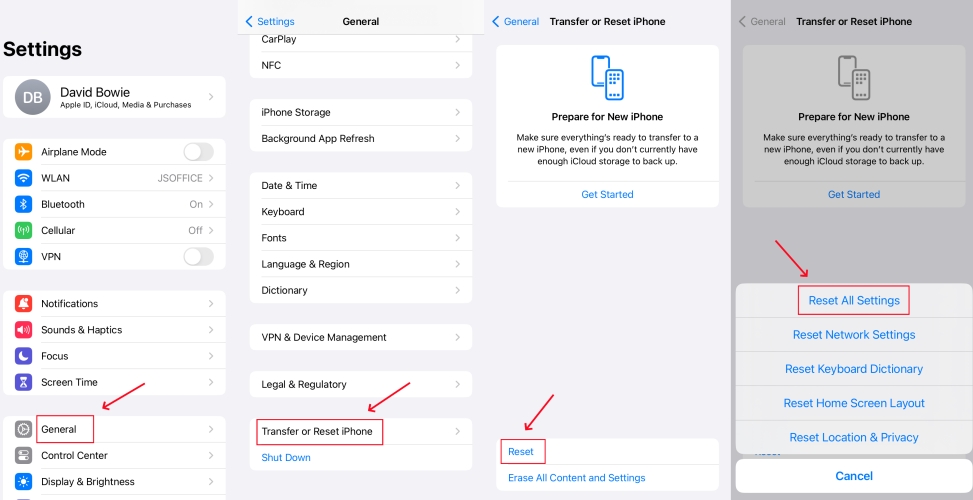 Fix 10: Try Joyoshare UltFix
If your WhatsApp is still not working, then it is highly probable that your iPhone may have developed a severe iOS bug that requires immediate attention. In such an instance, you will need third-party software to help you resolve the problem. We highly recommend the Joyoshare UltFix software.
It is a top-class iOS recovery tool designed to fix over 50 possible iOS issues with zero data loss. It helps fix problems such as recovery mode, black screen, boot loop, iPhone WhatsApp notification not working, to mention a few. Besides being easy to use, Joyoshare UltFix is compatible will all iOS software versions and is available for both Windows and Mac users.
Key Features of Joyoshare iOS System Recovery: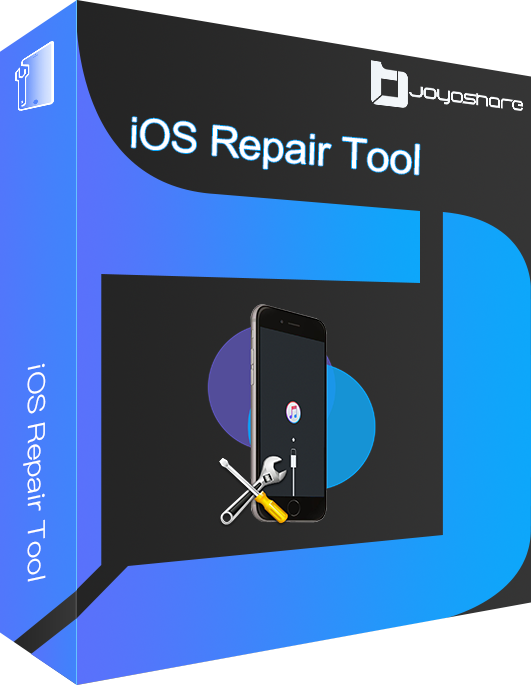 Compatible with all iOS devices
Uniquely designed with dual repair mode
Zero data loss to guarantee maximum data protection
It can repair 30+ possible iOS problems
Free exit or get into recovery mode quickly
Step 1

Launch Joyoshare and connect iPhone

Launch Joyoshare on your PC. Using a USB cable, connect your iPhone to the computer. Click the Start button to proceed to the next step.

Step 2

Select repair mode

Two repair modes will show on your screen. Select Standard Mode- it guarantees 100% data safety. Avoid using the Advanced Mode; it will only lead to data loss unless you make a recent backup. Then, click Next.

Step 3

Download firmware

Now, download the firmware package. Check device info and then tap Download to initiate the download process and wait patiently for the process to complete.

Step 4

Repair iOS

Once the download is complete, click Repair. The process may take a few minutes. Make sure that your iPhone is connected during the entire repair process.
Fix 11: Reinstall WhatsApp
Some users are coming across the WhatsApp notification not working after iOS update problem. In this case, you can delete and reinstall your application. This will help fix software bugs that may be limiting its function. To delete it, simply press the app icon and then tap Delete. To reinstall your WhatsApp, go to App Store.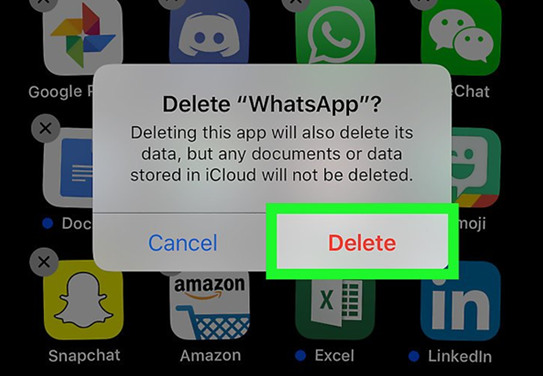 Conclusion
There you are. You can now fix your iPhone WhatsApp notification not working problem with any of the above-provided solutions. All you have to do is find out which works for you. However, we highly recommend that you try out the Joyoshare UltFix iOS recovery tool to fix the problem.