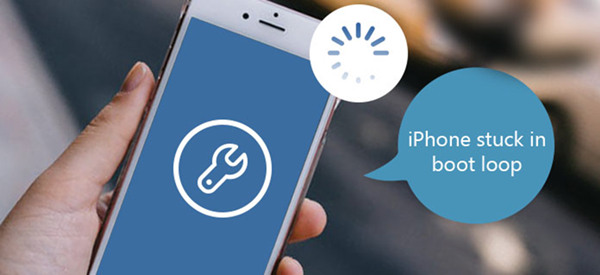 iPhone keeps restarting is a common problem for most iPhone models. This problem has been there, but more people have been reporting the problem since the release of iOS 13. When it happens, your iPhone will get stuck in a boot loop and keeps rebooting itself over and over. If you are facing a similar issue, then you don't have to be worried because we have come up with 6 different working and safe solutions to it.
Part 1. Why Does Your iPhone Get Stuck in a Reboot Loop?
"Why my iPhone keeps restarting?" might be the first question you would ask upon meeting this issue. It is important that you understand the causes, and we have listed the main ones below:
1. Interruption of Update and Factory Reset: When iPhone got interrupted while updating and factory resetting, it is very likely to fall into a boot loop.
2. Battery Problem: Bad connection to the battery could be a viable cause for the boot loop. This can happen without you knowing. Maybe you dropped your phone or you sat on it, or maybe just mishandled it. It could even be that your phone battery is damaged.
3. Jailbreaking iPhone: Your iPhone could breakdown if you try to jailbreak and fail to complete the process. Even when you successfully completed the jailbreak process, the iPhone can still fall into a boot loop, resulting from a malware it caught in the process.
Part 2. How to Fix iPhone Keeps Restarting: 6 Solutions
We have done our research and come up with the following 6 ways to fix the boot loop problem on your iPhone.
Solution 1:

Fix iPhone Keeps Restarting Issue with a Force Restart

Force start is probably the easiest and simple approach for breaking your iPhone reboot loop. Reboot operations vary from different iPhones. Thus, we have enclosed a force reboot guide below.

If your device is iPhone 6 or former, you can long-press the Power and Home button on your iPhone simultaneously for about 13 seconds. You will feel your iPhone vibrating, then it will automatically break the boot loop process.

For iPhone 7 and 7 Plus, press the Sleep/Wake and Volume Down buttons simultaneously and your device will restart automatically.

For iPhone 8, iPhone X or later, you need to press the Volume Up button and release it immediately, then press the Volume Download button and release it quickly; next press the Power button until you see the Apple logo.

Solution 2:

Fix iPhone Boot Loop through Updating iOS

Update iOS could fix the bugs or system errors that your iPhone is suffering from. After force rebooting your iPhone, your iPhone should now become normal for the time being. Updating iOS now could prevent the boot loop from happening again, especially when the boot loop is caused by the interruption of the update process.

To update iOS, go to "Settings" > "General" > "Software Update". In this interface, tap on the "Download and Install" button and confirm updating.

Solution 3:

Use iTunes to Fix iPhone Reboot Loop

I know this is a surprise, but most people do not know that iTunes actually solves the iPhone boot loop problem. Even after putting your phone on the Device Firmware Update (DFU) or recovery mode, you can still use iTunes to redeem your phone from the boot loop. Here are the simple steps you can take to fix the boot loop problem on your iPhone:

Step 1: Use your iPhone lightning cable to connect your iPhone to the computer and launch iTunes;

Step 2: iTunes will only take a few seconds to detect a problem with your iPhone. A pop-up message will show on your screen.;

Step 3: To resolve this issue, click the Restore button. If you fail to see the pop-up message, you can use Joyoshare UltFix to put your iPhone into recovery mode in one click for free and then restore your iPhone;

Step 4: Allow iTunes to complete the process. Every restore situation takes time depending on the internet and other factors.

Solution 4:

Fix Endless Reboot Loop using Volume Up Trick

This method only works for jailbroken iPhones. There are genuine jailbreaks, and sometimes we jailbreak our iPhones to give us access to more features. However, we make mistakes when installing the firmware and end up installing incompatible, outdated or broken software on the devices. This can sometimes cause a boot loop. Most of the time, force rebooting iPhone does not work for such a case. Volume up trick is an effective method for solving this issue. Follow this iPhone boot loop fix guide:

Step 1. A time when your iPhone is in the bootup phase;

Step 2. Hold down the Volume up button;

Step 3. The process above will take you to lock screen;

Step 4. Run Cydia and uninstall tweak that must have caused the boot loop;

Step 5. Check if your iPhone is out of the boot loop.

Solution 5:

Use a Third-Party iOS Repair Tool - Joyoshare UltFix [No Data Loss]

If the above methods fail to solve your iPhone problem, then you need a professional iOS repair tool. There are several iOS repair tools on the internet that will help fix your iPhone boot loop problem, but Joyoshare UltFix provides you with options to solve more problems with ease. With Joyoshare you can fix iPhone stuck in recovery mode, fix boot loop problem, fix iPhone stuck on Apple logo, and black screen amongst many others with no data loss. With just a few clicks, you can solve most of your iPhone problems using Joyoshare UltFix iOS System Recovery.

Through Joyoshare UltFix, you can solve more than 30 iOS problems not just on your iPhone but also on your iPod and iPad. Joyoshare also allows you to enter in recovery mode in just a single click for free. It also allows you to easily bypass iTunes restore, downgrade iOS versions and others.

Here are the quick steps to help you automatically fix your iPhone stuck in boot loop using Joyoshare UltFix:

Step 1: Download Joyoshare UltFix and install it on your computer and then open it.

Step 2: Connect your iPhone to the computer using the lightning cable. Joyoshare will automatically detect your device. Click the Start button to get started.

Step 3: To avoid data loss, chose Standard Mode. Click the Download button to begin downloading and verifying the firmware. Try Advanced Mode if Standard Mode does not work for you.

Step 4: Click the Repair button once the download is complete. Wait for the process to autocomplete. Your iPhone is back to normal once more.

Solution 6:

Ask Apple Support to Fix Hardware

It cannot be ignored that the iPhone keeps restarting issue can result from hardware issues, especially charging parts or battery. Due to the intricacy of iPhone internal units and components, it would be unwise to check and repair the hardware on your own. The ultimate and safest solution would be resorting to the technicians in the nearby Apple outlets.
Part 3. Conclusion
With all the information we provide, we are sure that you have gained more insights on how to fix the iPhone keeps restarting issue. The patience you pay on reading our guide will certainly save you a lot of time and effort trying to find the solution yourself. No matter which solutions works for you, we feel sincerely happy that you can get rid of the trouble and thus have a better experience using iPhone.