What the smart devices like the iPhone and the iPad differ from other devices is that the screen of the iPhone can automatically rotate with the direction you take it, so that no matter how you hold your iPhone, its screen will face you properly. In other words, if you turn the iPhone from the vertical screen to the horizontal screen, the iPhone screen will automatically adjust to the appropriate size.
But sometimes, when you open your iPhone and play videos, you find the iPhone screen won't rotate to match it. This maybe disturbs you and bring inconvenience for you. And you might want to fix the iPhone in Apple store right away. If you happen to encounter this problem, the first thing you need to do is to figure out the reason for it. You will find you can solve the problem by yourself under some conditions. Here are some tips for you to make your iPhone screen back to normal at home.
Part 1. Check If Your iPhone Portrait Orientation Lock Is Turned off
Some iPhone users may inadvertently lock the auto-rotation function of the iPhone, causing the screen not to rotate. It is easy to fix it successfully with unlocking portrait orientation lock. You can check it in "Control Center" to click "Portrait Orientation Lock" icon or you slide iPhone screen up to make the icon into your sight. (If you fail to see the icon through sliding the screen up, you can open "Settings" - choose "General" - click "Accessibility" - turn on "AssistiveTouch". Then a bright icon will show on the screen. You can touch this icon to make "Control Center" appear.) Then you can see an icon that looks like a lock surrounded by an arrow. If the icon is red, you just click it to turn off the portrait orientation lock. After unlocking, you can test iPhone again.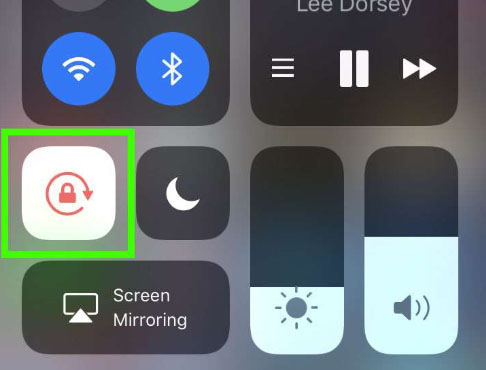 Note: You can try different apps to test if iPhone screen not rotating is repaired, because some applications don't support screen rotation.
Part 2. Check Whether "Accelerometer" of the iPhone Is Broken
When you are sure the portrait orientation lock is turned off and the apps you run support screen rotation, maybe there is something wrong with iPhone accelerometer. If the iPhone accelerometer is damaged, the screen won't be moved and iPhone screen rotation not working. You can download the "Sensor Monitor" app to test accelerometer value. If check fails, that manifests there is the hardware issue with your iPhone. Under the condition like this, you just fix the iPhone in Apple store.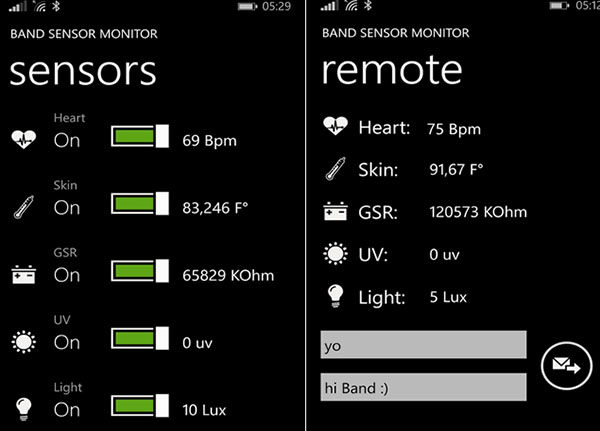 Part 3. Check Display Zoom of Your iPhone
When you can rotate the screen with applications, but the home screen is not rotated and the portrait orientation lock is turned off, it is possible that Display Zoom hinders your iPhone screen rotation. It can zoom in or out a particular project and iPhone screen in many application. You just need to make Display Zoom disabled to fix iPhone screen not rotating. The step is "Settings" - "Display & Brightness" - "View" in Display Zoom option. Then you need to click "Standard" and "Set". After finishing this operation, your iPhone will be restart with new Display Zoom setting and you can try your iPhone to check whether the method is useful or not.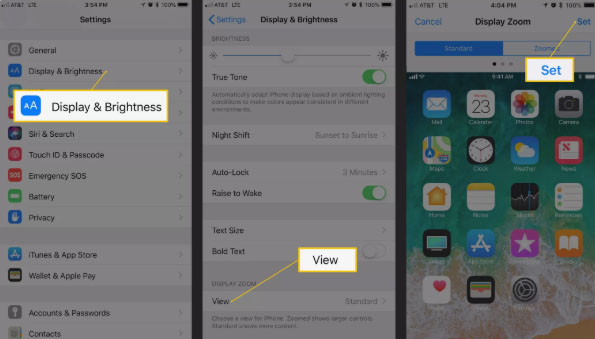 Part 4. Hard Reset Your iPhone
Many common issues of the iPhone, like iPhone stuck in charge screen and iPhone screen doesn't rotate, can be solved with hard restart iPhone, because this operation will refresh your iPhone and clean the background programs. This is a simple and quick way to repair frequent iPhone problems. You just simply press and hold the "Power" button and the "Home" button at the same time until the Apple logo shows on the screen. After the iPhone restarting, you will try the iPhone screen rotation again. If it still can't work, you can deal with it using the next method.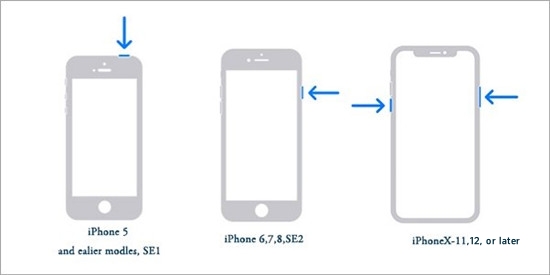 Part 5. Repair iPhone Screen Won't Rotate with Joyoshare UltFix
There exist bugs more or less in smart devices. As mentioned above, hard restarting the iPhone can fix some bugs on your iPhone. However, how should you solve the problems that can't repair by hard reset? It is not difficult for you to do it. iOS system recovery software will assist you. There are plenty of such tools in the online market. Joyoshare UltFix will be introduced to you.
As one of the most professional iOS system recovery software, Joyoshare UltFix focuses on repairing more than 30 types iOS system issues without data loss. It provides two repair modes. Not only can you fix many common iPhone system issues with the standard mode, but you can factory reset the iPhone with the advanced mode. In addition, Joyoshare UltFix is compatible to the newest iOS 12.3 and a series of iOS devices like iPhone, iPad and iPod.
Key Features of Joyoshare UltFix iOS System Recovery:
Repair your iPhone not rotating without data loss
Repair more than 30 iOS system problems
Compatibility to the newest iOS 12 and all iDevices
Provide standard mode and advanced mode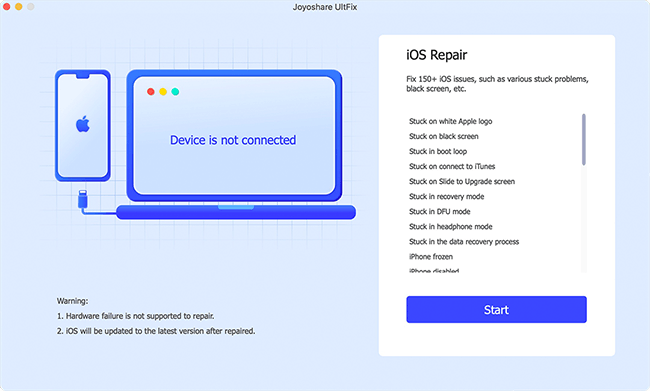 It is time to tell you how to operate it. The steps are very easy. So you don't worry that it will take a lot of time.
Step 1: You need to launch Joyoshare UltFix and plug your iPhone into the computer. Then, you can click the "Start" button to get into the next step;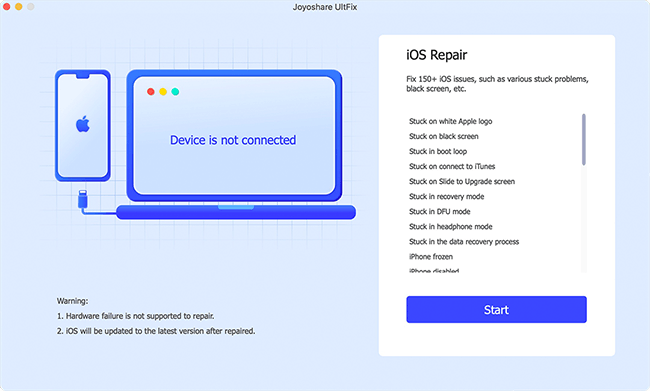 Step 2: Now, you will join in the interface to select the repair mode. iPhone rotation not working belongs to common iOS system issue, so you need to click "Standard Mode" to fix it;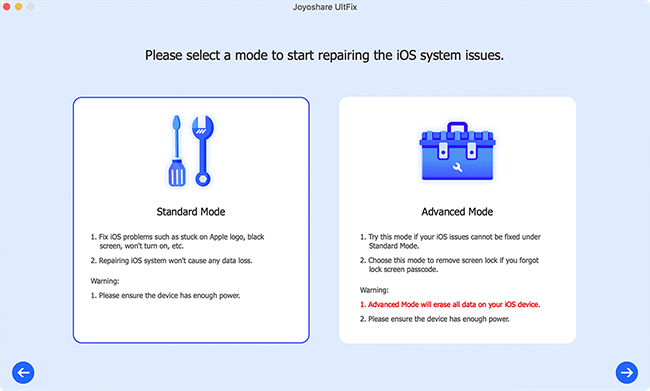 Step 3: Set your iPhone into DFU mode or recovery mode following the instructions on the screen. Finish this, you can click "Next" to continue;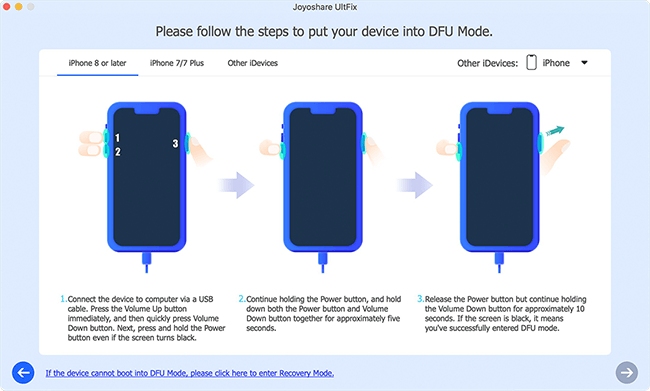 Step 4: Click "Download" to download and confirm the firmware package;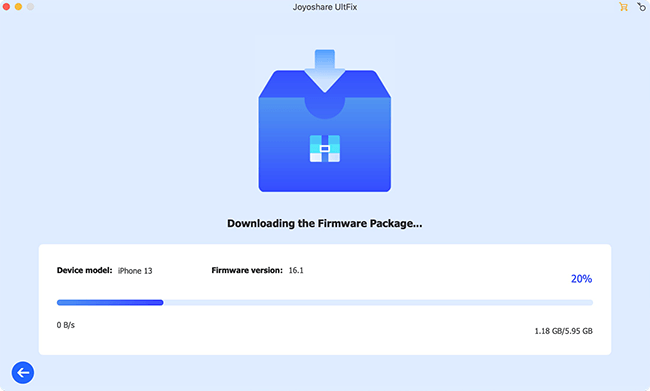 Step 5: Finally, you just need to choose "Repair". Joyoshare UltFix will unzip the firmware package and start to repair your iPhone screen not rotating.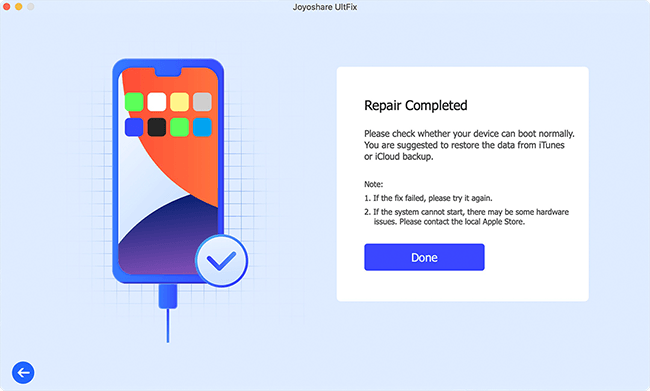 Conclusion
The problem that iPhone screen rotation doesn't work is not rare. Many Apple users have experienced this issue. When there is something troublesome like this on your iPhone, you can ask your friends who have resolve the corresponding issues for help or refer to the above methods. If you want to fix the iPhone screen rotation problem without damage, Joyoshare UltFix is recommended to you. The characteristic of stabilization, credibility, speediness and high capability makes it very perfection. It guarantees to repair your iPhone screen will not rotate with no data loss. Of course, Joyoshare UltFix offers the trial version; you can try it by yourself. Wish these tips work for you well.