Q: "I'm with the final version of iOS 16.0, and I noticed that the lock screen has a small delay to turn on the screen, via touch or the power button. I'm using the weather widget on the lock screen, I don't know if there is any interference, does this happen to you too?" – from MacRumors
Are you facing the same issue having a delay when locking or waking up your device like iPhone 14/13/12/11 after updating to iOS 16? It always affects your experience, and things will even become worse if you make a wrong trigger within a few seconds of the delay. If there are no external interruptions such as your iPhone case or dust hidden on the screen protector that could potentially make the sensors sluggish, you may consider the internal causes of your iPhone. Thus, to figure out the real cause and cast off the iPhone lock screen delay, read this article and try the methods in sequence.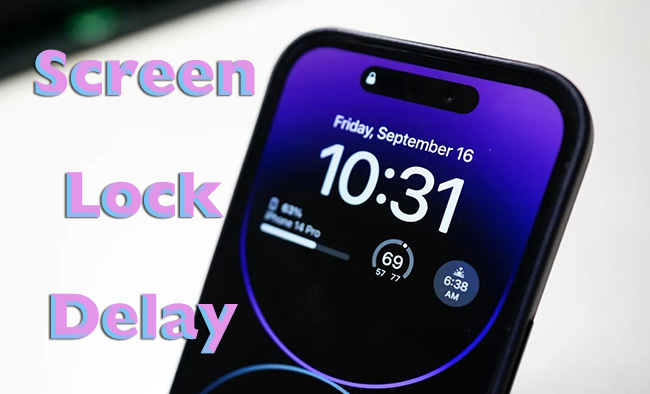 Part 1. FAQs about iPhone Screen Lock Delay
Q1: Why is there a delay when I lock my iPhone?
A: It could be settings errors, battery problems, or iOS system glitches. Meanwhile, too many unnecessary caches and burn-in iPhones could also be the reasons.
Q2: How to make iPhone lock faster?
A: You could try to enable Tap to Wake when setting Accessibility on Settings. Then you could tap the lock screen or press the Side button to wake up your iPhone. In this case, your screen will be bright immediately as expected.
Q3: What to do if iPhone is running slow?
A: Normally, you need to clean up the caches regularly, protect the battery on your iPhone and do not change the settings too frequently. It is helpful to restart your iPhone when running slowly.
Part 2. How to Fix Screen Lock Delay on iPhone
2.1

Adjust Click Speed of Side Button

If you are using iPhone X or later, Apple allows you to customize the speed of double or triple clicking the Side button, which means that your iPhone delayed lock screen when mistakenly pressing the Side button. Hence, go to Settings → Accessibility → Side Button → Default. If you chose Slow or Slower here, the laggy screen will occur when locking and unlocking iPhone. If this problem exists on other models, read the other methods to solve it.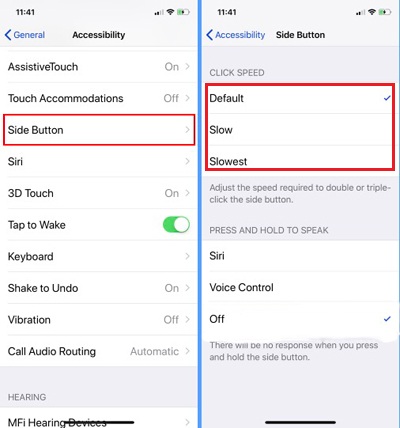 2.2

Turn Off Low Power Mode

It is true that Low Power mode extends the battery life of your iPhone and makes it healthier. But it will slow down the operating speed and disable some features, so your iPhone cannot be used at its peak performance. As a consequence, your iPhone screen delays locking. You only need to head to Settings, scroll down to Battery, and toggle Low Power Mode off.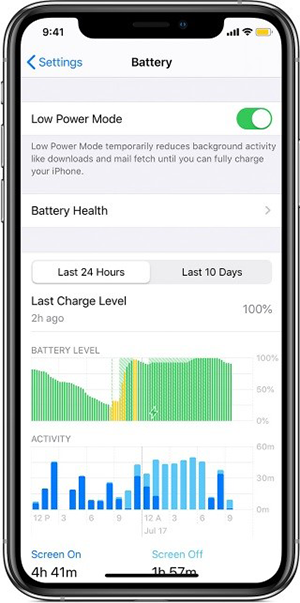 2.3

Change Settings of Side Button

Still for the models after iPhone X, just as mentioned before, there are accessibility options set up for the Side button. By default, double-press opens Apple Pay while triple-press activates the feature you set in Accessibility Shortcut. You could disable the two features and solely use the Side button for locking and unlocking. Enter Settings, find Wallet & Apple Pay, and turn off Double-Click Side Button. For triple-click operation, locate Accessibility on Settings, scroll down to Accessibility Shortcut and check if there is a blue tick. If there is one, tap the option to disable it.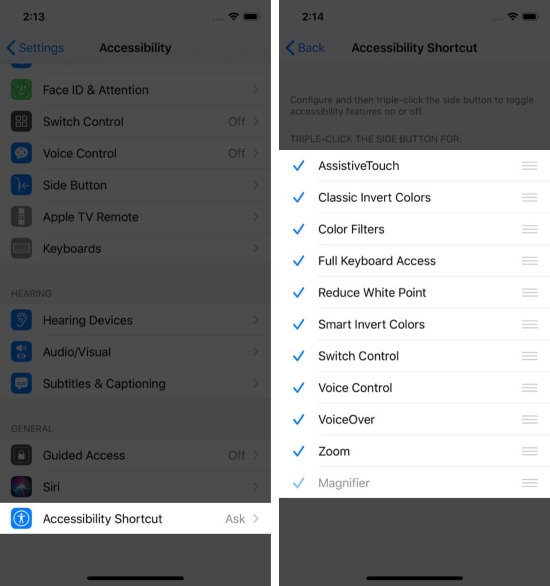 2.4

Use iPhone under Appropriate Temperature

When you use your iPhone in a too-hot or too-cold place, or your iPhone is getting hotter because of long time using or too many apps running, its speed and performance are inevitably impacted, as well as the screen locking process. So, go to a place with an appropriate temperature and let your iPhone calm down or become warmer.

Moreover, consider closing some apps you don't need to use recently. On the Home screen, swipe up from the bottom and scroll up to exit some apps if you are using iPhone without a Home button. Double press the Home button and swipe them up if your iPhone possesses a Home button.
2.5

Check Battery Health

Battery life will influence the response of locking and waking up the screen. Although this is unreversible, you could check if the rechargeable battery is severely harmed so as to cause the iPhone screen lock delay. Open the Settings app, select Battery, tap Battery Health, and look at the Maximum Capacity. If the capacity is extremely low, your battery is recommended to be replaced.
2.6

Check Device Storage

Insufficient storage also possibly slows your iPhone down and lock your screen lugged. Thus, you need to check the storage and optimize it by removing some items. On the Settings app, choose General, find iPhone Storage, read the sentence under RECOMMENDATIONS, and tap the Enable option. If there are no recommendations or the storage remains inadequate, you could choose a certain app to offload it or delete it.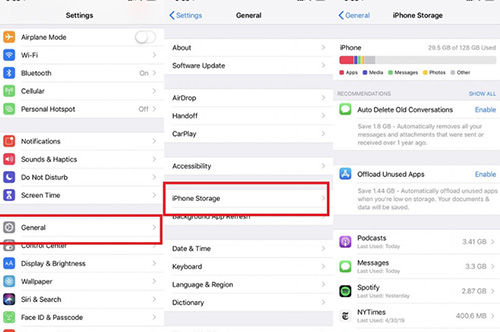 2.7

Restart/Force Restart iPhone

I suppose that you already tried to restart your iPhone. To deep refresh your iPhone and fix the screen lock delayed glitch, it is worth force restarting it. Here is how to do it.
iPhone 8 and later: press and release the Volume Up button, do the same to the Volume Down button, and hold the Power button until the Apple logo appears
iPhone 7 and 7 Plus: press and hold the Volume Down button and the Power button, release them when you see the Apple logo
iPhone 6 and earlier: hold the Home button and the Power button, and release them once the Apple logo occurs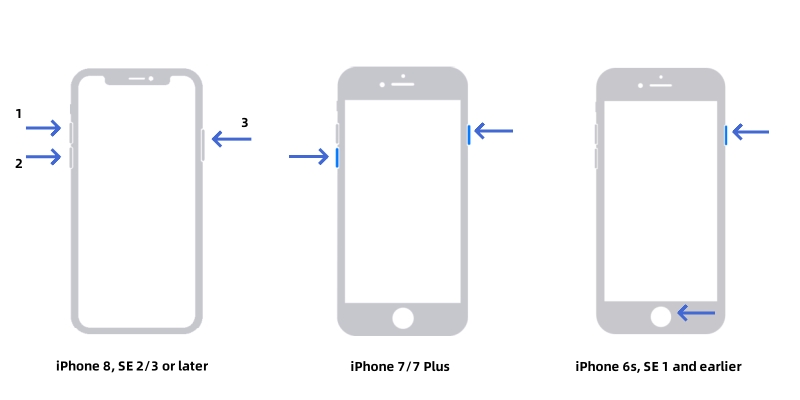 2.8

Reset All Settings

It is recommended to reset all settings if you have no idea which step to remedy. The operation is easy. Navigate to Settings, tap General, scroll down to Transfer or Reset iPhone, choose Reset, select Reset All Settings and enter your screen passcode to continue. After that, you could see if your iPhone screen could be locked smoothly.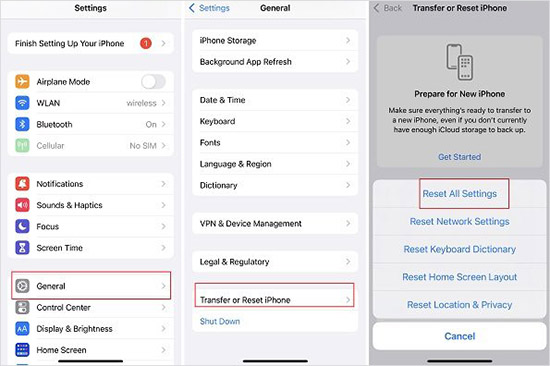 Part 3. Repair iOS 16 System
If iPhone lock screen delay is due to a system error after updating to iOS 16, the only way to fix it is to repair your iOS system. With Joyoshare UltFix, you are able to repair your iPhone without data loss. Similar problems like iPhone notifications being delayed, or different issues such as iPhone being frozen on the lock screen are available to be fixed without effort. Apart from iOS 16 and iPhone, Joyoshare UltFix supports almost all models of Apple devices and all versions of iOS/iPadOS.
Main Features of Joyoshare UltFix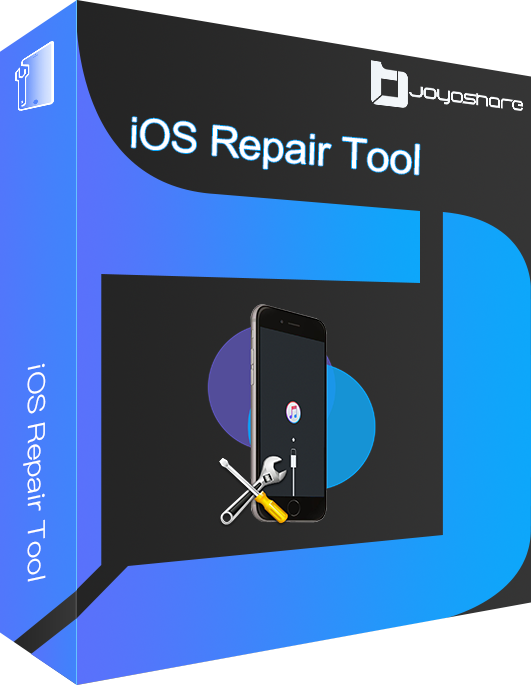 Solve the screen lock delay problem on iPhone
Standard repair mode to fix 150+ system issues with no data loss
Reset device, downgrade iOS and free to enter/exit recovery mode
Support iOS/iPadOS/iPhone/iPad/iPod touch
Step 1

Connect iPhone to Computer and Enter Standard Repair Mode

Connect your iPhone to your computer and launch Joyoshare UltFix. On the main interface, choose iOS System Repair and click the Start button. Then, choose Standard Repair mode. When your iPhone is recognized with no problem, you could move to the next step. Otherwise, you need to put your iPhone into DFU/recovery mode following the on-screen guide.

Step 2

Download Firmware Package and Verify It

Detailed information about your iPhone will be displayed on the screen. After your confirmation, click the Download button to gain the corresponding firmware package.

Step 3

Fix iOS System

After the verification of the firmware package, click the Repair button to start fixing your iPhone with a delayed screen lock. Once the Finish button occurs on the screen, your iPhone is back to normal.
Summary
iPhone lock screen delay is troublesome when you accidentally touch the screen and do some operations unconsciously within the laggy time. Luckily, this article makes a great effort to explain the possible reasons to you and lists many solutions to fix this issue. Every method is workable, so you can follow them to inspect your malfunctioning iPhone and they won't cause any damage. If you are indeed bothered by this screen lock problem, and all these solutions seem invalid for you at the same time, you could consider going to Apple Store.