There are over a dozen iTunes errors often encountered by iOS device users. Among them is the notorious and most common errors, the iTunes error 2001. So, what is iTunes error 2001 and why does it appear? Actually, this dreaded iTunes error often occurs when you try restoring or updating your iOS device using the iTunes application. There is no one apparent cause of the problem. Some probable causes include old iTunes versions, software glitches, using a faulty USB cable, among others. Well, if you have been facing with this problem, then you're on the right channel. We have done a roundup of the top solution to help you fix iTunes error 2001. Read on!
1. Check USB Connection
Before proceeding to more advanced remedies, it is essential to check whether your connecting cable is working properly. Also, check the USB port on your computer. Any fault on either could result in iTunes error code 2001 on your iPhone. Try connecting your device from different USB ports and ensure you are using a genuine Apple USB cable. You could also choose to use a different USB cable just to be sure.
2. Force Restart iPhone
A simply iPhone restart is one of the most common and promising solutions to most iPhone problems. It provides your device with a fresh start, eliminating software bugs that may cause the annoying iPhone error 2001 notification on your screen. Nonetheless, different iPhone models have different force restart procedures.
iPhone 8/8 Plus and later models:
Quickly press the volume up button, repeat the same for the volume down, and lastly, press the 'Sleep/Wake' key until the Apple logo displays on your screen.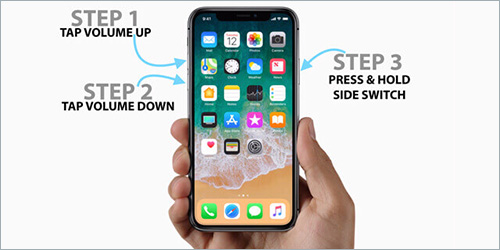 For 7/7 Plus models:
Press the Sleep/Wake' and 'Volume Down' button until an Apple logo appears on the screen.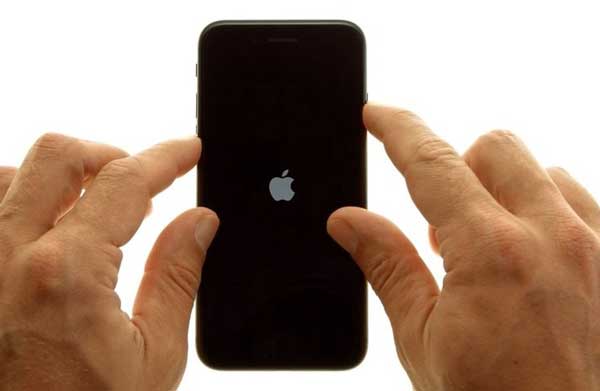 For 6/6S and earlier models:
Simultaneously, press the Wake/Sleep button and the home button until an Apple logo appears.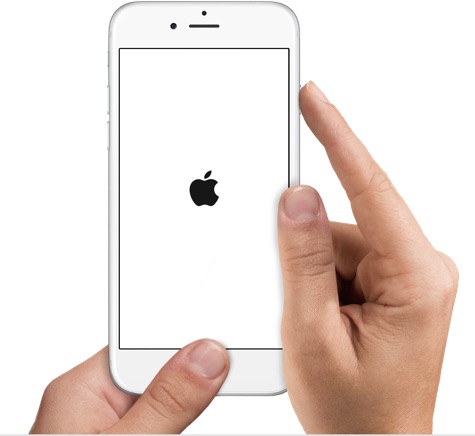 3. Restart Computer & Disable Security Software
To unwind the iTunes error 2001 problem on your iPhone, you can restart your computer. It helps eliminate any registry bugs that may be causing the error code. At the same time, you should disable anti-virus software. They could be hindering the connection to the iTunes servers, making it difficult for you to restore or update your iPhone.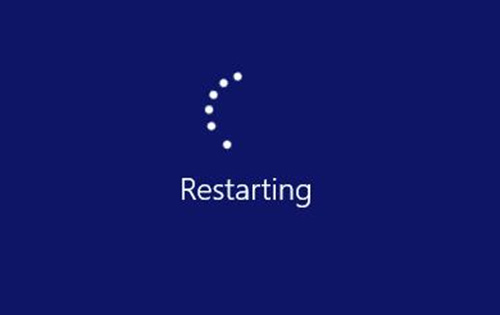 4. Update iTunes Version
Running an obsolete iTunes application could be the root of iPhone restore error 2001. Old programs are often stubborn and unstable, hence variably increasing the chances of getting stuck on this error. Below is a detailed guide on how to update iTunes with respect to the various operating system.
For Windows PC: Launch iTunes on desktop, press "Help" option from the top menubar, and then choose "Check for Updates" to download any available update.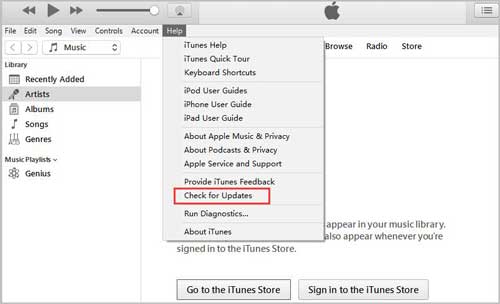 For macOS Catalina 10.15 and the later versions, users needn't update iTunes as "Finder" can directly update and restore iPhone. However, for the former Mac operating systems, you have to run iTunes, click "iTunes" on the top menu bar and lastly hit "Check for Updates".
5. Uninstall and Reinstall iTunes
Running a corrupt iTunes software could also be the reason for the iTunes error 2001 problem. To entirely eliminate such a technical error, you can try shredding/uninstalling the iTunes application on your computer. Before installing a new application, you should run anti-virus software to remove any malware that could compromise a new iTunes application.
To install a new iTunes, make sure you visit the official Apple to download a legit iTunes application. After download, install, and try restoring or updating your iPhone.
6. Update Computer OS
Microsoft and Apple companies always provide regular OS updates to eliminate possible software and seal off any software loopholes that could be breeding ground for malware - running iTunes on outdated OS software could also cause the iTunes code 2001 problem. Conversely, updating your OS with a recent service pack or patch can go a long way in resolving this dreaded problem.
Update on Mac
You can click on Apple menu > System Preferences > Software Update to check and have an update.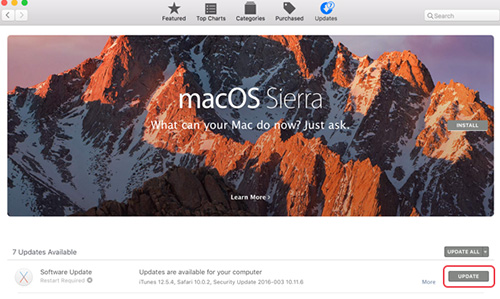 Update on Windows
If you are using a Windows PC, click on the "Start Button". Type "Update" on the search box and hit enter. Proceed to click on the "Windows Update" option and then check for available updates. Download the updates and restart your PC.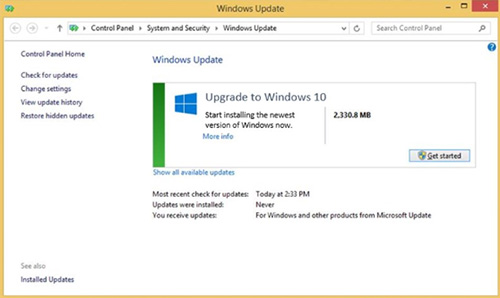 7. Replace Battery
If you have been using your iPhone for quite some time, then it is possible that the occurring error is due to a worn-out battery. Like everything else, iPhone batteries are designed to serve you for a particular period of time. To eliminate the problem, you must replace the battery with a new one. Check out original batteries from online stores such as Amazon. You may also seek the help of a professional phone repairer to replace the battery. Ensure the battery is charged to capacity before trying to update or restore your iPhone using iTunes.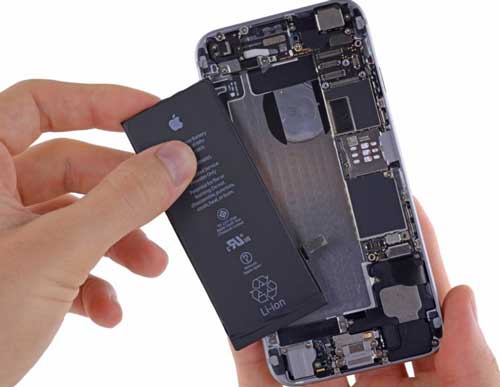 8. Joyoshare UltFix - Losslessly Recover the System
If the problem persists, then it is possible that your iOS software has glitches. Hence, it will be best if you consider using a reputable iOS repairing tool - Joyoshare UltFix. This software allows iPhone users to fix iTunes error 2001 without loss of data. It works to eliminate bugs and updates your device to the most recent software version. What's better, it gives opportunities to repair any potential issues, such as 14, -50, 27, -39, 4013, 3194, -53 and more. You can even free get out of recovery mode or enter it easily.
Key Features of Joyoshare iOS System Recovery:
Fix iPhone won't restore or update issues losslessly
Support any iOS devices and versions
Free option to exit and enter recovery mode
Factory reset iDevice when it's locked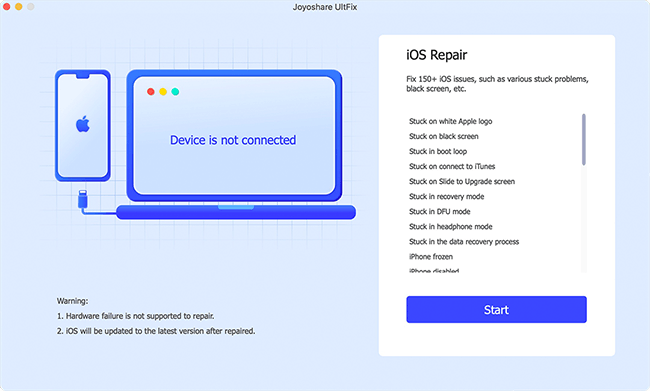 Step 1: Launch the program and connect your iPhone using a genuine USB cable. Click on "Start" to proceed.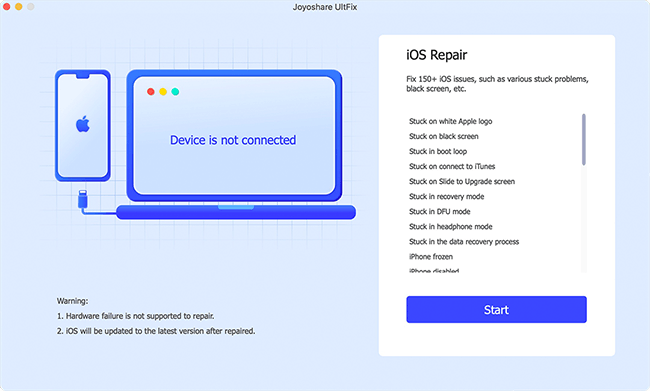 Step 2: Two options will appear on your screen. Select the Standard Mode; it guarantees your data safety. The advanced mode will always result in loss of data, which can be used after the standard one fails.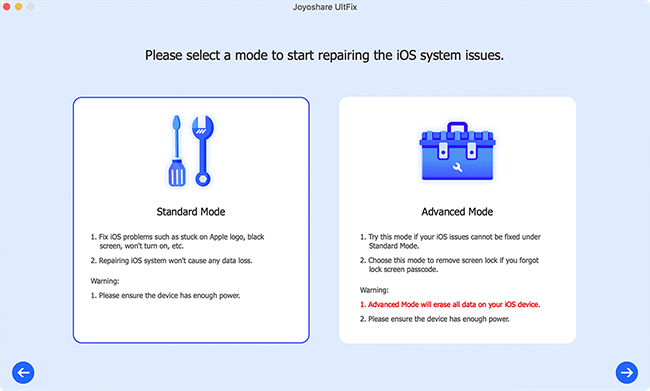 Step 3: Click on "Next", put device into DFU or recovery mode, and get ready to download the firmware. Confirm your iOS device info and click on "Download." Wait patiently for the download to complete.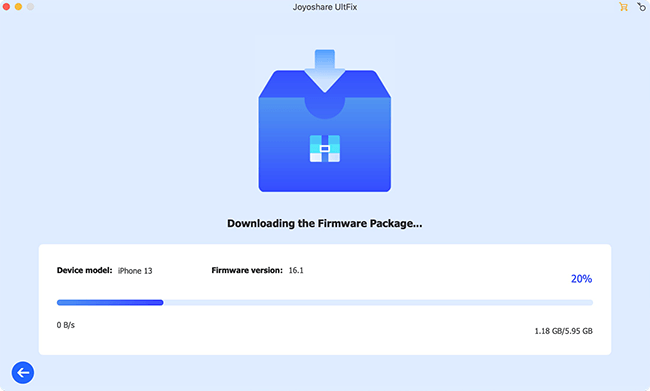 Step 4: Press on the "Repair" option to initiate a process. Ensure your iPhone is connected to the computer during the entire process. On completion, boot your device and try to restore or update your iPhone using iTunes.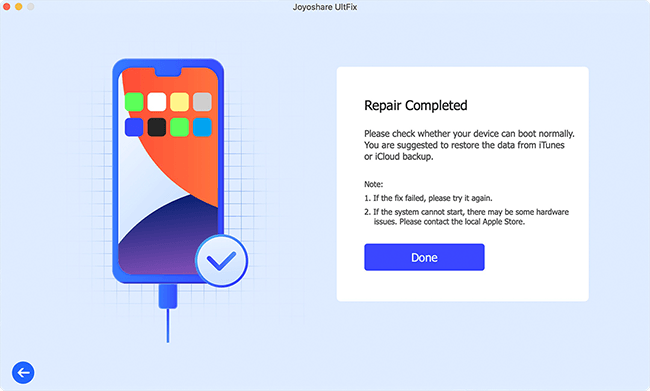 Conclusion:
We can all agree that the iTunes error 2001 can be quite inconveniencing and annoying. However, the above solutions have been well researched, tested and proven to be effective remedies for this issue. Among them, the use of the Joyoshare UltFix software has continued to stand out as a profound and robust solution. It provides for easy iOS repair without loss of any data for your iPhone. It also helps you update your device to the latest iOS devices. If the problem persists, we highly recommend that you visit the nearest Apple store for corresponding solutions.