Q: "In iOS 16 notifications hung around until I went and looked at the item in question. But now they are all disappearing - not sure of the timing. But things like Words for Friends notifications and LINE notifications, etc., just seem to go away after a way." – from TidBITS Talk
There are many users who reported that their iPhone notifications disappear from lock screen after installing the latest iOS 16. Usually, you could open a notification to read its details and go back to the lock screen to read others. But now, when you come back to the lock screen, all the notifications vanish. It makes you miss a lot of key information. To figure out why your notifications cannot be kept, you could go further to read this article. Meanwhile, you could find specified solutions here.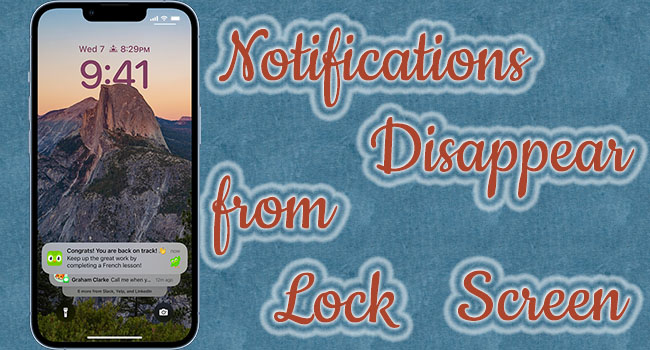 Part 1: Why Do Notifications Disappear from the Lock Screen
Since Apple launches some new features and changes several hidden operations on iOS 16, it is not a surprise that some of you encounter the notifications disappearing from the lock screen problem. And there are three main reasons explaining why it occurs.
Wrong gesture. You once read the notifications in the Notification Center by pulling down the screen, but the way to access notifications is changed on iOS 16. You need to scroll up from the center of the lock screen.
Incorrect settings on notifications. In the default state, your notifications are all visible, however, if you changed it, notifications cannot be seen from the lock screen.
System error. The new system exists several glitches and bugs. If you feel difficult to find the cause, it has a possibility that your iOS system needs to be repaired.
Part 2: How to Get Notifications to Reappear on iPhone Lock Screen
#1

Change the Gesture of Opening Notification Center

After upgrading to iOS 16, some of you may not know about the hidden gesture to check your notifications. If you still scroll down from the top of the lock screen to read notifications, you will definitely not see them. Thus, from now on, you must swipe up from the bottom of the lock screen, or swipe down from any other screen. If you do the correct gesture but notifications remain missing, go on to the next solution.
#2

Reset Notification Settings

Many settings influence the performance of notifications. No matter whether you changed them or not, you would better check different settings one by one. When there is something wrong, just reset it and see if the problem is solved.
Settings → Notifications → choose the way to see notifications under DISPLAY AS
Settings → Notifications → Show Previews → Always
Settings → Notifications → a certain app → enable Lock Screen, Notification Center, and Banner under ALERTS
Settings → General → Background App Refresh → select WLAN & Cellular Data
#3

Turn Off Do Not Disturb

When the Do Not Disturb feature turns on, you will not be disturbed by notifications for a period. Somehow, it results in your iPhone notifications disappearing from the lock screen. So, open the Settings app to check if this function impacts the running of notifications. Then, select Focus, tap Do Not Disturb, and customize settings, for example, choose a schedule and tap Delete Schedule.

Alternatively, scroll up from the middle of the screen to enter Control Center and turn off Focus. If you set other features like Sleep, Driving, etc. you need to touch and hold the Focus section in the Control Center, and disable Do Not Disturb.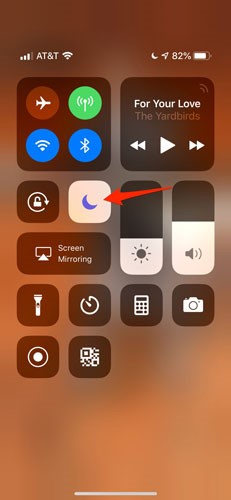 #4

Disable Low Power Mode

In addition, enabling Low Power Mode has the possibility to make iPhone notifications invisible. Hence, you need to open Settings, find Battery, and toggle the Low Power Mode option off. Then, you could close your iPhone and open it again to check if your notifications reappear.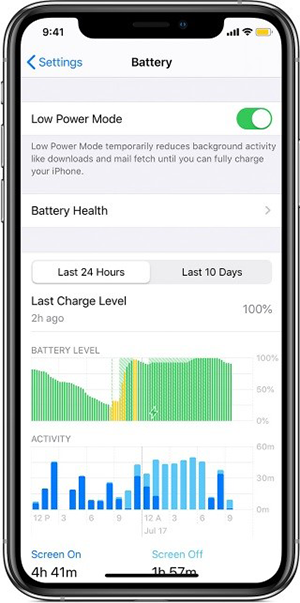 #5

Reset All Settings

If the four methods mentioned above are invalid and the settings you reset on notifications are useless, it is recommended to reset all settings on your iPhone. Similarly, enter Settings, tap General, scroll down to Transfer or Reset iPhone, choose Reset, select Reset All Settings and enter your passcode. And all the settings you set up are deleted, so the settings of notifications are recovered to the default mode. Often, your iPhone will come to a normal state.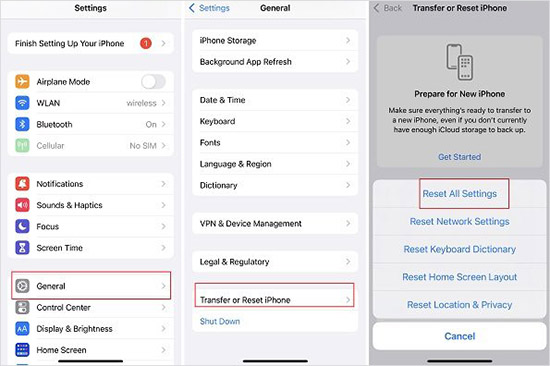 #6

Restart iPhone

Actually, you could restart your iPhone as soon as you meet this issue. Also, you could reboot it after following the previous solutions. Here are instructions to restart different models of iPhone.
iPhone X and later: press and hold the Volume Up/Down button and the Side button → drag the Power-off slider → turn iPhone on by holding the Side button
iPhone 8 and earlier: hold the Power button → drag the slider to turn off → press and hold the Sider button to turn on iPhone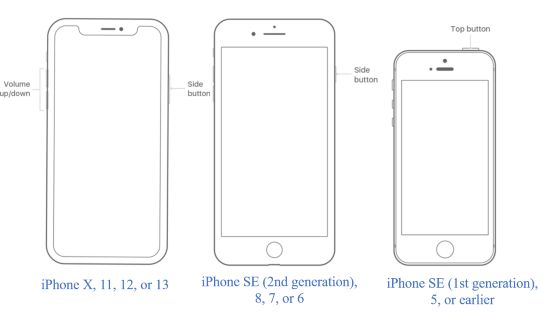 Part 3: Easily Fix Notification Disappearing from Lock Screen
Since all the solutions related to notifications' settings cannot fix this error, it could be inferred that your iOS 16 system is sluggish and requires repair. Nevertheless, you don't have to worry about it. There is an easy way to recover your system so as to get rid of the "iPhone notifications disappear from lock screen" issue. Joyoshare UltFix helps you repair more than 150 iOS problems within a few simple clicks. The latest iOS 16 is supported, as well as the iPadOS and tvOS. This program is also able to repair iPhone notifications delayed issues without data loss. Moreover, if you need to downgrade your iOS system, Joyoshare UltFix is worth trying.
Main Features of Joyoshare UltFix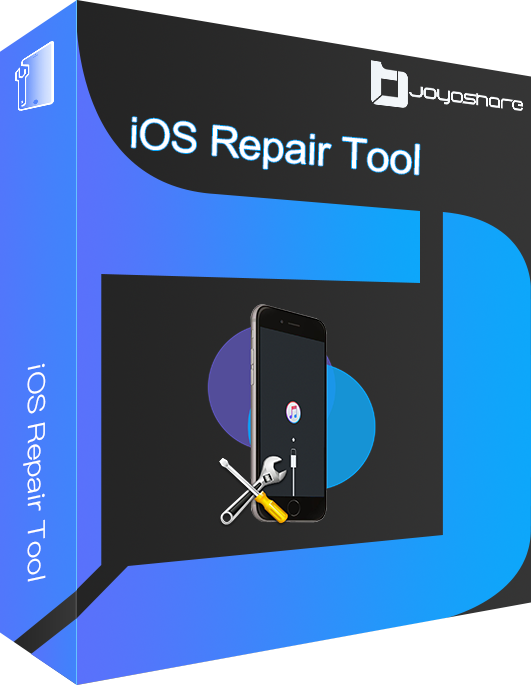 Fix iPhone notifications disappearing from lock screen with no data loss
Downgrade iOS to the previous version
Enter/exit recovery mode with one click
Support the latest iOS 16 and iPhone 14 series
Step 1

Connect iPhone to Computer and Open Joyoshare UltFix

Before running Joyoshare UltFix, you need to install the latest iTunes on your computer, Then, connect your iPhone to it. On the main screen, choose iOS System Repair.

Step 2

Enter Standard Repair Mode

Standard Repair mode will not cause data loss. If your iPhone is recognized without a problem, you could choose this mode and move to the next step. If it is not, you could follow the on-screen guide to put your iPhone into DFU mode or recovery mode.

Step 3

Start to Download and Verify Firmware Package

You need to check the information about your device carefully and click the Download button to gain the firmware package. After its verification, go to the last step.

Step 4

Fix Notification Disappearing from Lock Screen Issue

Click the Repair button to start the repair progress. Once the Finish button appears on the screen, your notifications will reappear from the lock screen.
Wrap-up
iPhone notifications disappear from lock screen? It could be a simple reason causing this problem – an incorrect operating gesture or inappropriate settings. However, it could be a severer cause resulting in this issue – an iOS system error. You need to troubleshoot your iPhone by following the provided solutions one by one. Only by this, you could find the exact cause. If there is something unusual with the system, Joyoshare UltFix could be used to put your iPhone to normal. Hope this article is useful in repairing your iPhone.