In the past, people usually read the newspaper when they are having breakfast. This makes them know what is happening in their town, state, country, or the world. Today, the newspaper seems to be less and less in cities. What replaces it? For many people using iPhone, the News app becomes today's newspaper.
However, things do not always go well. Some News app users found their iPhone News app not working. When they opened this app and tried to refresh it, the news of it cannot load normally. Many of them are confused about how to resolve this problem and contact us for suggestions. Thus, we collect some useful methods for this problem and list them later. If you have this iPhone News app issue and do not know the solution of it, you are highly recommended to read this article.
1. Change the Region
Only a few of you know the region of you influences the News app on iPhone. This app cannot work normally in some areas. So, what you need to do is change the region in your account to the United States, and the News app will return to normal. This is a simple guide for those who are not familiar with how to change the region.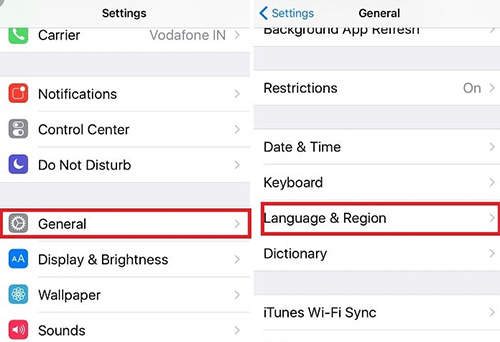 Step 1: Open the Settings app and tap on the General button.
Step 2: Tap the Language & Region and choose the Region.
Step 3: Change the region to the United States.
2. Restart the News App
This is a useful method to fix the iPhone News app not loading or other app malfunction problems like iPhone Weather app not working, iPhone Mail app not working, and so forth. Besides, it is easy to perform and will not lead to any data loss. So, it is a method that you need to have a try.
3. Reinstall the News App
This solution is to let you delete this app and then reinstall it. This action will erase the data of this app. You can back up them at iCloud at advance. It is a simple way just like the former one. What you need to do is just delete this app and go to App Store to install one.
4. Turn off the Restriction of the News App
There is a setting called Restrictions, which can be used to set some restrictions on apps. When you restrict the News app there, it is possible that the Apple News app doesn't work. You need to check the Restrictions and close the restriction of the News app if it is turned on. This is the route: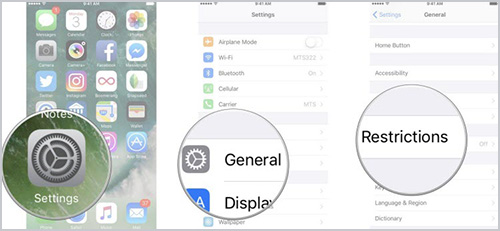 Step 1: Turn on the Settings and open the General.
Step 2: Choose the Restrictions and enter your passcode.
Step 3: Find the News app and turn off the option of it if it is turned on.
5. Update the iOS
At times, the iOS of your iPhone is too outdated and the Apple News app doesn't work. And it may even bring many other issues. Therefore, you need to update the iOS as soon as possible to avoid influencing other apps and bring you more troubles.
How-to: Settings > General > Software Update > Install Now
6. Fix iPhone News App Not Loading with iOS Repair Tool
When your problem cannot be solved by the methods above, I would like to recommend you to use another way, which is, using a kind of iOS system recovery software. One of your best choices is Joyoshare UltFix iOS System Recovery.
This professional software concentrates on solving all the system errors of the iOS to help more people who are troubled by those glitches like you. This software can fix 50+ iOS system issues, containing iPhone stuck in recovery mode, headphone mode, white Apple logo, or becoming black/red/frozen/disabled screen, etc. This tool supports iPhone, iPod touch, iPad, and Apple TV. Any iOS products having system problems, it is a good option for you to use Joyoshare to fix it.
It offers two modes for you: Standard mode and Advanced mode. Having common iOS system issues, you can use the Standard mode to fix it without data loss, or you have to use Advanced mode.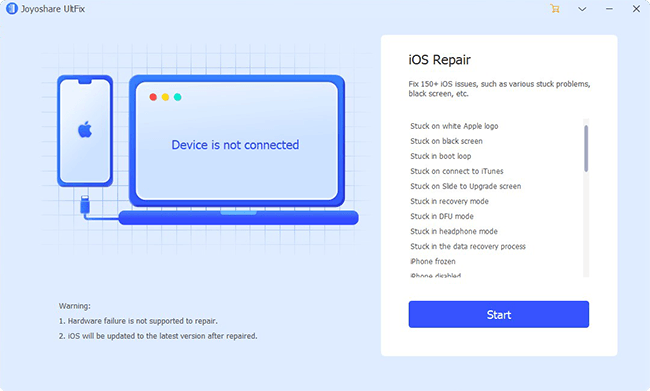 Step 1

Connect the iPhone with PC

Connect the iPhone with PC and start Joyoshare UltFix iPhone system recovery. Click the Start button of the first page.

Step 2

Designate Standard Mode

Choose the Standard Mode button and click the Next. You should continue to boot your problematic iPhone to either DFU mode or recovery mode.

Step 3

Download Firmware

Make sure the information of your iPhone shown here is correct. Then, click the Download button.

Step 4

Fix iPhone News App Not Working

While the firmware is downloaded, just click the Repair button to fix your iPhone. You can later open your News app to see whether it can work again.
Conclusion
All in all, we introduce 6 methods to you to fix iPhone News app not working. If you think this passage is helpful, why not share it with your friends on Facebook, Twitter, Instagram or other social media! Also, it's glad if you can share more practical solutions you know with us.