In this age of accelerating technology, smartphones remain indispensable to the everyday life of millions of people. They play such a significant role that people would push the panic button when something goes wrong. There has been such a problem of late that makes people be weighted with worries, which is iPhone update taking forever to download. In practice, this is not an insurmountable challenge. Many measures can be adopted to quit yourself of this annoyance. Below sort out 6 fruitful methods.
Foreword
How long does it take to upgrade the iPhone software through OTA under normal circumstances? How should the situation of iPhone update taking forever to download be defined? In general, it will take no more than half an hour to update an iPhone whether the iOS update version to be downloaded and installed is iOS 12 or iOS 13. Once the process lasts a long time, such as 1 hour and even longer, try the methods below to do you a favor.
1. Force Restart the iPhone
Performing a force restart on iPhone has to rank as one of the easiest remedies for the worry of iPhone update taking forever. This small step generally represents an effective solution to the obstacle in updating iPhone. The method of force rebooting iPhone varies on different models. Just refer to the following.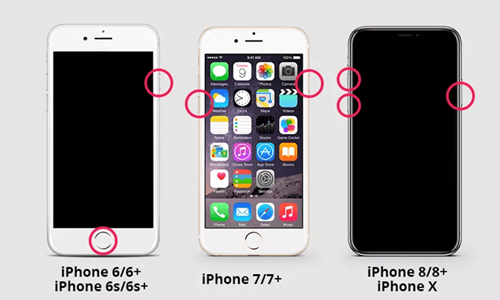 For an iPhone 6s or earlier model: Hold down the "Home" button while pressing the "Lock" button. Keep holding them until the Apple logo shows.
For an iPhone 7 or 7 Plus: Press and hold the "Power" as well as "Volume Down" buttons. Don't release unless you see Apple logo appearing.
For an iPhone 8 or later model: Quickly press and release the "Volume Up" button and then turn to the "Volume Down" button. Next, hold the "Power" button until the iPhone restarts.
2. Try Updating with Another Network
As you know, a good network condition is essential at the time of updating iPhone software Over the Air. With a poor network connection, iPhone update taking forever to download is an inevitable phenomenon. Therefore, it is advisable to switch to a better Wi-Fi network for iPhone update when force rebooting iPhone is not a solution for you.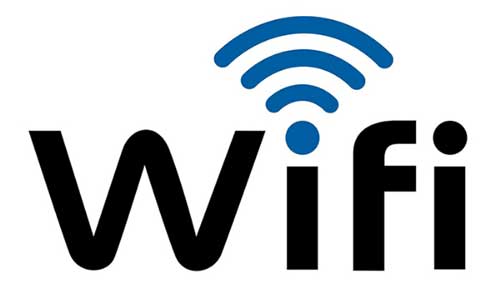 3. Reset iPhone Network Settings
There is more than one countermeasure to cope with the situation where iPhone taking too long to update stems from the network failures. With the exception of the above one, resetting network settings on iPhone is the alternative. This act changes nothing but deletes all network settings, returning them to factory defaults. The steps are listed below.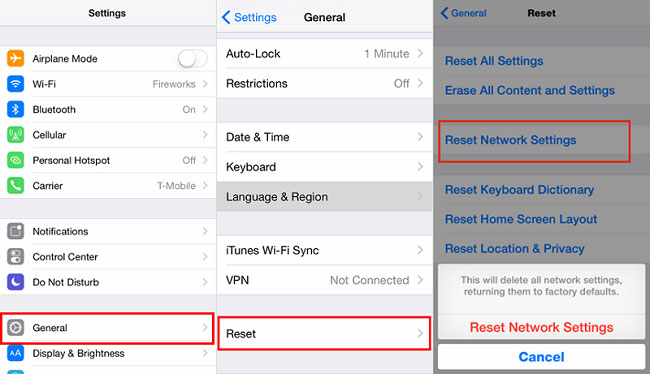 Step 1: On iPhone home screen, open Settings app and then the "General" item is required to select;
Step 2: Afterwards, scroll down to "Reset" and followed by "Reset Network Settings";
Step 3: Type passcode and confirm your action. When it is done, configure the network anew and keep in mind to try updating your iPhone again.
4. Free up iPhone Storage Memory
As it turns out, there are many factors accounting for the issue of iPhone software update taking forever to download, a typical one of which is that there is not adequate iPhone storage space available to an iOS update. No other method is better than freeing up enough storage memory on your iPhone in such a case. The method of operation is as below.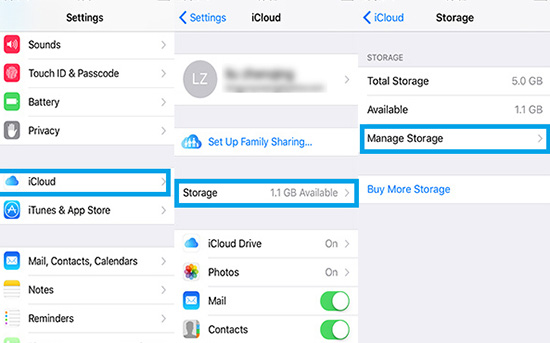 Step 1: Head to "Settings" on your iPhone and get into "iCloud";
Step 2: From "iCloud" option, you ought to choose "Storage". Then you will know how much available storage space remains on your iPhone;
Step 3: If too inadequate to be able to install an iPhone software update, tap on "Manage Storage" to free up internal storage by deleting unnecessary files and uninstalling less commonly-used apps.
5: Update iPhone through iTunes
In order to get around the problem of iPhone update taking forever, another approach worth a try is to update iPhone software with iTunes. If without an unexpected error occurred during the process, iTunes can both give you a way out of your dilemma and upgrade the iPhone comfortably.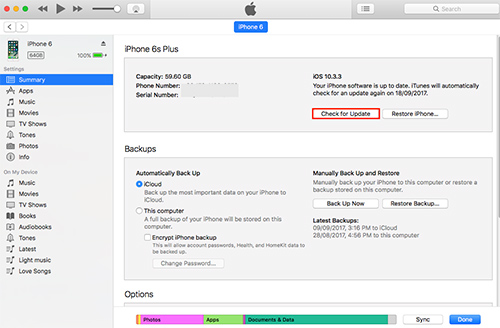 Step 1: First of all, please open iTunes on your computer or open "Finder" on your Mac with macOS Catalina;
Step 2: The next thing to do is connecting your iPhone with the computer. If passcode is required, enter it;
Step 3: Wait for the iPhone is recognized by iTunes. After that, click an iPhone icon and go to "Summary";
Step 4: In the right panel, select "Check for Update". When iTunes detects an update available, download and install it as prompted.
6. Fix by Joyoshare UltFix without Loss
When trying iTunes to upgrade iPhone makes no difference, consider Joyoshare UltFix iOS System Recovery to assist you in washing your hands of the trouble of iPhone update taking forever to download. It's a robust iOS system repair program, coming with streamlined techniques to fix 30+ system issues on iPhone/iPad/iPod touch/Apple TVs within mere steps. Attractively, the software affords users a solution to a mass of common iOS problems like iPhone taking forever to update, iPhone stuck on verifying update without data degradation.
Step 1: With the tap of a download button above, download and install a compatible version of Joyoshare UltFix on a computer. Go on by opening it and connecting the iPhone to the computer via an Apple lightning USB cable. When your iPhone is detected, please click "Enter Recovery Mode" to put iPhone into recovery mode and then proceed with the "Start" icon;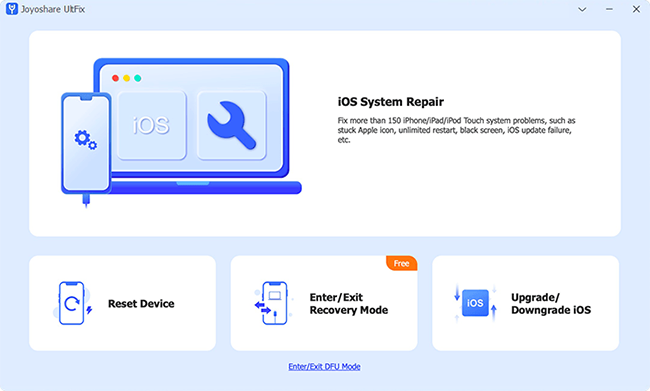 Step 2: The program is provided with 2 repair modes including standard mode and advanced mode. To get the matter of iPhone taking forever to update solved without suffering data loss, let the standard mode work for you;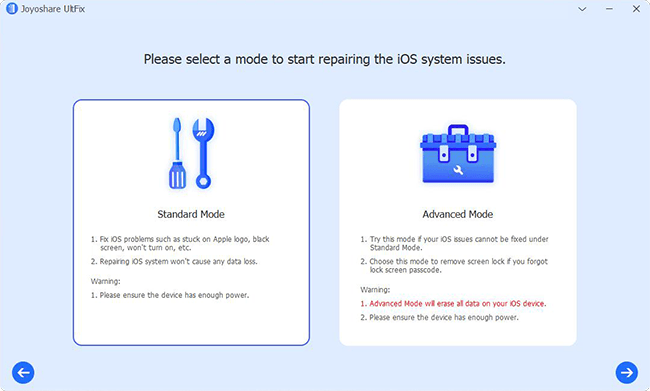 Step 3: Now, it's time to have a check on all info of your iPhone displayed on the screen. You should make corrections if any mistake. Afterwards, hit on "Download" to get downloaded and verified a recent firmware package;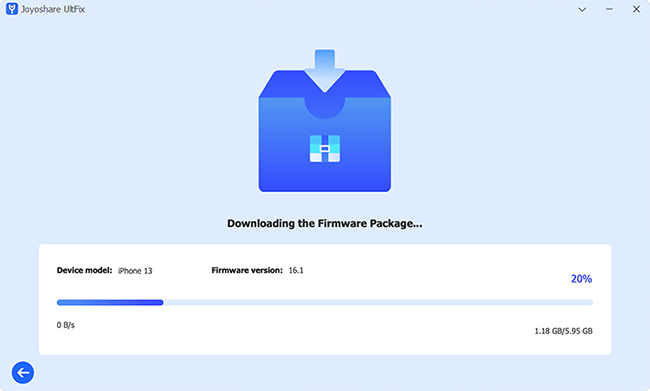 Step 4: The verified firmware package needs to be unzipped before repairing. Just touch "Repair" to make it happen. Once finished, Joyoshare UltFix falls to troubleshooting your iPhone updating problem.