That iPhone Auto-Lock not working will lead the iPhone screen not to automatically lock at a certain time. Needless to say, such an issue must trouble you a lot. Virtually, the Auto-Lock function turns to put the iPhone to sleep thereby preventing anyone else from accessing it when you deal with an emergency and your iPhone is not in your sight. Thus, it is imaginable what a situation where the iPhone with the broken Auto-Lock will get you into. To save you from the suffering, 6 doable methods are expressly proposed below. Wish a speedy solution.
Part 1. Check If Auto-Lock Is Turned on
Before anything further, what needs to be done is having a check whether Auto-Lock is enabled or not on your iPhone. It is noticeable that the problem of iPhone Auto-Lock not working is bound to occur if you accidentally disable this feature. Certainly, suppose you make sure Auto-Lock stays on, just skip to the next method. If not, please read on to learn how to do it.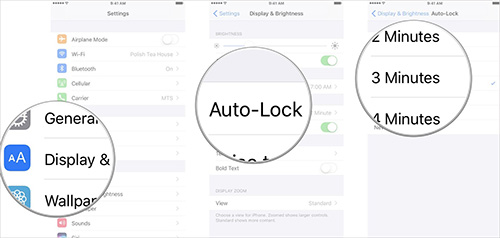 Step 1: Firstly, go for "Settings" on your iPhone and followed by "Display & Brightness";
Step 2: Under this option, click on "Auto-Lock" and see if the timer you set is "Never";
Step 3: If so, tap to select the time duration that fits you. After setting up anew, your iPhone screen will automatically lock at the time you set.
Part 2. Turn AssistiveTouch off
Theoretically, AssistiveTouch is an accessibility feature that enables you to normally use your iPhone when iPhone buttons fail to work. But sometimes, it may create problems like iPhone Auto-Lock not working properly. So if this the case you are facing, just toggle AssistiveTouch off and then Auto-Lock on the iPhone is supposed to function well. Try following steps to get it done.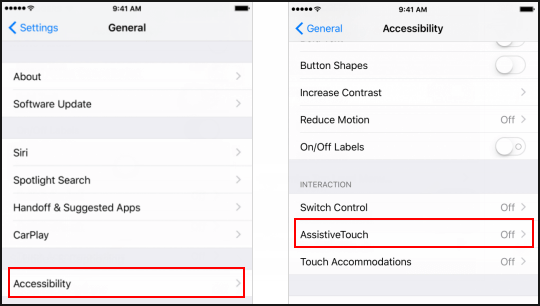 Step 1: Please open the Settings app and scroll down to the "General" option;
Step 2: Afterwards, click on "Accessibility" and locate "AssistiveTouch";
Step 3: If this features is enabled, please touch to turn it off. Do remember to test whether this solution is workable.
Part 3. Disable Low Power Mode
Low Power Mode is to temporarily reduce power consumption by turning off some features such as automatic downloads, background app refresh, etc. when your iPhone battery reaches a low level. When iPhone Auto-Lock is not working, it could be that Low Power Mode is enabled on your device. Just do as follows, and then you will handle this trouble.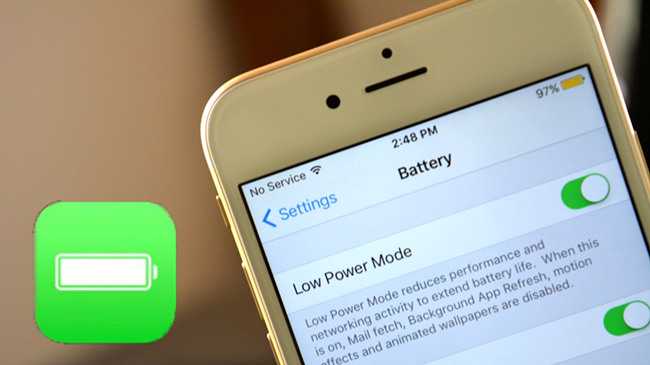 Step 1: The first thing is to visit "Settings" on the home screen;
Step 2: Next, select "Battery" and you will see the "Low Power Mode" option;
Step 3: Lastly, switch the slider to left to get it turned off.
Part 4. Toggle off Passcode Lock and Toggle on
There are a lot of users who have had the same issue saying that disabling passcode lock on iPhone and then re-enabling is an impactful solution to such a problem. If the above methods do not do anything for you, why don't you give this solution a shot? Here are the steps to sort out the iPhone Auto-Lock not working problem.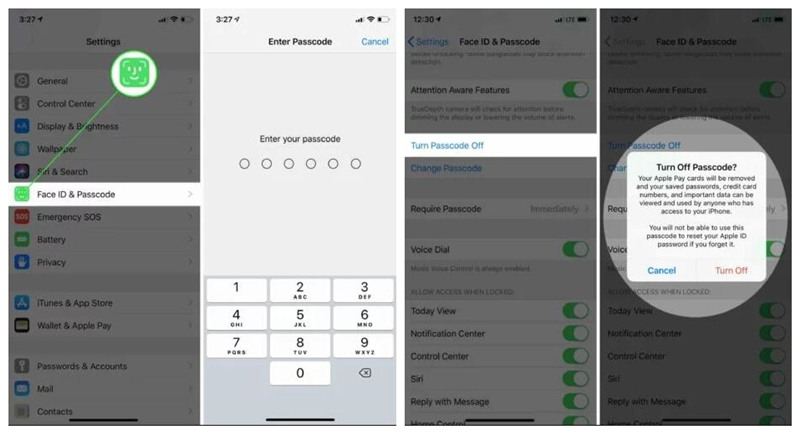 Step 1: Get into "Settings" and later choose "Touch ID & Passcode";
Step 2: You need to enter the screen passcode to get into the next interface;
Step 3: After that, click the "Turn Passcode Off" and touch "Turn Off" on a pop-up window to confirm this action;
Step 4: Now, restart your iPhone and repeat the above to turn passcode lock on.
Part 5. Reset All Settings
Cleverly resetting all the settings can also get the matter of iPhone Auto-Lock not working finished off. Do note that a great many iPhone issues including the glitch of iPhone Auto-Lock are directly attributable to the improperly configured iPhone settings. Thus, here you are advised to reset all iPhone settings to throw such trouble off. Please proceed as follows.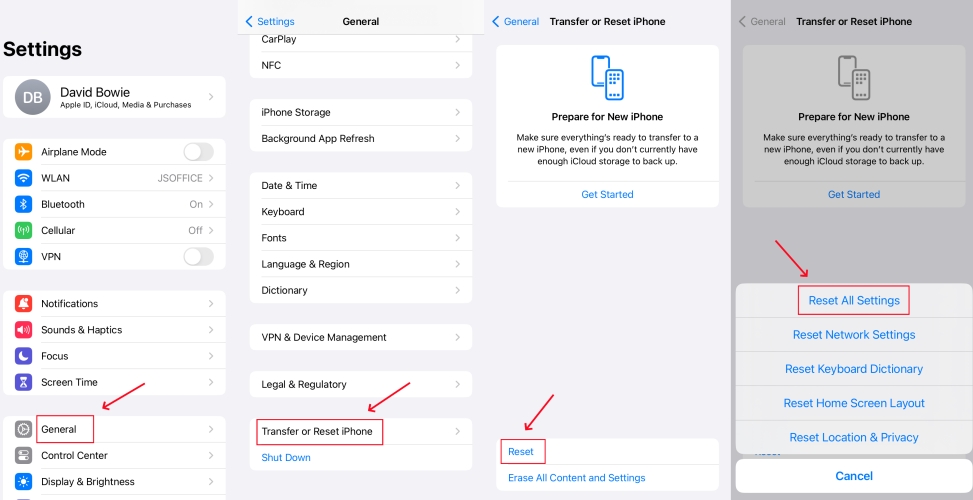 Step 1: Likewise, get started by going to the Settings app;
Step 2: Soon afterwards, swipe down to click on "General" and then to "Reset";
Step 3: From "Reset", you need to select "Reset All Settings" and confirm this operation by entering your passcode. Once reset, please set up all the settings anew.
Part 6. Use Joyoshare UltFix without Data Loss
In case those general measures are of no avail, here comes a dependable and practical way to repair the issue of iPhone Auto-Lock not working in a normal fashion, which is making use of Joyoshare UltFix iOS System Recovery. This program devotes itself completely to repair sundry iOS issues quickly and securely. Speaking of which, there is one more function of it to mention, that is, two repair modes it possesses.
To put in details, you not only work commonplace iOS problems losslessly with standard mode, such as iPhone vibration not working or iPhone touch screen not working, but also kill off a can of worms with the help of advanced mode. Additionally, its power and flexibility are also embodied in that it can do the same on other iOS devices including iPad, iPod, and even Apple TVs. For the final word on Joyoshare UltFix, it gives you an option to make your iPhone into/out of recovery mode for free. Just try it for more details.
Key Features of Joyoshare UltFix iOS System Recovery:
Fix iPhone Auto-Lock not working without data loss
Can repair all kinds of iOS issues with a wet finger
Compatible with nearly all iDevices and the latest iOS version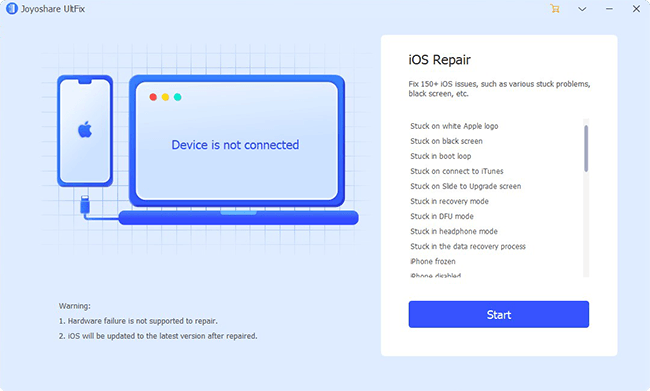 Step 1: To begin with, just launch Joyoshare UltFix after downloading and installing. Then connect your iPhone to a computer using an original USB. When the program shows that your device is successfully connected, please go ahead by touching "Start";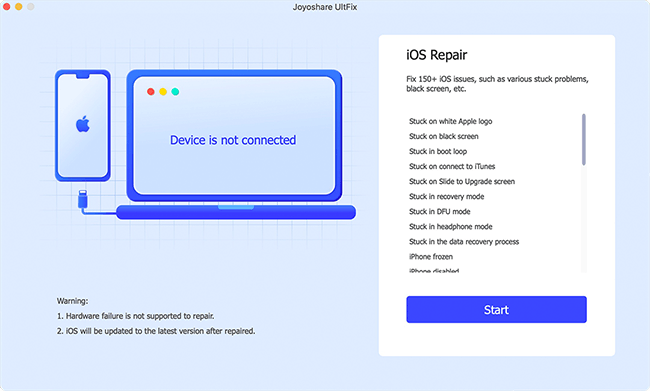 Step 2: What to do in this step is choosing one mode to repair your iPhone. You are suggested to pick standard mode as it does not cause data loss during the repair process;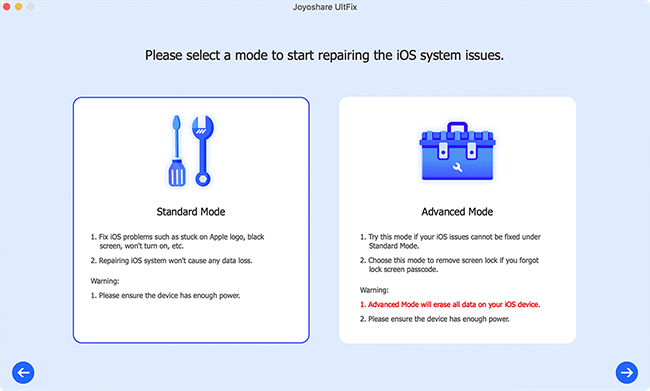 Step 3: After selecting your iPhone model, you need to follow the steps presented on the screen to make your iPhone enter DFU mode or recovery mode. The link at the bottom is used to change mode;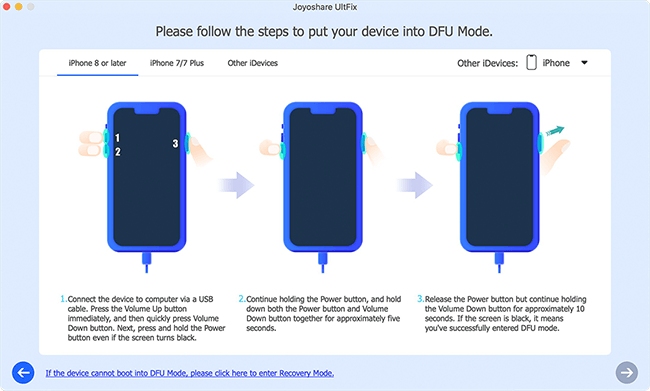 Step 4: At the moment, two things ought to be done. One is to confirm your iPhone information shown on the screen. The other one is tapping on "Download" to download and verify the firmware package;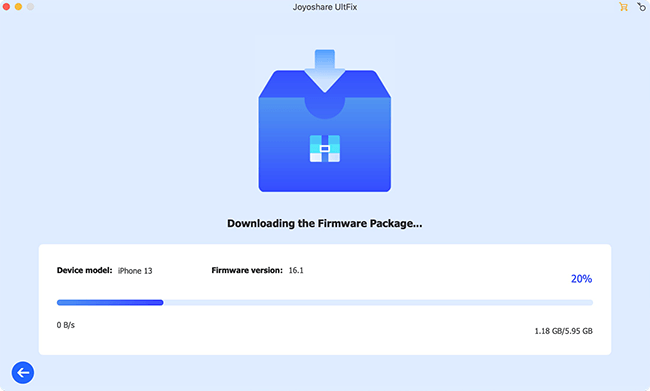 Step 5: Now, please have the firmware package unzipped by hitting on "Repair". Once finished, the program will repair the iPhone problem for you at once.