Q: "I have an iPhone X and today the left side of the screen stopped responding to touch. I can't swipe right to go back, and I can't type the letters in the first column of the keyboard. I've tried hard restarting the phone but it hasn't helped. Is there any fix for this?" - from Apple Community
The iPhone left side of screen not working properly is an uncommon issue. But there are times when the left side of the screen stops responding, creating a bizarre situation for the users. iPhones are all about their brilliant screen sensors. With a section of your screen not functioning properly, the smartphone not only loses its worth but performing even the simplest of tasks becomes quite difficult. You won't be able to make calls, send messages, or scroll down on your social media account. If you too are facing this issue, this article will help you deal with the problem and fix it in an instant.
Part 1. Why Is the Left Side of iPhone Not Working
There are different causes that lead to iPhone left side of screen not working. It includes the setup mistake, software issue, hardware error, malware and so on.
The first reason you could consider is the hardware. iPhone left side of the screen is affected by digitizer, logic board, and LCD screen. If they are broken, your iPhone screen won't work well.
If your iPhone left side screen is not respond when touching, you need to check if there is dust or dirt on your screen protector or iPhone case that influences the sensitivity.
When the hardware runs without problem, it is advisable to check whether the operating system is workable. If not, you'd better repair it so as to fix the iPhone left side screen.
If you jailbreak your iPhone and it is attacked by malware, then you will probably encounter left side of iPhone not working issues.
Part 2. Best Way to Fix iPhone Left Side of Screen Not Working
Joyoshare UltFix is a one-click option for fixing all your iPhone issues, including the left side malfunctioning. Equipped with advanced technology and designed with dual repair mode, it allows you to resolve all your iPhone issues in an instant. Joyoshare UltFix has a sleek and neat interface, making it suitable for users of all caliber. It also values your privacy. While fixing and repairing your device, keeps your data safe and secure. The Standard Repair mode fixes the left side of the screen without losing the data and content saved within your smartphone. Compatible with all iOS devices and efficient enough for solving more than 150 iOS issues, the software is reliable for all your iPhone glitches. In the meantime, you could take advantage of Joyoshare UltFix to factory reset all iOS devices, use one click to get into or out of recovery mode, and upgrade and downgrade iOS system.
Key Features of Joyoshare iOS System Recovery: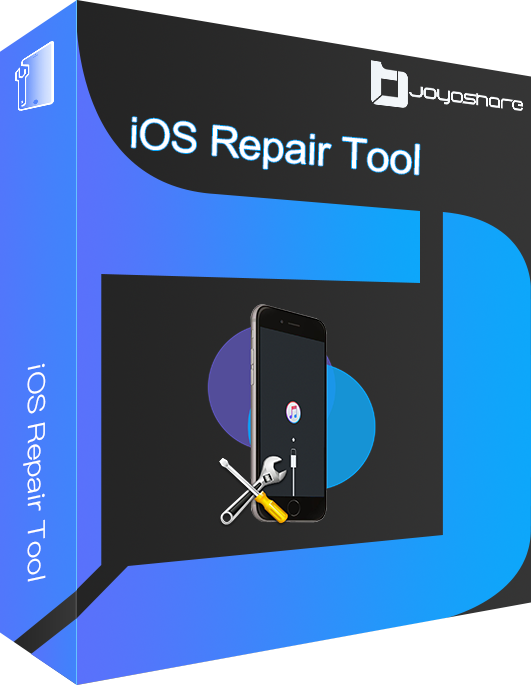 Step 1

Run Joyoshare UltFix and Connect iPhone

Launch the Joyoshare UltFix software on your computer and connect your iPhone to the PC. On the main interface, choose iOS System Repair and click on Start button.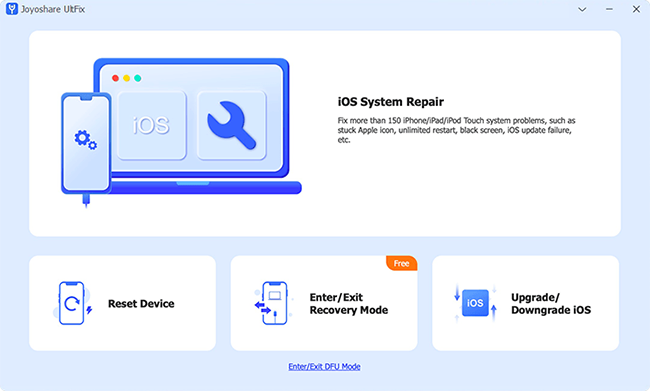 Step 2

Choose Standard Repair Mode for Repairing

Now, you need to choose between two modes: Standard Repair or Deep Repair. Select the former mode as it will secure all your data during the recovery process. If your device is recognized without problem, you will be guided to the next screen. Otherwise, you need to follow the on-screen instructions to pur your iPhone into DFU mode or recovery mode. Then, click on the "Next" button to initiate the booting process.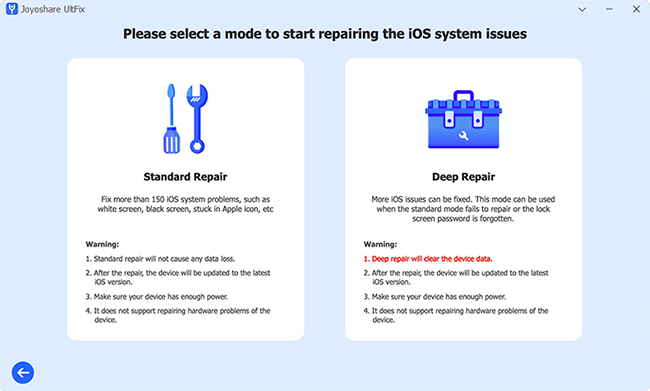 Step 3

Install the Firmware Package

Before the software allows the device to enter the recovery process, it needs to confirm the detected iPhone information. Click on the "Download" option to download and verify the firmware package.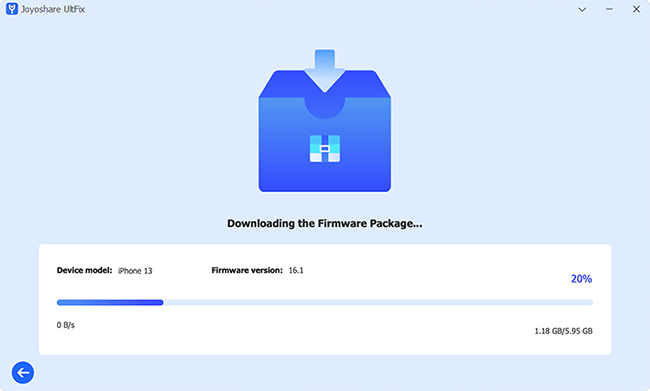 Step 4

Fix Left Side of iPhone Screen Not Working

Finally, click on the Repair option to unzip the downloads matchable firmware and start the iPhone repair process. When you see the Finish button, your iPhone left side screen is successfully repaired.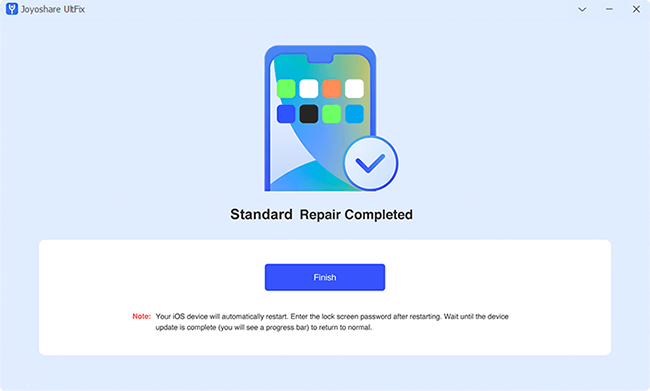 Part 3. Conventional Tips for Left Side of iPhone Screen Not Working
1

Close Unresponsive Application

Unresponsive apps running on your iPhone may hinder its performance. With so many apps demanding attention from the device, it is bound to get stuck, making half of your touch screen unresponsive. If you are having this left half of iPhone screen not working problem, hold down the Home button for a while, or swipe up from the bottom of the screen if you are using an iPhone with Face ID. This will open all the app cards running in the background. Swipe the tabs upwards to close all the useless apps. This will refresh your iPhone and the screen while retaining its swift performance.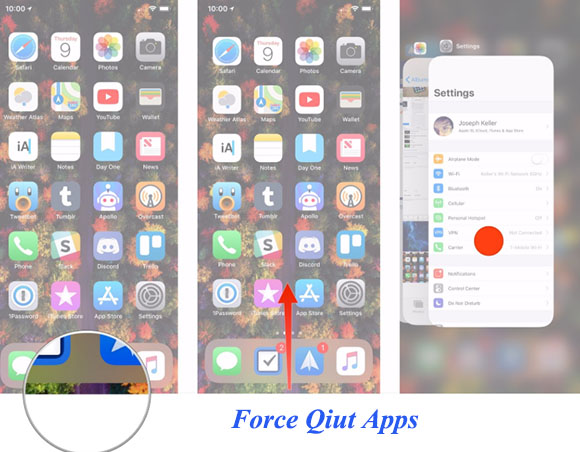 2

Remove Protector and Clear Screen

We all protect our smartphones with protectors. Yes, protectors do keep the expensive screen safe but if the protector is placed incorrectly, such a screen will not be receptive to your touch. Using a plastic cover for protecting the screen also affects its touch sensitivity. Remove the protector from the screen and clean the surface with a soft cotton fiber cloth. Fingers, having dirt on them, will prevent users from touching the screen swiftly. So, make sure your fingers are clean and have no moisture on them as you use your smartphone.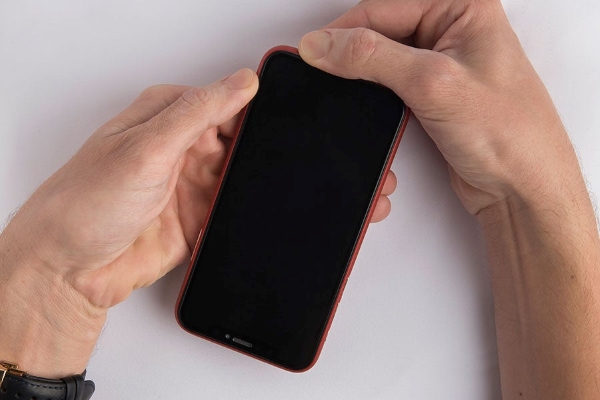 3

Adjust 3D Touch Sensitivity

Since the wrong setup will affect the left side of iPhone screen, you could try to adjust the 3D Touch sensitivity on your device. Open Settings, scroll to Accessibility, tap Touch, and choose 3D & Haptic Touch. Turn on 3D Touch and adjust the touch sensitivity level accordingly. After that, check if iPhone left side screen work again.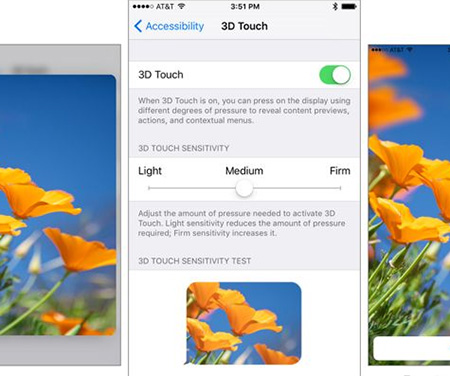 4

Force Restart iPhone

Restarting your iPhone is the simplest and at times effective solution for fixing the left side of iPhone not working issue. If the left side of your iPhone is malfunctioning, shut it down forcefully to improve its condition. For severer situation, you could make attempts to force restart iPhone.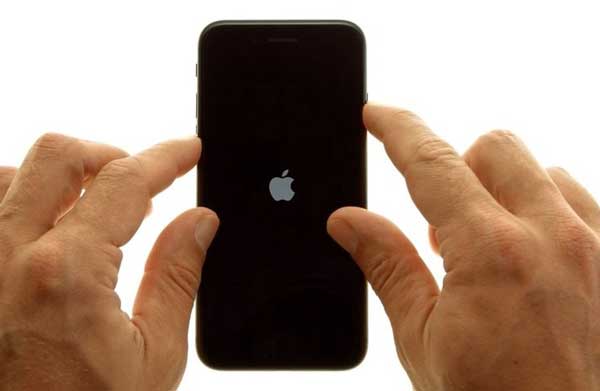 iPhone 8 and later: press and release Volume Up, do the same to Volume Down, long-press the Side button, and release it until you see the Apple logo.
iPhone 7 and 7 Plus: hold the Volume Down button and the Side button at the same time, and release them when the Apple logo shows up.
iPhone 6 and earlier: press and hold the Volume keys and the Home key at the same time and undo buttons when the Apple logo appears.
5

Reset All Settings

So, what to do if the left side of my iPhone screen is not working? Well, If the problem persists after restarting the apps, the next logical solution is to reset all the settings within your iPhone. Resetting the internal iPhone setting may improve the functioning of four smartphones. To reset all the settings within your iPhone, go to the Settings → General → Transfer or Reset iPhone, and tap Reset All Settings to wipe out all your saved settings on your iPhone. The device will demand your passcode before completely discarding your settings. After a while, the iPhone will restart again with default settings and a fully functional touch screen.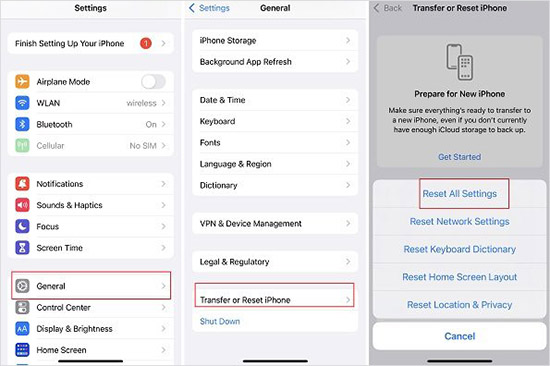 6

Factory Reset iPhone

If the left side of my iPhone screen is not working problem still bothers you, it's time to erase all your data and settings. Installing unlimited apps and making adjustments to the settings of your iPhone, often cause it to abruptly come to a halt. To factory reset your iPhone, go to Settings → General → Transfer or Reset iPhone → Erase All Content and Settings. Enter the passcode and finally click on Erase iPhone to reset your iPhone.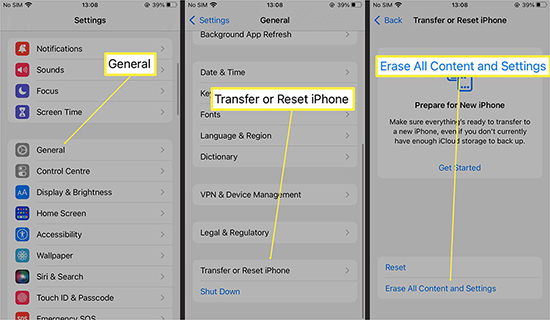 7

Put iPhone into Recovery Mode

Besides minor glitches and hardware problems, the left side of my iPhone screen doesn't work may also due to some bug within the software of your smartphone. Accessing the Recovery Mode and using iTunes will remove the bugs and will restore the screen of your iPhone.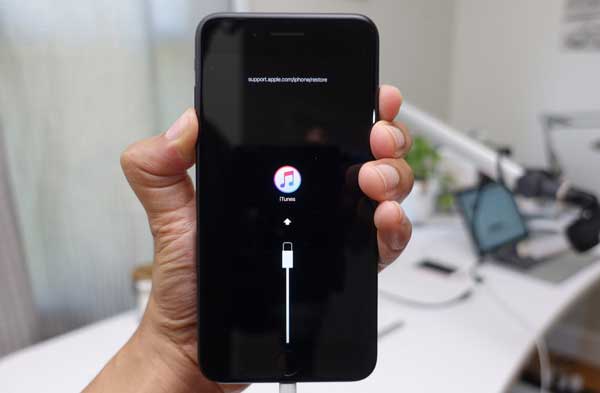 Step 1. Connect your iPhone to your computer and open iTunes.
Step 2. Put your iPhone into recovery mode.

iPhone 8 and later: press Volume Up and release it, press Volume Down and release it, hold the Power button for seconds and release it when your iPhone enter the recovery mode screen.
iPhone 7 and 7 Plus: press and hold the Volume Down and Power buttons simultaneously, and undo them once your iPhone is put into recovery mode.
iPhone 6 and former: hold the Power button and the Home button in the meantime, and release them when you see the recovery mode screen.

Step 3. In the next pop-up window, you can either choose the Update or Restore option.
Step 4. Select the Restore option. This will remove all the data in your iPhone along with the bug. Your device will be updated by choosing Update option and the screen will start performing at full capacity.
Note: If you feel difficult to put your device into recovery mode, it is advisable to use Joyoshare UltFix to enter recovery mode with one-click for free.
8

Update iOS Version

iPhone is continually updating its software, bringing more advancements to its customers. With the left side of iPhone touch screen not working issue, you might be using an outdated series of the software. Updating your iPhone to the latest version will remove the glitch. To update your iPhone, go to the Settings → General → Software Update. This will update your iPhone, and the issue will be fixed.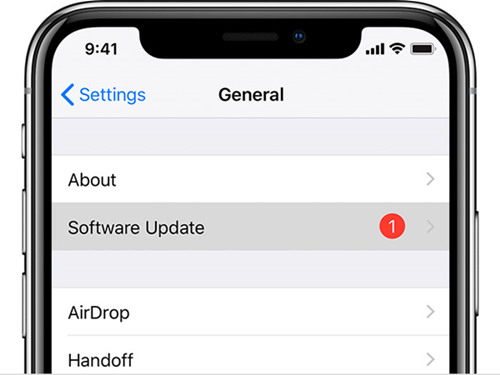 9

Contact Apple Support

If none of these solutions can fix your left side of iPhone screen not working issue, then it's time to contact Apple Support. They will look at the hardware of your iPhone and will fix it in the best possible way. Before heading to customer support, make sure to keep a backup of your data. Because the representative may wipe out the entire data on your iPhone. And if the hardware of your iPhone is damaged, you might be recommended replacing iPhone screen.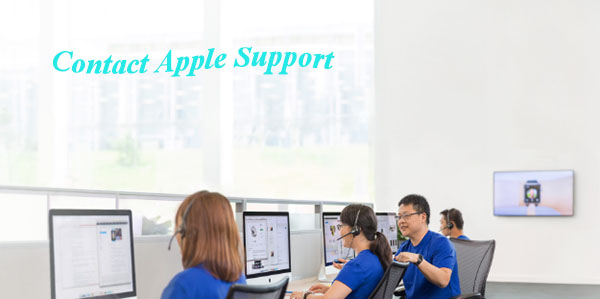 Conclusion
In this article, the reasons why left side of iPhone screen is not working are listed, and up to 9 conventional methods to fix this issue are provided as well. Restarting or updating may or may not make the left side of your iPhone functional. But using Joyoshare UltFix will surely make it better again. It is the best iOS repair software in the market that protects your privacy and fixes all the minor inconveniences like iPhone left side of screen not working easily and handily. If the problem remains, you'd better contact Apple support for assistance.