One fine morning when you were in a hurry to reach your office and picked up your iPhone, you realize that when you swipe to accept that important call or use the bottom part of the screen, it doesn't respond. To make it work again, you hysterically press the power button. But to your dismay, nothing seems to work. It's an annoying yet worrisome situation that we understand you need to be sorted out as soon as possible. In our today's article, we will be revealing why the bottom of iPhone screen not working. So, you could avoid such mishaps in the future and the best-guaranteed ways to fix this problem as instantly as possible.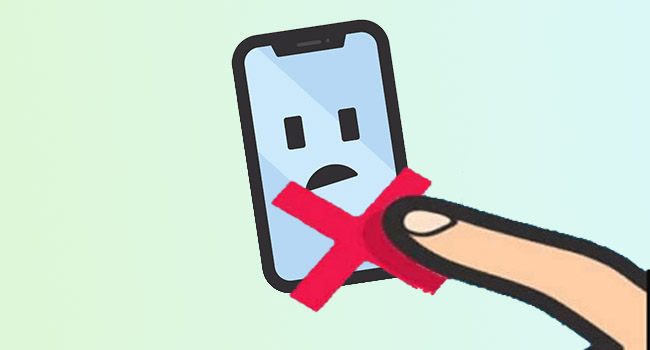 Part 1: Why Doesn't the Bottom of My iPhone Screen Work?
Before learning the solutions, it's important to diagnose the problem first. Some of the common reasons for the bottom half of iPhone screen not working issue can be as follows. Take a deep breath and relax because there are some simple tips and tricks to tackle this issue even though you don't have much technical information.
You have dropped iPhone very often and got damaged digitizer, as a result, iPhone bottom screen is not working.
A glitch has occurred in the system that has made the communication between software and hardware a little complicated.
You may be using a low-quality screen protector that doesn't sense touch on the bottom of the screen.
The iPhone screen is held down by the iPhone case, which may cause the bottom of the iPhone screen to not work.
If the bottom screen is only unworkable on a certain app, this issue is caused by the faulty app itself.
An incomplete or faulty software update can also be the culprit.
Part 2: Best Solution to Fix the Bottom of iPhone Screen Not Working Issue
When you are trying to fix any issue on your iPhone, you need to be extremely careful not to lose the data. For that, the best method is to use Joyoshare UltFix. It can not only fix iPhone bottom of screen not working, but also top of iPhone screen not working, iPhone left side of screen not working, iPad split screen not working, etc. Joyoshare UltFix holds a high success rate and high compatiblity to repair more than 150 iOS system errors. This program is an advanced repair tool that can help you fix all your iPhone-related problems in a swift manner and you are allowed to enter recovery mode and DFU mode freely with one click. Beside, Joyoshare UltFix offers you a channel to upgrade iPhone to the newest beta version without developer account and downgrade iOS to the unsigned version. If you want to erase Apple devices without Apple ID password, it is also helpful to factory reset your device.
Key Features of Joyoshare iOS System Recovery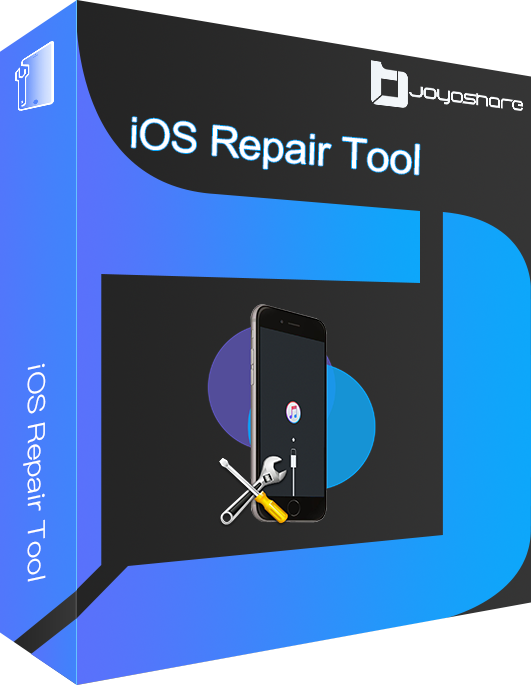 Allow to resolve issues without losing data
Highly compatible with all iOS versions and iPhone models
Repair 150+ possible iOS issues with zero data loss
Designed with dual repair mode and high success rate
Fix right, top and left side of iPhone screen not working issues
Step 1

Run Joyoshare UltFix and Connect iPhone

Launch the Joyoshare UltFix iOS repair tool and plug your iOS device into the computer. Choose iOS System Repair and click on the Start button to launch the process.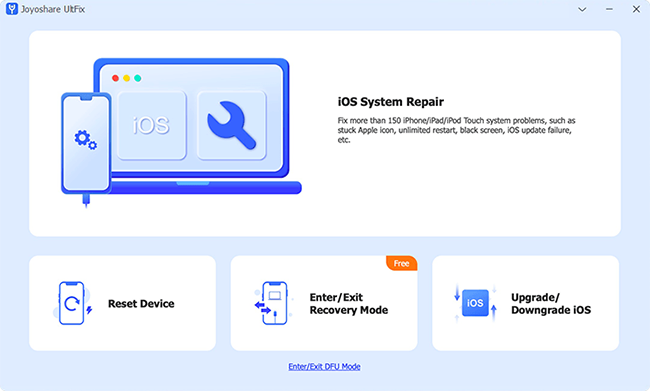 Step 2

Choose Standard Repair Mode for Repairing

Joyoshare UltFix offers two repair modes, which can be exemplified by Standard Repair mode and Deep Repair mode. The difference is you lose no data in Standard Repair mode whereas Deep Repair mode erases all your data. In this situation, simply choose Standard Repair. If your iPhone is successfully recognized, it will guide you into next screen. On the contrary, you need to manually put your iPhone into DFU or recovery mode.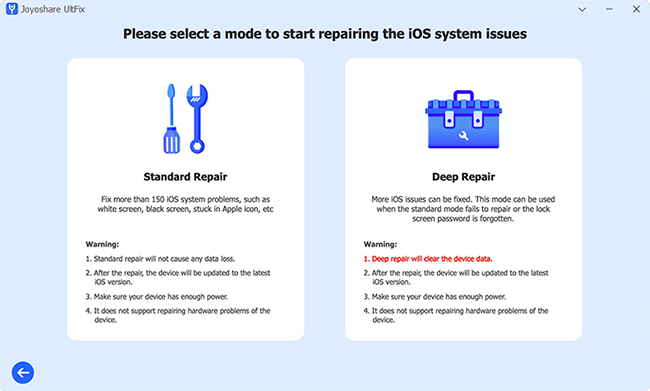 Step 3

Install the Firmware Package

When you click on the Next button, be prepared to download the firmware package. Click Download after confirming your iOS device info carefully. You will have to wait for a while until firmware package downloads and verify the package.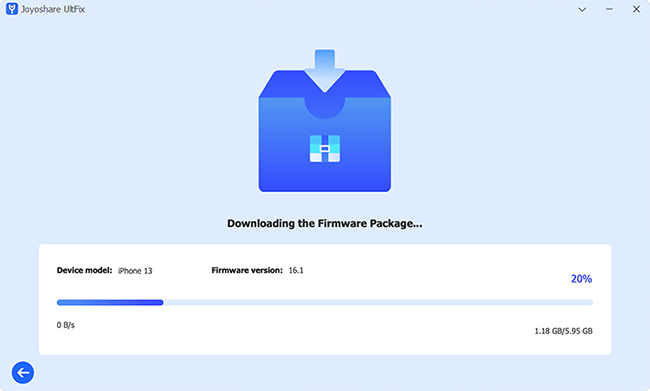 Step 4

Repair Bottom of iPhone Screen Not Working Issue

Then click on the Repair button to fix the iOS system repair procedure. Joyoshare UltFix for Windows will help you unzip the firmware and fix the iOS automatically. Once done, you will have to check whether the device boots normally or not. Otherwise, you will have to get help from the local Apple Store for the hardware issue.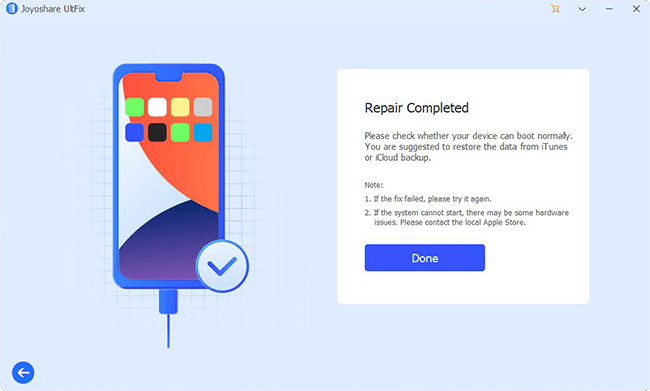 Part 3. Common Ways to Fix Bottom of iPhone Screen Not Working
Option 1

Restart and Force Restart iPhone

The bottom half of iPhone not working might be because of certain processes operating in the background. The best and easiest way is to reboot your iPhone. Just press and hold the iPhone's power button until the slider appears. Drag the slider to the right to turn it off. Wait for a while and then turn on your iPhone. For deeper repair, you could force restart iPhone.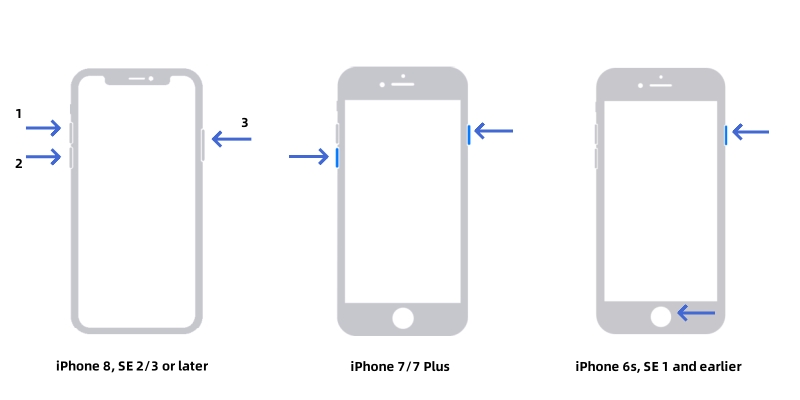 iPhone 8 and later: press and undo the Volume Up button, press and undo the Volume Down button, press and hold the power button, and release it unitl the Apple logo appears.
iPhone 7 and 7 Plus: hold the Volume Down button and the Side button, and simultaneously undo them when the Apple logo shows up.
iPhone 6 and former: hold the Home button as well as the Sleep button, and release them once you see the Apple logo.
Option 2

Clean Screen and Fingers

To rule out the possibility that iPhone bottom of screen not working problem is led to your dirty screen or fingers, you need to use a cloth to wipe your screen in order to make sure that there is no dirt or debris stuck in the crack. And of course, wash your hands and then check if the bottom screen is able to be touched.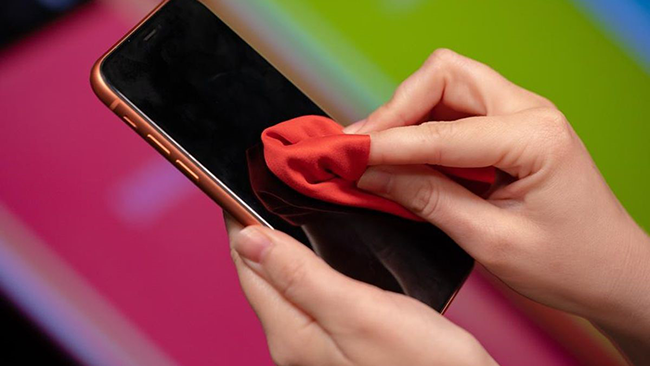 Option 3

Remove Screen Protector and Case

There are occasions when you are using a low-quality of iPhone case and screen protector and there are dust and bubbles between the screen and the protector, which results in your iPhone 11 bottom of screen not working. In these scenarios, you can remove the case and change a new screen protector to see if your bottom screen works well.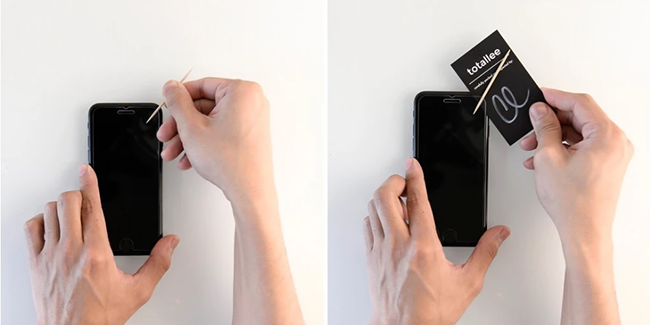 Option 4

Check Orientation Lock

When you can't use the bottom screen on your iPhone, it could be considered that your iPhone might get stuck in the current orientation and won't revert. You can check if you have locked the orientation of the screen, if so, open Control Center, tap on the orientation lock icon, and manually rotate your iPhone to change orientation. If it is stuck, you might need to restart your device or even repair it.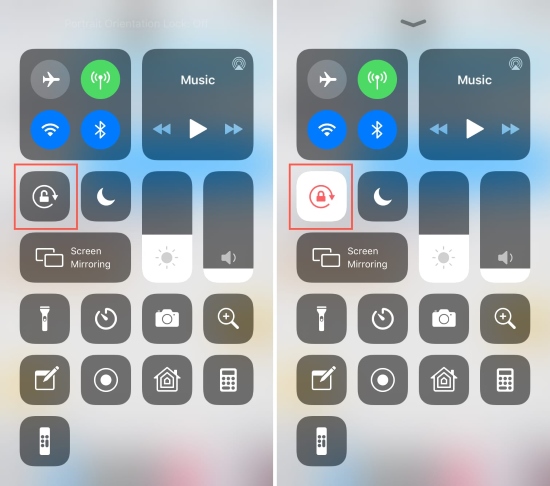 Option 5

Free iPhone Storage Space

Sometimes the glitch of the iPhone bottom of screen not working properly occurs due to the overflowing storage memory. This makes the screen unresponsive. Check the storage and if it's full, you will have to delete the unnecessary items from iPhone.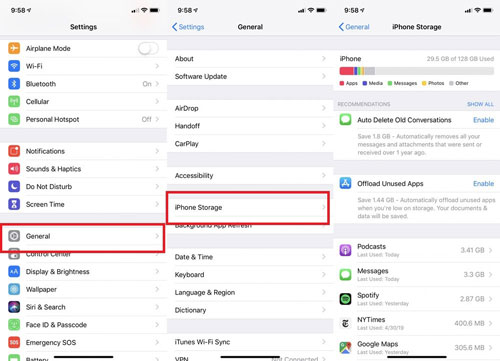 Step 1: Navigate to Settings and select General.
Step 2: Tap on iPhone Storage and review the details.
Step 3: You are able to hit the Enable option if there are recommendations. Also, delete some items if the memory is full.
Option 6

Modify 3D Touch Settings

If you have enabled the 3D Touch feature, the bottom of iPhone screen may be unresponsive. Turn on and off the 3D Touch feature on your device also can help you repair your iPhone with this annoying problem. Go to Settings → General → Accessibility → 3D Touch. Turn the 3D Touch option off and on again. You can also adjust the 3D Touch Sensitivity when 3D Touch is on.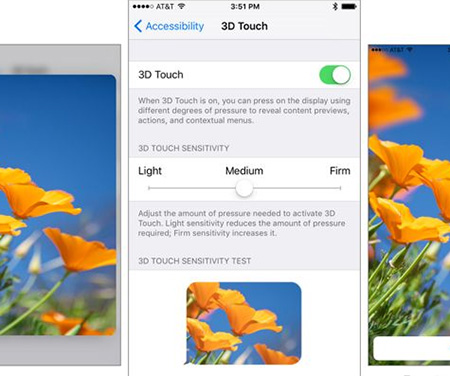 Option 7

Update All Apps and Delete Unused Apps

When the bottom of my iPhone screen doesn't work, you can try updating all the applications from the App Store to fix this issue as there are some outdated applications that may cause your iPhone screen unresponsive. Launch App Store, tap your profile, and you will get the list of all the apps that require an update. Tap on "UPDATE ALL" and all the applications on your iPhone will be updated to the latest version. Moreover, deleting the used apps on your iPhone can not only free up the storage but also fix the iPhone bottom screen if it is merely malfunctioning on the specific app. Just long-press the app icon on the home screen, select Remove App, choose Delete App, and confirm your action.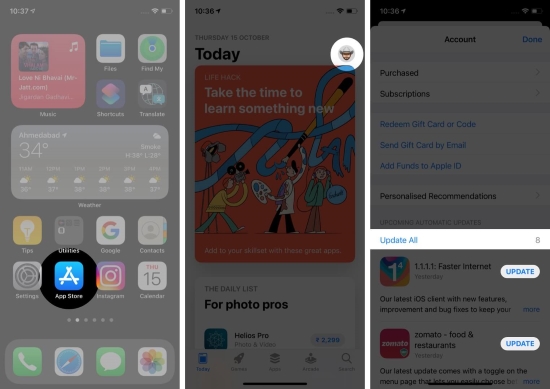 Option 8

Update the iPhone Device

Another way to fix the non-working iPhone screen is to update the iPhone device as the new versions can fix the software bugs. Go to Settings then General and finally tap on Software Update. The device will check the new OS updates and download and install the available updates. Then, check if the bottom of iPhone screen works normally.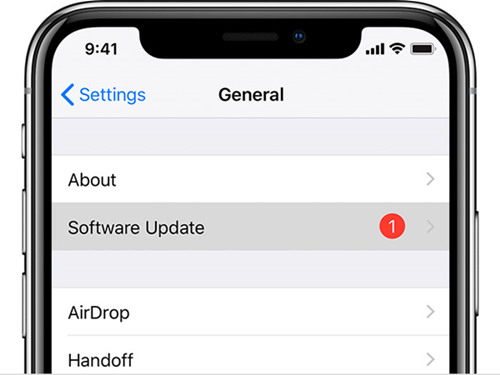 Option 9

Restore iPhone via iTunes

How to fix bottom of iPhone screen not working? iTunes could play a role in dealing with this issue. When your computer has been trusted by your iPhone, you can easily restore your device to refresh the system. Or, you can put your iPhone into recovery mode to restore it.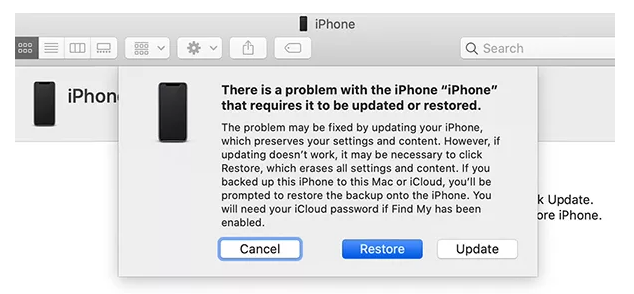 Step 1: Open iTunes and connect your iPhone to the computer.
Step 2: Enter the recovery mode following the instructions below.

iPhone 8 and later: press and release Volume Up, do the same to Volume Down, long-press the Side button, and release it once your iPhone successfully enter recovery mode.
iPhone 7 and 7 Plus: hold the Side and Volume Down buttons, and undo them when the recovery mode screen occurs.
iPhone 6 and earlier: hold the Home button and the Sleep button at the same time, and when you see the recovery mode screen, release them.

Step 3: Hit the Restore button when the prompt occurs on iTunes.
Option 10

Factory Reset iPhone

Resetting your iPhone is a painful procedure because you lose all the data in the process. But to fix the bottom half of iPhone screen not working, you might have to perform this procedure.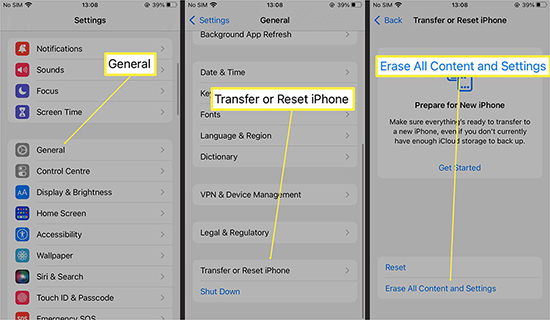 Step 1: Go to Settings → General.
Step 2: Tap on Transfer or Reset iPhone, then press Erase All Content and Settings.
Step 3: Then upload the data to iCloud. If asked for your Apple ID password or screen passcode, type in it and finally tap on Erase Now to complete the process.
Conclusion
Facing a glitch with electronic devices is a common problem. Therefore, when next time your screen bothers you, instead of wondering why doesn't the bottom of iPhone screen not working issue appear, properly try our tried and tested fixes mentioned above. Using Joyoshare UltFix allows us to securely fix our iPhone issues including the bottom screen not working. In the meantime, all the touchscreen issues caused by system errors can be repaired by the Standard Repair mode offered by this powerful tool without data loss. So, are you ready to become the best tech guy in your friend circle? Try out our fixes immediately for awesome results.