Q: "Since I woke up this morning I've had a blurry rectangle in the top left corner of my iPhone in multiple apps and home screen. When I googled it, it said to go to settings – brightness Dash toggle on dark mode and then toggle on light mode and this didn't work but it was only temporary. What is the permanent solution?" - Scrmomx4 from Apple Community
Why the issue of top left corner of iPhone blurry would suddenly occur like what Scrmomx4 has experienced? Actually, this is not the first time iPhone users have complained about the phenomenon. And users who are using iPhone 12/13/14 have met this problem more frequently than other models. Although iPhone is still available to use under this situation, we might have difficulty in reading texts, viewing pictures, and seeing notifications. Fortunately, this problem can be fixed through several methods. In this post, you could find possible solutions and get your screen return to normal.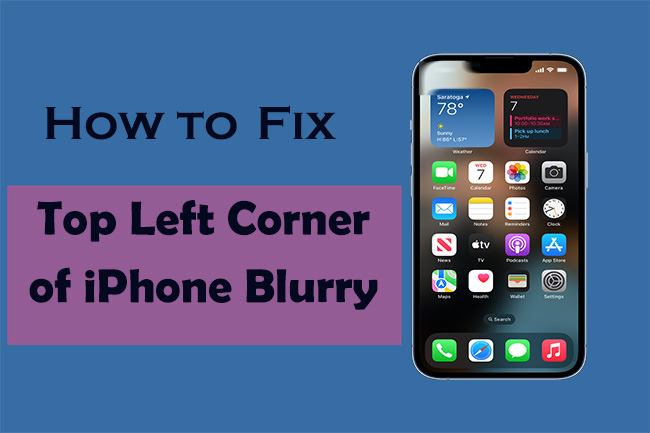 Part 1. Why Is the Top Left of My iPhone Blurry?
The blurry top left corner of iPhone could be motivated by all sorts of reasons. Here we have listed some of the most likely ones.
Software Glitches: If the software has bugs and issues, the operation of iPhone would be greatly affected. Hence, it's not surprising that iPhone's screen displays in an abnormal way.
Wrong iPhone Settings: How iPhone's screen performs is closely related to settings of iPhone. For instance, improper Day and Night settings may have a direct impact on the issue.
Damaged Hardware: There is still a possibility that the malfunction of screen is caused by damaged hardware. You could think about whether your iPhone is dropped harshly or exposed to water, these could lead to the faulty screen.
Part 2. Fixes to Blurry Top Left Corner of iPhone
1. Disable Night Shift
If iPhone keeps showing a blurry rectangle on the top left, you could try to disable Night Shift feature to quickly fix it. Though this feature could be very useful and get you a better night's sleep, it can also cause the problem.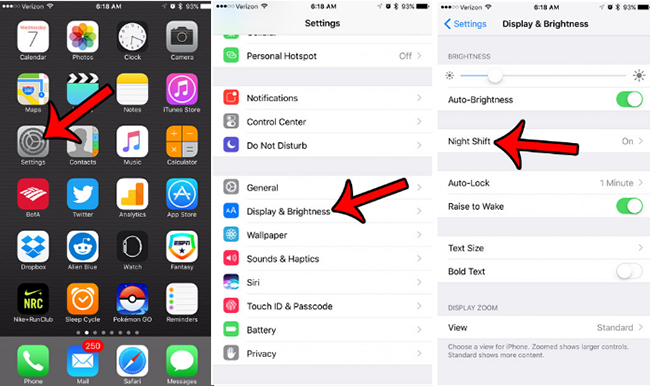 Step 1: Open Settings app, scroll down to locate Display & Brightness and tap it.
Step 2: Then, click Night Shift, and turn off Scheduled.
2. Switch to Dark Mode
Enabling dark mode might also work if top left corner of iPhone is blurry. At least it could make the blurry part less obvious in dark mode. You could follow the steps below to enable the dark mode or turn it on directly from the Control Center.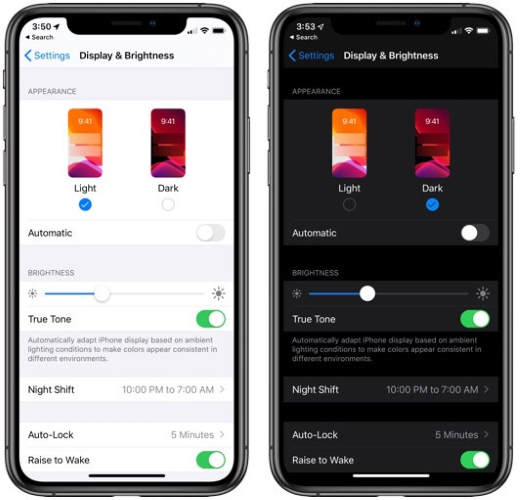 Step 1: Open Settings app on iPhone, and choose Display & Brightness.
Step 2: In the APPEARANCE section, select the Dark mode.
3. Uninstall Problematic App
Sometimes the specific app is connected with top left corner of iPhone screen blurry. This is because the app carries with the virus or it is not compatible with your iPhone. If you have downloaded app without being detected recently, you'd better exit the app in time. When it comes to compatibility problems, you could fix the issue by updating the app from App Store. If the blurry screen is still unsettled, you could uninstall the problematic app directly by long pressing the app for further check.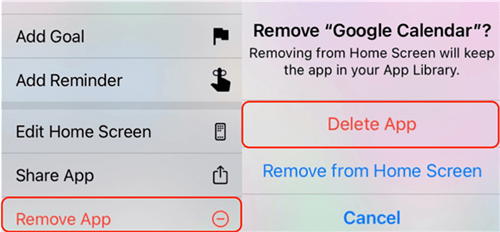 4. Update iOS Version
Updating your iOS version is also one possible workaround. The latest version can not only bring more features for users, but also help fix some iPhone glitches. The screen display might be recovered this way. Open the Settings icon and head to General. Then click on Software Update to see whether there is a new update.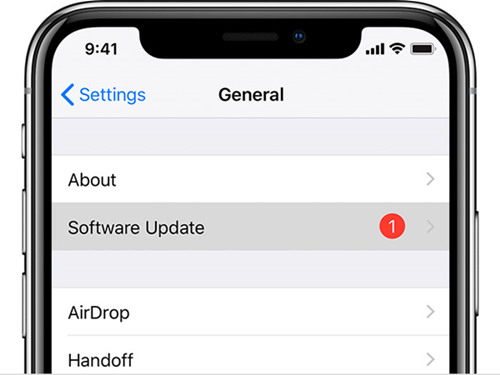 5. Change Video Quality in Apps
If your top left corner of iPhone is blurry while watching a video, the problem might lie in the settings of video quality. You can adjust the quality by locating the settings of an app and choosing higher-resolution of the video.
6. Force Restart iPhone
Restarting your iPhone might also be useful when something is wrong with your top left corner of iPhone screen, as it would give your device a fresh restart and fix some small bugs or transient problems. If the issue still exists after a normal restart, you could try to force restart iPhone, which may help alleviate the issue to a great extent. You could follow the guides below to force restart your iPhone.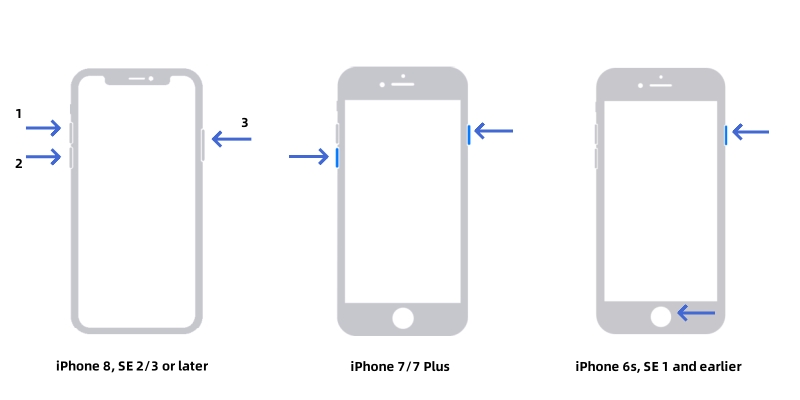 For iPhone 8 or iPhone SE (2nd generation) and later: Quickly press the Volume Up button and release it, followed by the Volume Down button with the same operation. Last, keep pressing the Side button till the Apple logo comes out.
For iPhone 7: Press and hold the Volume Down button & the Sleep button (or Wake button) without releasing until the Apple logo shows up.
For iPhone 6s or iPhone SE (1st generation): Press and hold the Sleep (or Wake button) & the Home button without pausing until you see the Apple logo.
7. Resort to the Best iOS Repair Tool [Highly Recommended]
If you have exhausted all the methods above and still fail to remove the blurriness from the top left corner of iPhone screen, it's time to seek a reliable repair tool to help you fix the problem. Joyoshare UltFix could be your first option to bring your iPhone back to normal. It could let you simply fix more than 150+ possible problems at home. It can easily fix common iPhone display issues, like vertical lines on iPhone screen or other screen glitches. And you don't have to worry about losing data, Joyoshare UltFix is prominent in fixing the issue without losing any data.
Main Features of Joyoshare UltFix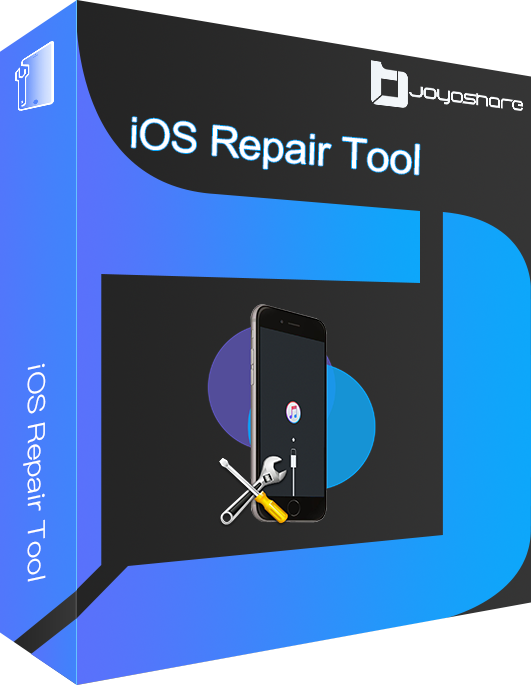 Flexible dual modes for repairing iPhone with a high success rate
Free option to get in and out of recovery mode
Easy to downgrade your iOS version with no risk of jailbreak
Free to restore iDevices to default settings
Step 1

Install Joyoshare UltFix and Plug iPhone to Computer

Firstly, install Joyoshare UltFix from official website and get your iPhone connected with the computer. Then you could open the software to start fixing the blurry issue by choosing the iOS System Repair section and next clicking the Start button.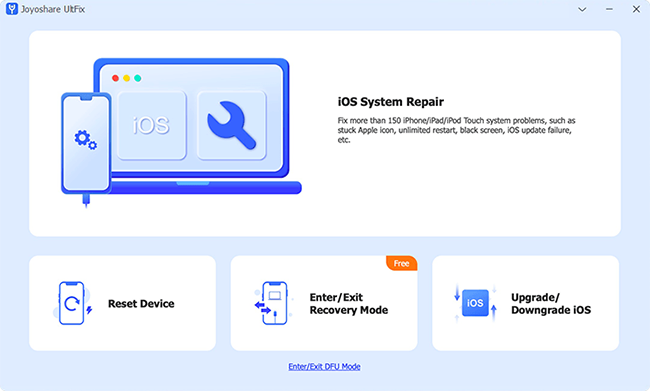 Step 2

Choose Standard Repair with No Data Loss

Joyoshare UltFix is equipped with dual modes to carry out different tasks. The most frequently used mode is Standard Repair, which is able to cover almost all basic iOS issues with no data loss. Deep Repair is less used and only applied to fix serious system issues. In order to solve the problem that top left corner of iPhone is blurry, you are supposed to choose the Standard Repair.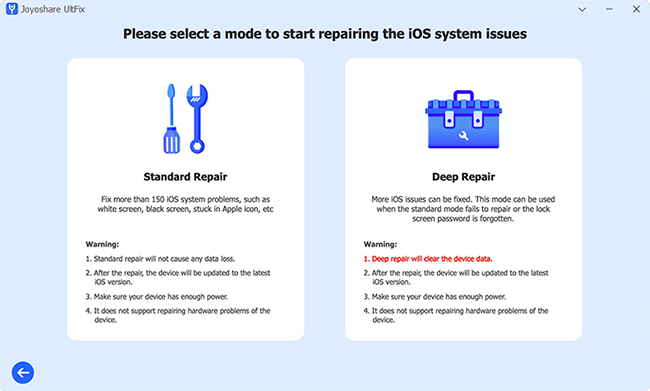 Step 3

Confirm and Download the Compatible Package

Before downloading the firmware package, you are required to confirm the device information detected by the tool. Then click the Download button and wait for several minutes.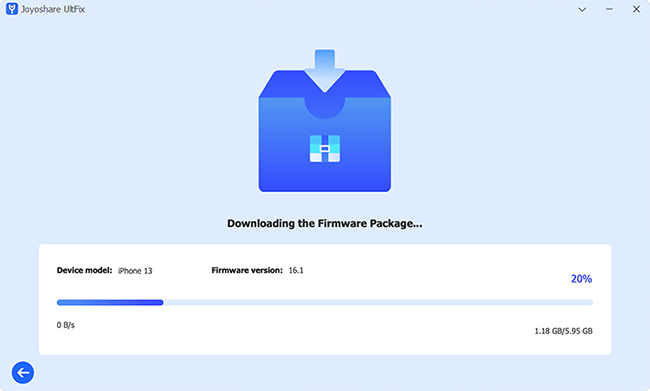 Step 4

Begin to Fix Blurry Corner of iPhone

After the downloading process, you could click the Repair button. And the firmware package will be unzipped quickly and start to recover the iOS system issues. When you see Finish in the interface, you are able to regain your iPhone with a vivid screen.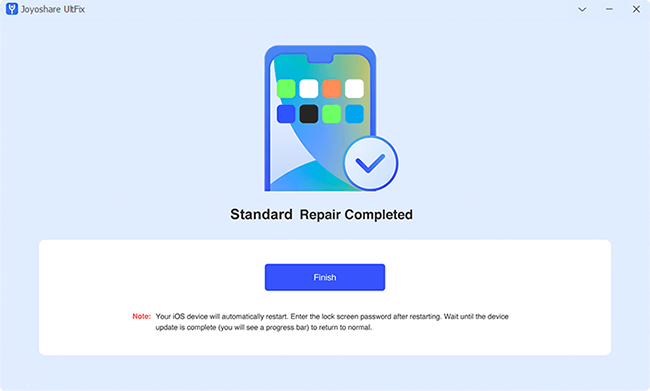 8. Factory Reset iPhone
Factory resetting your iPhone might be beneficial to resolve your partly blurry screen, but it is not recommended to try it as all your data would be erased. If you want to make an attempt, make sure to back up your data with iTunes.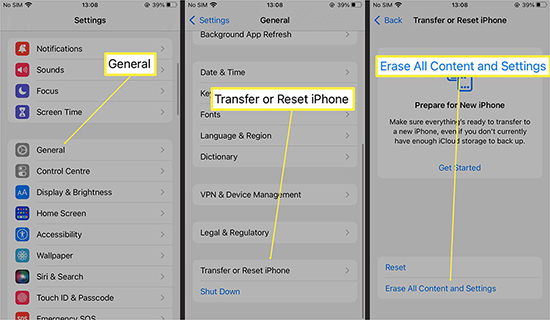 Step 1: Go to Settings app, and find General.
Step 2: Scroll down to the bottom and choose Transfer or Reset iPhone.
Step 3: Then on the following screen, tap Erase All Content and Settings. And enter the password to wait for your iPhone to reset.
9. Contact Apple Support for Physical Damage Check
You could also turn to Apple Support for professional help. If the blurry screen is caused by physical damage, you may go ahead and replace the screen with the help of experts at Apple.
Part 3. FAQs of iPhone Screen Issues
Q1. Can I use the methods in the post to fix other iPhone screen issues?
A: Yes, some methods of the post are also suitable for fixing other screen issues, such as iPhone screen turning black, iPhone screen showing different color lines, etc. Among them, Joyoshare UltFix can be used to fix almost all iOS-related issues.
Q2. Can I fix top left corner of iPhone blurry at home?
A: Yes, most of the methods above are suitable for you to operate at home. The steps are simple to operate and you can guide them at home without any trouble. However, if your iPhone's problem is associated with the hardware problem, you'd better seek help from Apple.
Q3. How to prevent such a phenomenon from happening again?
A: You could reset the settings mentioned in the article, which is helpful to keep your screen behaving normally. Besides, try to prevent your iPhone from falling from high places, or being exposed to liquids.
Part 4. Final Words
It's not a tough task to fix top left corner of iPhone blurry. All the above-mentioned methods can be applied to fix the issue. If you want to prevent other iOS issues from affecting your iPhone again, you could try Joyoshare UltFix, which maintains a high success rate all the time. Last, hope this post could help you a little and welcome to leave your comments below.