Does your iPhone keep restarting during restore? It can be a nuisance because you have to restore your device multiple times to get it working again. But, if you're like most people, maybe you don't know how to fix this problem. The reality is that your iPhone is staring at you, pleading for help. Perhaps you've been dealing with annoying and persistent restarts on your Apple device or simply a recurring pattern of rebooting and rebooting again. You might be scared, frustrated, or helpless. Don't fret - many situations can trigger this issue on iDevices, such as your iOS 15 device. Here are six simple tips to help fix your problem with "iPhone keeps restarting during restore" issue.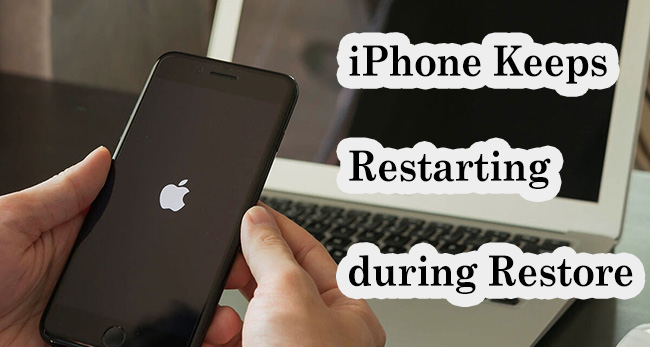 Way 1: Use Joyoshare UltFix
Joyoshare UltFix for iPhone is a comprehensive solution for iOS12, iOS 13, iOS 14 & iOS 15 problems. This tool enables you to repair updated or installed system files from iPhone without draining device storage. If you're experiencing 150+ iOS system issues, such as a white Apple logo or black screen, stuck in DFU mode, iPhone keeps restarting, or it won't turn on at all, Joyoshare UltFix may be the solution for you. It's an app that comes with a repair guide that is extremely simple to complete and can fix any problem related to your device. Additionally, it has a repair mode - designed to quickly fix any issue without losing your data or causing any damage. By using the Joyoshare UltFix, you will be able to free yourself with problems regarding "why does my iPhone keep restarting".
Key Features of Joyoshare iOS System Recovery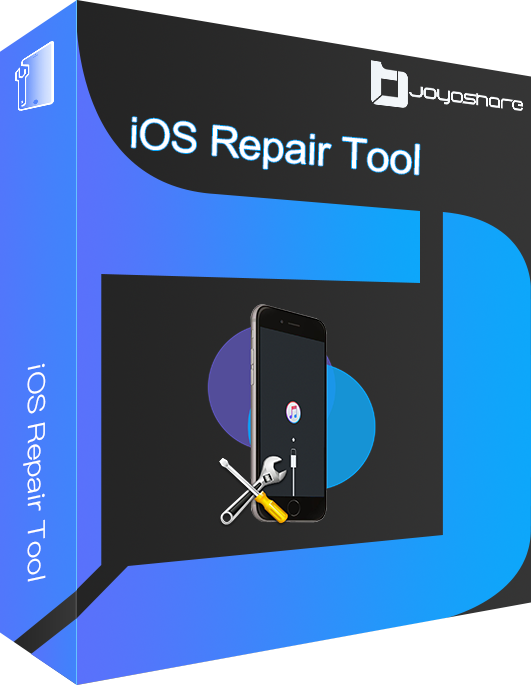 Fix iPhone, iPad, Apple TV keep restarting and iPhone won't restore
Enter and exit recovery mode in one click freely
With 2 modes to repair 150+ issues on iOS
Support the latest iOS 15 and all devices
Update your iPhone to the latest iOS system automatically
Step 1

Run Joyoshare and connect an iOS device

Joyoshare UltFix is a repair tool that you can use to fix iOS devices. When you click on the "Start" button after connecting iPhone to computer and clicking Enter Recovery Mode, it will move you to the next step.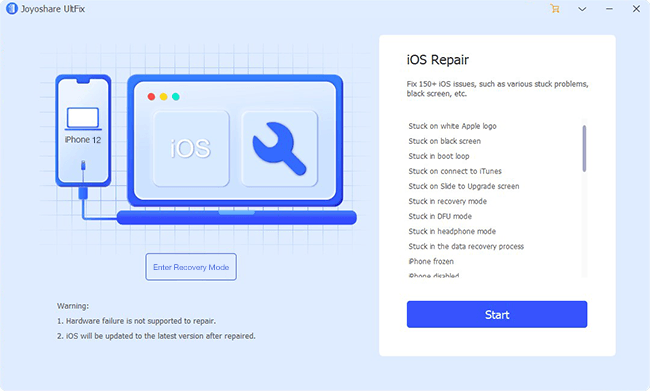 Step 2

Choose repair mode

If you have an iPhone with issue, you can now select a repair mode: Standard Mode (with no data loss) or Advanced Mode (erase all data). Select Standard Mode to repair your iPhone without losing data and click the Next button.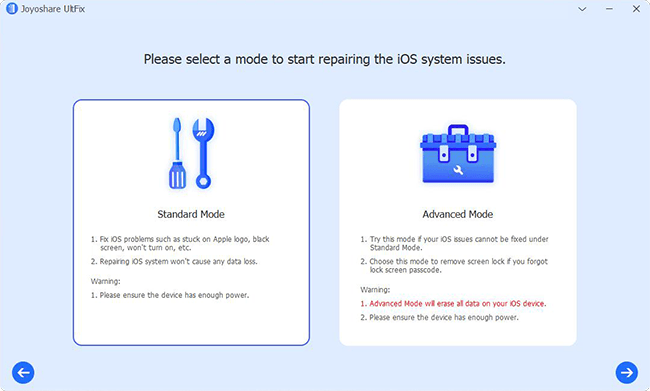 Step 3

Download and verify firmware package

Then, Joyoshare UltFix will ask you to confirm your iOS device info. Please carefully check all of the necessary information, and then click "Download" to get the right firmware package. The process should take a few minutes.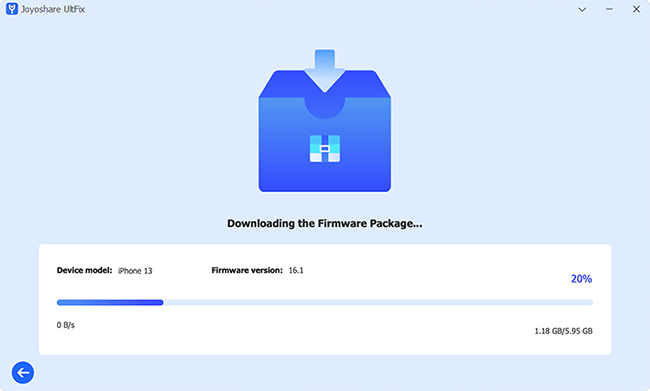 Step 4

Start to repair the iPhone restarts during restore issue

After clicking on the "Repair" button, Joyoshare UltFix for Windows will automatically unzip the firmware and fix iOS. Keep in mind to connect your iOS device during the entire repairing process. After that, please get down to check whether the device can boot normally. Registered and unregistered Apple users can put their iPhones into recovery mode for free with Joyoshare UltFix iOS System Recovery. It is relatively straightforward to get out of recovery mode if your iPhone gets stuck.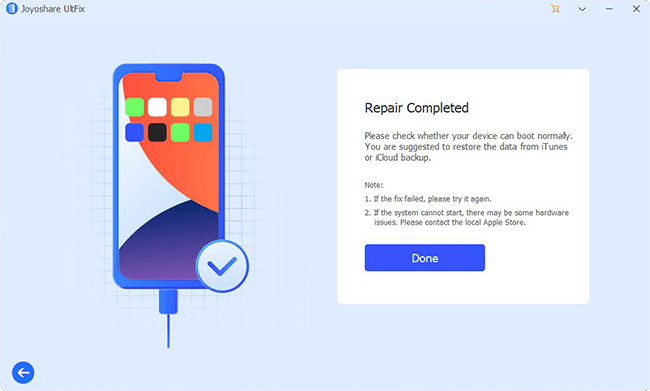 Way 2: Use Another USB Port
Apple recommends a 2.0 port with a minimum of 500mA charging capabilities to avoid problems with "iPhone keeps restarting during restore". Try the computer port not nearest to your DVD drive, and make sure there are no drives plugged into other USB ports on the same line. Remember to unplug other external devices such as iPods, mice, etc.
Way 3: Reset Network Settings
Try clearing/resetting your iPhone's network settings. Do this by going to Settings > General > Transfer or Reset iPhone and then tap Reset > Reset Network Settings. You may need to erase all contents and settings for this to work. The iPhone's setup assistant will reset itself, and you will have to go through the process again.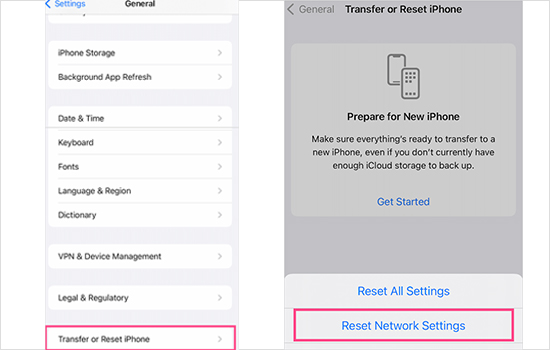 Way 4: Remove USB Hubs
If you use a USB hub to connect your iPhone to your computer, it might be in your best interest to discard the hub. Some hubs are known to cause issues, and as a result, they can create problems for iPhones. Try connecting your iPhone directly to your computer instead of using the hub to ensure that everything is working properly.
Way 5: Charge iPhone
A lack of battery charge will prevent your iPhone from restoring successfully. So, to fix this issue, first, try to charge your iPhone if it isn't charging properly. If that fails to fix the problem, try unplugging your iPhone from the charger for 5 minutes and then plug it back in. Shut down your iPhone for at least five seconds just to clear saved memory before you turn it back on.
Experts Note: This procedure is necessary only when restoring an older defeated device. If the iPhone is brand new and has never been defeated, your restore normally would work without a restart.
Replace Battery: When charging your phone, try connecting it to a quick charge 2.0 or a better charger to ensure that your battery maintains its charge. iPhone 5s, 7, and 8 users should try replacing their phone's battery for optimum results. This method can also help you solve the problem of restarting during restore.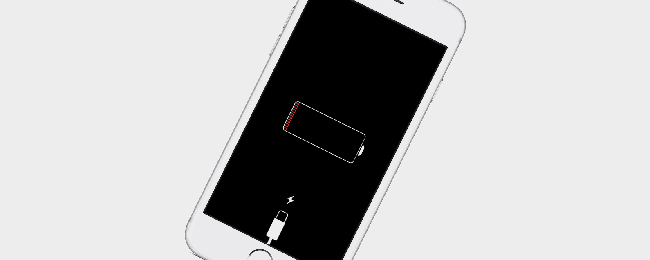 Way 6: Use the Original USB Lightning Cable
"iPhone keeps restarting when trying to restore" - maybe now you could avoid it by using an original USB lightning cable. You should avoid using any third-party chargers and cables to avoid this issue. When bought new, the only exception is when a cable isn't originally included with the unit. In this case, when connecting your iPhone to the computer, it is recommended that you use an original USB cable. This will ensure that your iPhone stays connected and works properly.
Conclusion
A common cause of the dreaded restarts is an Apple defective battery and that's where these steps to solve iPhone keeps restarting during restore issue may become useful. If you've tried out these methods and are still experiencing a restart every time you try to connect your iPhone, then don't give up. Utilize Apple's website or call 1-800-MY APPLE, they will be happy to help you diagnose the problem. You should also check that the latest firmware version is installed on the device. However, that is another story for another time. Good luck, and let us know what works.