iPhone which comes with its powerful feature and unique superiority has attracted and been recognized by many mobile device users. Nevertheless, there are a variety of issues hassling us. For instance, when your iPhone is sluggish due to many applications running simultaneously, in most cases, you may want to restart your iPhone but only to find iPhone won't restart. At that time, you probably feel panic and have no idea how to deal with this problem by yourself. Here in this article, some effective solutions will be introduced to help you. If you are experiencing this issue, you can read on to learn more details.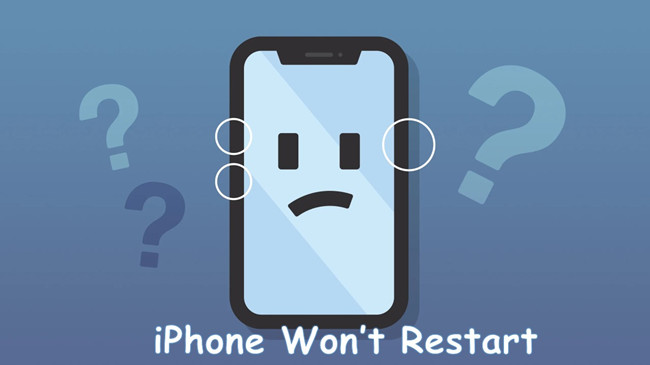 1. What Does Restart Mean
Restart iPhone, which usually means a soft restart, is operated by powering your iPhone off and then getting it back on. Compared to forced restart, it is at the software level to reboot iPhone settings and close all app operations. It can save redundancy on your iPhone devices and is the preferable way to speed up your device. What's more, it can fix some basic issues, like network errors, iPhone stuck or some location problems. However, sometimes, it may fail to respond and result in iPhone restart not working issue. But don't worry, we are discussing some solutions in the next parts.
2. Fix Restart Not Working on iPhone without Data Loss
If this error is caused by system errors or bugs, you can directly resort to a professional iOS system repair tool, Joyoshare UltFix. It comes in handy to perfectly repair over 150 iOS system issues, such as restore failure, disabled iPhone, iOS update failure, etc. It's considerably simple for iPhone users who have no tech foundation to independently complete the whole process in 3 steps no matter which problem is. What makes it take priority over other similar programs is the highest success rate and no data loss. In other words, with its effective processor, there is little possibility of failing to solve the problem and risk of data loss as well.
Key Features of Joyoshare UltFix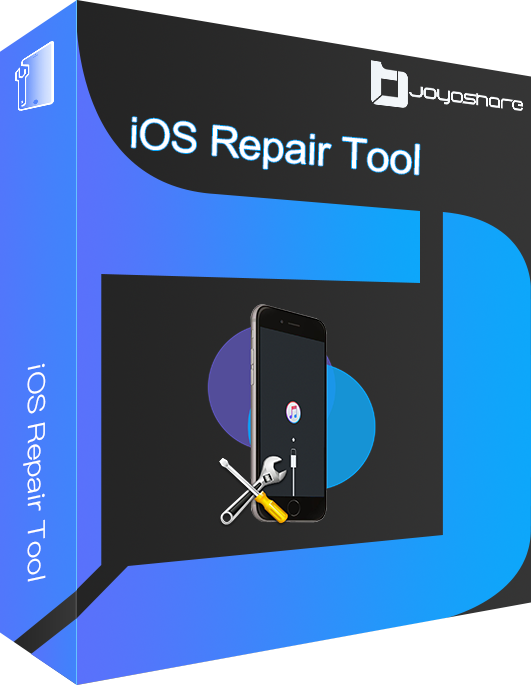 It is designed with dual repair modes to fix iPhone cannot restart issue losslessly
Support all models of iPhone, iPad and iPod, including the latest iOS 15 and iPhone 13
Free to enter and exit the recovery mode with one click
It can repair system errors such as iPhone stuck in recovery mode within three steps
Step 1

Launch Joyoshare UltFix and Connect to the Computer

After downloading, installing and running Joyoshare UltFix, plug your iPhone into the computer. When your device is recognized, press the "Enter Recovery Mode" and then click on the "Start" button to proceed to the next step.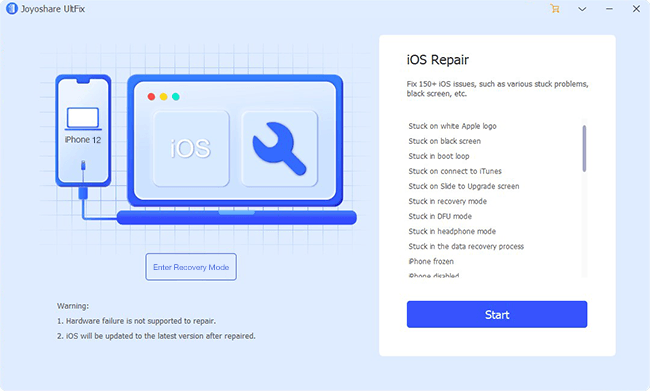 Step 2

Choose "Standard Mode"

In this step, there are two different repair modes available for the severity of iPhone problems. But Standard mode is enough to fix iPhone can't restart without losing data. So, you can directly choose the "Standard Mode" and click "Next" button. If you fail to enter the recovery mode in the first step, after selecting "Standard Mode", you also can enter into recovery mode or DFU mode manually following the guide of the software.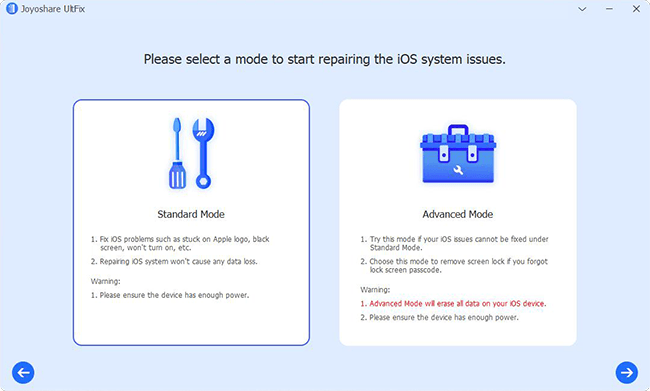 Step 3

Download and Confirm the Firmware Package

Verifying all device information displayed on the screen is correct. Tap the "Download" button, and the software will download corresponding firmware package based on your device. Then wait a few minutes to unzip the firmware package.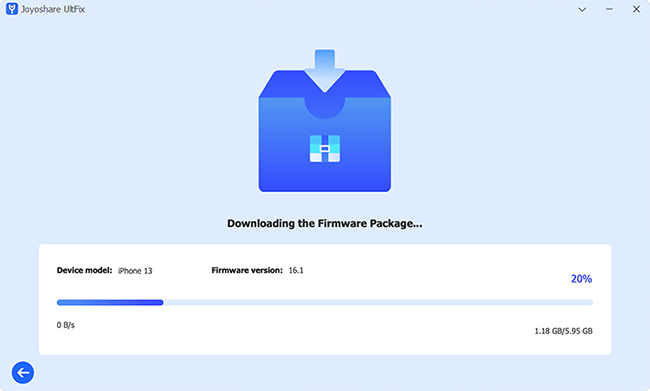 Step 4

Fix iPhone Cannot Restart

Finally, hit on the "Repair" button. The program will start to repair the system issues. After "Done" button appears on the interface, your iPhone will get back to normal, and you can restart your iPhone smoothly.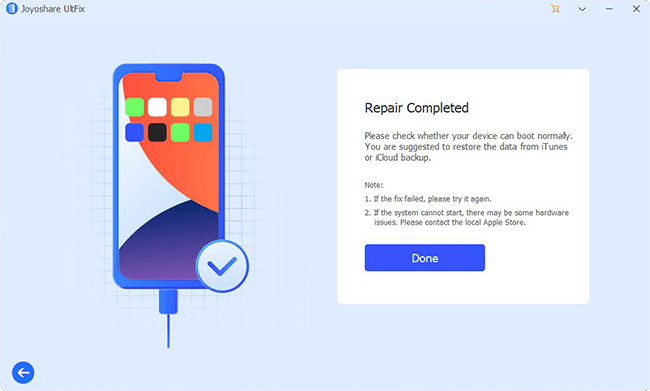 3. Free Solutions to iPhone Cannot Restart
When iPhone users face this situation, the first idea that comes to their mind is to adopt free solutions provided by Apple developer. The tips include charge iPhone, force restart, restore to factory settings with iTunes, and examine screen or battery damage. It is worth noting that regarding data safety, you should back up your iPhone in advance.
#1

Charge Your iPhone

Before you perform the following suggested fixes, you should try to charge your iPhone and check your battery. If the battery is totally drained, your iPhone will need more ample time to restart and react. So first and foremost, plug the charger in your iPhone and wait for minutes to recharge until the charging indicator is presented on the screen. After your device has power, it will restart successfully。

#2

Force Restart

The best and quickest solution is to force restart your iPhone. Compared to simple restart, a forced restart is at the hardware level to fix unresponsive or not working issues. If you fail to restart your iPhone for many times, you can attempt to force restart following the guide.

For iPhone 8, SE, X, 11, 12 or 13 model:
● Press the Volume Up button and release it quickly.
● Then press and release the Volume Down button immediately.
● Press and hold the Side button. Release the button when the Apple logo appears on the screen.

For iPhone 7:
● Press and hold both the Sleep/Wake and Volume Down button at the same time. Then your iPhone will restart.

For iPhone 6s or iPhone SE (1st generation):
● Hold the Sleep/Wake button and Home button simultaneously. When the Apple logo appears on the screen, release both buttons.

#3

Restore to Factory Settings with iTunes

Apart from above suggestions, using iTunes to restore your device to factory settings may fix restart not working on iPhone. Resetting the device will erase all your data, so, you need to back up all files before this operation. The total procedure is presented as below:

Step 1: Run the latest version of iTunes and tap on the device icon.
Step 2: Choose "Back Up Now" in the "Summary" option.
Step 3: After finishing backup, tap "Restore iPhone…" button.
Step 4: Lastly, you can get your device back to normal by clicking on the "Restore Backup…" button.

#4

Examine Any Screen or Battery Damage

If the above fixes can't work out the problem at all, unfortunately, you may experience the worst hardware problem involving screen or battery damage. At this time, it's necessary to search for a technician's aid. Hence, what you can do is to take your device to the nearest Apple Support center to examine your device comprehensively.
4. Conclusion
The suggestions I list in this article are the best and most effective methods to fix iPhone won't restart. First and foremost, you can tackle this problem by simply forcing restart the device. But if it fails to work, it's necessary to move on to the next tip. Especially when you can back up files through iTunes or have the latest backup, it's the most economical method. However, if you don't want to factory reset your iPhone, I highly recommend you can try to download Joyoshare UltFix. It will fix numerous iOS system errors without causing any data loss. Finally, I sincerely hope that this article can be beneficial for solving your problem.