Q: "After updating to iOS 16.1.1 my iPhone 12 pro is freezing and keeps restarting automatically every 10 or 15 minutes. It's so annoying! How can I fix it?" – from Apple Community
As a matter of fact, when iPhone keeps restarting, many users are seriously annoyed and have no idea why it happens. There are various causes leading to this mistake. Surely, the situation can be even worse if you have no experience and don't know who to resort to. Stop bumping into different forums and communities. Here explain the possible reasons and provide you with up to 9 workarounds. Just follow our steps to learn some ways that you can do on your own in this article.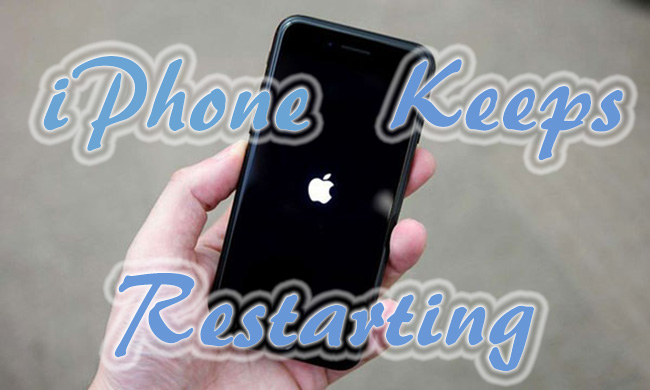 Part 1. Why Does My iPhone Keep Restarting?
A reboot of your phone might be different. For some, it may be stuck in a boot loop, with the Apple logo appearing and disappearing over and over again and never functioning properly. For others, it may be rebooted temporarily, you can use it normally for a period of time, but the gadget can be rebooted suddenly. In either case, let's see what causes it below:
Unstable driver: your phone may be in a restarting cycle when there is damage to its internal system and leads to unstable driver.
Update error: abnormal, incomplete, or interrupted iOS update can cause system problems and make your iPhone into restarting loop.
Problematic apps: some apps installed on your iPhone have the possibility to cause your iPhone to restart over and over again due to outdated versions or server errors.
Insufficient storage: without sufficient memory, iPhone cannot run smoothly.
Malicious software: any malware you download or get via jailbreak can easily break your phone's security.
Hardware problem: a heavy drop or water damage can result in hardware issues, such as the Power key.
Faulty chargers: Apple's chargers are different from other mobiles, and the original cable ensures iOS system's security.
Part 2. What to Do If iPhone Keeps Rebooting
Solution 1

Hard Reset

As usual, hard restarting iPhone can take away some bugs with ease. It's also a simple way to break iPhone ongoing power cycle. For iPhone 6 and earlier models, get down to pressing and holding both Home and Sleep buttons for 10 seconds; release them until the Apple logo appears. On iPhone 7 and 7 Plus, press the Power and Volume Down buttons at the same time. On iPhone 8 and later, quickly press the Volume Up button and release it, do the same for the Volume Down button, and hold the Side button until you see the Apple logo.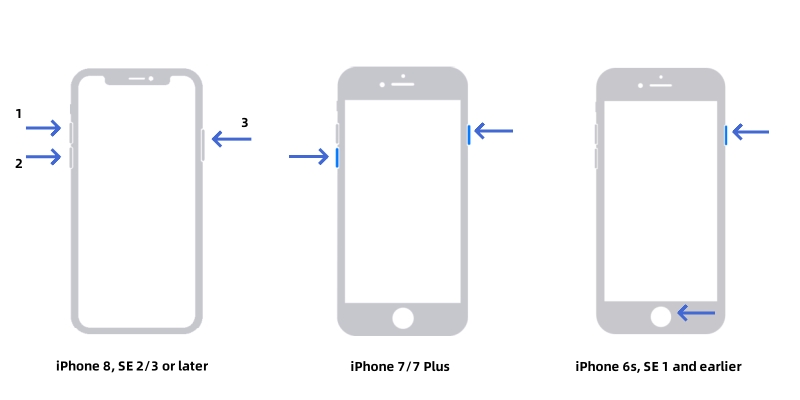 Solution 2

Troubleshoot Buggy Apps
Troubleshoot the cause led to app confrontation
Sometimes, iPhone keeps restarting itself issue is related to the downloaded apps, which come with bugs and lead to app confrontation. Under this circumstance, what you ought to do is find the harmful apps and remove them from your iPhone. Go for Settings → Privacy → Analytics & Improvements → Analytics Data. Then you are able to see a report and check the list. If there is something wrong with those apps, you could delete them from your iPhone.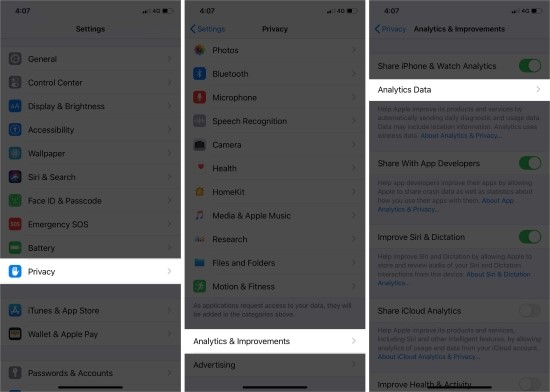 Delete faulty apps and update all apps
In case there are several apps that have not been updated for a long time and stopped their maintenance, or you no longer need to use them, you'd better delete these outdated apps.
On iOS 13 and later: hold an app icon on the screen, tap Remove App, choose Delete App and hit Delete.
On iOS 12 and previous: hold the app, tap the up-left cross, and tap Delete on the pop-up. If some of them are still in use, updating them to the latest version is helpful to prevent your iPhone from constantly rebooting. Navigate to the App Store, tap your profile, and choose Update All or manually update certain apps.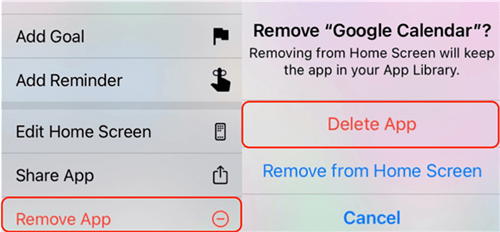 Solution 3

Remove SIM Card

If there is a connection problem with your wireless carrier, you can eject the SIM tray to remove the SIM card from your iPhone and then insert it back into it. Insert the ejector into the hole on the SIM card slot and push it to get your SIM card. Then, put it into the card slot in the correct orientation. After that, check whether your iPhone can reconnect to the carrier and becomes normal without the restarting error.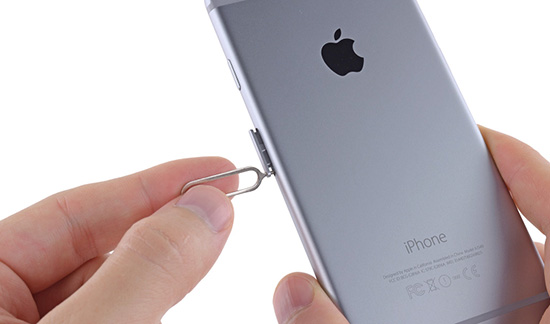 Solution 4

Refresh iPhone Storage

When your iPhone is going to run out of storage, it cannot be used as smoothly as usual. Hence iPhone keeps restarting. Try to clean up unnecessary caches and nonessential files on your device. Apart from deleting apps, go to Settings, tap General, find iPhone Storage, and you can manage and refresh your memory here.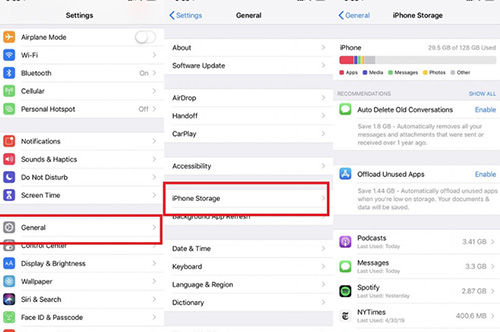 Solution 5

Reset All Settings

As is often the case, resetting all settings on iPhone can work to solve various iOS issues. You can do it as well to get out of iPhone restarting trouble. To do this, you are supposed to go to Settings → General → Reset → Reset All Settings. If it is useless, factory resetting iPhone could be the final choice. On the Reset screen, select Erase All Content and Settings, and enter your passcode to reset your iPhone to factory default.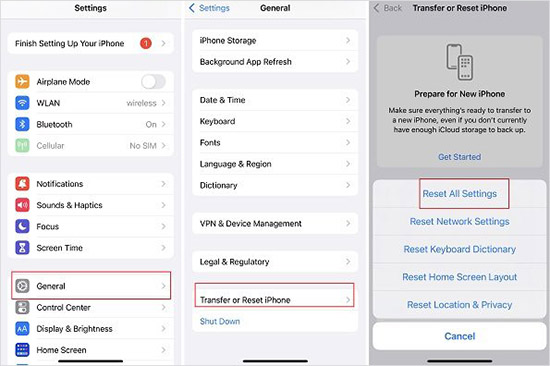 Solution 6

Restore with iTunes

Restoring your iPhone can be considered as one solution too. It is totally easy to carry out. However, what you should keep in mind is that all data and content saved on iPhone will be erased. Therefore, back up iPhone data in advance. Then run iTunes and connect your iPhone to your computer. After the recognition, locate your iPhone and click on the Restore iPhone button. If iTunes has trouble detecting your device, put it into recovery or DFU mode first. Then, you can do the same steps to restore.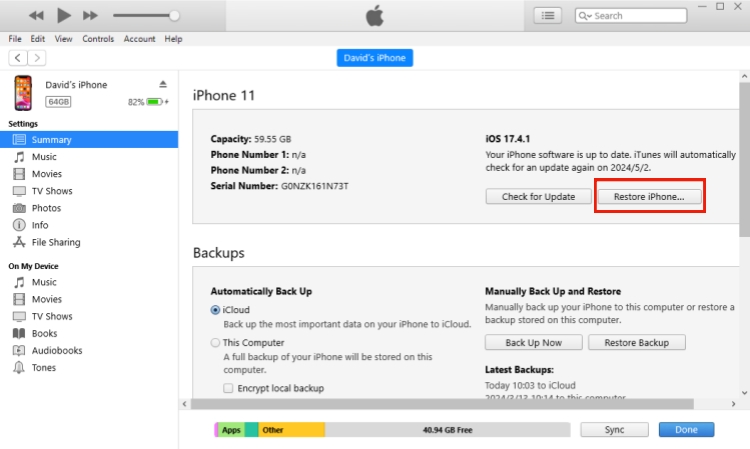 Solution 7

Update iOS

Updating iOS system can often help us eliminate potential failures or bring in better features. As a result, it's possible to fix iPhone keeps restarting loop. You can go forward to Settings → General → Software Update → Download and Install to update to the newest iOS version.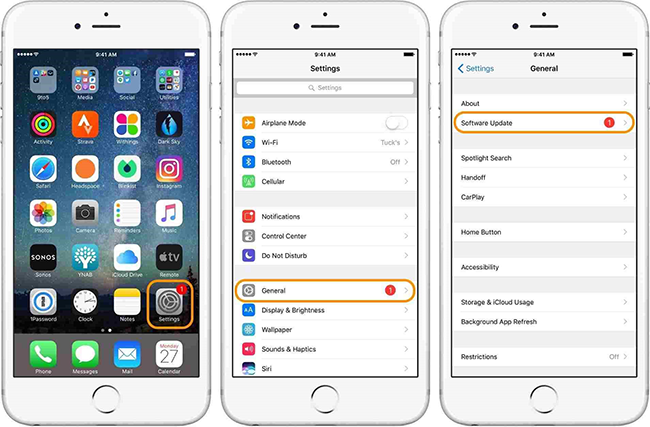 Solution 8

Fix iPhone Keeps Restarting Itself [Zero Data Loss]

Want to repair your troublesome issue without losing data at all? Just ask Joyoshare UltFix iOS System Recovery for help. It has a powerful function - fixing ability to get your iPhone out of the Apple logo, DFU mode, black screen with spinning wheel, restarting loop, screen frozen, etc. Better yet, it offers a quick, free, one-click option to exit from recovery mode. Whichever Apple model you are using and whichever iOS version you are running, the constant restarting error could be well fixed with the assurance of high security and a high success rate.

Main Features of Joyoshare UltFix iOS System Recovery: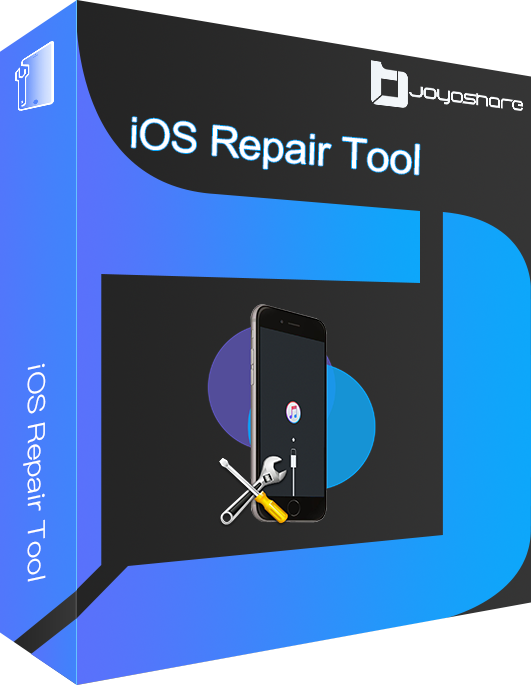 Fix various types of iOS/iPadOS/tvOS issues without data loss
Free solution to both exit and enter recovery mode
Compatible with the newest iPhone 14 and iOS 16
Effectively repair iPhone stuck in boot loop using two modes
Step 1

Run Joyoshare UltFix

Download this Joyoshare UltFix and apply a USB cable to connect your iPhone. Select iOS System Repair on the main interface and click on Start.

Step 2

Click Standard Repair

To fix iPhone keeps restarting issue with no data damage, you are advised to directly choose the first Standard Repair. If your iPhone is recognized successfully, you could move to the next step. Otherwise, put your iPhone into DFU mode or recovery mode simply referring to the onscreen steps.

Step 3

Download Matchable Firmware Package

Then, you'll be asked to confirm relevant device info. If you're sure, you can Download a compatible firmware package and finish its verification.

Step 4

Fix Problematic iPhone

Initiate a process with the Repair option to unzip the ready firmware package and fix the iOS system. Wait until the progress bar completes. It'll losslessly repair your iPhone restarting problem and let it work again.
Solution 9

Check Hardware Problem

Have a close at your iPhone's hardware components. Clean visible debris or dirt inside your charging port. Or check if there is obvious physical damage by yourself. Do get rid of the phone case and examine it carefully. If you cannot find any hardware problems to repair, you can go to Apple Store nearby.
Part 3. Wrap-up
I guess you have got the answer why your iPhone keeps restarting after reading this article. All the proven methods are feasible to solve your problem. You are recommended trying the 9 workarounds one by one until you troubleshoot which is the culprit. Thereupon, your iPhone will be fixed and stops restarting. It is worth mentioning that this mistake caused by the iOS system error could be easily resolved by Joyoshare UltFix. Zero data loss is the reason you choose it.