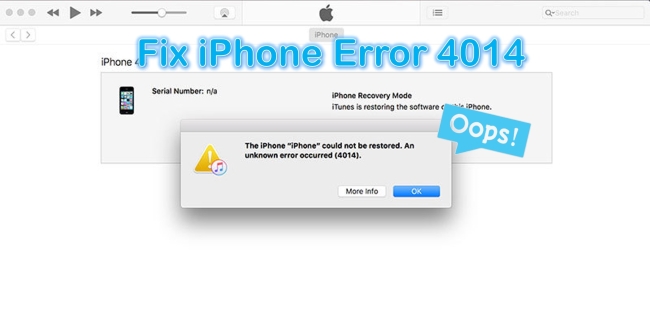 When the latest iOS version is launched, most people choose to upgrade or restore their iPhones. Occasionally, some problems appear. For example, you may find a window to pop up, showing "The iPhone could not be restored. An unknown error occurred (4014)", which means your iPhone doesn't succeed to be upgraded. In the next content, I will explain the reasons of the error and provide you 10 different methods to fix this issue.
Part 1. Why iPhone error 4014 occurred?
Why does your iPhone go wrong when you try to restore it? Under this condition, it usually matters the iOS system itself, some external conditions and the hardware (the USB cable and the computer and the iPhone itself).
There are some reasons as follows:
(1) Your iTunes cannot recognize your device (faulty USB cable/port)
(2) Your Wi-Fi network is unavailable
(3) The iTunes is not the latest version
(4) The storage of the iPhone is not enough

Part 2. 10 solutions to repair iPhone error 4014
#1

Inspect your USB cable/port whether connecting your PC successfully

Sometimes the updating problems are related to the hardware. If the cable cannot work well, then the connection between the computer and the device doesn't exist. Pay attention to the port. Maybe the cable is just loose.

#2

Check out the Wi-Fi network

Poor Wi-Fi network can affect the process to upgrade and even directly interrupt it. We should take this condition into account. If you cannot make sure whether the Wi-Fi network goes wrong, you can choose Reset Network Settings.

#3

Download and install the latest iTunes version

Your device is going to update the latest iOS system, so you should first promise the latest iTunes. Or the previous version might have some issues related to the compatibility.

#4

Clean up your device to release more capacity

As is known to us all, the storage is too full to cause the devices to react slowly. The new version is more advanced, and we should guarantee enough capacity.

#5

Restart both your iPhone and the computer

I believe that many people will choose to reboot their devices no matter what issues occur. As a result, restarting can solve most of anormal scenarios.

#6

Try another USB cable/port

If you ensure the hardware has been connected correctly and you still have faulty updating, you should consider changing another USB cable.

#7

Use another computer

The upgrading process involves the USB cable, your iPhone and your computer. Therefore, if you have changed another USB cable but there are still problems, you can try another computer.

#8

Put the iOS device into Recovery Mode

In most cases, Recovery Mode can repair errors. Before taking this method, you should ensure your iTunes is the latest version.

First, put your iPhone in Recovery Mode. Close iTunes, connect the iOS device to the computer, open iTunes, and force restart it into the mode. Taking iPhone 5s as an example, press the Home and the top key together until entering the Recovery Mode. Second, connect to iTunes in Recovery Mode and begin recovery.

Notice: When you see the choice to update or restore, click Update (not Restore) to install iOS again and remain your individual data.

#9

Try the third-party tool: Joyoshare UltFix

Joyoshare UltFix is a professional iOS system repair tool to fix over 30+ iOS & tvOS issues, such as various stuck problem, black screen, iPhone could not be restored error (including error 9, 4005, 4013, or 4014) etc. It has 2 repair modes (Standard Mode & Advanced Mode). The former can repair most system issues without data loss. The latter can remove the screen lock without passcode. It supports iPhone, iPad, iPod touch and Apple TV and is compatible with the latest iOS 13.

Key Features:

Be compatible with the latest iOS 13 and many iOS devices (iPhone/iPad/iPod touch/Apple TV)

Free Enter /Exit Recovery Mode

Offer standard mode and advanced mode to fix iOS issues

High safety

Cheap

Lossless recovery

Joyoshare UltFix has Enter/Exit Recover Mode. You just need to click twice to finish Recover Mode, so you can avoid the complicated operations such as what has been discussed in Solution#8. Most importantly, it's totally free.

Introduce the several steps to fix error 4014 using Joyoshare UltFix.

If Recovery Mode still cannot repair your issues, you can attempt to use Standard Mode. One of the most important features is that it doesn't cause data loss. You just need to take 4 steps to finish the recovery.

Step 1: Run Joyoshare UltFix and connect iOS device, you should make sure that the connection is complete. Or click Enter Recovery Mode, then directly click Start.

Step 2: Choose the repair mode. You have two options, Standard Mode can fix most system issues, including iPhone error 4014. If you need to remove your screen code or factory reset, Advanced Mode is nice.

Step 3: Download and verify firmware package. In this step, you could also choose to downgrade your iOS version.

Step 4: Click the Repair button. And the recovery process is done. Next, you can try to update your latest system on iPhone.

#10

Contact Apple

If you have tried every method as recommended and failed to restore your device, the last way you should use is to contact Apple. Because it sounds like not system issues, but the iPhone itself and you should send it for repairing.
Conclusion
Every device has different conditions. Maybe some try the first solution and solve their problems. But others take several measures. Therefore, if you don't exactly know what solution you should take, just attempt each. It works ultimately.