Dysfunctions on an iPhone occur in many ways that a newbie would find it hard to comprehend, especially if it is your first time using the smartphone. For instance, your iPhone can suddenly go off and refuse to start. What would you do? A "screen of death" appears on almost every electronic device. The phrase is used to identify issues that are serious enough to cause the device to become unusable, which often requires professional intervention.
When an iPhone black screen of death occurs, the device's screen will be blank and not respond to touch, but the phone may still be functioning by way of vibrations or sounds. In this case, your iPhone is not much more than a vibrating paperweight, since you can't see the screen or use the touch screen. Many serious malfunctions lead to "issues of death," but the vast majority can be repaired. After learning what is the iPhone black screen of death, our experts recommend diagnosing and troubleshooting it. Let's have a look.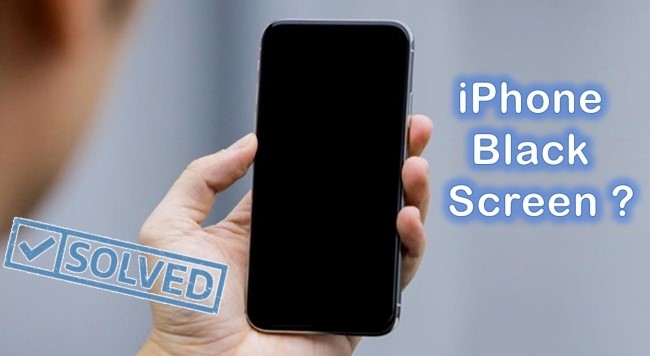 Part 1. Why My iPhone Black Screen?
A black screen is a common problem that most iPhone users encounter from time to time. Like any other iPhone display problem, a black screen can be a result of software or hardware issues. Some of the problems related to black screen include a drained battery, hardware faults, crashed applications, and so on. When fixing the black screen, it's hard to tell which problem shouts out from all the rest. However, there are a few solutions that have proven to be more resourceful when dealing with it in the next part.
Part 2. How to Fix an iPhone Black Screen but on?
Method 1. Restarting Your iPhone
The first and crucial method is to try to restart your iPhone when it is on a black screen. This is one way to take care of all the software resets within the system. One advantage of this method is that your data will not be affected during the process. So how will you do it? It's quite easy..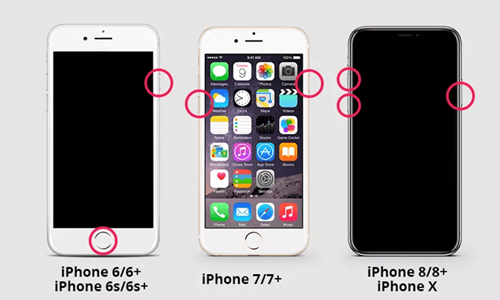 On iPhone 6s or earlier devices: press and hold Power and Home button simultaneously for 10 seconds or more until you see the Apple logo.
On iPhone 7/7 Plus models: press and hold Power and Volume Down buttons at the same time for about 10 seconds until you see the Apple logo.
On iPhone 8/8 Plus, X, and latest devices: press the Volume Up Button and quickly release your finger from it; then press the Volume Down Button and quickly release your finger from it; Now press and hold the Power button until the Apple logo appears.
Some users encounter iPhone black screen of death, even hard reset not working. In this case, continue to try the following methods.
Method 2. Connecting iPhone to the Charger
At times people use their phone to battery exhaustion. This leads to a black screen as well. To know whether your phone is having this problem, you will have to connect it to a charger to charge your battery.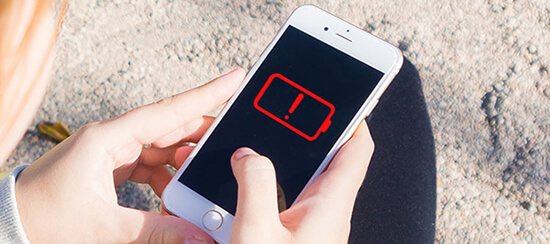 Step 1: Connect your iPhone to its original charger and ensure it is charging;
Step 2: Give it a few hours to charge to full capacity;
Step 3: Once the iPhone is fully charged you can try to start it. If the iPhone is in good condition, it should start immediately. But if it cannot start then you will have to take another solution.
Method 3. Close the Malfunction App
A black screen of death can also be caused by problems with app software. It is important to note that not all apps are created equal, and if your iPhone has a software incompatibility with a specific app, you may experience a screen issue. This can be resolved by killing the app. Swipe up to see all of your open apps or quickly tap the home button twice (if your phone still has one). Look through your recent apps and close any that are causing the problem.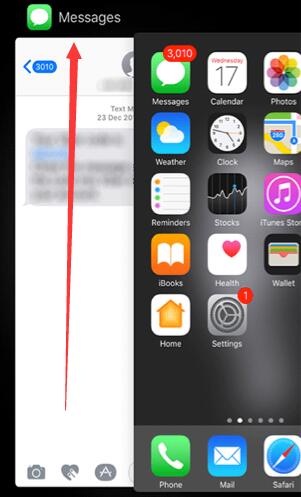 After closing the app, your screen should be fully responsive again. You are most likely dealing with a bigger issue if the problem persists or you cannot access your apps. Then you should repair your phone's system with a specialized tool.
Method 4. Fix iPhone Black Screen of Death without Data Loss [100% Working]
One of the most promising methods of fixing this annoying issue is using Joyoshare UltFix iOS system recovery software. It is a technical repair tool proven to work efficiently when dealing with iPhone white screen/blue screen, iPhone stuck in recovery mode and unresponsive iPhone, iPhone stuck on the black screen with a spinning wheel, etc. One advantage of using this method is that all your data remains intact.
More, the program is available for both registered and unregistered users all over the world. It comes with two modes. The Standard Mode helps in fixing common problems without the risk of data loss while Advanced Mode is to finish off issues that fail to be fixed in Standard Mode.
Highlights of Joyoshare UltFix: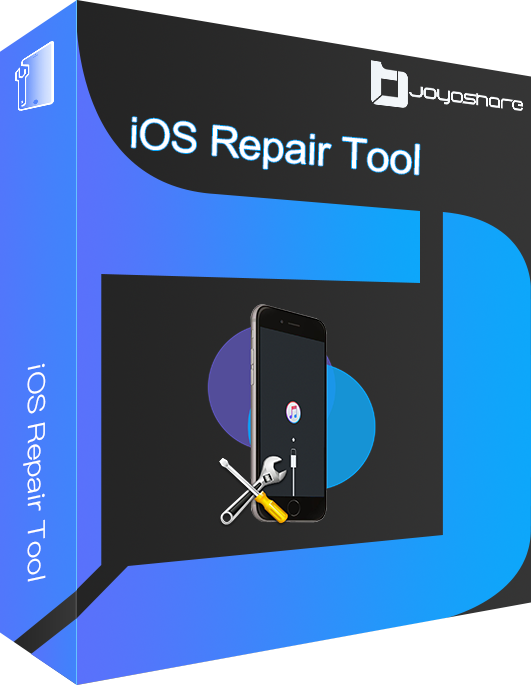 Fix iPhone black screen issue with no data loss
Repair various display and iOS system problems
Two recovery modes ensure a higher recovery rate
Support almost all iDevices, Apple TVs, and iOS 15
Get any iOS device into/out of recovery mode for free
The following is a step-by-step guide to fixing the iPhone 5s/6/7/8/XR/11/12/13 black screen of death problem with Joyoshare UltFix.

Step 1

Launch Joyoshare and Connect Black Screen iPhone

Open the Joyoshare UltFix iOS System Recovery software (Downloaded from Joyoshare's main website). Connect the Black screen iPhone to the PC using a USB cable that comes with the iPhone.

Step 2

Choose a Repair Mode

Enable iPhone recovery mode such as Standard Mode, follow the instructions provided by the program in this step. Put your iPhone into DFU mode or recovery mode. You can also one-click to enter the recovery mode in the first interface.

Step 3

Download Firmware Package and Verify

Download the firmware, the application should be able to detect the iOS version on your device. If it can't, you can do it manually. Then click the Download button to download and verify the firmware package.

Step 4

Fix iPhone Black Screen of Death

The next step is to repair the black screen iPhone by clicking the "Repair" button at the lower right corner. When it finishes, check your iPhone and see whether it can work normally. If not, try it again or switch to the "Advanced Mode".
Method 5. Restoring Your iPhone
This could be another method to fix iPhone stuck on black screen issue, but the only problem is that you stand to lose all the data on the iOS device.
Step 1: Install iTunes (latest version) into your PC or Mac, start the program and connect the black screen iPhone to the computer using a USB cable;
Step 2: The application is designed to detect if the phone is in recovery mode; if it doesn't then manually boot it into the recovery mode until the following message appears;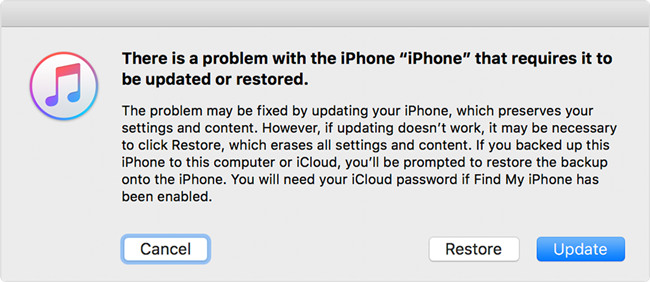 Step 3: Click the "Restore" button and it will automatically erase all the data. But if you have an iTunes back up you can save all your data there; Once the process is complete, your iPhone should be back to normal.
Note: iTunes does not work properly for all iPhone users, some iPhone will exhibit problems when using this method.
Method 6. Perform a Factory Reset
If your iPhone still shows the black screen of death after following these troubleshooting tips, you may need to consider doing a factory reset. You should never attempt a factory reset without backing up your iPhone. You risk losing your data if you haven't done so recently. Nevertheless, if a truly sinister bug is making your screen unresponsive, a factory reset might solve the problem. Resetting your iPhone can be done in a few different ways, but the easiest way is through Settings.
Step 1: On the Home screen, open Settings and then touch General → Reset.
Step 2: Tap Erase All Content and Settings. It may be necessary to enter your Apple ID and password to confirm your choice.
Step 3: Finally, tap on Erase iPhone.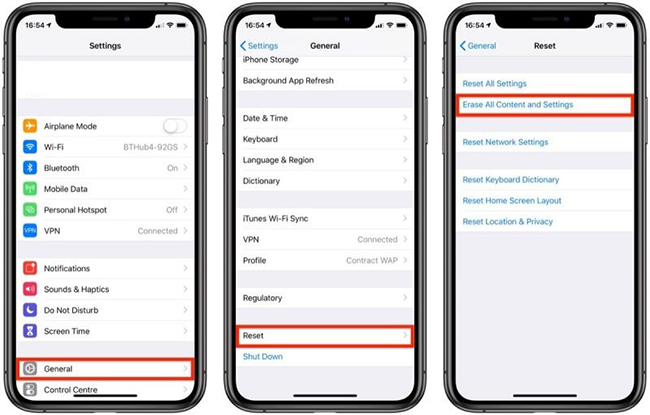 Method 7. Get Professional iPhone Repair Service
If you have tried the methods above but nothing seems to work, then there might be some hardware problems that result in your iPhone black screen of death issue. In this case, it is suggested that you head to the professionals in the Apple store if you are not tech-savvy.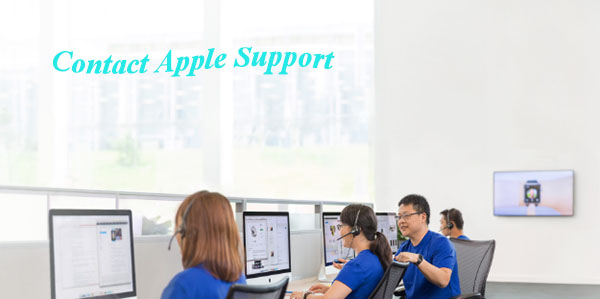 Part 3. Tips: How to Avoid Any Recurrence of iPhone Black Screen of Death
This part shares several tips to teach you how to prevent the recurrence of iPhone black screen and similar problems. It's easy yet workable. Take a little time to have a quick look.
Install anti-virus software on your iPhone to prevent the iPhone from being attacked by bugs.
Try to avoid jailbreaking your iPhone. This action may bring about safety risks to the iPhone.
Keep the iPhone battery healthy and avoid recharging when the battery runs out.
Download applications from a formal source to avoid malware attacks.
Part 4. Conclusion & Suggestion
There are many problems related to iPhone black screen of death, the big question is, have you tried the methods above for comfort? If not then it's about time you did. When your iPhone has a minor problem, you can correct it by yourself and save you the cost of phone repair which can be hard on a tight budget before taking it to a professional. We highly recommend you to try Joyoshare UltFix iOS System Recovery because it can fix up to 150+ iOS problems without data loss including the black screen of death on your iPhone.