Focus mode could be set up on Settings or Control center. It allows users who are running iOS 15 and later software versions to customize their time schedule depending on their situation, which lets users concentrate on their own business and shield them from distractions. However, it is reported from some users that the focus not working on iPhone problem makes them annoyed. Thus, this article provides many tips for checking focus settings and methods of repairing this problem. If you come across this issue, read ahead to free from this suffering and bring focus mode to the normal status.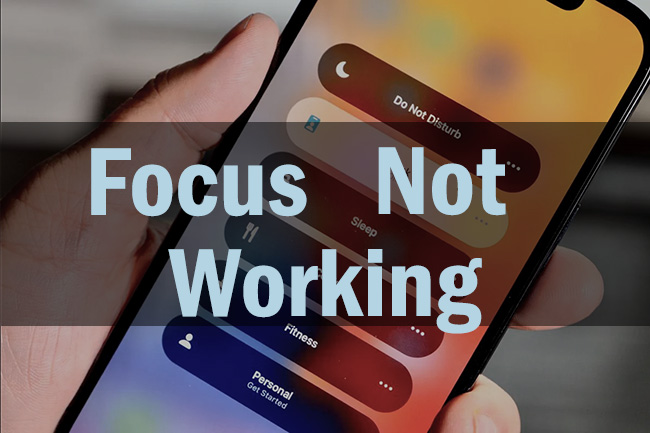 Part 1. Check Focus Settings on iPhone
#1

Reset Your Schedule

To exclude the possibility that you set up the wrong focus duration, the simplest way is to straightly reset your time schedule. Go to Settings, find Focus, and choose the schedule you are using, no matter whether Do Not Disturb, Driving Focus, Sleep Focus, or other modes. For DND, tap your schedule, and hit the Delete Schedule option. Then, select Add Schedule to reset a new one. For other focus modes, go ahead to hit the Delete Focus option and tap the "+" icon to customize a new focus mode.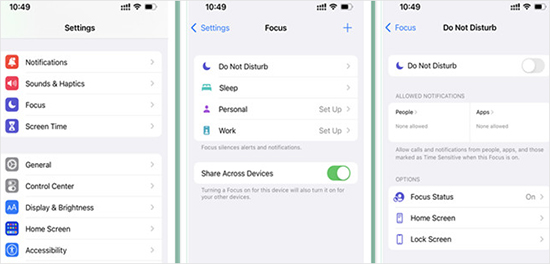 #2

Check the Whitelist

In case you are focusing on your work or study, the notifications from some apps constantly show on your screen and disturb you. You may check if these apps are important and if there is a necessity to put them into your whitelist of the focus mode. If so, head to Settings → Focus → your focus mode → Apps. The option – Allow Notifications From, could be selected as an apps whitelist, and you could tap Add Apps to permit notifications from some important apps. On the contrary, tick the Silence Notifications From to set up a blacklist, and add nonessential apps by selecting Add Apps.

Moreover, if you want to receive important calls or messages from someone, get into People next to Apps under NOTIFICATIONS when setting up your focus mode, and tap Add People to allow notifications from them.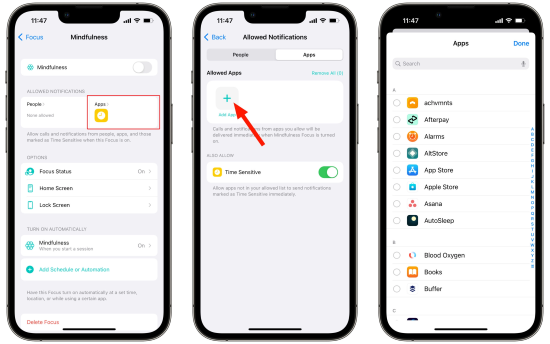 #3

Disable Share Across Devices

Your focus mode will be synced with other devices if you enabled the Share Across Devices feature. When you set up different focus modes for your different devices for different purposes, the enabled Share Across Devices function could not block notifications on your iPhone, hence focus not working issue. So, head to Settings, enter the Focus screen, toggle off Share Across Devices.
#4

Toggle Off Repeated Calls

When you are focusing on something with DND mode, you could allow repeated calls so that some emergencies won't be missed. However, if it works badly, for example an unimportant call rings to interfere with you, it would be better to navigate to Settings → Focus → your focus mode → People → Allow Repeated Calls. Here, this option could be disabled.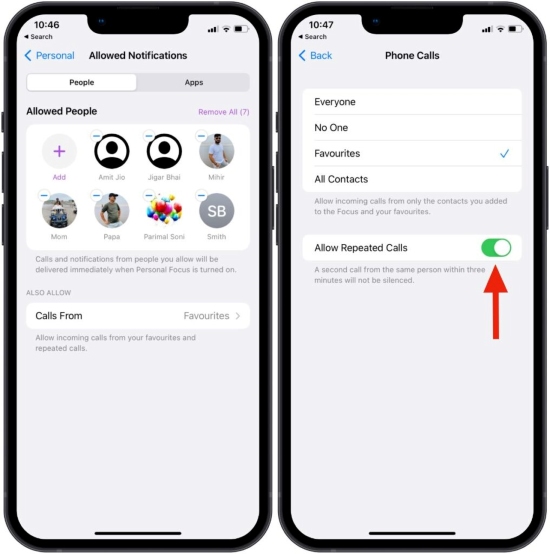 #5

Turn Off Time Sensitive

Your iPhone will learn to sense when and which app allows notifications based on your daily activities. Since it is still in the progress of learning, it is hard to guarantee accuracy. You need to turn off Time Sensitive when setting up the apps whitelist or blacklist for your focus mode.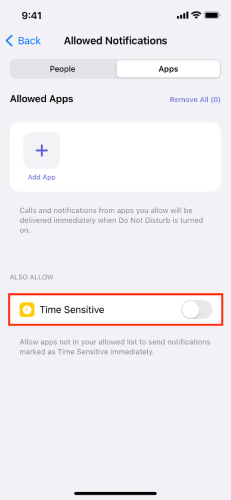 #6

Remedy Notification Options

On your focus mode, there are options for you to customize notifications. There are Show On Lock Screen, Dim Lock Screen, and Hide Notifications Badges. For the first option, you could silence the notifications but show them on the lock screen. For the second one, your iPhone lock screen remains dark during the focus period. For the last one, on the home screen, notification badges will be hidden except for the whitelisted apps. These three options could be remedied to suit your needs.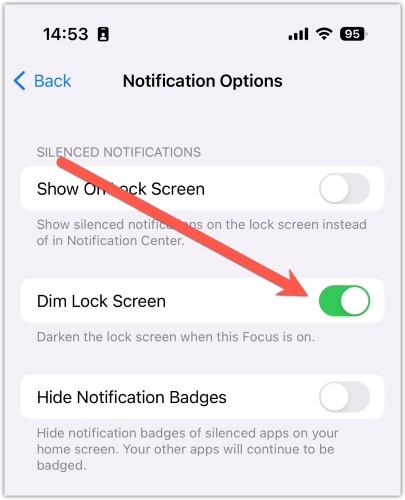 #7

Deactivate Smart Activation

When you add a new schedule, there is a Smart Activation for you to choose, which will automatically turn on or turn off your focus mode depending on your location, app usage and so on. Identical to the Time Sensitive Notifications, this feature will cause focus not working on your iOS system from time to time. It would be better to set up an accurate time and location rather than use Smart Activation.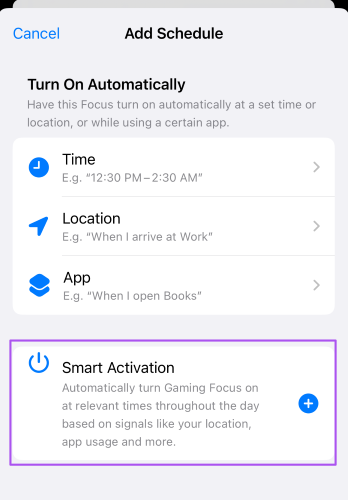 #8

Troubleshoot Focus Filters

Apple focus also authorizes you to customize apps' and system's behavior by adding focus filters. Choose a focus mode in the Focus interface and scroll down to FOCUS FILTERS. If the notifications you don't want to see appear, you could check and delete them from the filter. If you need to be reminded by Calendar, Mail, Messages, or Safari, just add filters.
#9

Change Share Focus Status

When your focus mode is on, the Share Focus Status will reply to your contacts that you are busy. But this feature will result in your focus being unavailable. Sometimes, it is manifested as contacts continually receiving messages sharing your focus status, while in other cases they don't know you are in the focus mode. Thus, open Settings, tap Focus, enter Focus Status, and turn this feature on or off by your condition.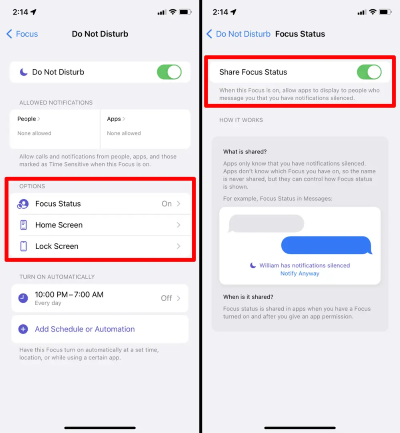 #10

Ensure Silence Switch Is Off

In fact, in most cases, you are distracted by notifications and sound alerts while studying or working, but the focus mode can solve this problem. However, despite your whitelist settings, there is still a chance that you miss the notifications. The enabled Silence switch would be the culprit. The best workaround is to switch off the side Silence button.
Part 2. Fix Focus Not Working on iPhone
Method 1

Restart iPhone

After the troubleshooting of focus settings, if the focus function on your iPhone still not working, the first thing to fix it is restarting your device. Run Settings, choose General, scroll down to the Shutdown option, drag the power-off slider to turn off your iPhone and hold the Power button to turn on it again.
Method 2

Reset All Settings

Since all the settings you remedied are ineffective and it takes much time, the easier method is to reset all settings on your iPhone. Head to Settings, go to General, locate Transfer or Reset iPhone, select Reset, choose Reset All Settings, and type into your passcode to continue. When your iPhone restarts, go to set up a new focus mode to check if it works again.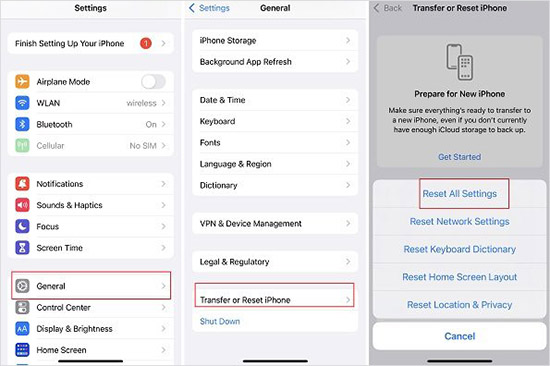 Method 3

Update iOS System

As Apple claims, on the old iOS software, notifications will be silenced although you put apps into the list in Silence Notifications From. This could be concluded as the trigger of not working focus mode. Therefore, you are required to update your iOS to the latest version. Go to Settings → General → Software Update → Download and Install. Then, wait for its restarting.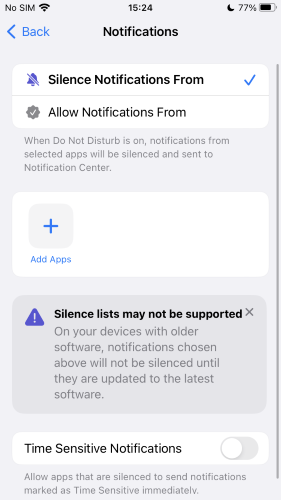 Method 4

Repair Focus Glitch via Recovery Tool

It is hard to shut out that your disabled focus feature is caused by iOS system error, even iOS 17. When you find that focus works unusual, go to ask Joyoshare UltFix for help. It is able to repair more than 150 iOS/iPadOS problems without the limitation of system versions and device models. And it assures you 100% safe and a high success rate to fix white screen, black screen, and other stuck issues. With the assistance of its standard repair mode, your data will not be deleted. In addition, you could use it to put your iPhone into recovery mode for free.

Key Features of Joyoshare UltFix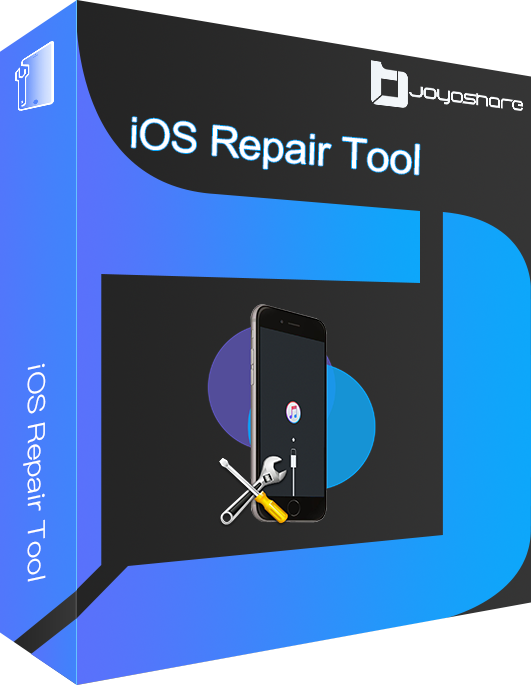 Without losing data when repairing iPhone/iPad/iPod touch
Support the latest iOS 17 and iPadOS 17
Free to factory reset Apple devices
Upgrade/downgrade iOS software
Step 1

Connect to PC and Select iOS System Repair

Run Joyoshare UltFix on your PC and use a USB cable to connect your iPhone to it. On the main screen, choose the iOS System Repair section and click the Start option.

Step 2

Enter Standard Repair

If your iPhone is detected without hassle, you could click on the standard repair mode. On the opposition, put your iPhone into DFU mode or recovery mode following the on-screen guide.

Step 3

Download Firmware Package and Get Verification

Troubleshoot the information about your device and remedy it if necessary. Then click the Download button to get the firmware package. After its verification, move to the next step.

Step 4

Repair iPhone Focus Not Working

Click the Repair button to start fixing your iPhone with the disabled focus feature. Once you see the Finish button on the screen, your iPhone will get restarted as well.
Part 3. The Bottom Line
Up to 14 ways to fix focus not working on iPhone list in this article. The first 10 ways are related to focus settings, you could follow them to troubleshoot your iPhone one by one. The rest of them are methods to repair this problem deeply. When your iPhone exits some glitches, Joyoshare UltFix is recommended for resolving your problem without data loss. Hope this article plays a role in your focus issue. If you still have other relevant problems, leave your comment to us.