Q:"Apple TV is okay after a full restore, but Airplay refuses to work. I have tried several times to change WiFi network, nothing good happens. All can work but Airplay. Are there any other solutions to get Apple TV Airplay not working fixed? It has been bothering me for three days. Desperately, I want to settle this problem as early as possible." - Danmincea from Apple Community
When it comes to Apple TV, you all know that it is a high-definition TV set-top digital media player launched by Apple Inc. Users are allowed to watch TV programs online or stream photos, videos, and music from any iOS devices to Apple TV with Airplay feature. This is why so many people opt for it. Whereas, like most digital devices, there may exist some occasional glitches related to Apple TV. For instance, Airplay has no sound, Airplay stops connecting properly, Airplay not showing video and Airplay with choppy or lagging video. Aiming at solving such issues, this article will give you 5 great workarounds.
Part 1: Make Sure Airplay Is Turned on
It seems to be rare but possible that you forget to switch on Airplay on Apple TV. Thus, to get Airplay not working on Apple TV solved, the first thing you need to do is checking if this function is on or not. This action demands you to connect Apple TV to the computer with an HDMI cable. Once connected, you should run it and get into "Settings". Then there will display a list of options on the screen. You have to enable Airplay function. If disabled, you can set it to "Everyone" or "Anyone".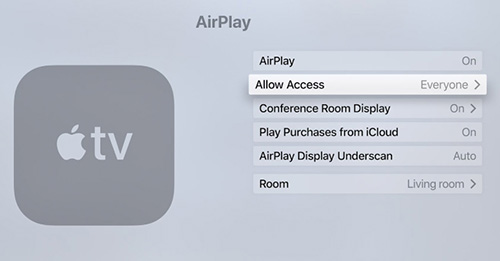 Part 2: Reboot Apple TV
If you ensure that Airplay is switched on but this issue still occurs, another way you can use is to restart Apple TV. Similar to other iOS devices, restarting is able to fix minor failures that lead to Apple TV not working with Airplay. To do it, you need to unplug the power cord from the back of Apple TV or directly turn off the power outlet. Wait some time and then connect the HDMI cable to see if Airplay works normally. If Apple TV is connected to the computer, you will head to "Settings" and choose "System" to click on "Restart" to simply let Apple TV boot up again.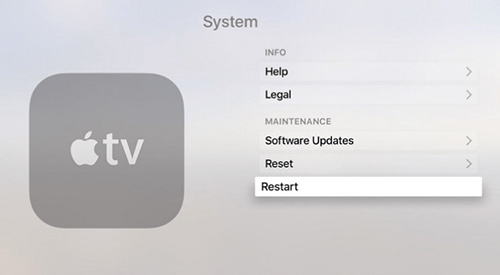 Part 3: Factory Reset Apple TV
In most cases, restoring Apple TV to factory settings could repair various problems such as Airplay not working on Apple TV. If the two approaches above are not workable enough to address this issue, please keep connecting Apple TV to the computer and try performing this means. The detailed steps described below will teach you how to factory reset Apple TV by yourself.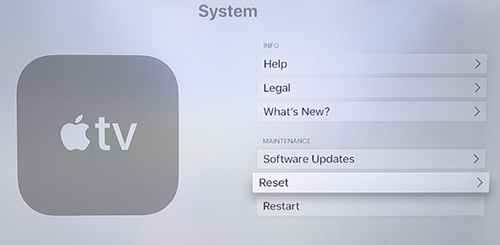 Step 1: To begin with, you should navigate to "Settings" and choose the "System" option;
Step 2: Afterward, just tap on "General" and scroll down to click on "Reset";
Step 3: In a while, Apple TV is going to be reset to default settings. If this way fails to help you, don't be downhearted and continue to give the following way a try.
Part 4: Update Software to Fix Apple TV Airplay Not Working
It is likely that Airplay has ceased to operate properly because Apple TV system is not updated duly. On this condition, you are recommended to get Apple TV software up-to-date. Primarily, you need to check for any update available before updating. If so, it may be this cause that results in Apple TV Airplay issues. The way to update is pretty easy. You just go into "Settings" and followed by "General". After that, hit on "Update Software" to install the recent version of Apple TV software. Or you can set "Automatically Update" to "On" in order to avoid this hiccup caused by outdated software version.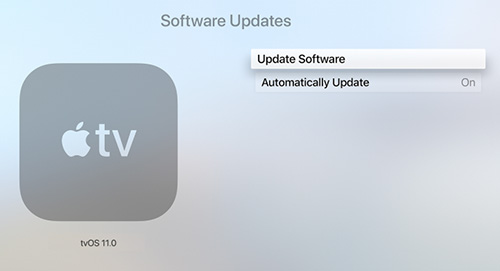 Note: This method asks Apple TV to be connected to the strong WiFi network.
Part 5: Repair Airplay Not Working on Apple TV with Joyoshare UltFix
If the Airplay problem can be persistent even if you have attempted all the above methods, you can consider making use of a brilliant software called Joyoshare UltFix iOS System Recovery to work for you. It is known that Joyoshare UltFix not only fixes more than 30 kinds of iOS system issues including Airplay not working issue but also keep your data safe. In addition to Apple TV, it has the capacity to repair iPhone, iPad, and iPod touch system issues. Also, its wide compatibility enables both all iOS devices and the fresh iOS version to be totally supported.
What's better, this powerful program offers two modes to simply solve iOS system problems. One is "Standard Mode" that can be applied to repair many common iOS issues without data loss, such as iPhone won't restore, iPad sound not working and so on. The other is "Advanced Mode" which allows you to restore your device to factory settings or resolves those problems that "Standard Mode" fails to handle. In the meanwhile, Joyoshare UltFix is able to make your device exit or enter recovery mode freely with one click.
Key Features of Joyoshare UltFix iOS System Recovery:
Get Apple TV Airplay problems repaired without damaging any data
Give a one-touch function to enter or exit recovery mode for free
Offer standard mode and advanced mode to fix iOS system issues
Fully compatible with the latest iOS 12.4 and a series of iOS devices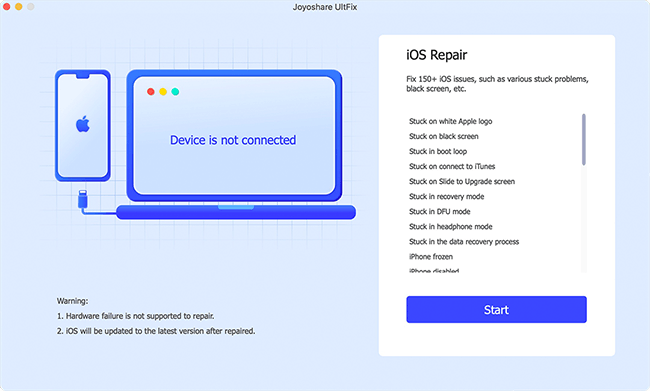 Maybe you are unacquainted with Joyoshare UltFix, but it doesn't matter. Here's how to do on Windows.
Step 1: First of all, you certainly launch Joyoshare UltFix and plug the faulty Apple TV to the computer with a micro-USB cable. Then, Apple TV will be detected by it. At this time, you need to hit the "Start" button to go on;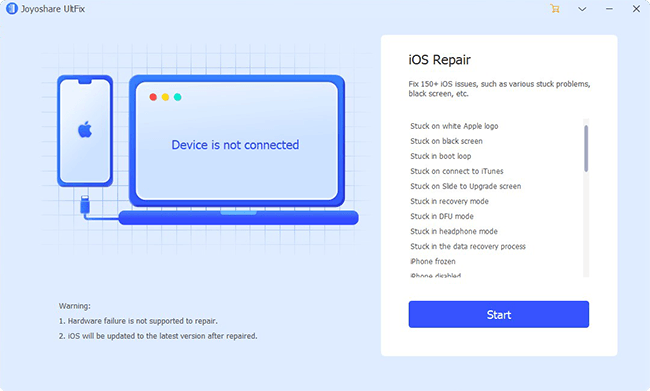 Step 2: When you get into this interface, you will see two repair modes shown on the screen. For data security, you need to choose "Standard Mode" to repair Airplay issue. After this, proceed with "Next" button;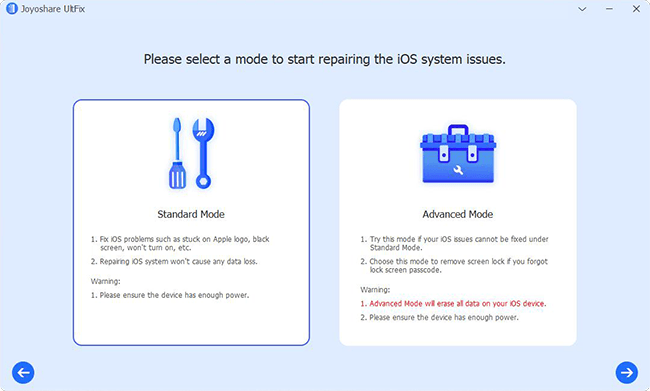 Step 3: Now, this software will prompt you to set Apple TV into recovery mode. You can do it first as instructions stated on the screen;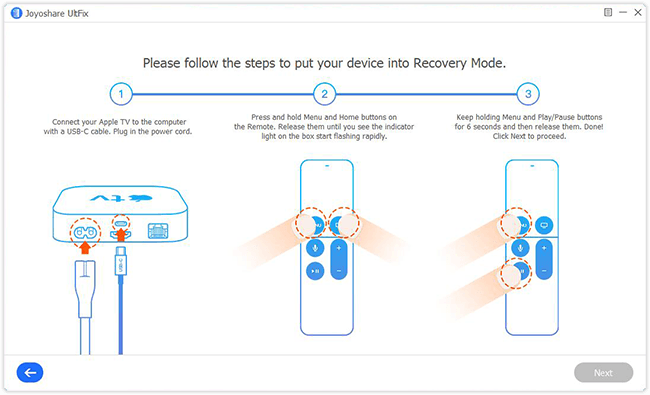 Step 4: Once entered, you have to make a confirmation after Joyoshare UltFix recognizes all information of Apple TV. Next, the program will start downloading and verifying the firmware package with the "Download" button;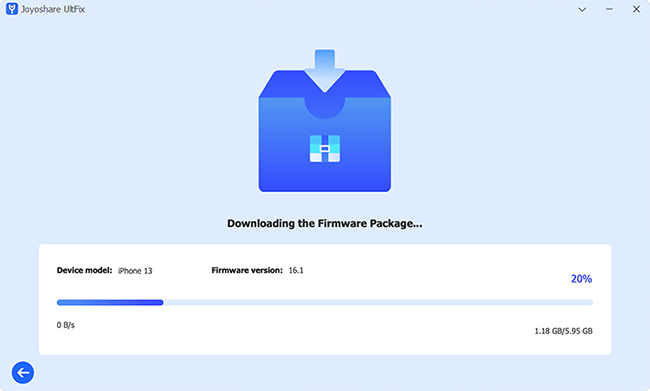 Step 5: When the firmware has been verified, it's time to tap on "Repair" to make Joyoshare unzip the firmware package. After a few minutes, the Airplay issue on Apple TV is going to be repaired successfully.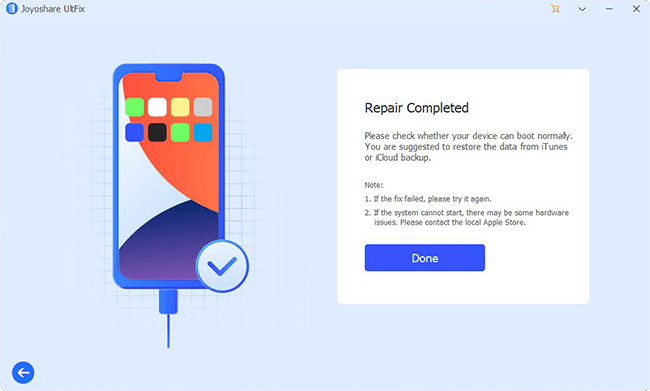 Conclusion
Well, you may have handled Apple TV Airplay not working problem with these methods above. Usually, if you figure out why it actually happens, you can directly choose the corresponding way to fix. If not, you have to patiently try all the solutions one by one until such a problem is worked out. In order not to waste time and lose data, you may adopt Joyoshare UltFix to help you. As mentioned above, the Apple TV system recovery is guaranteed 100% safety and high success rate in the repairing process.