As far as is concerned screen mirroring feature, it is widely used to stream everything from your iPhone, iPad or other iOS devices to Apple TV. With this excellent feature, users can take full advantage of the convenience in watching movies, showing pictures, taking screenshots, and recording videos on the big screen.
It is inevitable that there isn't a flawless and perfect thing in the world. Some users recently claim that screen mirroring not working on iPhone occurs when they plan to use this service. And it is a definitely frustrating thing. But it's not such a big problem, don't let it bother you too much. Here are some detailed solutions that can assist you to solve this problem for good.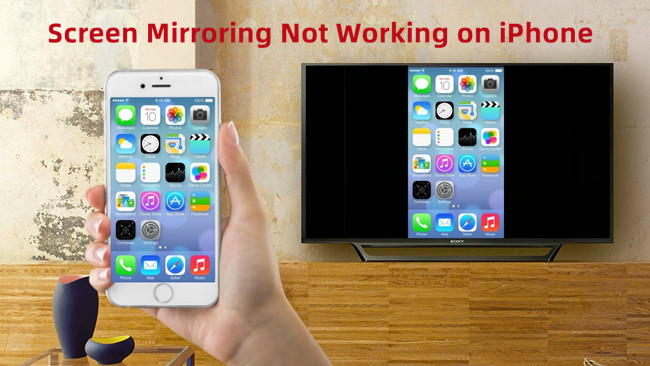 Part 1. Why Is Screen Mirror on iPhone Not Working?
While more and more people frequently experience this issue, they also raise the question of why this error would appear and how to avoid it. To offer better help for iOS users, we specifically enumerate possible reasons to diagnose the trouble.
#1

Outmoded Operating Software

If the operating systems of both your iPhone and Apple TV are out of date, they will cause discordance between the devices and then result in screen mirroring error. What's more, obsolete operating software may carry many bugs, and it will bring the question as well.

#2

Connectivity Problems

In general, Apple is not the chief culprit of screen mirroring trouble. Instead, poor Internet connection, and having difficulty connecting with target device because of long distance are the primary causes. Moreover, it's said that connection failure will occur when there are too many physical obstacles between your iPhone and TV.

#3

Incorrect Settings

First, if the devices are not under the same network, it may lead to this error. Second, you may mistakenly set HDMI or VGA instead of screen mirroring on TV or PC input. Third, forgetting to turn off the sleep mode on your TV or PC may lead to screen mirror not working on iPhone.

#4

Device Incompatibility

Regrettably, screen mirroring only works on Mac 2011 and later published versions as well as 2nd generation and later Apple TV. Hence, you need to check whether your device supports this feature. Although it is rare, incompatibility between the devices will attribute to the trouble at times.
Part 2. Troubleshooting for Screen Mirror on iPhone Not Working
Method 1. Check the Internet Connection
As screen mirroring feature is undoubtedly an extraordinary feature, it highly requires a stable and smooth network environment. So, checking the Internet signal first might fix the issue. Try to run other applications under the same WIFI and check whether the Internet is stable. Or you can improve the Internet by restarting the router. Sometimes, glitches may be hidden in the router and bring the bad Internet. Furthermore, be sure to let both devices using the same WIFI connection.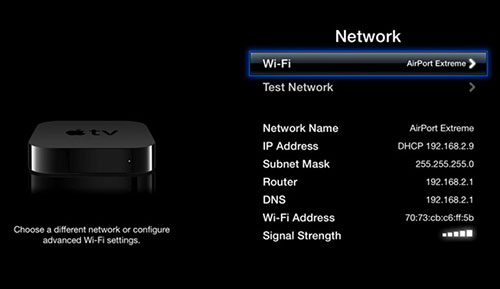 Method 2. Update Both Devices to the Latest Operating System
As is mentioned in the former part, errors and bugs in the outdated operating software are likely to result in the condition. Meanwhile, the newest version is dedicated to fixing these problems. Hence, it's better to check for software updates now and again. You can update the latest iOS version with some easy steps. Go to Settings, search for General tab and then tap Software Update.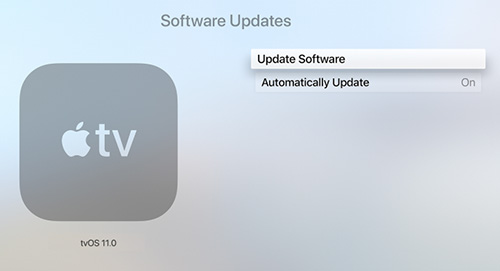 For Apple TV:
Step 1: Find Settings, select System and then Software Update.
Step 2: If there is the latest update, directly choose Download and Install.
Step 3: Wait for a few minutes. When finishing updating, run Apple TV.

For Mac:
Step 1: Go to System Reference, and click Software Update.
Step 2: Select Download and Install option.
Step 3: Just wait until it completes updating. You can choose "Automatically keep my Mac up to date" on the AppStore as well.
Method 3. Restart the Devices
You can attempt to reboot your iPhone and Apple TV to further solve the problem. As this solution is always applicable to fix most minor system errors, it can clear temporary caches and overloaded memories. Consequently, it is capable of repairing screen mirror not working on iPhone perfectly.

For iPhone:
● Press and hold the Power button. You can release it when the power-off slider appears, and then drag the slider. After the screen turns black, hold the Power button to turn on your iPhone.
For Apple TV 3rd generation:
● You can easily reboot it by entering Settings, finding General tab, and then selecting Restart option.
For Apple 4K TV:
● Go to Settings, locate System, and then straight choose Restart option.
Method 4. Apply Professional iOS System Repair Software
Finally, if nothing works, it's time to resort to the most professional iOS system repair tool. As the pioneer in fixing various system issues easily and losslessly, Joyoshare UltFix can not only tackle 150+ iOS problems with the highest success rate but also offer a cost-free service, with which you can put your iPhone in and out of recovery mode with only one click. What's more, this program is designed with dual repair modes. With standard mode, you can easily repair common iOS issues without data loss, such as iPhone ear speaker not working, iPhone screenshot not working, iPhone screen recording not working and so on. With advanced mode, you can fix particularly serious system problems, for instance, iPhone password forgotten, locked or disabled devices, etc.
Key Features of Joyoshare UltFix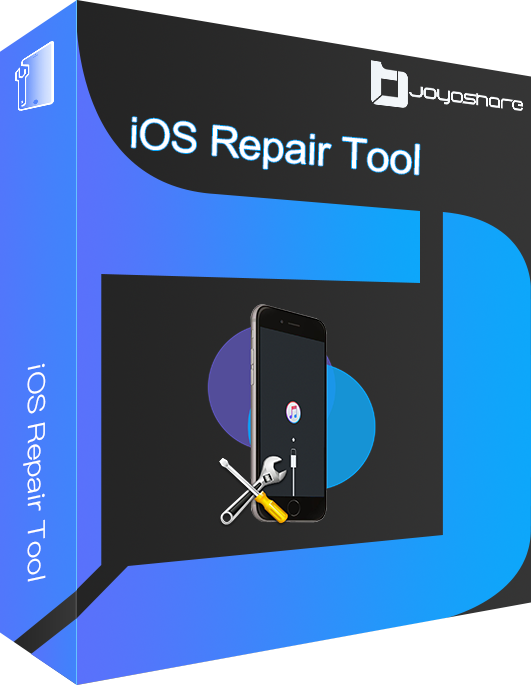 Compatible with all iPhone, iPad and iPod, including the latest iOS 15
Solving nearly all iOS problems without the risk of data loss
Intuitive UI and a detailed guide make it easy to operate for all users
Rich features and warm after-sales services make it receive high customer ratings
You can easily repair any issue within three steps
Step 1

Run Program and Connect iPhone

After downloading and installing the program officially, you can launch it on your computer. Then connect your iPhone to the computer and click "Start".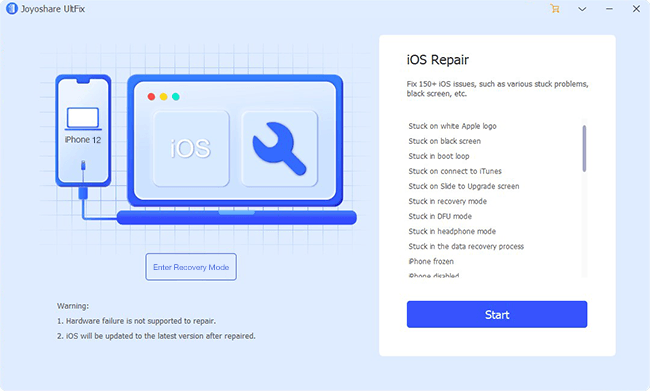 Step 2

Choose Standard Mode

Choose "Standard Mode", click on "Next" button and then follow the onscreen instruction to boot your iPhone to either recovery mode or DFU mode. You can alternatively hit on the "Enter Recovery Mode" button in the first step.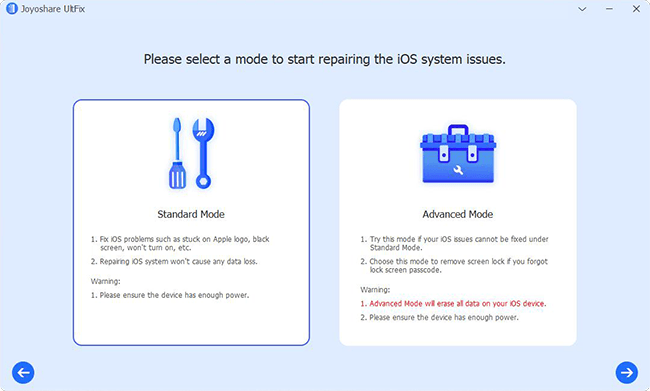 Step 3

Download and Verify the Firmware Package

Check device information displayed on the interface. If there is improper content, you need to modify it by hand. Next, click "Download" to download and verify the matching firmware package.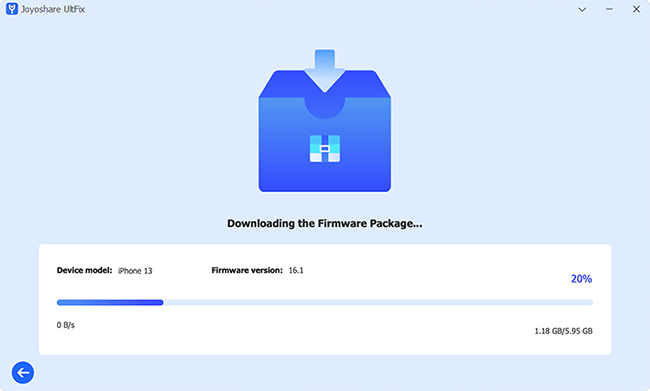 Step 4

Fix Screen Mirror Not Working on iPhone

Simply hit on the "Repair" button. Then Joyoshare UltFix will help to unzip the firmware package and get your iPhone back to normal. After completing repair, it will show "Done" button.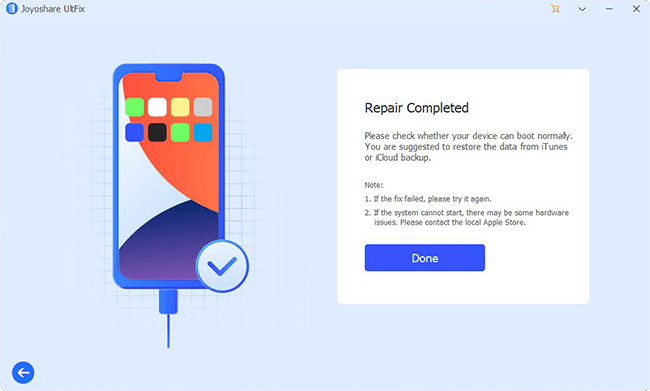 Part 3. FAQs
Q1. How do I enable screen mirroring on my iPhone?
A: First and foremost, your iPhone needs to be on the same WIFI network as Apple TV. Meanwhile, both devices must support screen mirroring and are compatible. Then go to the control center and tap the "Screen Mirroring" tab or "Airplay" option. Select the TV devices that you want to stream the content.
Q2. How do I reset my iPhone screen mirroring?
A: There is no direct way to reset screen mirroring directly. You can reset your iPhone screen mirroring by selecting "Reset All Settings" option under "General" tab in the "Settings".
Q3. How can I send content to Apple TV with screen mirroring?
A: Screen mirroring feature allows users to stream videos, songs, photos from an iOS device to Apple TV with a simple tap. So, you just need to locate the content you want to share, and tap the screen mirroring or Airplay icon. In some apps, it requires you to choose "Share" tab to find this feature. Then select the Apple TV device.
Part 4. Conclusion
When you come across screen mirroring not working on iPhone, you can get assistance with this particular guide listed in the article. Before performing these suggestions, you are required to check if your devices support screen mirroring feature. You can check the specific models in part one or find them in Apple support. Bringing the devise closer, removing obstacles, disabling Bluetooth may take effect in fixing the trouble. You can try all of these methods one by one. However, if nothing works, never hesitate to contact Apple Support center. They can offer technical aid in deeply solving hardware troubles. Hopefully, your issue can be fixed successfully.