As the fastest wireless network today in the world, 5G has evolved at an amazing pace since it has come down the pike, offering users a smoother surfing experience. But there is a problem reported by users – 5G not working on iPhone. It brings inconvenience and annoyance to you if you are facing this issue. To fix this problem, you need to troubleshoot many external conditions and internal settings on your iPhone. Follow this article and inspect your iPhone step by step to repair the 5G network.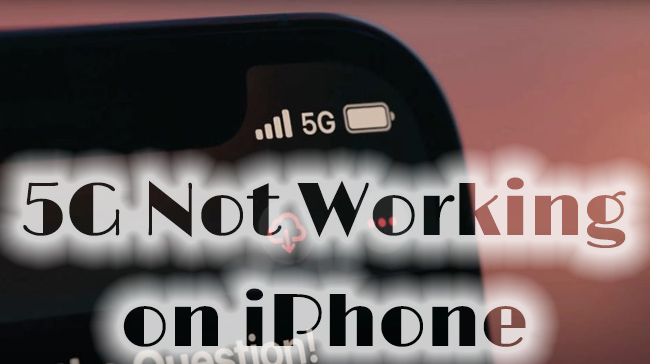 Part 1. FAQs about 5G Network
Q1: Which iPhones will work with 5G?
A: iPhone 12 series and later models work with 5G. Meanwhile, iOS 14.5 or later versions are required on iPhone with Dual SIM.
Q2: What are the necessary conditions for using 5g?
A: A compatible iPhone, a carrier with 5G support, a place covered with 5G and a 5G cellular plan.
Q3: Why is 5G not working on iPhone?
A: Apart from the essential conditions mentioned before, there are various reasons cause 5G not working issue, such as Low Power Mode, damaged SIM card, iOS system glitches, etc.
Part 2. Troubleshoot 5G Not Working Issue on iPhone
2.1

Check Device Compatibility and Carrier Support

If your iPhone is earlier than iPhone 12, you could not use 5G. If you are not sure which model you are using, open Settings → General → About → Model Name. From here you could check if your device is compatible with a 5G network. On the other hand, not all carriers support 5G, so you need to contact your carrier or check online if they enable 5G. Moreover, you need to check the carrier settings update if you are not sure whether the Internet connection issue is caused by the carrier's network. Go to Settings → General → About → Carrier. Tap the Carrier bar and a pop-up will emerge asking for an update.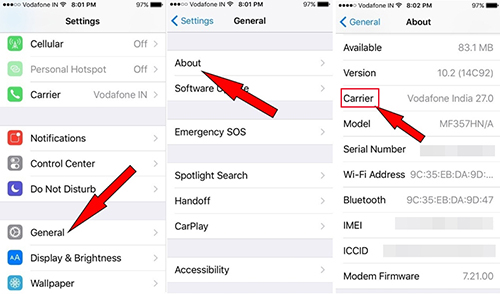 2.2

Check 5G Coverage and Cellular Plan

The number of 5G Wireless Base Station is finite as well, as a consequence, not every area could use 5G. Hence, you could search for the 5G coverage on the browser or your Maps app. In addition, you have to activate cellular plan of the 5G network. If not, you cannot connect to 5G even if your iPhone and your location are available.
2.3

Make Sure 5G Is Enabled

The simplest method to judge if you have enabled 5G on your iPhone is to check whether a 5G icon exists in the status bar, and it could be 5G, 5G+, 5G UW, or 5G UC. When you can't see this icon, go to Settings → Cellular → Cellular Data Options → Voice & Data. On this screen, you need to tick the 5G On or the 5G Auto option. Note that the first mode has the potential to reduce your battery life.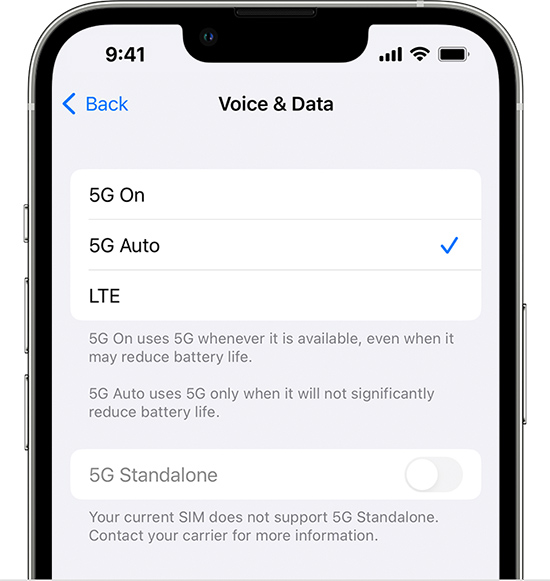 2.4

Allow More Data on 5G

If your 5G cannot work when you update apps or use higher-quality media, you need to turn off Low Data Mode or Standard mode, changing to Allow More Data on 5G. To implement this operation, head to Settings → Cellular Data Options → Data Mode → Allow More Date on 5G. Besides, if you have limited the usage of your cellular data, your 5G would suddenly not work. And you could check the data consumption on Cellular in case it runs out.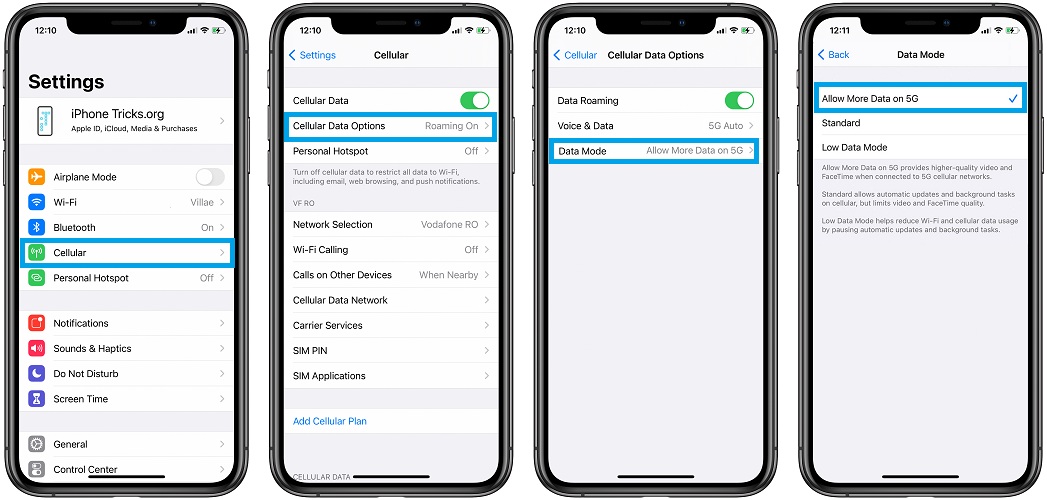 2.5

Disable and Enable Airplane Mode

After the foregoing confirmation of 5G's preconditions, if it still doesn't work, try to refresh the network of your iPhone by disabling the Airplane Mode. In the Control center, tap it to turn off, wait for a while, and enable it again. Or you could enter Settings to toggle the Airplane Mode option off.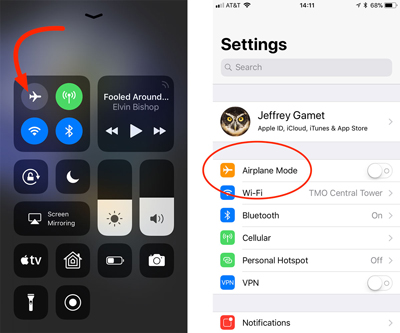 2.6

Turn Off Low Power Mode

Since 5G consumes more data and power than other wireless networks, especially when you download large files, 5G would be disabled on your iPhone in these cases. Therefore, charge your device and make sure it has sufficient power, then open the Settings app, locate Battery, and turn off the Low Power Mode.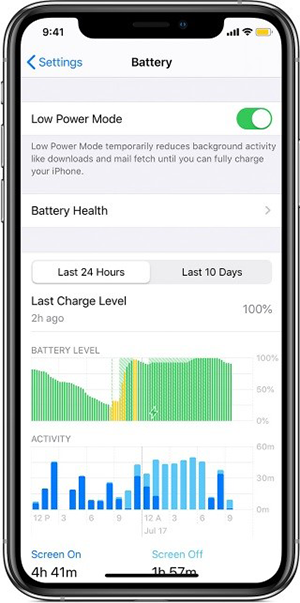 2.7

Turn Off Dual SIM Mode

If you possess two SIM cards both with the 5G network, but you are running iOS 14.4 or the previous versions, you will be confined to using 4G LTE. The solution is to turn off Dural SIM mode so that you could enable 5G on one of the cards. Navigate to Settings, choose Cellular, select the SIM card you want to disable 5G, and toggle off the Turn On This Line option.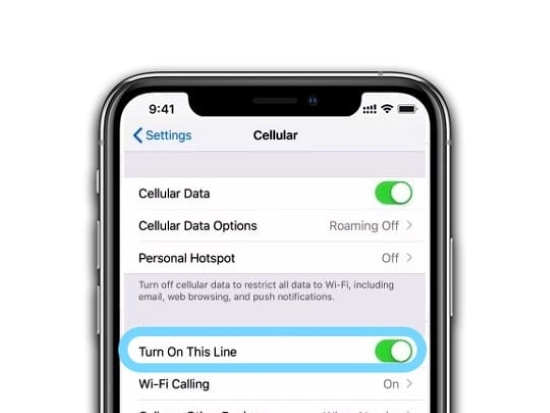 2.8

Reinsert SIM Card

One of the possibilities resulting in 5G not working on iPhone could be a SIM card detection error. Whether you're sure this is the culprit or not, it is worth trying to remove your SIM card and reinsert it. Insert an ejector into the hole next to the card slot, take out your SIM card and swipe it with a clean cloth, then restart your iPhone, reinsert the card and turn on your device again.
2.9

Reset Network Settings

When all the previous checking works are fine, you may consider resetting the network settings on your iPhone. By this, your 5G network will be thoroughly refreshed to the default status. Go to Settings → General → Transfer or Reset iPhone → Reset → Reset Network Settings. After this operation completes, you could turn on 5G again to see if it works well.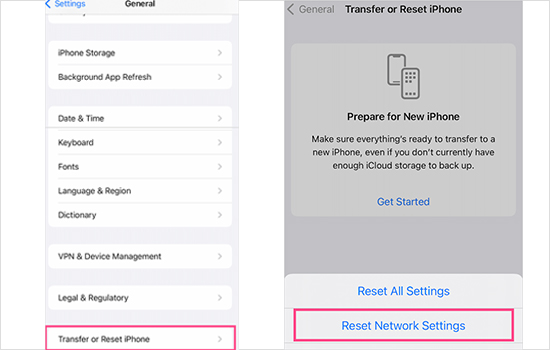 2.10

Update iOS

If you are running iOS 14.4 and former software versions on iPhone with Dual SIM, you have to update to the latest version when 5G is unavailable. Also, it is a workaround to fix other errors. Thus, run Settings, tap General, select Software Update, and hit the Download and Install button.
2.11

Force Restart iPhone 12 Series and Later

Force restarting is capable of fixing different kinds of system problems with unknown cause. In case you have no idea how to fix the unavailable 5G, just hard reset your iPhone. First, quickly press the Volume Up button and release it; next, press the Volume Down button and immediately release it as well; then, press and hold the Power button for seconds; last, release the Power button when you see the Apple logo on the screen.
Part 3. Fix iPhone 5G Not Working via Joyoshare UltFix
Joyoshare UltFix is a wonderful tool to fix iPhone 5G not working issue due to iOS system glitch. Except for this problem, this program is able to repair iPhone black screen, white screen, update failure, iPhone no service, invalid SIM card, etc. With its standard repair mode, you don't have to worry about data loss anymore. Besides, it allows you to enter and exit recovery mode with one simple click, meanwhile, it offers the service to factory reset your device, which are all free. Regardless of the models of iPhone you are using, or the iOS system you are running, Joyoshare UltFix could return you a normal device.
Main Features of Joyoshare UltFix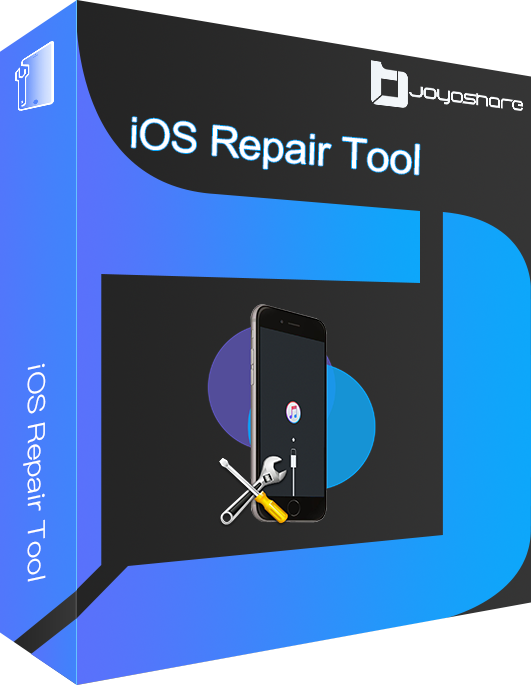 Fix 150 iOS system problems, including 5G not working
Standard repair iPhone/iPad/iPod touch without losing data
Downgrade/upgrade iOS system with no obstacles
Enter/exit recovery mode for free
Step 1

Connect to Joyoshare UltFix

Connect your problematic iPhone to computer and launch Joyoshare UltFix. Enter the iOS System Repair module, and click the Start button.

Step 2

Choose Standard Repair Mode

If your iPhone is recognized without problem, select the standard repair mode and get into the next page. If it fails to be detected, put your device into DFU/recovery mode by following the guide on the screen. Then, you could also move to the next step.

Step 3

Download and Verify Matching Firmware Package

Before the downloading progress, you need to troubleshoot if the information about your iPhone is correct. If so, click the Download button to begin downloading and verifying the firmware package.

Step 4

Repair 5G Not Working Issue on iPhone

Click the Repair button to unzip the firmware package, and fix your iPhone with unavailable 5G network. When you see the Finish button, your problem is solved with no data loss.
Conclusion
Your questions about the 5G network are answered at the beginning of this article. And it helps you troubleshoot 5G not working on iPhone in 12 ways. Follow them one by one, you will finally find the culprit. Before you use Joyoshare UltFix to repair your device, it is recommended doing the above 11 workarounds to avoid the possibility that the problem is caused by a system error rather than a settings mistake. Therefore, if you are sure your iOS system has something wrong resulting in disabled 5G, go for Joyoshare UltFix.