A SIM card can be very useful for an iPhone. The app stores and protects all kinds of information, from contacts to favorites to other little bits of information. Additionally, you'll be able to make calls easily and get internet access to things you never thought were possible.
However, without a SIM card, you can only use it in a physical format, since it will not be able to search for much of anything. If your SIM card is not recognized, you won't be able to make calls or send text messages or connect to the internet via cellular service. The following quick-and-simple troubleshooting procedures will help you to determine the cause of the "invalid SIM on iPhone" error on your smartphone and determine how to get it working again.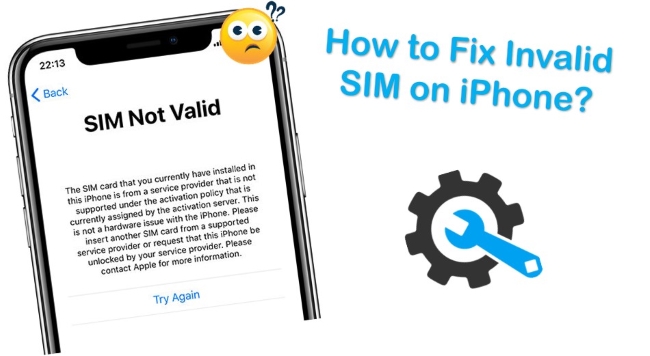 Part 1. Why Does My iPhone Say Invalid SIM Card?
an outsized amount of information and, consequently, power. As a result, several things can cause the "invalid SIM card iPhone" error to appear on your iPhone. These can include:
* Damaged SIM card
* The software bugs
* A system malfunction
* An out-of-place SIM card or tray
Part 2. How to Fix My iPhone Says Invalid SIM Card?
Our advice is to try the troubleshooting steps below first so that you can deal with iPhone saying invalid SIM as quickly as possible.
Method 1. Use Professional Tool – Joyoshare UltFix iOS System Recovery [100% Lossless]
A feature-rich program that can fix iOS devices on a computer, is called Joyoshare UltFix iOS System Recovery. You can resolve over 150 types of iOS issues from "stuck" to "not working" issues, such as iPhone says Wi-Fi password is incorrect, iPhone stuck on text Messages screen, iPhone Wi-Fi calling not working, iMessage not say delivered, and so on. You can eliminate troublesome problems from your device by following the simple procedure, which takes just a few minutes. No data is at risk with this software, and no technical knowledge is required. Given these facts, we highly recommend it. For instructions on using Joyoshare UltFix iOS System Recovery, check the following section.
Key Features of Joyoshare iOS System Recovery: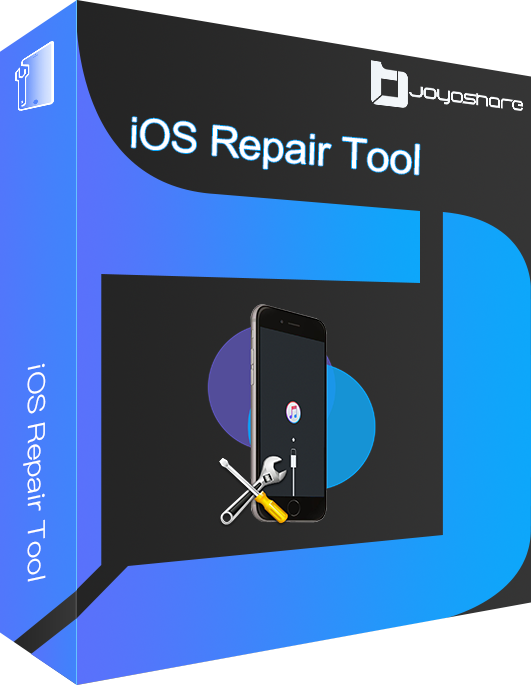 Fix iPhone saying invalid SIM with simple steps
Compatible with the latest iOS version - iOS 15
With a free option to get into or out of Recovery Mode
Resolve 150+ errors on all iOS devices like iPad, iPod and iPhone
Step 1

Connect iPhone to PC or Mac

First and foremost, download Joyoshare UltFix to your computer. Then, open the file and install the software. You should see the main features of the program and then "Start" the repair process.

Step 2

Choose a Mode

Here choose Standard Mode, which is enough to fix most of the common problems. It allows you to update and repair your iPhone without losing data. Then click "Next" to get to continue. Then "Next" will guide you to another page.

Step 3

Download Required Firmware for Your iPhone

On this page, fill out the device information on the software correctly and click on the "Download" button. If your internet connection is smooth, it will take just a few minutes to download all the required firmware files.

Step 4

Start Repairing "iPhone Shows Invalid SIM" Issue

When finish downloading the firmware, click on "Repair" to start the process. When the process is complete, click on "Done" and unplug your device.
Method 2. Check Active Plan with Cellular Carrier
It seems like common sense, but do you currently have a cellular service plan? That might be the reason why iPhone says invalid SIM card. If not, you will be unable to make phone calls, send texts, or access a mobile network. Moreover, if you haven't used the SIM card in question or paid your cellphone bill in a while, the carrier might have canceled the number, either temporarily or permanently. Make sure your SIM card is active by contacting your carrier. Also, some carriers will show the plan in Settings → Cellular → Cellular Plans.
Method 3. Toggle ON/OFF Airplane Mode
The iPhone's Airplane mode can be toggled on and off to fix cellular issues. So please turn on Airplane mode on your iPhone for a few minutes and turn it off afterwards. To turn on the Airplane mode on your iPhone, here's what you can do:
Step 1. Open Control Center.
For iPhone with Touch ID: Swipe up from the bottom.
For iPhone with Face ID: Swipe up from the top.
Step 2. Toggle on the Airplane mode.
Step 3. Toggle off the Airplane mode after a couple of minutes.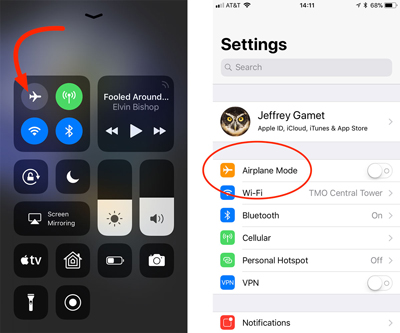 Method 4. Remove and Reinsert Your SIM Card and Tray
For an iPhone to function properly, the SIM card needs to be correctly inserted into the tray. There's a possibility that your SIM card was jostled out of position and has been damaged if your phone has recently taken a tumble or your SIM tray was unceremoniously shoved into the slot.
Start by turning off your phone, and then remove the SIM card tray using a proper tool. Take some time to inspect the SIM card for scratches or other damage, and use a soft cloth to wipe it off. Reinstall the SIM card carefully in the tray of your iPhone if everything looks fine. Please don't be rough with it as you could further damage it.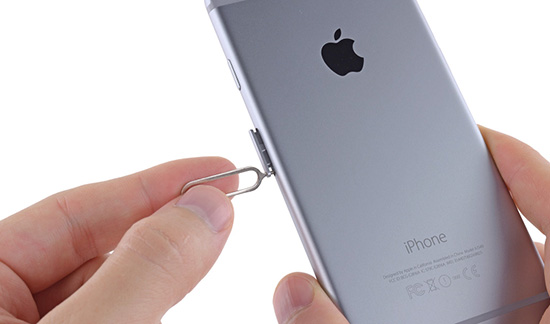 Method 5. Restart Your iPhone
iPhones sometimes report no SIM due to minor software issues. So, another tried-and-true step that usually bears fruit is restarting your iPhone.
For iPhone 6S and earlier,
Press Sleep/Wake button & Home button until the Apple logo shows up on the screen.
For iPhone 7/ 7 Plus,
Simply long-press the Sleep/Wake button and Volume Down button at the same time. Do this for at least 10 seconds, until the Apple logo flashes.
For iPhone 8/ 8 Plus, iPhone X, or later,
Quickly press and release the Volume Up button.
Quickly press and release the Down button.
Keep holding the Side button until the Apple logo shows up.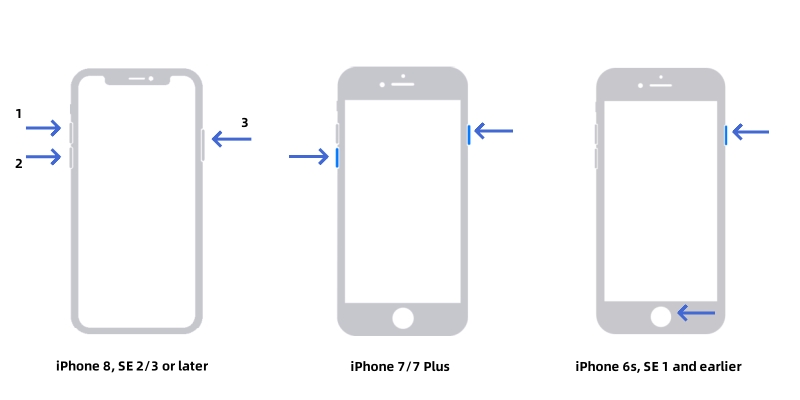 Method 6. Update the iOS
The software might, at times, create the illusion that your SIM card is invalid or that you do not have one. Apple usually releases a new version to fix these buggy updates. You can manually check if an iOS update is available by going to Settings → General → Software Update, and then choose Download and Install if necessary.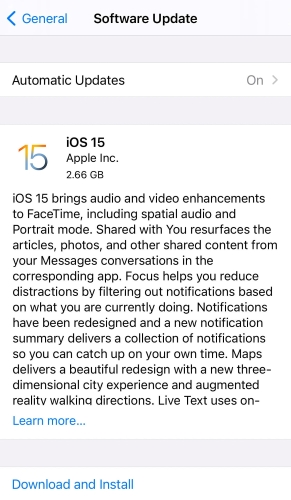 Method 7. Check for a Carrier Settings Update
Just like Apple releases updates for its iOS system, your carrier might also release periodic updates to help improve cellular connectivity on your network. If you fail to update your SIM card, you are not only missing out on the latest technology from your mobile provider, but you could also cause it to malfunction, even if there is no damage. Here are the steps to check the carrier Settings update:
Step 1: Connect your phone to Wi-Fi.
Step 2: Open Settings.
Step 3: Tap on General → About → Update.
Step 4: Once it is updated, everything should run smoothly.
If not, let's take the next step in fixing the "no SIM" issue.
Method 8. Reset Your Network Settings
A software error in your phone's network settings could cause an invalid SIM card message. Any Wi-Fi network, Bluetooth device, cellular data, and VPN you might have been included here. By resetting your network settings, you can easily resolve the problem. Keeping in mind that this will erase any Wi-Fi passwords from your computer, be sure to write down any important passwords you want to keep.
Step 1: Start by running Settings → General → Transfer or Reset iPhone → Reset Network Settings.
Step 2: You will need to enter your iPhone's passcode, then tap Reset Network Settings again to confirm. Your iPhone should be good to go after this, but if not, proceed.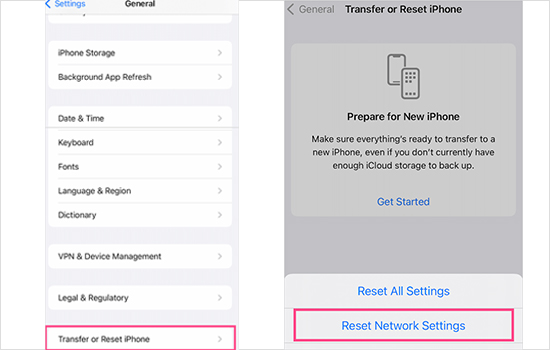 Method 9. Factory Reset Your iPhone
Even after following the previous steps, if your phone still has SIM card problems, consider performing a factory reset. You should always back up your device to a compatible computer or the iCloud so you won't have to do it all over again if something goes wrong.
To factory reset your iPhone:
Step 1: Settings → General → Transfer or Reset iPhone → Erase All Content and Settings.
Step 2: Select Erase iPhone, then use Face ID, a fingerprint, or passcode to confirm your identity.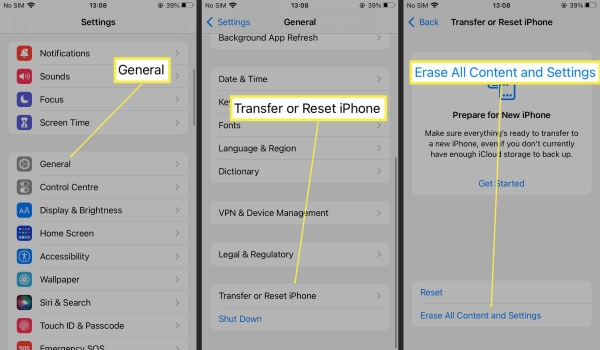 Part 3. Summary
This tutorial must have cleared all your doubts related to the "invalid SIM on iPhone" issue. Compared with other methods, you will repair your iPhone with a higher chance of success, as well as have better safety and security by using the Joyoshare UltFix iOS System Recovery option. In case you still have some concerns or queries then you can contact us in the comment box for more information.