When you update to the latest iOS 16, something goes wrong under the condition that your iPhone have no problems during a long period of time. The issue is iPhone SIM card not detected, but you are sure that you have installed it. There are many possible causes of this problem, for example, improper installation, incompatible iOS versions with your iPhone model, iOS system error, etc. Only escaping from this dilemma, you can make and receive calls and texts. Thus, this article collects many ways to check whether the problem is with the SIM card or your iPhone. If you want to know the real answer, go further to read it.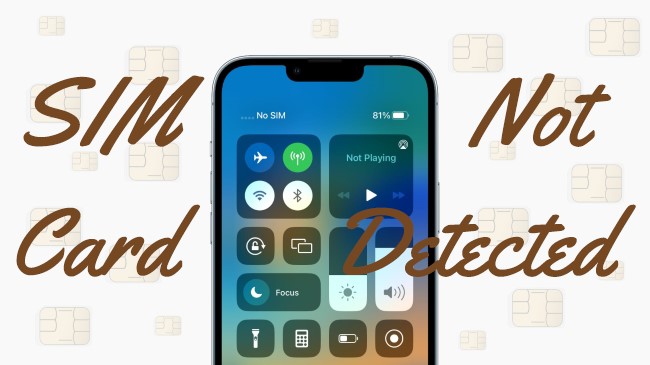 Part 1. Inspect SIM Card Failure
#1 Check and Update Carrier
To begin with, you need to check if the problem is with your SIM card. To do this, you need to make sure that there is an activation plan with your wireless carrier at first, which means that your wireless carrier's network should be available. If you have a problem with this function, it may be caused by updating iOS versions. And you can check for the carrier settings update to see whether the new carrier version matches the latest iOS version.
Settings → General → About → Carrier → A prompt will appear → Tap Update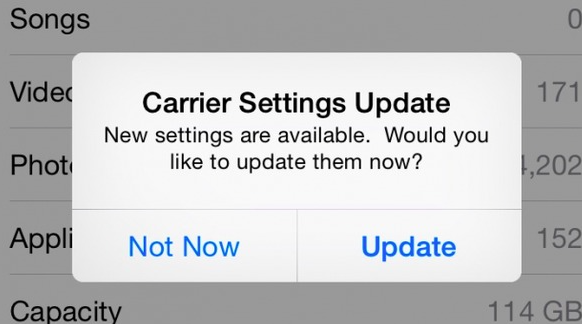 #2 Reinsert and Clean SIM Card
If your iPhone does not recognize SIM card, you may need to consider that you installed it the wrong way. To inspect this mistake, you can reinsert your SIM card and swipe it with a clean cloth. If there is something unusual, it might be the damage to your SIM card. If it looks well, you can put it into the tray again carefully.
Use an ejection pin or a paperclip inserted into the hole beside the SIM card tray and push it to get your SIM card out of the slot.
Check the status of the SIM card, such as scratches on the surface and the orientation of the notch.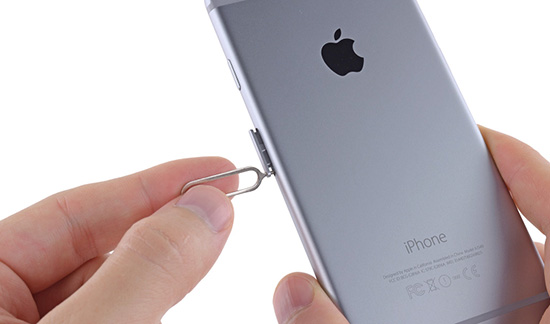 #3 Try Another SIM Card
When both the above-mentioned methods are invalid, it's time to troubleshoot the SIM card using the final solution. Install another SIM card on your iPhone to check if it can be detected. If the other SIM card works well, it implies that the problem is with your SIM card. Conversely, your iPhone has some glitches.
Part 2. Diagnose iPhone SIM Card Not Detected Problem on iPhone Itself
#1 Turn on and off Airplane Mode
When it appears to be "No SIM" or "Invalid SIM", and meanwhile, you conclude that your SIM card is used normally after the inspection of it, you should turn to troubleshoot the problem on your iPhone itself.
The first and easiest operation is to turn on and turn off the Airplane mode on your iPhone. With this operation, the network of your iPhone will be refreshed to a degree. Sometimes, it works to solve your SIM card problem.
You can go to Settings, tap Airplane Mode and switch it on. Then wait for a few seconds and turn it off. Alternatively, turn this feature on and off at the Control Center.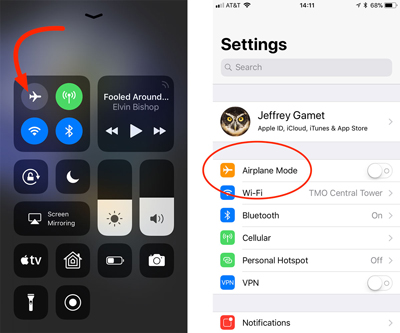 #2 Restart iPhone
Another simple method to answer how to fix the SIM card not detected is restarting your iPhone.
iPhone X or later: Press the Side button and a Volume button (either) and drag the power-off slider to turn off your iPhone. Then, press and hold the Side button to turn on it.
iPhone 6, 7, 8, or SE: Press and hold the Side button and turn off iPhone by dragging the power-off slider. Then, you can turn on your iPhone by pressing and holding the Side button.
iPhone SE (first generation), 5 or earlier: Press and hold the Top button and drag the slider. To turn it on, press and hold the same button for a while until the Apple logo appears.
#3 Reset Settings
If it remains the "No SIM" or "Invalid SIM" message after you restart your iPhone, you can reset all settings on your iPhone. But if you don't want to do this, you can reset network settings.
Settings → General → Transfer or Reset iPhone → Reset → Decide to Reset Network Settings or Reset All Settings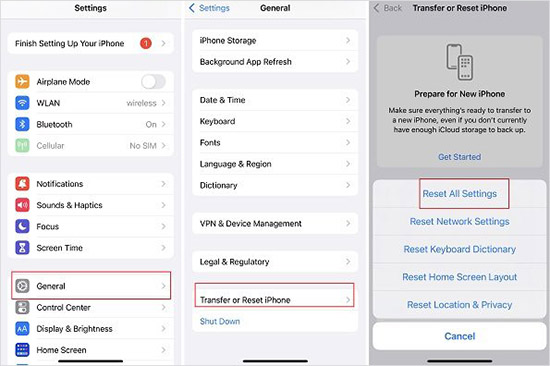 #4 Upgrade or Downgrade iOS
Sometimes this problem happens when you recently update your iOS system, or you are using the old iOS version that is incompatible with your iPhone. To get rid of this issue, you could try to downgrade your iOS version if possible or upgrade to the latest iOS version.
Enter Settings on your iPhone, choose General, tap Software Update, and hit the Download and Install bar.
Connect your iPhone to your computer first, locate your iPhone icon on iTunes/Finder, select Summary and click the Check for Update button.
However, it is hard to downgrade iOS versions after the downgrading channel is shut up by Apple. You could find a third-party tool to downgrade your iOS with or without iTunes, such as Joyoshare UltFix.
#5 Factory Reset iPhone
Carrying out so many inspections, if your iPhone SIM card is still not detected, you have the last chance to solve it – factory reset your iPhone. This method will put your iPhone into default mode by erasing all your data. Go to Settings, choose General and find the Transfer or Reset iPhone option. On this screen, tap the Erase All Content and Settings option this time. Then enter your iPhone passcode to confirm your request.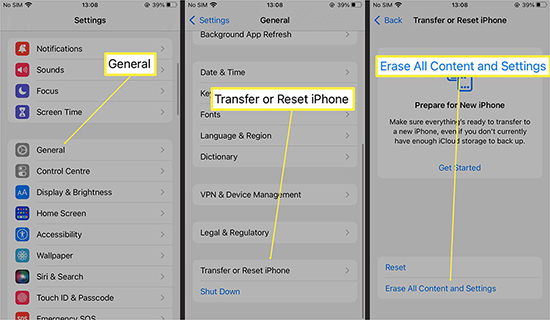 Part 3. How to Fix SIM Card Not Detected iPhone by Joyoshare UltFix
When your iPhone says that your SIM card is unable to be detected and you are sure that the problem is on your iOS system, I recommend you use Joyoshare UltFix to repair the issue with only several clicks. Apart from the easy operating steps, this program assures you of 100% safe and a high rate of success. It is compatible with all models of iPhone and almost every version of the iOS system, which means that you don't have to downgrade your iOS software in such an annoying way. When your iOS system is repaired, your SIM card will also function normally.
Main Features of Joyoshare UltFix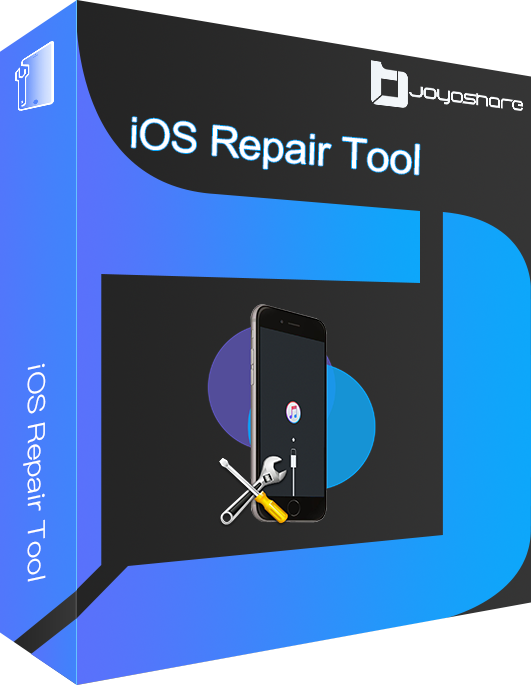 Easily repair the iOS system in two modes
Keep 100% safe and a high success rate
Support all models of iPhone and almost every version of the iOS system
Offer standard reset [Free] and factory reset
Free to enter/exit recovery mode in one click
Available to upgrade and downgrade iOS versions
Step 1

Connect iPhone to Computer

After installing Joyoshare UltFix, you need to connect your iPhone to a trusted computer. Then run the software and choose the iOS System Repair option. There are many possible system problems you may encounter listed on the screen, you can look through it and click the Start button.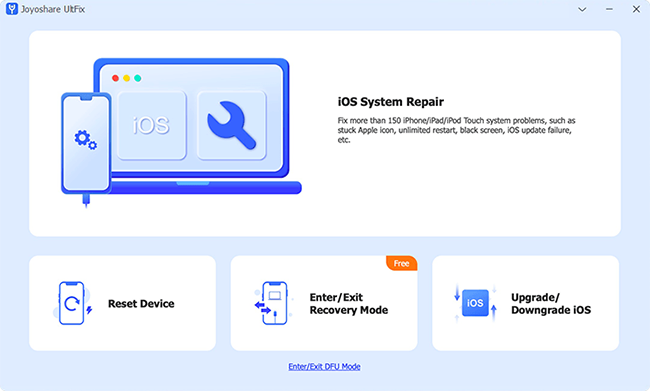 Step 2

Enter Standard Repair Mode

If your iPhone is successfully detected by your computer without extra problems, you can choose Standard Repair directly. However, if your iPhone experiences problems with device recognition, you have to enter DFU/recovery mode first. On the screen, there are instructions to guide you.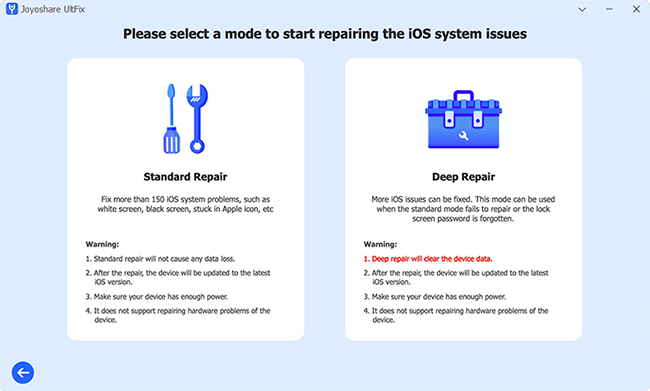 Step 3

Start to Download and Verify

Then, you are allowed to check the information about your iPhone and choose the matched firmware package to download. This step will last for a while until the firmware package verification is complete.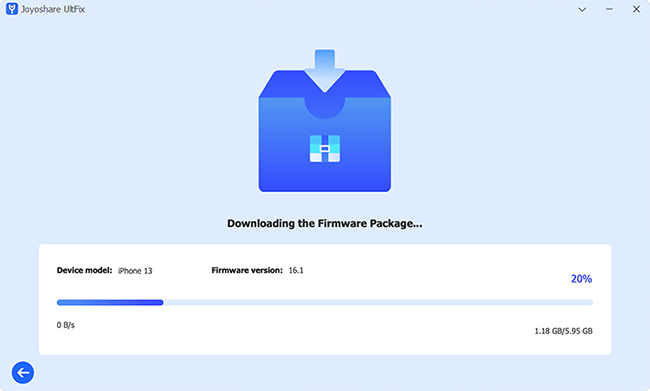 Step 4

Repair iOS System and Fix Undetected SIM Card

Once you see the Repair button on the screen, click it to start repairing your iOS system. During this progress, you don't have to worry that your data will be deleted as standard repair mode will reserve it well. After your iPhone restarts automatically, you can check if your SIM card turns back to normal.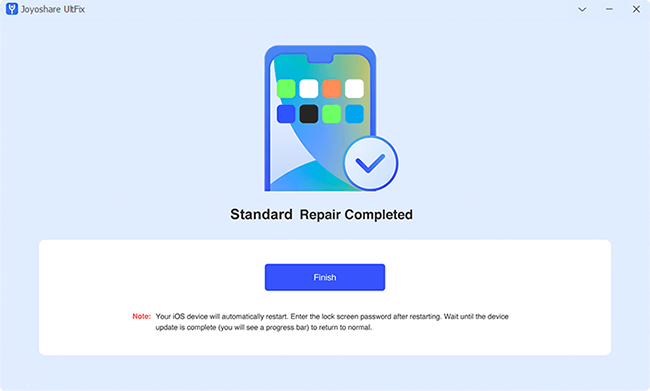 The Bottom Line
Facing an iPhone SIM card not detected problem, you need to make a judgement that the real reason is related with the SIM card or your iPhone. To figure out this issue, this article provides you with some attainable methods separately. If you draw the conclusion that the SIM card itself is fine, you should move to troubleshoot the problem that exists on your iPhone. Alternatively, go ahead to repair the iOS system with Joyoshare UltFix, which will improve the efficiency of resolving this problem. It is hoped that your SIM card will function well and your iOS system will run smoothly.