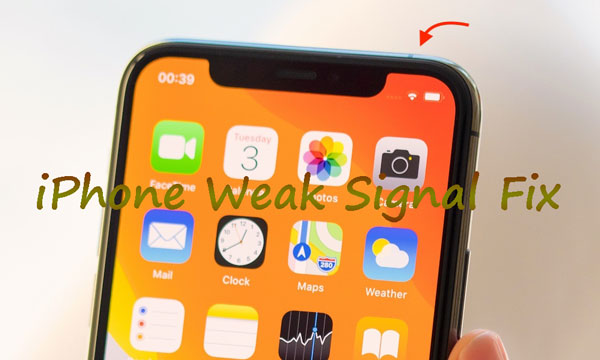 iPhone indeed works wonders in many functions and that's why it is warmly welcomed by users from the world. But as a device, iPhone going wrong at some times is inevitable. And recently, a few iPhone customers have been complaining that the Wi-Fi signal is weak on their devices including iPhone 6 and iPhone X, especially after an iOS 13/14 update. What causes this problem and what solutions can be taken to fix it if you are also faced with your iPhone Wi-Fi weak signal? Just go along the following parts of this article.
Part 1: Why Does iPhone Wi-Fi Signal Be Weak?
To begin with, you may want to make clear of why does your iPhone has a weak signal. There are several reasons listed below and you can have a look at them.
1. The insufficient storage space or memory of iPhone.
2. A proper firmware update is required.
3. Hardware damage like a bad or displaced SIM card.
4. Software or iOS bugs and glitches, etc.
Part 2: How to Fix iPhone Weak Signal?
Although the reasons that lead to iPhone 6 weak Wi-Fi signal vary, yet some methods still can be adopted to resolve it and you can first try out the following 6 best ones.
Tip 1:

Disable Wi-Fi assist

When your iPhone Wi-Fi signal is weak, you could turn off the Wi-Fi Assist on the device. Why? Because the feature is sometimes powerful in finding a more reliable connection and speeding up data transfer, but it can also make connection and disconnection problems in some cases. To avoid the circumstance, please navigate to Settings > Cellular and switch Wi-Fi Assist off.

Tip 2:

Force restart iPhone

Then you could force reboot your device to remove some software bugs, thus improving your iPhone Wi-Fi signal strength. Different operations based on various iPhone models are as presented here.

#iPhone 8 and later respectively hold down and let go of the Volume Up and Down buttons, then press down the Side button.

#iPhone 7 and iPhone 7 Plus press down and release the Volume Down and Sleep buttons at the same time until the Apple logo appears.

#For iPhone 6 iPhone SE or former, press down and let go of the Home and Power buttons meanwhile till Apple logo is shown.

Tip 3:

Reset network settings

If they don't help in dealing with iPhone weak signal, then you might have to do a reset about network settings. This won't cause any data loss on your iPhone rather clear out unknown connection errors through the steps below.

Steps: Click Settings > General > Reset and tap on Reset Network Settings.

Tip 4:

Reinstall SIM card

Chances are that a damaged or wrong-installed SIM card on your iPhone may also result in the Wi-Fi signal drop. In order to boost the iPhone signal, you are recommended to take out the SIM card on your device first and gently wipe out the dust on it, then put it full back in the right place. Finally see whether your iPhone's Wi-Fi signal is still poor.

Tip 5:

Boost iPhone Wi-Fi signal through iPhone Repair Tools

At this time, you may experience the failure to fix your iPhone Wi-Fi weak signal after the above ways, so now it's time to apply a professional iOS system recovery tools, for instance, Joyoshare UltFix to get out of trouble with the fastest speed and an almost 100% success rate. This mighty program not only fix a number of iOS issues such as Wi-Fi not working on iPhone, diverse iTunes errors and screen matters, etc without data loss, but also efficiently improve your device's performance. To adopt Joyoshare UltFix iOS System Repair to solve iPhone weak signal, only 3 simple steps are needed.

Other Functions of Joyoshare UltFix

Enter and exit recovery mode with one click for free
Resolve Apple TV problems
Compatible with all iOS versions
Work for iPhone, iPad, iPod and other iOS devices
Support downgrading iOS versions

Step 1: Get the software on your computer and launch it. After that, connect your iPhone to the computer through an original USB cable. When it is detected by the tool, press "Start" button. In the next window, select Standard Mode to fix iPhone Wi-Fi weak signal with no data loss.

Step 2: Check and confirm all your iPhone info detected and displayed by the program. Then, tap on "Download" button to download and verify the latest firmware package matched with your device.

Step 3: In the last step, click on "Repair" button to get the verified firmware package unzipped. Once completed, Joyoshare UltFix will begin to repair the iPhone weak signal issue.

Tip 6:

Factory Reset iPhone

Here another fix might be workable to resolve iPhone Wi-Fi weak signal, too. That is bringing your iOS device back to factory settings. As implied by its name, this will delete all data on your iPhone and you had better back them up before completing the following process.

Procedures: Head to Settings > General > Reset and hit on Reset All Settings option.

Part 3: Final Suggestions

The above top 6 solutions have been proven to be effective to settle down the problem of iPhone Wi-Fi weak signal. However, they sometimes don't work for each situation. If you still have the trouble and some applications are seriously prevented from normally using, then you need to send your device to an Apple Store for reparation. Yet before that, there are still 3 small tips you could give it a shot.

First try: Remove iPhone's case. The protective case of your iPhone may cover the signal of Wi-Fi connected. To save it, you could remove it to see if it works.

Second try: Put iPhone into an empty glass. Try to place your iPhone in an empty glass to check whether the signal is strong.

Third try: Use a cell signal booster. The small device boosts the radio waves between the transmitter and your iPhone so as to get rid of the weak signal issue. You can get one at any related stores.