If you bought a second-hand iPhone or iPad which is a shared device belonging to a company or school, your activities may be restricted. For example, you are prevented from using built-in NFC, finding or adding in Game Center, opening Web Clips on Safari, purchasing or downloading content on iTunes Store, etc. All these restrictions result from device supervision configured on your iPhone/iPad. You must be eager to find a solution to get rid of this trouble. Luckily, you could learn about how to remove device supervision from iPhone and iPad in this article.
Part 1. Brief Introduction of Device Supervision
In the first place, you need to know basic knowledge about device supervision. It is an MDM profile (Mobile Device Management) designed to protect the confidential information of a company and to confine students' actions when using iPhone or iPad for study. If your iPhone or iPad is installed with the device supervision, you can see a message above your Apple ID on Settings saying "this iPhone (iPad is supervised and managed by …)". For older operating systems like iOS 9 and earlier, you can go to Settings → General → About, and the same alert appears if your iPhone or iPad is under supervision. To learn how to remove device supervision, continue to read this guide.
Part 2. Video Tutorial to Remove Device Supervision
Here is a video tutorial guiding you to bypass device supervision, watch it carefully and follow the steps it shows to get rid of the restrictions. In case there is something unclear, keep reading the following details.
Part 3. Get Rid of Device Supervision from iPhone/iPad without Password
When you see the remote management interface, you will be asked for the username and password. For a second-hand or refurbished iPhone or iPad, it is hard to get to know what they are. Don't fret, it doesn't matter despite you can't enter the credentials. Joyoshare iPasscode Unlocker gives you a way to remove the supervision without the need for password from your device. Regardless of the device models and the system versions, MDM restrictions will no longer bother you with the assistance of Joyoshare iPasscode Unlocker. It doesn't require you to jailbreak your device but simple clicks to remove the supervision. In addition, this program has more powerful features - unlocking screen locks on Apple devices, turning off Screen Time, and removing Apple ID.
Key Features of Joyoshare iPasscode Unlocker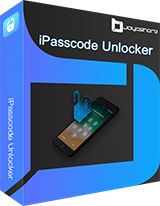 Compatible with all models of iPhone/iPad/iPod touch
Remove screen passcode, Screen Time passcode and Apple ID
Simple clicks to remove device supervision within 2 steps
Step 1

Choose Remove MDM and Connect to Computer

Install and run Joyoshare iPasscode Unlocker, choose Remove MDM, and plug your iPhone or iPad into the computer. As the data on your device will be erased, it would be better to make a backup in advance.

Step 2

Click Start to Remove Device Supervision

If you have disabled the Find My feature on your iPhone/iPad, click the Start button to straightly begin removing the device supervision. If not, turn it off by entering Settings → Apple ID → Find My, and then proceed to get rid of the restrictions.
Part 4. Turn Off Supervision on iPhone and iPad with Password
4.1 Remove iOS Supervision on Settings
The MDM profile can be found on Settings - General - VPN & Device Management. If you possess the username and password, follow the steps below to remove the supervision from your iPhone and iPad.
Step 1: Go to Settings, tap General, and scroll to VPN & Device Management.
Step 2: Select the device management profile installed on your iPad/iPhone.
Step 3: Hit the Remove Management option and type in the account's ID and password.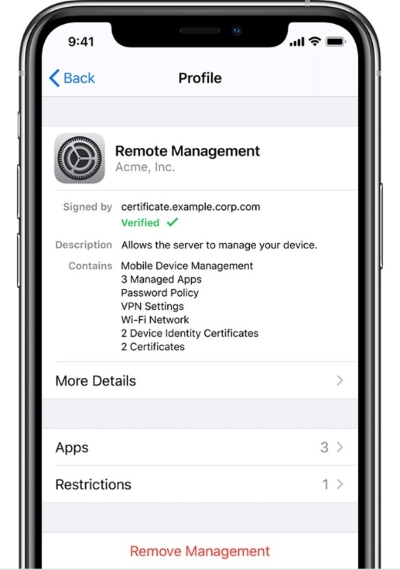 4.2 Stop iPhone/iPad from Supervision with Apple Configurator 2
Some companies apply Apple Configurator 2 to supervise their devices. Meanwhile, this program can be used to erase the data on your iPhone and iPad so as to unsupervise it. If you are the organizer or you are authorized to know the administrator's account and password, the supervision can be removed easily. Here is how to operate it.
Step 1: Download and launch Apple Configurator 2 on your Mac.
Step 2: Connect your iPhone or iPad to the computer.
Step 3: Click on your device icon when it is detected.
Step 4: Find the Actions option on the top menu, select the last option Advanced, and choose Erase All Content and Settings.
Step 5: Continue to remove the device supervision following the subsequent instructions.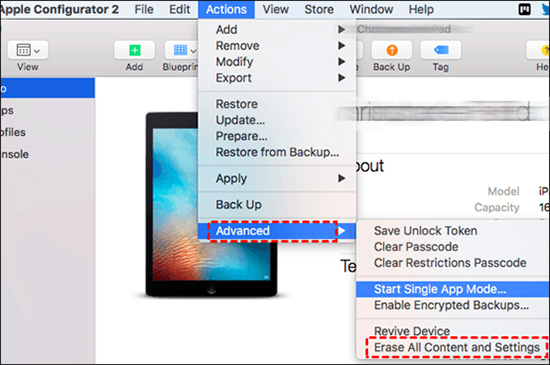 4.3 Unsupervise Device via Apple School/Business Manager
For users whose devices are supervised by Apple School or Apple Business Manager, contact the administrator to seek help. With the permission of the organizer, the device supervision on iPhone and iPad is able to be removed along with the device data. The steps on Apple School and Apple Business are similar to the Apple Configurator.
Step 1: Install Apple School Manager or Apple Business Manager on your Mac. Alternatively, visit https://business.apple.com/ or https://school.apple.com/ according to your situation.
Step 2: Sign in with the management account.
Step 3: Click on the Devices section on the sidebar and locate your iPhone or iPad.
Step 4: Choose the Release Device option, and a prompt will occur. Tick the box after reading the warnings, and click the Release button to remove device supervision.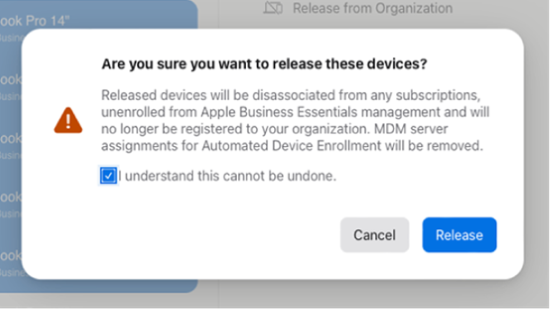 Final Words
Device supervision, also called mobile device management or remote management, is a kind of restriction installed in a shared iPhone or iPad. It will confine your activities so that you can only use limited features. Therefore, a question emerges – how to remove device supervision from iPad or iPhone? You can remove it on Settings, or erase the supervision on Apps provided by Apple. But these operations are unavailable if you don't have the password. Joyoshare iPasscode Unlocker is a better choice to get rid of device supervision with no password requirement. Want to be free from supervision on iPhone and iPad? Give Joyoshare iPasscode Unlocker a shot!