"This iPhone is supervised by another computer and cannot be used with this computer". Some of you come across this alert but don't know what is happening to your iPhone. You are restricted from using several apps and features, so your iPhone seems like a brick when you try to open other apps. In fact, it usually pops up on a new iPhone or a communal device, especially for the use of a company or school. The supervised iPhone is controlled by Mobile Device Management, hence the prompt. If you want to use your iPhone as normal, keep reading this article.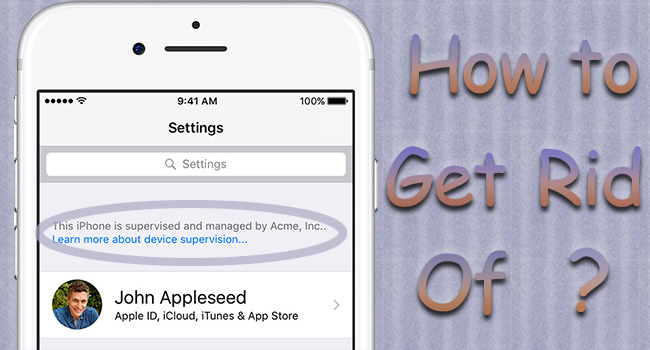 Part 1. FAQs about Supervised iPhone
Q1: What does it mean when your iPhone is supervised?
A: As mentioned at the beginning, supervised iPhone is confined by the MDM profile. It is used as a security function to control the activities of students and employees. When your iPhone is supervised, it means that you are not allowed to connect your device to other computers or use the excluded features.
Q2: How to tell if iPhone is supervised by another computer?
A: On the Settings app, if there is a sentence - "this iPhone is supervised and managed by…" above the Apple ID section, your iPhone is under supervision.
Q3: Is there a way to remove MDM restrictions freely?
A: Yes, you could jailbreak your iPhone to freely remove MDM restrictions. But this method is not recommended as it will put your iPhone in danger.
Q4: What is the precondition to set up supervision on iPhone?
A: Supervision can only be set up on a new device or a data-erased device.
Part 2. How to Fix This iPhone Is Supervised by Another Computer
Solution 1: Remove Management on Settings
In these situations where you are the administrator, or where you know the password and you are not restricted by the administrator to delete the configuration file, you are able to remove iPhone management on the Settings app.
Settings → General → VPN & Device Management → Remove Management → enter MDM configuration password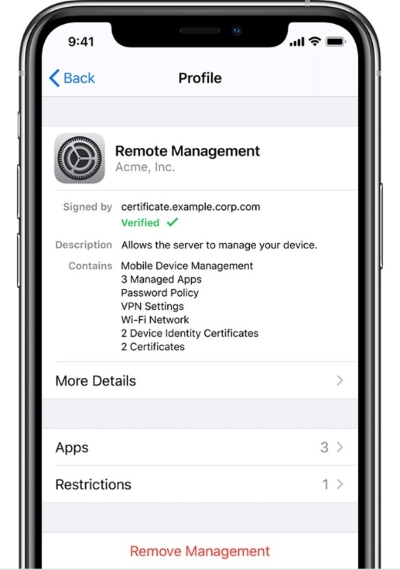 Solution 2: Erase iPhone via Apple Configurator 2
If you are using Mac, you could download Apple Configurator 2 on App Store to remove supervision on your iPhone. This program can be used to erase iPhone and bypass MDM freely. But this operation only permits the administrator to execute, which indicates that you need to ask for authorization in advance.
Step 1: Plug your supervised iPhone into Mac.
Step 2: Run Apple Configuration 2 on your Mac and locate your iPhone icon.
Step 3: Choose Actions in the top bar and click Advanced at the bottom of the drop-down list.
Step 4: Select Erase All Content and Settings to remove restrictions on your iPhone.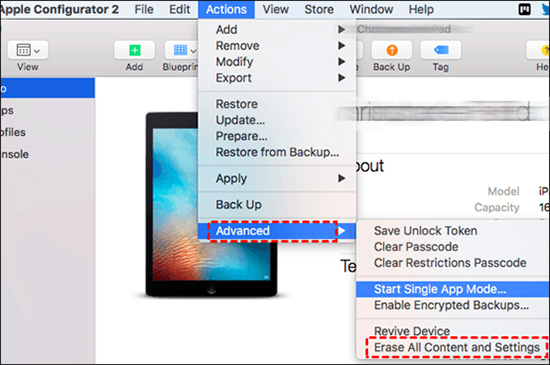 Solution 3: Release iPhone with Apple Business Manager
If you receive the message saying "this iPhone is supervised by another computer", there is a possibility that the supervision is set up by using Apple Business Manager. Therefore, you could use a management account to delete the supervised iPhone from the devices list.
Step 1: Download and install Apple Business on Mac or visit https://business.apple.com/, and sign in with the management account.
Step 2: On the sidebar, select Devices and find the device you need to delete.
Step 3: Click Release Device, read the popup window, tick the box saying "I understand that this cannot be undone" and confirm your action by clicking the Release button.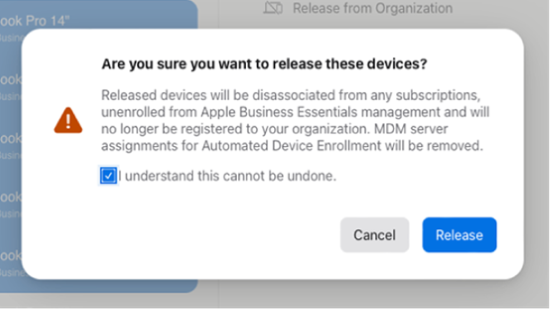 Solution 4: Release iPhone Using Apple School Manager
If your iPhone is restricted by Apple School Manager, which is identical to Apple Business Manager, the steps to release your iPhone are the same, as well as prerequires.
Step 1: Run Apple School Manager or enter https://school.apple.com/, and log in with the administrator's account.
Step 2: Select Devices in the sidebar and locate your iPhone.
Step 3: Click Release iPhone, and carefully read the on-screen dialog.
Step 4: Check the box stating "I understand that this cannot be undone" and click the Release option.
Solution 5: Bypass iPhone Restrictions with Remover
The last solution does not require the authorization of the administrator. When you see the alert "this iPhone is supervised by another computer and cannot be used in this computer", you could take advantage of Joyoshare iPasscode Unlocker to bypass iPhone restrictions easily. Most critically, it will prevent you from losing your important data. Without jailbreak, you could use this software to remove the MDM profile on iPhone, iPad, and iPod touch. Additionally, it assures you 100 % safe and a high rate of success.
Key Features of Joyoshare iPasscode Unlocker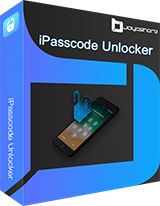 Remove MDM from iPhone with only 2 steps
Support all models of iPhone, iPad and iPod touch
100 % safe and a high rate of success
Unlock screen lock, Screen Time, and Apple ID
Step 1

Connect Supervised iPhone to Computer

Open Joyoshare iPasscode Unlocker and choose Remove MDM on the main screen. Then, connect your iPhone which is supervised to a computer.

Step 2

Bypass MDM on iPhone

Disable the Find My feature on your iPhone. Go to Settings, tap Apple ID, choose Find My, and turn it off. If you have shut it down, you could directly click the Start button to get rid of iPhone supervision.
Part 3. Video Guide to Get Rid of Supervision
Here is a video tutorial for you in case you don't know how to remove the remote supervision on your iPhone. Watch it carefully and follow the steps accordingly.
Part 4. Conclusion
In this article, some questions you may care about are answered at the beginning, and 5 solutions are offered to solve the "this iPhone is supervised by another computer" problem. All the first four methods require an administrator's passcode or account. If you can contact the administrator, the supervision on your iPhone could be removed with any of these four solutions. However, there is also a way to bypass MDM restrictions without the complicated procedure. Joyoshare iPasscode Unlocker offers a much easier chance to get rid of this issue. If you encounter this annoying pop-up, try these solutions as you can.