Q:"I reset my iPad and it somehow enrolled in my old school's MDM. The school is not being helpful in removing it, so I am trying to see if I can. Any advice?" – From Reddit
Generally speaking, for remotely controlling device and imposing restrictions, companies and schools specifically set MDM lock on iOS devices to more conveniently address business affairs and deal with school projects. However, it is considerably unhandy for you as your activities will be greatly limited. Especially when you want to download apps or take actions banned by MDM for legitimate reasons, you might be anxious for access to remove the lock but not knowing the passcode. Or another situation is that you forget the MDM passcode as it has been set up for a long time. Given the mass appeal of iOS users, we will discuss how to remove MDM from iPad either in a free manner or with a safe MDM unlocker.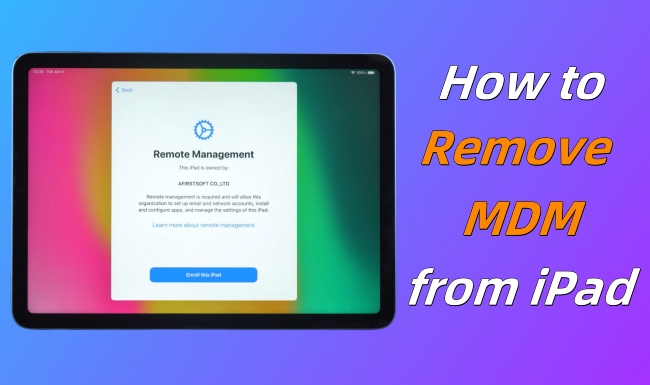 Part 1. How to Remove MDM Profile from iPad for Free
Way 1. Bypass MDM from Settings
For security verification and device management, it is specifically designed with username and password to prevent you from arbitrarily removing MDM. Hence, if you know the details, or you are the administrator, what you need to do is directly unlock iPad MDM with correct passcode and follow the steps below.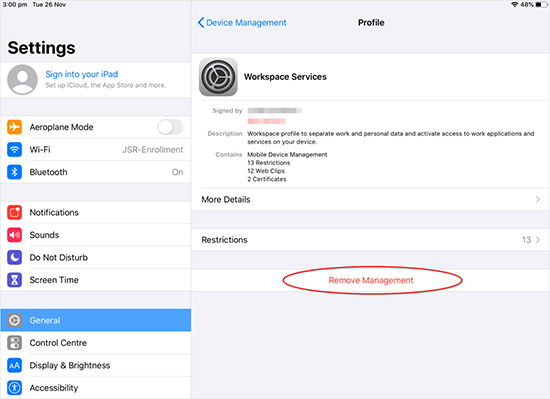 Step 1: Go to check Settings – General – Profiles & Device Management.
Step 2: Choose Management Profile and tap Remove Management.
Step 3: Enter administrator information and passcode to remove MDM.
Way 2. Jailbreak iPad
It also can bypass MDM lock. However, it's always not recommended to use this extreme way. On the one hand, your devices will be more vulnerable when facing virus attacks, software glitches, system issues, etc. On the other hand, it means that you can't enjoy any warranty service and software updates anymore. However, if you don't mind the weakness, you can proceed with the following steps.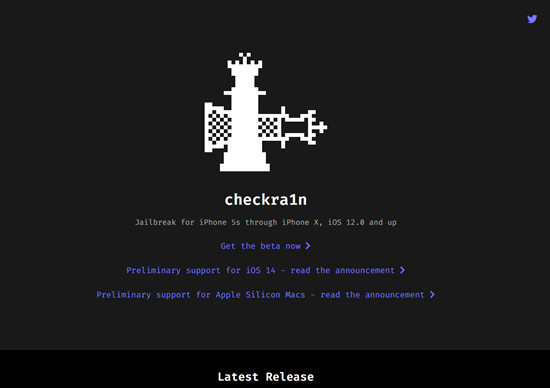 What to Prepare: SSH, Checkra1n software, and a computer
Step 1: Download and Install Checkra1n software on your computer.
Step 2: Connect the port of your iPad to iProxy that allows you to SSH into it.
Step 3: Run "cd../../" to get your iPad into the root directory.
Step 4: Afterward, run "cd /private/var/containers/Shared/SystemGroup/". You will find MDM files in this folder.
Step 5: Run "rm-rf systemgroup.com.apple.configurationprofiles/". This step will delete MDM files permanently from your iPad.
Step 6: Restart Your iPad. And your iPad will return to the Welcome screen.
Step 7: Update your iPad. Once it is done, go back to Remote Management and install a profile. It won't make any difference either on your iPad or yourself. Moreover, it can't impose restrictions and control your operations.
Part 2. How to Remove an MDM Profile from an iPad No Data Loss
Alternatively, it is a little complicated considering you don't know the passcode. Under such circumstance, the last resort you can do is to seek a powerful and reliable iPad MDM lock removal. Joyoshare iPasscode Unlocker is strongly recommended regarding both success rate and removal safety. It is mighty enough to remove MDM profile with 2 steps in any situation. Also, it won't alarm anyone as well as invade your iPad causing any data loss. Furthermore, apart from iPad, it is also applicable to iPhone and iPod, including the newest devices and versions. Last but not the least, it is an all-in-one passcode unlocker designed with four central features, including unlocking screen passcode, bypassing screen time lock, removing Apple ID and MDM lock.
Key Features of Joyoshare iPasscode Unlocker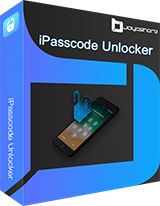 Remove MDM profile from iPad within 2 steps
Require no experience and tech knowledge
Available both on Windows and Mac
Unlocking speed and performance take priority over other similar programs
Remove device management from school iPad without the risk of data loss
Step 1

Freely download Joyoshare iPasscode Unlocker on PC or Mac

After downloading this tool from the official website, launch it on your computer. Then connect your iPad to the computer via an original USB cable. Click on the "Remove MDM" option.

Step 2

Remove MDM Restriction from iPad

In order to ensure that Find My feature is disabled on your iPad, you can open Settings – [Your Device] – Find My, and then toggle the switch off. Hereafter, click the "Start" button and begin the removal process. Once it is done, you can close the software and use your iPad as you like.
Part 3. FAQs about How to Bypass MDM Lock on iPad
Q1. Does a factory reset remove MDM?
A: No, it actually can't remove MDM lock. Even if you select "Erase All Contents and Settings" or restore devices via iTunes, it only eradicates all data and settings, and returns you iDevice to a new one. But MDM lock still exists on your device. The best way is to resort to a professional MDM unlocker.
Q2. How can I remove MDM from iPhone?
A: Don't worry, you can remove MDM from iPhone with Joyoshare iPasscode Unlocker as well. The total procedure is presented in the same way as the steps listed in this article. And it similarly works well on removing MDM lock on iPhone.
Part 4. Final Words
In conclusion, you can get assistance with an excellent MDM unlocker when you want to find out how to remove MDM from iPad. I bet it won't disappoint you, and even it will offer more possibilities and flexibility for you. Anyway, there is a free trial version available, and you can attempt to download it and have a try.