Q: "I used to have my work email on my phone and that required me to have a 6-digit passcode. I have removed all work-related apps from my phone and Turn Off Passcode is still greyed out. I would like to remove passcode from my Apple Watch and iPhone. Help!" – from Apple Community
Once you want to turn off your screen passcode, you found that the turn passcode off option is greyed out, which implies that you must use a passcode to unlock your iPhone. Are you wondering why it doesn't allow you to disable iPhone passcode? Are you eager to fix this issue? This article will offer the information you want to know about this problem, and provide 5 workable solutions to fix iPhone turn passcode off greyed out. If you are finding an accurate answer, go further to read this article.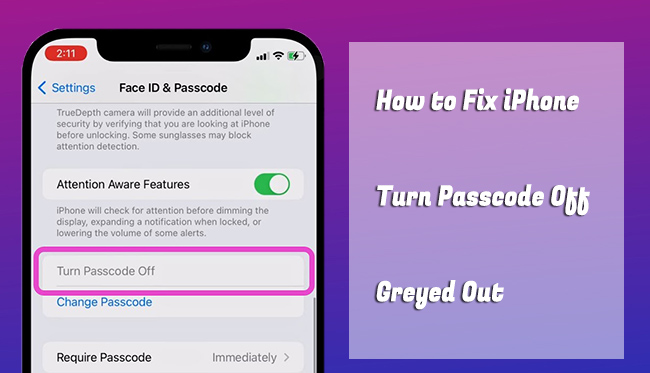 Part 1. Why Is Turn Passcode Off Greyed Out on iPhone
If the turn passcode off option is greyed out, in most cases, your iPhone is restricted by remote management or a configuration profile. On their policies, you have not authorized permission of disabling the passcode. Hence, what you need to do is to bypass these kinds of restrictions.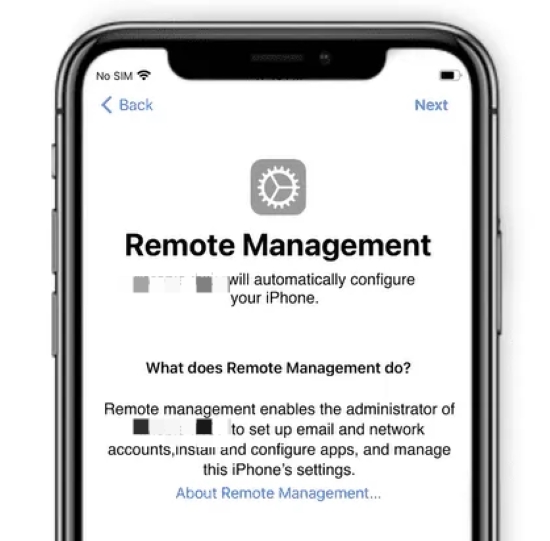 Part 2. How to Fix iPhone Turn Passcode Off Greyed Out
Solution 1: Turn Passcode Off on Settings
To fix the gray turn passcode off option, the simplest method is removing the configuration profile if you are not blocked from deleting it.
Step 1: Head to Settings and tap General.
Step 2: Find Profiles & Device Management. If this option does not exist, your iPhone is not controlled by remote management.
Step 3: Hit the Remove Profile button and enter your passcode to confirm.
Step 4: Go to Settings, locate Touch (Face) ID & passcode, and select Turn Passcode Off.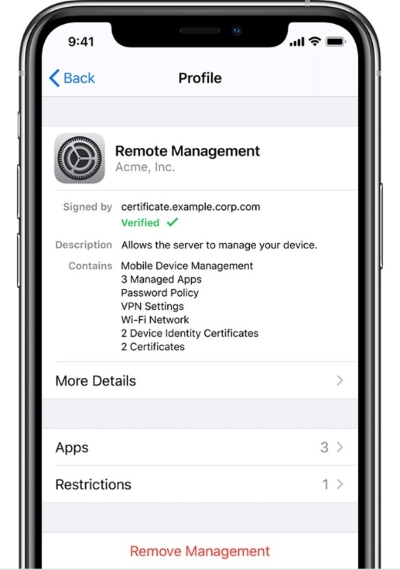 Solution 2: Fix It by Removing Email Account
If the mobile device management is tied to your email account, there is a chance to remove it by deleting your email. Open Settings on your iPhone, scroll down and find Mail, choose Accounts, tap the account that you use in the management, and hit the Delete Account option. After that, you could enter the Touch (Face) ID & Passcode screen to see if the turn passcode off option works again.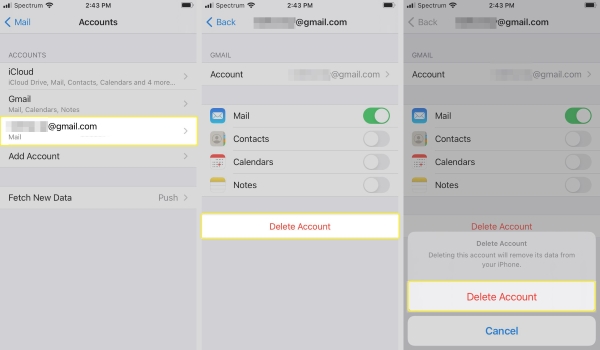 Solution 3: Reset All Settings on iPhone
Another solution to fix turn passcode off greyed out is to reset all settings on your iPhone. In case you don't know the exact reason why you can't shut down your passcode, for example, there is no device management on your iPhone, you could do this operation to get out of this situation. On Settings, choose General, locate Transfer or Reset iPhone, tap Reset, select Reset All Settings, and enter your passcode to continue.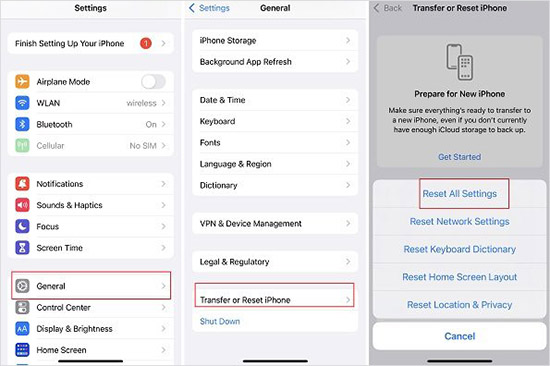 Solution 4: Release iPhone with Apple Programs
If your iPhone is controlled by your company or school with a configuration profile, and you know the password of the administrator's account, you could use Apple Configurator 2, Apple Business Manager and Apple School Manager accordingly to remove your iPhone management, so that you could turn off iPhone passcode.
Apple Configurator 2 (Mac)
Step 1: Plug iPhone into Mac and launch Apple Configuration 2
Step 2: Find your iPhone icon and choose Actions in the top bar.
Step 3: Select Advanced, and click Erase All Content and Settings.
Step 4: After deleting the information on your iPhone, the device restriction is removed as well.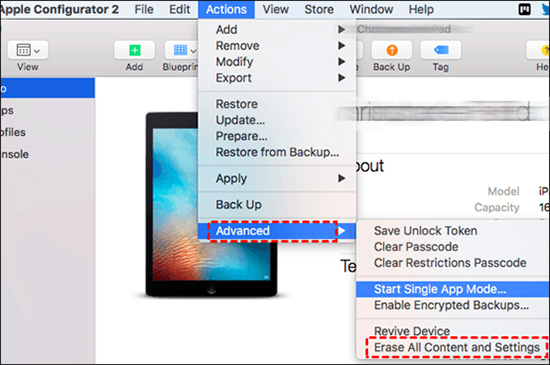 Apple Business (School) Management
The steps to release your iPhone on Apple Business Management and Apple School Management is identical. You could follow this guide to get rid of the control.
Step 1: Run Apple Business (School) on Mac or visit https://business.apple.com/ or https://school.apple.com/ on the browser, and sign in with the management account.
Step 2: Find Devices on the sidebar and scroll to your iPhone.
Step 3: Choose Release Device, tick the box saying "I understand that this cannot be undone" after reading the popup window.
Step 4: Click the Release button to remove device management.
Step 5: When your iPhone restarts, you could check if the turn off passcode could be used validly.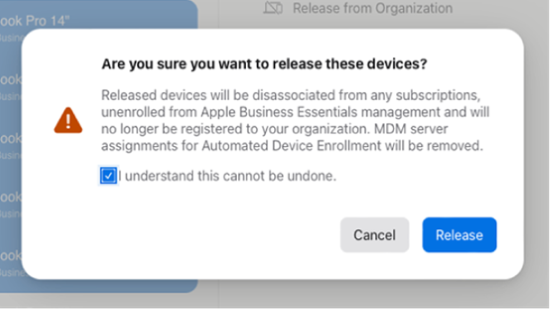 Solution 5: Bypass Passcode with Removal
If the turn passcode off option is still greyed out on your iPhone as you can't remove the configuration profile, you could take advantage of Joyoshare iPasscode Unlocker to bypass the device management easily. Regardless of the models you use and the system versions you run, this software is ready to help you cast off the restrictions of device management and make turning off passcode available. Within 2 steps and without jailbreak, you could remove MDM from your iPhone with data preservation. Besides, Joyoshare iPasscode Unlocker could be used to unlock the screen lock, Screen Time and Apple ID with no hassle.
Key Features of Joyoshare iPasscode Unlocker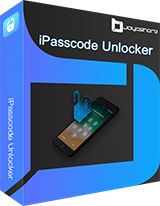 Remove MDM from iPhone with no data loss
Remove screen lock, Screen Time and Apple ID
Compatible with iPhone/iPad/iPod touch/iOS/iPadOS
High-security factor and a high success rate
Step 1

Connect to PC and Select Remove MDM

Plug your iPhone into your computer and run Joyoshare iPasscode Unlocker. On the main interface, select Remove MDM.

Step 2

Disable Find My and Bypass Device Management

You are required to turn off the Find My feature on your iPhone by entering Settings, tapping Apple ID and choosing Find My. Then, click on the Start button to remove the iPhone management. Once your iPhone gets restarted, go to see if the turn passcode off option turns blue.
Part 3. Summary
The reason why your iPhone turn passcode off greyed out is explained in this article, and the corresponding solutions could be found as well. If you can't find a configuration profile, you should reset all settings on your iPhone. By contrast, you could remove the profile on Settings or release your iPhone with Apple programs, such as Apple Configurator 2, Apple Business Manager, and School Manager, if you get the authorization. Otherwise, Joyoshare iPasscode Unlocker is the best solution for you to fix this issue. Without obstacles, you could bypass the restrictions without losing data.