Q:"I always use a 4-digit passcode on my iPhone 11. All of a sudden it happens, the iPhone passcode changed itself to a 6-digit one. I have no idea what the 6-digit passcode is because I never set it. Until now, I have been locked out of my iPhone for 24 hours. I need a quick method to crack it. Any help?" - from Apple Community
The problem that iPhone changed passcode itself might sound uncommon to you, but in reality, it frequently crops up. If you have followed with interest on the iOS related information, you will discover that a great many users have been reporting that their iPhone passcode changes by itself in the Apple community. For this problem, the post will discuss the possible reasons and present several straightforward ways to resolve this issue. In the meantime, you could get to know how to back up data and set up iPhone passcode in this article.

Part 1. Why Is My iPhone Passcode Changed Itself?
There are many reasons behind this problem, which can be roughly divided into three parts: errors in the iPhone itself (30%), iPhone data corruption (20%), and Apple's new security arrangements after the update (50%). More details can be listed below.
Passcode changed by others: It is hard to rule out the possibility that your friends or kids changed the passcode to trick you, thus, you'd better ask people around you first.
iOS update: Many iPhone users know that Apple develops the 6-digit passcode to replace the previously 4-digit passcode after the release of iOS 9. Thus, that's a very definite possibility that your iPhone passcode changed by itself is caused by the iOS update.
iOS software error: Software errors in the iOS operating system can cause the iPhone to change passcode on its own.
Malware: If you have installed a malicious app, or there is a security loophole in your iOS software, your iPhone might be hacked and the passcode may be changed.
Video Guide
After knowing the possible reasons, let's watch this video to learn how to solve iPhone passcode changed itself.
Part 2. How to Make a Backup of iPhone Data before Repairing
Why suggests you back up your iPhone data before fixing the iPhone password changed itself issue? It is because that all existing methods to crack iPhone passcode will erase everything on your device. If you are not out to lose any important data and information, then you'd better make a backup of your iPhone by using iCloud or your computer. Suppose you already have a backup, directly head to learn how to unlock iPhone passcode that you never set up.
Back up data with iCloud in Settings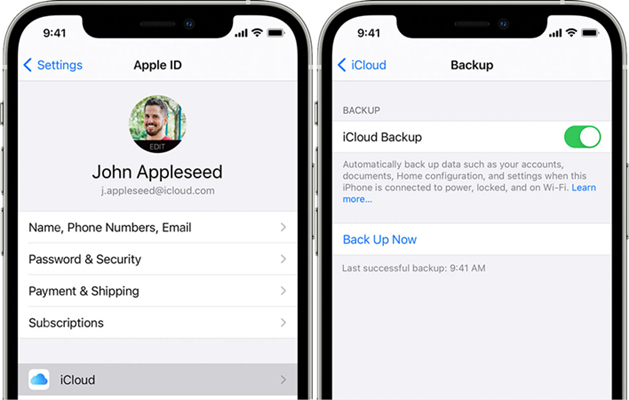 Step 1. Make sure that your iPhone is connected to a Wi-Fi network.
Step 2. Go to Settings, touch your name, and then select iCloud.
Step 3. Select iCloud Backup and turn it on your device.
Step 4. To perform a manual backup, tap Back Up Now.
Back up data with iTunes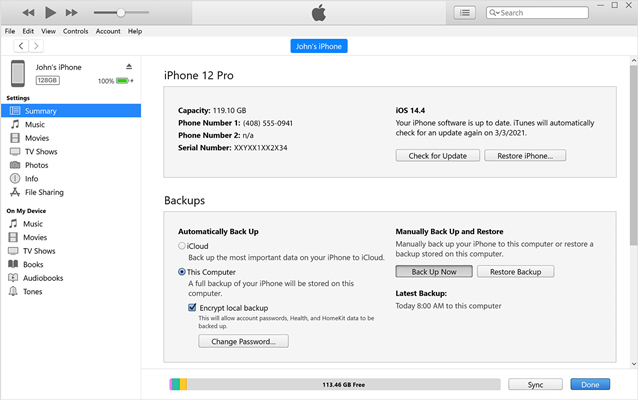 Step 1. Run iTunes on a trusted Windows computer and use a USB cord to connect your iPhone to the computer.
Step 2. When iTunes recognizes your iPhone, click the iPhone icon and then choose the Summary option.
Step 3. In the Backup section, click Back Up Now to back up all iPhone data.
Notably, for Mac users, after connecting your iPhone to the computer, go to launch Finder. Now select your iPhone in the Finder sidebar and click General then select Back up all of the data on your iPhone to this Mac.
Part 3. How to Fix iPhone Passcode Changed by Itself
Now comes the really important bit, which concludes three simple and effective measures to settle your iPhone changed password problem.
Measure 1. Use iTunes to Restore iPhone
The first suggested solution to the iPhone passcode randomly changed trouble is to use iTunes to restore your iPhone. This is the most commonly used method to unlock the iPhone without knowing the correct screen password. The operation procedure is pretty straightforward. Follow the below steps.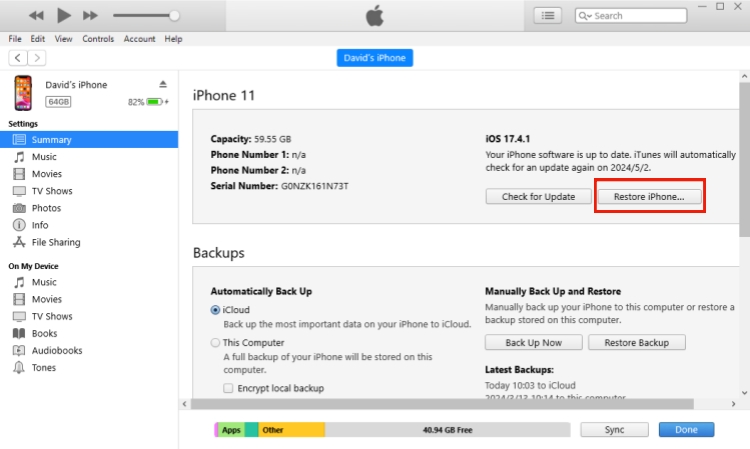 Step 1. Connect your iPhone on the trusted computer and launch iTunes.
Step 2. In the iTunes app on your PC, click the iPhone icon and then select Summary.
Step 3. Click Restore iPhone and then confirm the restoring by clicking the Restore and Update button.
Note: If your iPhone has not trusted any computer, you can use the recovery mode or DFU mode to restore the device with iTunes. Manually put your iPhone into recovery/DFU mode and connect the iPhone to your computer then do the above steps. Also, if you have a Mac computer, you use Finder to resolve this issue.
Measure 2. Use iCloud to Erase iPhone
Apart from iTunes, using iCloud is another official method to troubleshoot the iPhone passcode changed itself problem. When you have enabled Find My on your iPhone, then do not hesitate to make use of iCloud - Find My iPhone to bypass the changed passcode on your iPhone.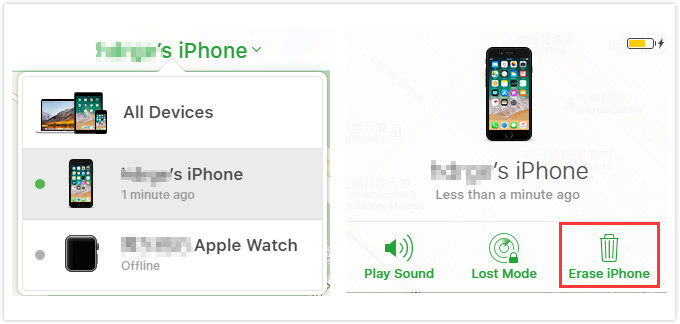 Step 1. Visit icloud.com on a workable mobile device or a computer.
Step 2. Sign in to your iCloud account with Apple ID and password, enter the Apple ID section and then locate Find Devices.
Step 3. Go to All Devices and select your iPhone from the drop-down menu.
Step 4. Click on the Erase iPhone button. After the process, the changed iPhone screen passcode can be removed.
Measure 3. Use Security Lockout to Delete Data
Apple gives users an opportunity to users who run iOS 15.2 and later system versions to erase device on the lock screen, which is called Security Lockout. To enter this screen, you have to make multiple wrong attempts until your iPhone is disabled. Hence, when your iPhone passcode changed itself, try to get into this screen. Although it takes a long time and delete all data, you can bypass your screen lock without passcode for free. Once you successfully see Security Lockout, tap on the Erase iPhone option at the bottom of the screen, type in your Apple ID password to sign out of your account, and confirm that you need to erase iPhone so as to unlock iPhone.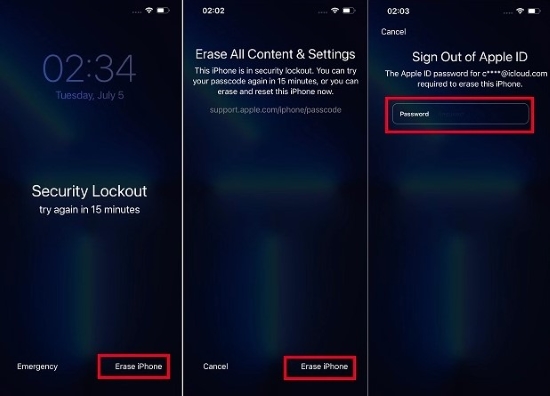 Measure 4. Use Joyoshare iPasscode Unlocker to Unlock iPhone
That iPhone passcode changed itself leads you to be locked out of your iPhone? In case you are seeking a speedy solution, an iPhone passcode unlocker - Joyoshare iPasscode Unlocker is introduced to you. It is an easy-to-use yet professional unlocker that focuses on removing any kind of screen locks on almost all iOS devices. In detail, not only easy 4-digit and 6-digit passcode but also complicated Touch ID and Face ID could be removed by it in a breeze.
With advanced techniques, it is applicable to many occasions, such as forgotten passcode, changed passcode, and even unlocking an iPhone with broken screen. More than anything, it is extremely simple to use and ensures 100% success rate. It can not only support all models of iPhone, but also iPad and iPod, as well as, compatible with the latest iOS system version. In addition, Joyoshare iPasscode Unlocker is designed to remove the Screen Time passcode, Apple ID, and remote management with a few clicks.
Key Features of Joyoshare iPasscode Unlocker: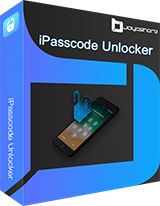 Unlock changed iPhone passcode with ease
Support all iOS device models and iOS systems
Compact interface and simple to operate
Remove Apple ID, Screen Time passcode and MDM
Step 1

Connect iPhone to Joyoshare iPasscode Unlocker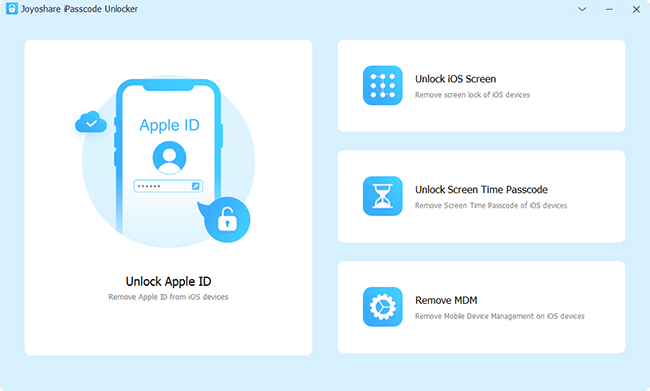 From the download page of Joyoshare, download the installation package of Joyoshare iPasscode Unlocker on your computer. After installing and running it, please plug your iPhone to the computer by means of an original USB. Once the program successfully detects your device, keep on with the "Start" button.
Step 2

Boot iPhone into Recovery/DFU mode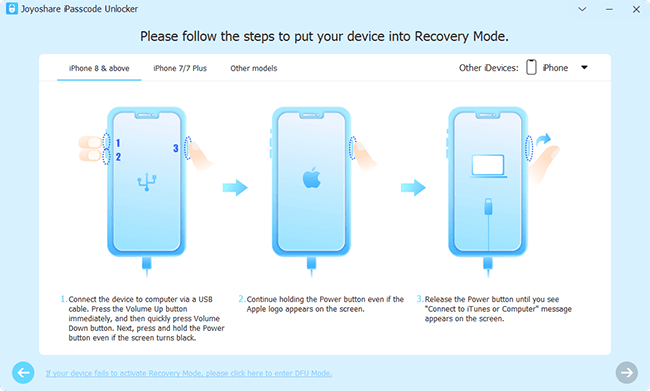 Select your iPhone model. Then follow the stated steps to manually boot your iPhone into recovery mode. If the gray "Next" button turns blue, tap it to go to step 3. If not, click the bottomed link to change to DFU mode.
Step 3

Download the Compatible Firmware Package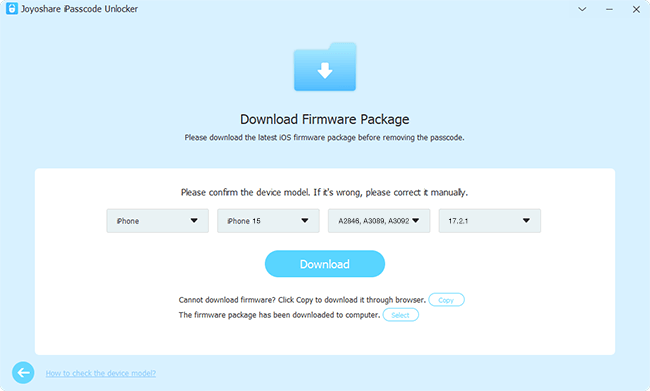 When iPhone is put into recovery or DFU mode, the program will recognize all basic iPhone info and show it on the screen. You need to confirm that shown info about your iPhone is not wrong. Afterward, tap on "Download" to download and verify a compatible firmware package.
Step 4

Remove the Changed iPhone Passcode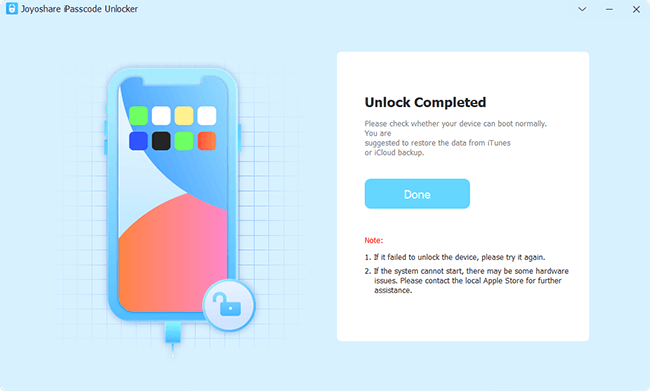 Ultimately, only hit the "Unlock" icon to make the verified firmware package unzipped. After that, Joyoshare iPasscode Unlocker will start removing the changed digital passcode on your iPhone.
Measure 5. Use Find My App to Erase iPhone
If you have other devices which are signed in with the same Apple ID, and the Find My feature has been enabled, it is available to use the Find My app to unlock iPhone so as to get rid of iPhone passcode changed itself. Try the steps below if you can satisfy the preconditions.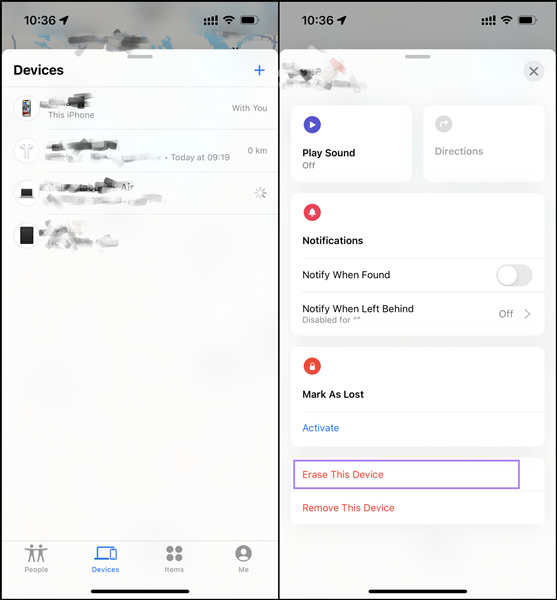 Step 1: Open the Find My app on another device and make sure that you have signed in the same account.
Step 2: From the bottom menu, tap the Devices tab and look up for your locked iPhone.
Step 3: Scroll to the Erase This Device option to delete all the data. And when your iPhone restarts, the screen passcode goes away in the meantime.
Part 4. Which Is the Best Way to Fix iPhone Passcode Changed Itself
Whether you use iTunes, iCloud, the Find My app, or Security Lockout, even with Joyoshare iPasscode Unlocker, you are trying to fix the iPhone passcode changed itself problem as possible. However, each measure has has advantages and disadvantages, and none of them is the best practice in all cases. The table below gives information related to the three methods for fixing the problem.
| | | | | | |
| --- | --- | --- | --- | --- | --- |
| | Use iTunes | Use iCloud | Use Security Lockout | Use Joyoshare iPasscode Unlocker | Use Find My |
| Supported Devices | All iPhone | All iPhone | All iPhone | All iPhone | All iPhone |
| Supported OS | All versions | All versions | iOS 15.2 and later | All versions | All versions |
| Required Equipment | A computer and the locked iPhone | A computer, iPad, or another iPhone | The locked iPhone | A computer and the locked iPhone | Another Apple device |
| Apple ID and password | × | √ | √ | × | √ |
| Data Loss | √ | √ | √ | √ | √ |
| Success Rate | High | High | High | 100% | High |
| Operating Steps | A little complex | A little complex | Easy | Pretty easy | A little complex |
| Recommendation | ★★★★ | ★★★★ | ★★★★ | ★★★★★ | ★★★★ |
Part 5. How to Set Up a Passcode on iPhone after Repairing
Whichever measure you take to finish off the iPhone passcode randomly changed matter, once successful, you are able to directly access the iPhone without entering the passcode. Although convenient, there is a potential safety hazard. To protected your iPhone from unauthorized access and modification, it is recommended that you can set up a new passcode as soon as you could. Besides setting up a digit passcode, it is better to add a fingerprint. Like that, even if the digit passcode is not working someday, you still get into the iPhone by Touch ID or Face ID.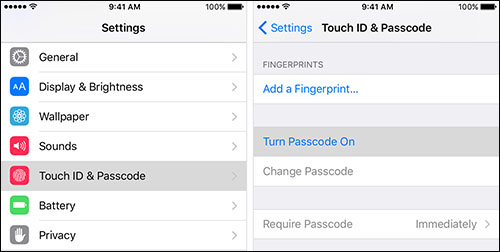 Step 1. Open Settings on your iPhone and followed by Face (Touch) ID & Passcode.
Step 2. Tap Turn Passcode On and enter a six-digit passcode. Or tap Passcode Options to choose other passcode forms, including 4-digit code, custom numeric code, and custom alphanumeric code.
Step 3. Lastly, enter the same passcode to confirm the settings.
Conclusion
If you have the iPhone passcode changed itself problem, follow the measures in this post for help. You can use iTunes to restore your iPhone so as to remove the screen lock. Or you erase your iPhone to bypass the passcode with iCloud. Similarly, the Find My app on other devices is workable in unlocking iPhone passcode. For users running iOS 15.2 or later versions, it is available to bypass the malfunctioning lock screen on the iPhone itself on the Security Lockout screen. To quickly get out into the problem, try using Joyoshare iPasscode Unlocker which can efficiently unlock the iPhone in various scenarios.