Is iPhone asking for passcode after update? Is it hard to settle the problem? Well, it depends. For some who indeed set digital passcode and remember it, then iPhone asking for 6-digit passcode has never mattered. In this case, simply entering the passcode is the solution to it. Suppose you have not set the passcode or you forget the passcode you set, so then the following will be of great use to you, which projects 4 practicable tips to cope with the situation.
Part 1. Restart iPhone
The first recommendation is to restart the iPhone if this problem of iPhone asking for passcode after update happens to you. How so? Because it could be the minor iPhone issues that lead to such a matter. Nicely, restarting iPhone can dispel these issues without any trouble. Hence, please follow the instructions below to do a soft reset on your iPhone prior to going deeper.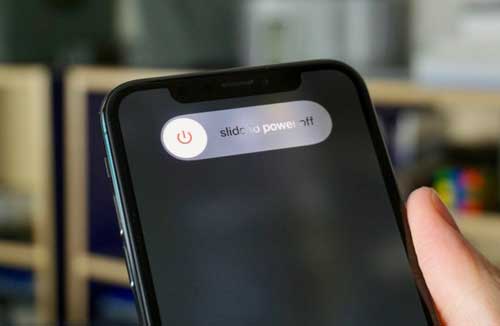 Step 1: Press and hold the "Side" button. When "slide to power off" appears, release the button;
Step 2: Then slide the button right and allow seconds for your iPhone to turn off;
Step 3: After iPhone is powered off, please hold down the "Side" button until the Apple logo shows.
Part 2. Try a Default Passcode
Notably, restarting iPhone doesn't hold good for all cases. So do not get down if it has no effect. With the exception of restarting iPhone, another possible solution to iPhone asking for passcode after update is trying a default passcode. Why suggests this method is because of the possibility that the passcode is set by updated iOS for security. Thus, entering a default passcode is the most appropriate in this condition. How to do it is as follows.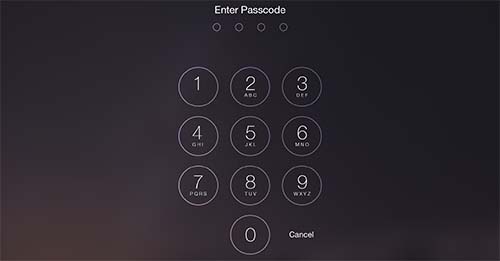 Step 1: First of all, please activate "Raise-to-wake" on your iPhone;
Step 2: For iPhone 8 plus or earlier users, just hold down the "Home" bottom until iPhone vibrates. Then your iPhone will redirect you to the lock screen; for iPhone X or later users, please take your iPhone close to your face, which redirects you to the lock screen;
Step 3: Afterwards, type the default passcode to unlock your iPhone. If it asks for 4-digit passcode, just try "1234" or "0000". Supposing that it requires 6-digit passcode, you can have a try with "123456" or "000000".
Part 3. Restore iPhone in Recovery mode with iTunes
The first two parts are centered on what to do when you are locked out of iPhone after update even if you do not set it up. Then the rest focuses on how to deal with the problem if you just forget the passcode you set due to long-playing usage of Touch ID or Face ID.
In the event of that's the case with you, then manually setting the iPhone into recovery mode and then connecting to iTunes to restore it is one of the most commonly used solutions when you forget iPhone passcode. The details are described below.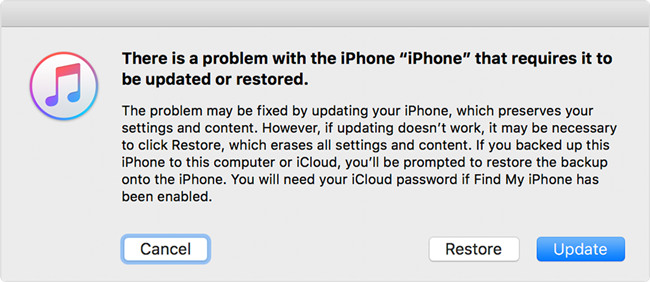 Step 1: Use a USB cable to connect your iPhone with the computer and run the latest version of iTunes;
Step 2: Next, press the "Home" and "Wake" buttons synchronously. When the iPhone is turned off, release the "Wake" button and keep holding down the "Home" button until you see the iTunes logo on the iPhone screen;
Step 3: When your iPhone in recovery mode is detected by iTunes, it will give you the option to restore the device by popping up a window.
Note:
Something bad will also be accompanied by this method. Specifically, in addition to bypassing iPhone passcode, the method will also clear all your iPhone data. So if you can, please back up your iPhone before restoring it. To restore backups, you could make use of
Joyoshare iPhone Data Recovery
to serve you.
Part 4. Apply Joyoshare iPasscode Unlocker
In most cases, restoring iPhone in recovery mode is a great solution to iPhone asking for passcode after update. But in case it doesn't do any good at some point, below advances an alternative taking advantage of Joyoshare iPasscode Unlocker. Geared toward the mass markets, it possesses the wide compatibility and excellent performance. For example, it is capable of bypassing the screen passcode on all iOS devices and remove 4 sorts of screen locks covering digital passcodes, Touch ID, and Face ID.
Additionally, Joyoshare iPasscode Unlocker could be applied on many occasions. You are able to ask for its help whether forget iPhone passcode or iPhone is disabled because of many attempts to type the wrong passcode. By the way, it is designed with an easy-to-use interface. Without requiring any technical skills, you can hit the mark with the support of it.
Main Features of Joyoshare iPasscode Unlocker:
Bypass iPhone lock screen without difficulty
Support all iOS devices and iOS version 13
Can unlock digital passcodes, Touch ID, and Face ID