Everybody loves iPhone. Well, it is arguably one of the best smartphones that anybody can have. To keep the data inside your iPhone protected, the device will prompt you to set a passcode. However, just like any other smartphone, iPhone is ultimately an electronic device and will sometimes suffer from bugs. One common thing that iPhone users complain about is that they get iPhone passcode expired notification. If your iPhone unlock passcode has expired, you are not alone in this fight. Many like you want to figure out solutions for the problem, and that is exactly what this article will help you with. So, let us get to know how to fix iPhone passcode expired.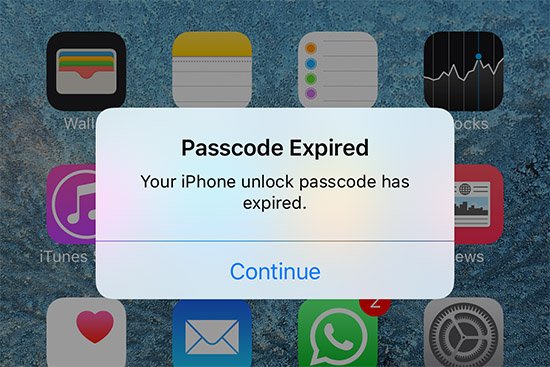 Part 1. Why Did My iPhone Passcode Expired?
Many reasons can be explained for the question of iPhone saying passcode expired. It could be caused by several reasons. The possible causes include Safari security issues, passcode secure issues, configuration profile issues, MDM enrolment issue, and iOS bugs. But don't worry. There are some simple solutions introduced in the following part.
Part 2. Best Way to Fix iPhone Saying Passcode Expired
If you don't want to go through a lot of hassle and want the easiest solutions for iPhone passcode expired error, you need to try Joyoshare iPasscode Unlocker. This robust tool will let you unlock your iPhone even without entering the passcode. The tool can unlock iPhone, iPad, and iPod touch in no time. It is a recommended tool by professionals, and with this tool, you can unlock your iPhone in any possible scenario, let alone solve that your iPhone passcode has expired.
Key Features of Joyoshare iPasscode Unlocker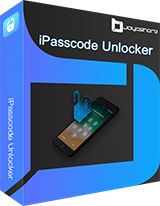 Unlock iPhone, iPad, and iPod touch when it is locked
Bypass 4 kinds of screen passcodes in an efficient way
Function well for the latest iOS version and iPhone
Remove iOS screen locks under any possible scenario
Step 1

Connect iPhone and Open Joyoshare Software

Download and install Joyoshare iPasscode Unlocker from the official website or by clicking the Tyr It Free button above then launch it on your computer. Connect your iPhone to the computer and click on the Start button.

Step 2

Put Your iPhone into Recovery Mode Easily

Now you are required to put your iPhone into DFU Mode or Recovery Mode according to the following instructions on the software. When done, click the Next button to go further.

Step 3

Download and Verify the Firmware Package

Joyoshare software will detect your device. Then you will see the information of the firmware package. Check if all the information about your device is correct. After that, click on the Download option to obtain the firmware package.

Step 4

Start to Fix Apple iPhone Passcode Expired

After verifying the firmware package, click on the Unlock button on the program. Once the process is done, the iPhone passcode expired disabled issue will be fixed. But in the process, keep your iPhone connected to the computer.
Part 3. How to Fix iPhone Unlock Passcode Expired
For those people who have forgot the expired passcode, the great options is to use a third-party tool like Joyoshare iPasscode Unlocker. But if you remember your passcode, you can try to change the passcode or update your iPhone for fixing this issue. Or you can use iCloud to erase your device for solving it. Let's check out now!
3.1

Force Restart iPhone for Expired Passcode

When you force restart your iPhone, it can overcome a lot of common issues. Forcibly restarting your iPhone can clear bugs, fix iPhone passcode expired disable errors, clear caches, and more. This is one of the simplest solutions but often works for an end number of problems. Follow these steps to force restart your device: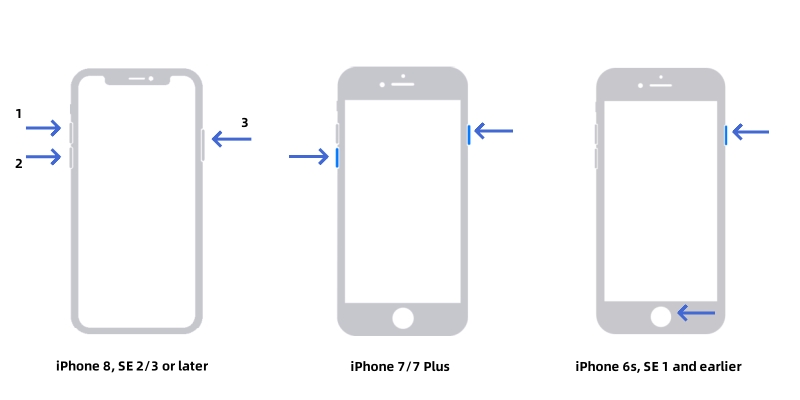 For iPhone 6s and older models
Press the Home and Power buttons at the same time. Once the Apple logo appears, release the buttons. Then enter the passcode to operate it.
For iPhone 7 or 7 Plus
Press the Power and Volume down button at the same time. Once the Apple logo appears, release the buttons. Then enter the passcode to operate it.
For iPhone 8 or newer models
Press and release the Volume up quickly and then the Volume down button. Then press and hold the Power button. And enter the passcode to operate it.
3.2

Change the iPhone Expired Passcode

Another easy way to solve the issue is to change the passcode on your device if you remember the expired passcode. By changing the passcode on your device, you can set a new passcode for your device. If the passcode expired error was showing due to some temporary bugs, you can fix it by changing the passcode.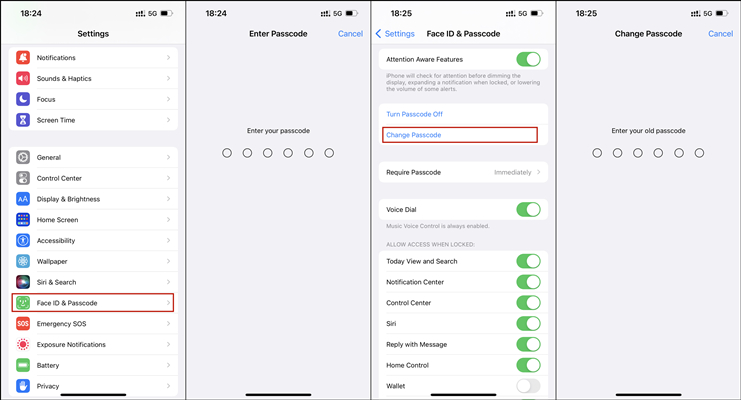 Step 1. Open Settings on your iPhone and then select Touch ID & Passcode or Face ID & Passcode.
Step 2. Enter your iPhone passcode and scroll down to tap Change Passcode.
Step 3. Enter the passcode again and go to enter your new passcode. Now your expired passcode will be updated on your device.
3.3

Update iPhone Expired Passcode via iTunes

When your iPhone needs an update, then also it may show the iPhone passcode expired error. In this case, you should update your device. Note that once you update your iPhone, you should restart your device. Here are the steps that you need to follow.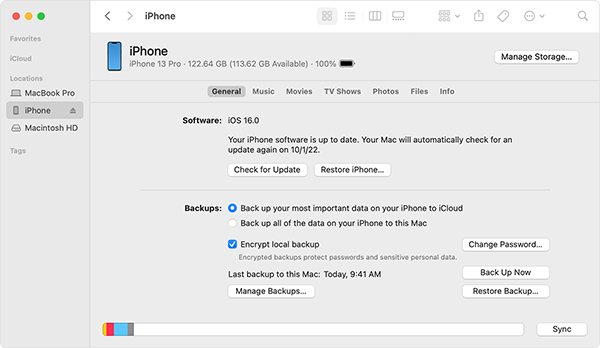 Step 1. Connect your iPhone to your computer with a USB cable and launch iTunes.
Step 2. iTunes will detect your device, and you will see your device icon on the top of the window.
Step 3. Before restoring, click on the Back up Now option to create a backup for your data and contents on your device.
Step 4. Once done, click on the Check for Update option and complete the process then use your Apple ID to sign in.
3.4

Erase iPhone Expired Passcode via iCloud

If your iPhone passcode has expired, then you will not be able to enter the passcode to unlock your iPhone. Because that the passcode will be expired too. In this case, you can use iCloud to change the passcode. Keep in mind that by doing this, you will lose all your data. Here are the steps to follow.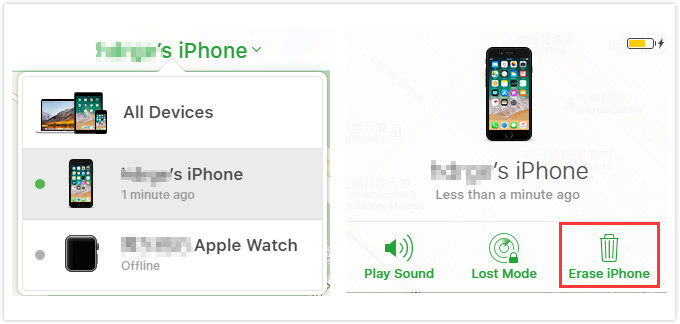 Step 1. Open www.icloud.com in a web browser and you have to use your Apple ID to log into.
Step 2. Click Find My iPhone on the screen and then there will be an All Device option and click it.
Step 3. Once you see your device, select your iPhone to begin the process.
Step 4. Here are some options for your iPhone, and click on the Erase iPhone option.
Step 5. All the data and contents including the earlier passcode will be deleted. Then go to set a new passcode on your iPhone.
Part 4. Video Demo: Fix Apple iPhone Passcode Expired
Still don't know how to solve this issue? It doesn't matter! You watch this video to try using the above methods step by step for solving your problem.
Conclusion
iPhone passcode expired is quite a common error that every iPhone user experiences. Sometimes, iPhone passcode expired pop up when there are minor bugs. However, it can also appear when your iPhone needs to go through a passcode update. No matter what the situation is, try the solutions that we have shared here. Also, try use Joyoshare iPasscode Unlocker to unlock your iPhone from such tricky situations easily.