Beyond all doubt, Apple is increasingly strict in device security and account verification, ranging from the original digital passcodes to the present Touch ID and Face ID. This as a result, makes screen lockout a common thing for iOS users, especially after multiple wrong passcode attempts. So, what to do if you have no access to your iPhone because of frequent passcode change? Under the circumstances, getting a solution to bypass iPhone lock screen is urgent and necessary. However, not everyone can find what works for them. After our test, 7 best ways introduced in this article proved to be effective and you can apply whichever you want based on your iOS version without much trouble. In addition, you could get corresponding video tutorials for almost all methods in this post.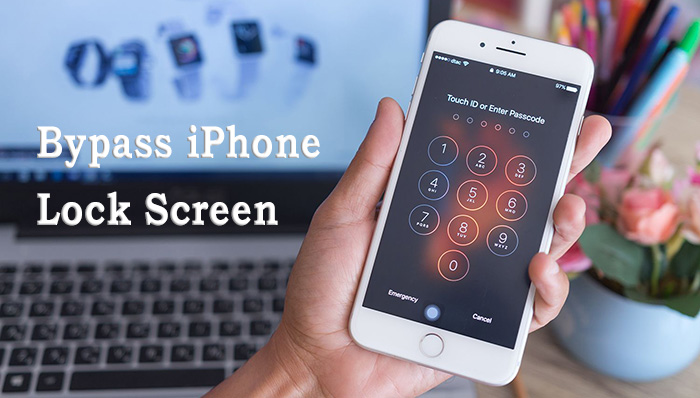 Part 1. How to Bypass iPhone Lock Screen - Joyoshare iPasscode Unlocker
Employing a specialized iPhone passcode removal tool like Joyoshare iPasscode Unlocker is generally the preferred method when you can not access your device due to forgetting passcode. It is not that other approaches do not work well, but a professional program tends to guarantee a faster and safer solution to it. As a magnificent iPhone passcode unlocker, it is developed to remove any type of screen locks including 4-digit/6-digit passcodes, Face ID, and fingerprint lock. Apart from iPhone, its great flexibility enables it to do the same on iPad or iPod touch.
What's powerful is that Joyoshare iPasscode Unlocker has the capability to bypass the screen lock on varied occasions, for instance, iPhone is disabled on account of entering the wrong passcode many times, screen is broken, a second-hand device with unknown lock, Touch ID unavailable, etc. Besides, it is fully applicable to all kinds of iOS device models and even the latest iOS version. Additionally, if you need to turn off Screen Time, bypass device management, or remove Apple ID, Joyoshare iPasscode Unlocker is glad to help you.
Key Features of Joyoshare iPasscode Unlocker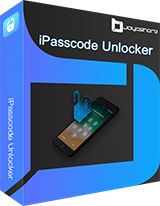 Bypass lock screen on iPhone, iPad and iPod in just minutes
Support to remove different iOS screen locks
Compatible with nearly all iOS device models (iOS 17 included)
Unlock Screen Time passcode, Apple ID and password, MDM restrictions
Step 1

Install Joyoshare iPasscode Unlocker and Connect iPhone

Pre-install iTunes first. Connect your iPhone to the computer and download Joyoshare iPasscode Unlocker. After installing, run the program, go for "Unlock iOS Screen", and then click on "Start" button.

Step 2

Set iPhone into Recovery/DFU Mode

Select your iPhone model and manually set iPhone into Recovery mode as the screen shows. If iPhone can not be recognized in Recovery mode, you need to change to DFU mode with the link at the end of this window. Once you finish the operation, you can see the right arrow in blue for you to click.

Step 3

Download and Verify the Firmware Package

Now, the software is going to display all the information of your iPhone on the screen. There is a need for you to make a confirmation if everything is proper. Afterward, click on the "Download" button to get an up-to-date firmware package and verify it.

Step 4

Begin to Bypass iPhone Lock Screen

Once verification is done, you ought to click the "Unlock" button to make the firmware package unzipped. Pretty soon, Joyoshare iPasscode Unlocker will bypass the screen lock for you to access your iPhone normally without entering a passcode.
Video Tutorial
Follow this short video to bypass iPhone screen lock without passcode by using Joyohare iPasscode Unlocker.
Part 2. How to Bypass Lock Screen on iPhone with iTunes
It goes without saying that there is more than one way to bypass screen lock on iPhone. Without the assistance of a third-party technical program, it is feasible to make use of iTunes directly for iPhone screen unlocking. Make sure that you have trusted your device with your computer and connected to iTunes previously. Here are specific methodological steps.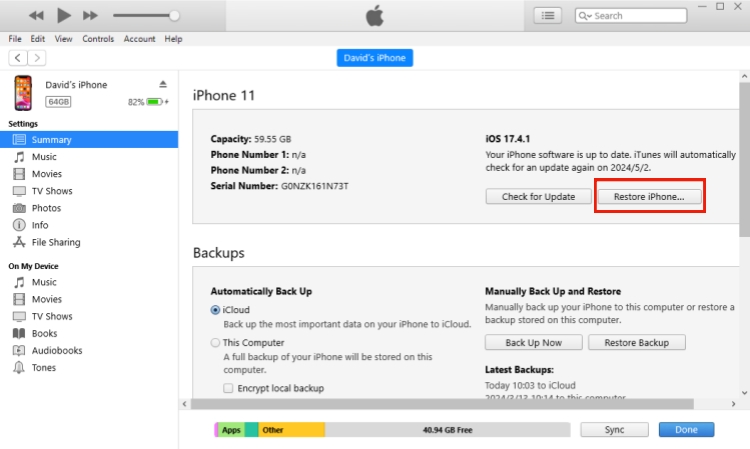 Step 1: Run iTunes directly and plug your iPhone to the trusted computer that you have authorized before.
Step 2: When iTunes detects your device, you should click the iPhone icon and go to "Summary".
Step 3: Click on "Restore iPhone" to set your device to factory settings and remove the screen lock easily.
Video Tutorial
This short video will show you how to take advantage of iTunes to bypass iPhone lock screen.
Part 3. Bypass iPhone Lock Screen with Recovery Mode
Problem is that iTunes cannot detect your iPhone if you haven't synced and connected it to a computer before. When your screen is locked without a right passcode to use, you can only put your iPhone into Recovery mode.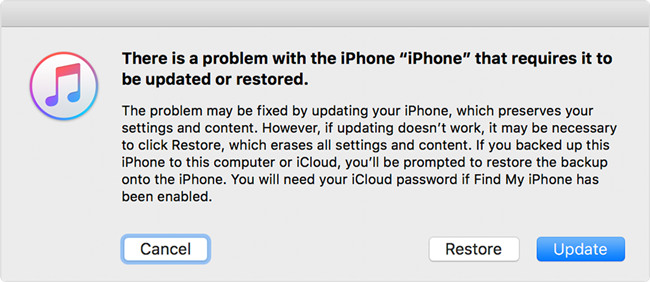 Step 1: Put iPhone into Recovery mode.

For the iPhone 8 or above, press and release the Volume up button quickly, and then fast press and release Volume down button. Press and hold the Side button until the Recovery mode screen shows.
For iPhone 7/7 Plus, press the Power and Volume down buttons for a while until the Recovery mode screen appears on your device.
For iPhone 6 or older series, press and hold the Power and Home buttons at the same time until you can see the Recovery mode screen.

Step 2: Launch iTunes and use a USB cable to connect your iPhone to the computer.
Step 3: A window pops up to ask you to choose "Update" or "Restore". To bypass iPhone passcode, select "Restore" option.
Step 4: Confirm restoration process and wait for your screen lock removal.
Video Tutorial
In order to enter recovery mode to bypass screen lock on iPhone, you could watch this short and operate the steps.
Part 4. How to Bypass iPhone Screen Lock with iCloud
Another method to get rid of iPhone screen lock is using iCloud. This solution has the ability to remotely erase your device and get the screen lock removed. Nevertheless, there are two preconditions: one is that the "Find My iPhone" feature has been enabled; another is that Apple ID and password related to the iPhone must be kept in your mind. If everything is sorted, just do the following.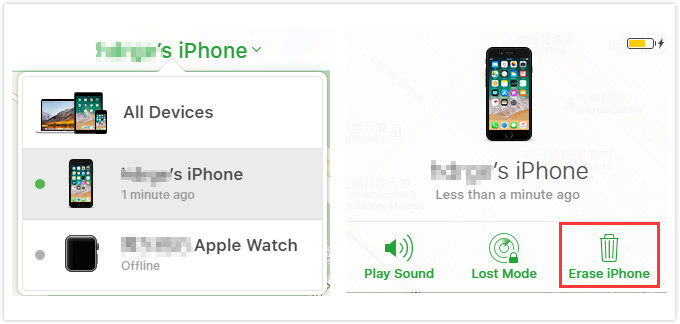 Step 1: To begin with, visit www.icloud.com on an available iOS device or computer. Afterward, sign in with your Apple ID and password.
Step 2: Locate "Find Devices". Under this option, you should select "All Devices".
Step 3: From the shown devices list, you have to select the locked iPhone.
Step 4: You will see three options, namely, "Play Sound", "Lost Mode", and "Erase iPhone". Choose "Erase iPhone" to perform an iPhone lock screen bypass.
Video Tutorial
The step-by-step video guide is here. If you don't know how to use iCloud to bypass screen lock, watch and follow it.
Part 5. How to Bypass iPhone Lock Screen Using the Find My App
Is it possible to bypass iPhone lock screen without losing data? If you possess another Apple device that signed in with the same Apple ID as your iPhone, your data will be protected by using the Find My app on another device. Moreover, the enabled Find My iPhone feature is a necessary condition as well.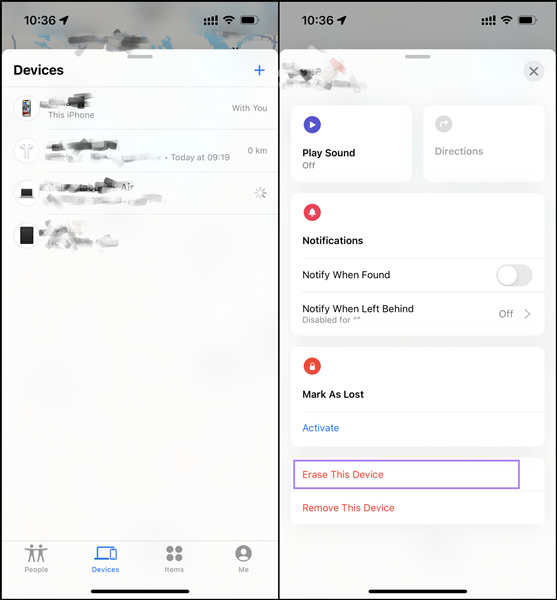 Step 1: Open the Find My app on your another Apple device.
Step 2: Choose the Devices tab from the bottom menu, and select your iPhone that needs to be unlocked.
Step 3: Tap on the Erase This Device option and hit the Erase button to bypass iPhone screen lock.
Part 6. How to Bypass iPhone Lock Screen without Losing Data - Siri
Are your iPhone running an old iOS version from iOS 8 to 10.3? If so, you can give Siri a try to bypass your device lock. This way comes with many steps and has a low success rate. What's good is that it causes no data loss during the whole unlocking process.

Step 1: Activate Siri on iPhone by pressing the Home button and ask "What time it is" to call out a clock.
Step 2: Tap on the clock widget on your screen, and on the World Clock, tap the + button at the top right corner to add a new clock.
Step 3: From the search bar, type in any words, hold the text and tap the Select All option from the prompt.
Step 4: Then, choose the Share option and select Message.
Step 5: Now, you will enter the new message drafting screen. On the "To" box, type in anything and hit the Return button on your keyboard.
Step 6: Select the Add option once the text turns green and choose the Create New Contact option.
Step 7: When creating a new contact, tap on "add photo" and select the Choose Photo option. Then, choose Albums.
Step 8: Now press your Home button on iPhone and you will go back to device screen without a lock.
Part 7. Bypass iPhone Lock Screen without Computer (iOS 15.2 and Later)
There is a new Security Lockout feature introduced in iOS 15.2 and later. It enables you to erase your iPhone without using third-party software and no need to connect with any computer. You can independently bypass your screen lock on iPhone directly. Just ensure your device is linked with Apple ID and you know the password. Keep your iPhone in a good network connection and then you can follow steps below: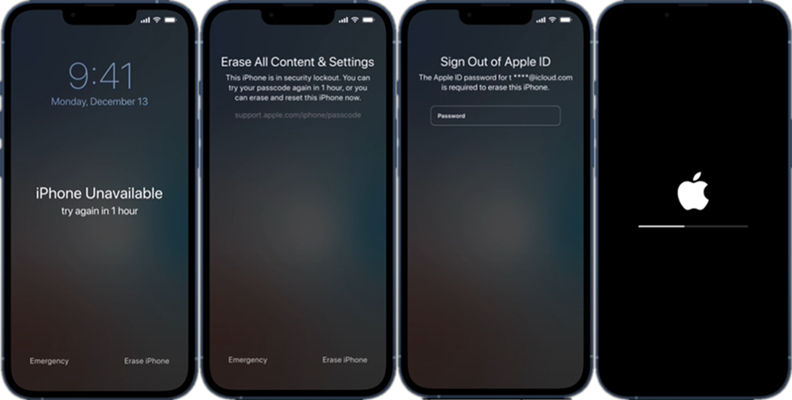 Step 1: When you iPhone is locked and disabled, you can see an "Erase iPhone" option located at the right bottom.
Step 2: Confirm that you'd like to erase iPhone and then enter your Apple ID password.
Step 3: Your iPhone will start to reset device to factory settings and remove your screen lock.
Video Tutorial
Do as this short video displays to bypass iPhone screen lock.
Comparison Table of the Above Methods
| | Joyoshare iPasscode Unlocker | iTunes | Recovery Mode | iCloud | Find My | Siri | Erase iPhone Option |
| --- | --- | --- | --- | --- | --- | --- | --- |
| Apple ID password | Not required | Not required | Not required | Required | Required | Not required | Required |
| Find My | Both support | Disabled | Both support | Enabled | Enabled | Both support | Both support |
| Computer | Required | Required | Required | Not required | Not required | Not required | Not required |
| Data loss | Yes | Yes | Yes | Yes | Yes | No | Yes |
| Success rate | Super high | High | High | High | High | Low | High |
| Speed | Very fast | Normal | Normal | Normal | Normal | Slow | Fast |
| Difficulty | Easy | Very easy | Easy | Very easy | Very easy | Hard | Very easy |
| Compatibility | High | High | High | High | High | iOS 8 to 10.3 only | iOS 15.2 and later |
View all programs
Hide the table
Conclusion
You have now learned 7 solutions to bypass iPhone lock screen. If you are using an older iOS from 8 to 10.3, Siri will be a good option to unlock it without data loss. If your device is updated to iOS 15.2 and later, you can directly remove the screen lock on iPhone without using computer. Besides, iTunes and iCloud are workable for all of you who are in lockup issues. For the one who'd like to unlock iPhone without passcode in a professional, Joyoshare iPasscode Unlock can be considered. If you have difficulty with the method provided in this article, please find the corresponding video tutorial and follow its instructions.