On the latest iPhone 15, iPhone 15 Pro and iPhone 15 Pro Max, you will see the Security Lockout screen after you enter multiple wrong passcodes to unlock it. Sometimes, this can also be shown as iPhone Unavailable. There are different situations you may encounter in this interface, for example, you can only see the Emergency option, both the Erase iPhone and Emergency options, or others. This article is going to give solutions for bypassing iPhone 15 Security Lockout in these different situations. It details ways to unlock your iPhone 15 with data protected and with data erased. Keep reading to find the best one for you.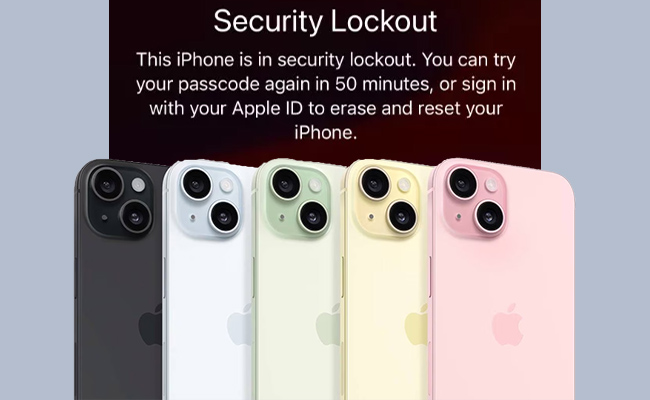 Part 1. FAQs about iPhone 15 Security Lockout
Q1: When will Security Lockout show up on iPhone 15?
A: When you forget your screen passcode and make many wrong attempts to access your iPhone 15, or your kids try to unlock it with incorrect passcodes, the Security Lockout or the iPhone Unavailable screen will occur. You are allowed to try again after waiting for a while. The more wrong attempts you make, the longer you will be locked out.
A: Three conditions are making the Erase option appear. First, your iPhone must be running iOS 15.2 or later system version because this option was released starting with iOS 15.2; second, your iPhone must be connected to the Internet; third, the Find My feature has to be enabled before you get into the Security Lockout screen. Therefore, as long as you don't fulfil any of these conditions, the Erase option will not show up.
Q3: Why can't I see the Forgot Passcode option on Security Lockout?
A: Because the "Forgot Passcode?" option on Security Lockout is introduced in iOS 17. If your iPhone remains the previous system version, you can't see this option. Moreover, you can only try passcode reset with your previous one within 72 hours of changing it, which implies that you may not see the Forgot Passcode option after 72 hours of changing your passcode.
Part 2. Bypass Security Lockout on iPhone 15 without Losing Data
Way 1: Reset Passcode on iOS 17 to Unlock iPhone 15
If your iPhone 15/15 Pro/15 Pro Max is running iOS 17, it is possible to bypass Security Lockout on your device itself with no data loss. Apple designed a new feature on your lock screen. Within 72 hours of changing your screen passcode, as long as you haven't expired the old passcode, you can use it to create a new one to unlock your iPhone. When you enter the iPhone Security Lockout screen, the "Forgot Passcode?" option will appear at the bottom. Tap it, there will be two options – Try Passcode Reset and Start iPhone Reset. Choose the former one, type in your previous passcode, and enter your new passcode. After that, you can access your iPhone 15 again.
Way 2: Restore iPhone 15 on Trusted Computer with iTunes
Recently, Apple updated iTunes so that it would be compatible with the iPhone 15 series. If your iPhone has been trusted by the computer, and the Find My feature has been disabled, you can use the latest iTunes to restore iPhone so as to get out of the Security Lockout screen. Here is how it's done.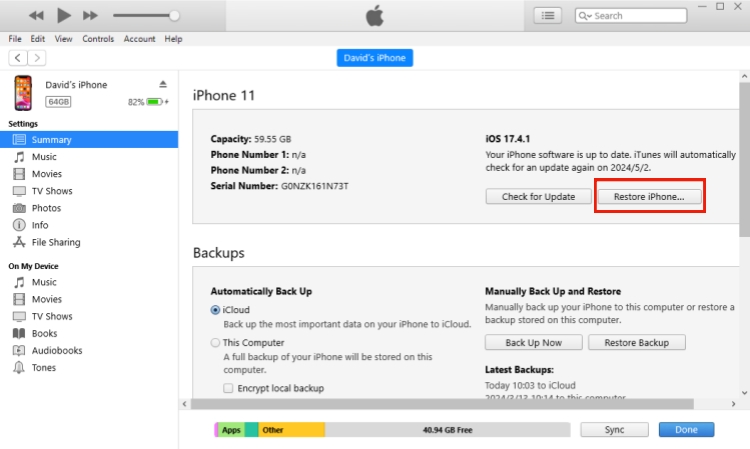 Step 1: Run iTunes on your trusted computer and plug your iPhone 15 into it.
Step 2: On the top bar, click on the icon when your device is detected, and enter the Summary section.
Step 3: Click on Back Up Now to back up your data first to avoid data loss.
Step 4: Click the Restore iPhone button to remove the Security Lockout screen.
Step 5: When your iPhone 15 restarts, hit the Restore Backup button to recover your data.
Part 3. Bypass Security Lockout on iPhone 15 with Data Loss
Method 1: Directly Start iPhone Reset on Security Lockout Screen
In case you are using iOS 17 or previous system or your old screen passcode is expired so that you are unable to reset passcode on Security Lockout interface, you can take advantage of the Erase iPhone option or the Start iPhone Reset option to erase your data. By doing so, your screen lock will go away along with your content and settings.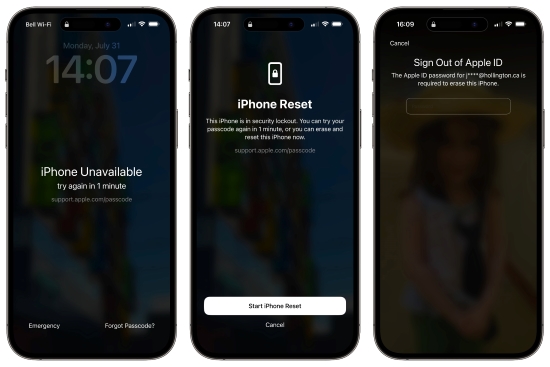 Method 2: Bypass iPhone 15 Security Lockout via iPasscode Unlocker
Don't be upset if the foregoing methods don't suit your situation, Joyoshare iPasscode Unlocker has the ability to bypass Security Lockout on iPhone 15 without passcode or Apple ID password. This program concentrates on unlocking screen locks on Apple devices. Regardless of the digit passcode, it supports removing Face ID and Touch ID. And you can use it for all models of iPhone, iPad, and iPod. After numerous tests, Joyoshare iPasscode Unlocker has been proven to bypass iPad Security Lockout quickly and safely. In addition, this software offers services to unlock Apple ID without data loss, turn off Screen Time passcode with a high success rate and remove MDM within 2 steps.
Key Features of Joyoshare iPasscode Unlocker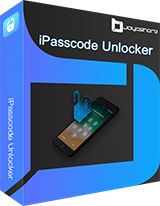 Easily bypass Security Lockout on iOS 17
Unlock Face ID, Touch ID, digit passcode and so on
Turn off Screen Time on iPhone/iPad/iPod
Remove device management with a high success rate
Step 1

Connect iPhone 15 and Select Unlock iOS Screen

Launch Joyoshare iPasscode Unlocker and choose the Unlock iOS Screen feature. Then, use a USB cable to connect your iPhone 15 to the computer and click on Start.

Step 2

Enter Recovery or DFU Mode

Follow the instructions on the screen to put your iPhone 15 into DFU mode or recovery mode. You can switch methods by clicking on the links at the bottom.

Step 3

Download and Verify Corresponding Firmware Package

Ensure that the information about your device is correct, and click the Download button to download and verify the corresponding firmware package.

Step 4

Bypass iPhone 15 Security Lockout

Click the Unlock button to start removing the screen lock and bypassing the Security Lockout screen without Apple ID password.
Method 3: Restore iPhone 15 in Recovery Mode with iTunes
Even though your iPhone hasn't trusted the computer you are going to use, there is potential for restoring iPhone using iTunes. You just need to put your device into recovery mode and after restoring, Security Lockout will not bother you anymore.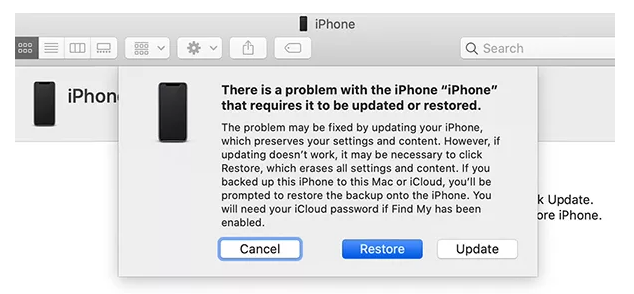 Step 1: Plug your iPhone into the computer and run iTunes.
Step 2: On your iPhone 15, press and release Volume Up, press and release Volume Down, hold the Power button, and release it until you see the recovery mode screen.
Step 3: There will be a prompt popping on the iTunes screen. Click the Restore option to begin unlocking your iPhone.
Method 4: Use Find My to Bypass iPhone 15 Security Lockout
In case you have the Find My feature enabled, you can take advantage of iCloud as well as the Find My app to erase your iPhone. Once all your data is deleted, the screen passcode will be erased in the meantime. So, note that your data can't be recovered if you have no backup. Below is how to utilize iCloud to remove Security Lockout.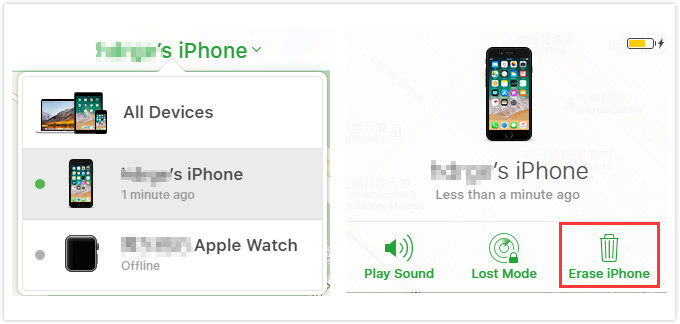 Step 1: Open a browser and sign in with your Apple account on icloud.com.
Step 2: Click your Apple ID, look for the Find Devices list, and select your iPhone 15 from the All Devices list.
Step 3: Hit the Erase iPhone option on the prompt and enter the required information to erase your data. When your iPhone restarts, the Security Lockout screen will disappear.
Part 4. Conclusion
This article answers the questions you may ask when faced with the Security Lockout screen. On the latest iOS 17, Apple offers a way to assist you in unlocking devices without data loss, which comes with strict conditions. Therefore, you could employ other feasible methods to bypass iPhone 15 Security Lockout. If you don't want to lose your important information, make sure that you have backed up your data. Comparing iTunes, Find My, iCloud, Lock Screen and Joyoshare iPasscode Unlocker, it is easy to conclude that Unlocker holds the least requirements. Just consider your conditions and choose the best method for you.