Q: "My iPhone says 'Security Lockout' and won't let me enter a password to get in; how do I open my phone without erasing it?" – From Apple Community
iPhone security lockout usually appears when you touch the screen lock by mistake and enter your password randomly in your pocket. With too many wrong attempts, the "iPhone unavailable" pops up, then you are locked out of the security lockout interface. Normally, in order to enter your iPhone with the security lockout screen, you need to erase your data if you don't have a computer. But this article is going to provide other ways to bypass security lockout without losing your data as long as you have a backup. If you have the same issue, read ahead and find the solutions.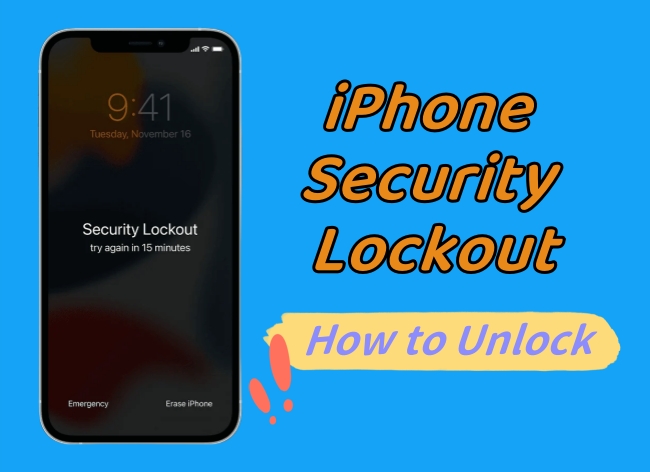 Part 1. FAQs about Security Lockout on iPhone
Q1: What is security lockout?
A: On iOS 15.2 and later, Apple launched the security lockout feature to allow users to erase their devices without using a computer. Actually, it guarantees the security of your iPhone/iPad and your data if your device gets lost. Also, it is an identical function to "iPhone Unavailable", but the difference is that security lockout gives you a chance to reset your iPhone/iPad if the Find My feature is enabled on your device. In this mode, you are only permitted to make emergency calls and erase your device.
Q2: Why does security lockout appear?
A: If you enter the wrong passcode 5 times, the message "iPhone Unavailable Try Again in 1 Minute". After one minute, if you enter the wrong passcode again 5 times, it will lock you for 5 minutes. Repeating this operation until you enter 10 times, the security lockout appears.
Q3: What are the preconditions to disable security lockout?
A: First, confirm that you are running iOS/iPadOS 15.2 or later. Second, a cellular or Wi-Fi network is enabled. Third, you are required to know your Apple ID and its password. Fourth, your data will be deleted, thus, you'd better ensure that there is a backup on your iCloud. Otherwise, you should be prepared mentally as your information won't go back.
Part 2. How to Disable Security Lockout on iPhone
2.1 Erase iPhone via Security Lockout
The simplest way to disable security lockout on your iPhone is to directly tap the "Erase iPhone" option. By this method, you only need to enter your Apple ID password. However, as the answer of Q3 mentioned above, your data won't be retained. So, if you don't want to use your computer or don't have one, follow the guide below to reset your iPhone.
Step 1: If you are on the "iPhone Unavailable" interface, keep entering the wrong passcode until the security lockout occurs.
Step 2: You will see "Emergency" and "Erase iPhone" on the bottom, tap the latter one. If there is no "Erase iPhone" option, you can skip to the next solution.
Step 3: On the "Erase All Content and Settings" screen, there is an alert for you. Go ahead and tap the right-corner option.
Step 4: Enter your Apple ID and password to sign out of your account.
Step 5: It starts the progress to erase your data and settings. At the same time, the security lockout is deleted as well.
Step 6: Once your iPhone restarts, you are able to reset it and restore your backup.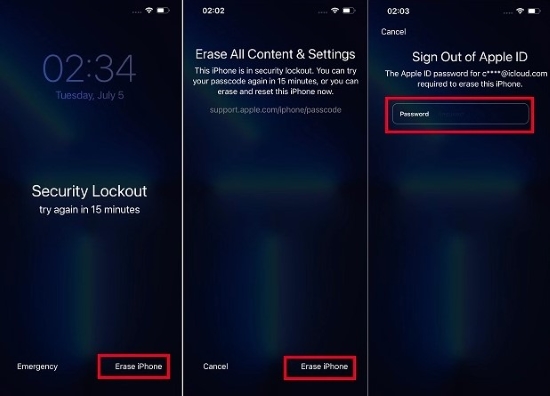 2.2 Bypass Security Lockout Using Joyoshare iPasscode Unlocker
If there is no option to erase your iPhone or no timer allowing you to enter a passcode, how to fix security lockout on iPhone? The best method is to ask an excellent third-party tool for assistance. Joyoshare iPasscode Unlocker, as the name shows, possesses a strong power to bypass security lockout by unlocking the screen lock. Regardless of iOS versions, iPhone models, Internet connection, or Apple ID password, this program is capable to remove all types of screen locks so that your security lockout issue can be fixed.
Apart from the screen passcode, Joyoshare iPasscode Unlocker can be used to remove the Screen Time passcode, Apple ID and MDM. And it assures you 100% safe and a high rate of success. With simple steps, you can enter your iPhone again without any hindrance.
Key Features of Joyoshare iPasscode Unlocker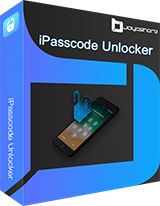 Fix security lockout by unlocking the screen lock
Bypass Screen Time passcode, Apple ID and MDM
Support the latest iOS versions and all models of iPhone/iPad/iPod touch
Assure 100% safe and a high rate of success
Step 1

Connect iPhone to Computer

Install and run Joyoshare iPasscode Unlocker, then connect your iPhone to your computer via a USB cable. On the main interface, select the "Unlock iOS Screen" option. Here are some warnings for you, please make sure that you know them. Then, click the Start button.

Step 2

Enter DFU/Recovery Mode

Follow the tutorial guide on the screen to enter DFU mode. If you feel difficult to enter DFU mode, you can click the blue link on the bottom to put your iPhone into Recovery mode. Keep in mind that find the instruction matching your device model. Once you finish this operation successfully, click the right arrow and move to the next step.

Step 3

Download the Firmware Package

In the DFU/Recovery mode, your iPhone will be detected. And detailed information about your iPhone will be displayed on the screen for you to check. If there is a mistake, please manually correct it on the drop-down list. Then, you can download the matched firmware package. Once it is finished, go ahead to start the verification.

Step 4

Disable Security Lockout by Unlocking iPhone Screen

Click the Unlock button to get the process of removing the screen lock started. When the progress of Unzipping the Firmware and Unlocking the Passcode completes, you can see the "Done" button, which means your screen lock is removed, along with your security lockout. Then, you can reset your iPhone and recover your data from your backup.
2.3 Reset iPhone by iCloud
If the Find My feature on your iPhone is enabled, resetting it by iCloud is also a practicable alternative to fix the security lockout problem. In the meantime, this method requires your Apple Id and passcode.
Step 1: Navigate to icloud.com on your browser and sign in with your Apple ID.
Step 2: Hit the Find iPhone option.
Step 3: Enter your Apple ID and password again to authenticate your identity.
Step 4: Choose the "All Devices" option and find the iPhone with security lockout.
Step 5: Click the "Erase iPhone" button, and enter your Apple ID password to reset your iPhone.
Step 6: Set up your device and restore your data.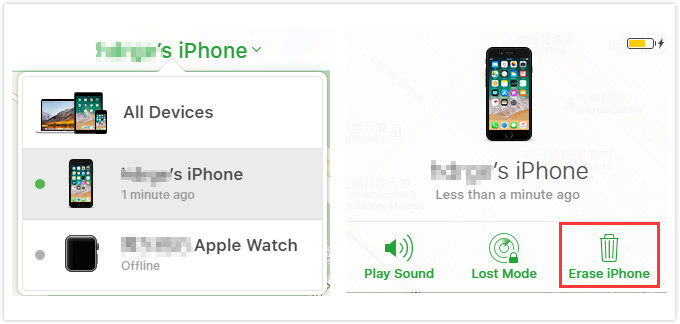 2.4 Restore iPhone with iTunes/Finder
There is another way to restore your iPhone – using iTunes or Finder. If you are using a Mac and running macOS 10.15 or later, Finder is also available. Follow the guide below to disable the security lockout by restoring your iPhone.
Step 1: Turn off your iPhone with these steps:

Step 2: Run the latest iTunes/Finder on your computer and connect your iPhone to the computer.
Step 3: Put your iPhone into Recovery mode.

iPhone 8 and later: Press Volume Up and release it → Press Volume Down and release it → Hold the Side button → Release when the Apple logo occurs
iPhone 7 and iPhone 7 plus: Hold the Volume Down button and the Sleep/Wake button → Release them when the Apple logo appears
iPhone SE (1st Generation), iPhone 6s and earlier: Hold Sleep/Wake and Home → Release both of them when the Apple logo appears

Step 4: A pop-up prompts asking you to update or restore your iPhone. Click the Restore button, and it will download the latest iOS software version.

Step 5: When the recovery progress is complete, your iPhone will restart automatically. And you are able to set up your iPhone without security lockout.
Part 3. Tips to Prevent Security Lockout
Since iPhone security lockout brings annoyance, you have to dive into those complicated steps to fix this issue. To free you from such a predicament in the future, here offer some feasible tips for you.
If the model you are using supports Face ID or Touch ID, you could enable it to avoid forgetting your passcode.
Set an easy-to-remember passcode but not simply 1234. Or you can set a strong passcode and write it down in your diary or something else.
Back up your important information regularly, hence you can recover it when you have no choice but to reset the device by erasing data.
Keep your iPhone away from children and make sure that they won't try to access your iPhone with the wrong passcodes.
Conclusion
After reading the frequently asked questions, I believe you already have a clear understanding of iPhone security lockout. To fix this issue, this article gives you 4 ways. First, you can directly erase your data on the security lockout interface on your iPhone. Second, Joyoshare iPasscode Unlocker is specialized in unlocking screen passcode so that the problem can be easily solved. Moreover, if the Find My feature is on, iCloud is also effective. Last, iTunes/Finder on the computer allows you to delete your data and settings. Which method you adopt depends on your situation.