Q:"I restarted my iPhone 8 running iOS 15 and the Home button is broken, so I was using AssistiveTouch. However, AssitiveTouch is disabled at the first launch. On iOS 15, we have to press the Home button to unlock my iPhone. What can I do?" - Zooly from StackExchange
It is generally known that if you get an iPhone with the Home button, you must press this button to unlock your device with Touch ID. If you set the digital passcode, some models allow you to swipe up to access the screen of Enter Passcode, but some devices have to press the Home button to wake up the digit passcode screen. What if the Home button is broken? Some users enable the Assistive Touch to get into this digit passcode interface. But after resetting the device, you can't see the Assistive Touch on the lock screen, as a consequence, the Visual Home button can't be used as well. In addition, even if you can enter the Enter Passcode screen, the screen passcode has been forgotten. What should you do in this situation? In this article, we are going to show you how to unlock an iPhone without Home button, even with a broken Home button. Let's check out now!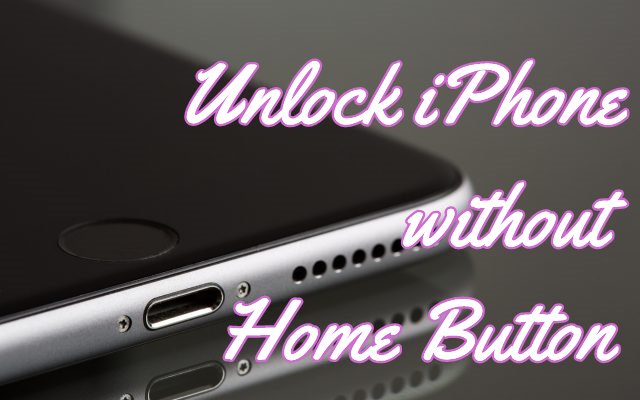 Part 1. How to Unlock iPhone without Pressing Home Button
There is a handy function on Apple devices that you don't need to unlock your iPhone's screen by pressing the Home button as long as you enable Rest Finger to Open on your device. When turning on this feature, then you can unlock your iPhone by resting your fingertip on the Home button rather than pressing it. Here's how to activate this feature on your device.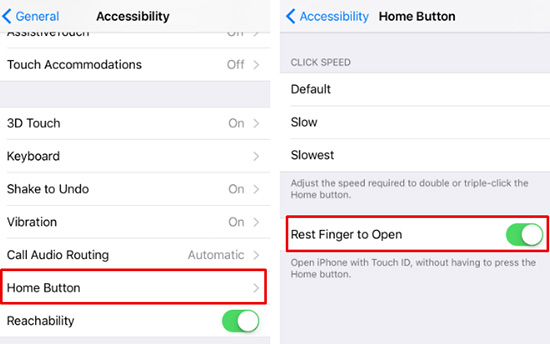 Step 1. Get into Settings first and then go to General.
Step 2. In the General menu, find and tap on Accessibility.
Step 3. Once entered this section, scroll down to choose the Home Button option and turn on Rest Finger to Open.
Part 2. Use Assistive Touch to Unlock iPhone with Broken Home Button
In case your Home button is broken so that it can't recognize your fingerprint, and you can't swipe up to trigger the digit passcode screen, the best workaround is to set up Assistive Touch to use the Visual Home button to unlock iPhone. You need to go to Settings → Accessibility → Touch → Assistive Touch. Once this feature is enabled, you can see it on the lock screen. To unlock your iPhone without Home button, you just need to press the Power button and tap the Home icon on the Assistive Touch, then, you can enter digit passcode.
However, after resetting all settings on iPhone or erasing all data, the Assistive Touch is removed as well. If you can't see it on the lock screen, how to acess the Enter Passcode interface? The solution is easy. Try to factory reset your iPhone again using iTunes or the Find My app, and wait for it to restart. When you are required to set up your iPhone, tap the Accessibility icon and turn on Assistive Touch.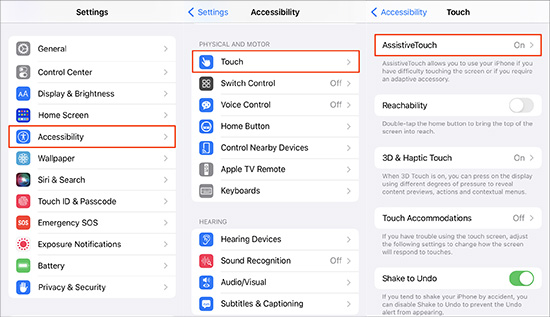 Part 3. Easiest Way to Unlock iPhone without Home Button
To unlock an iPhone without Home button, the easiest way is to utilize an iPhone screen unlocking tool - Joyoshare iPasscode Unlocker. Designed with the powerful unlocking feature, it allows you to unlock all types of screen passcodes on the iPhone, iPad, and iPod. No matter whether your screen lock is set to common 4-digit and 6-digit numeric passcode, or advanced Touch ID and Face ID, it can remove screen passcode from your device within a few minutes. What's more, Joyoshare iPasscode Unlocker offers an easy solution to unlock iPhone without passcode under varied scenarios, including iPhone passcode forgotten, iPad screen broken, Touch ID requires your passcode when iPhone restarts, and so on. Moreover, both the newest iOS and iPadOS system and all iOS and iPadOS devices are supported by this professional utility. Further, Joyoshare iPasscode Unlocker could be used to remove the locked Apple ID with no data loss, turn off Screen Time without passcode, and bypass the device managemet within several clicks.
Key Features of Joyoshare iPasscode Unlocker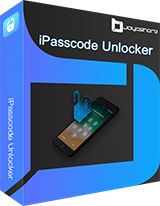 Unlock iPhone without Home button in 3 easy steps
Crack different kinds of screen passcodes
Remove Apple ID in various possible situations
Bypass Screen Time and MDM with a high success rate
Compatible with all iOS devices and the latest iOS version
The following is an example of Mac to illustrate the specific steps of how to unlock iPhone without using Home button with the help of Joyoshare iPasscode Unlock. If you have this software installed on your computer, then follow the below steps now.
Step 1

Open Joyoshare and Connect iPhone to Computer

At first, install the latest version of Joyoshare iPasscode Unlocker and then connect your iPhone to the computer via a USB cable. Once connected, your device will be detected and you need to click the Start button.

Step 2

Put iPhone into DFU Mode or Recovery Mode

Referring to the operational guidelines on the screen, you ought to manually boot your iPhone into DFU mode or recovery mode. After that, click on the Next button to move on.

Step 3

Download and Verify Firmware Package

After your iPhone is set into DFU mode, Joyoshare iPasscode Unlocker will recognize all the information of the iPhone. You are asked to confirm before downloading and verifying the firmware package with the Download button.

Step 4

Unlock iPhone without Pressing Home Button

It will take a little time to complete the verification. Once finished, you can click on the Unlock button to unzip the firmware package and unlock your iPhone without Home button.
Part 4. How to Unlock an iPhone without Home Button
The joining of Joyoshare iPasscode Unlocker has enables you to unlock your iPhone without pressing the Home button easily and efficiently. Except for using this tool, there are some additional methods that help you in solving this problem. Go on reading this part, and you'll know the detailed steps of using by the following methods.
4.1

Use iTunes to Unlock iPhone without Home Button

As a multifunctional application, iTunes is also capable of unlocking your iPhone's screen by restoring the device in addition to managing and playing digital music and video. So, when the iPhone's screen gets malfunctioned, using iTunes is a workable method to unlock iPhone without Home button. Nevertheless, you have to make sure that your iPhone has been synced with iTunes. Otherwise, iTunes can only unlock your iPhone in recovery mode. Suppose you are ignorant of how to do with iTunes, the following steps should teach you.
Restore Synced iPhone with iTunes

Step 1. Run iTunes and connect your iPhone to a trusted computer via a USB cable.
Step 2. When iTunes detects your device, there will appear an iPhone icon, and then click it to enter the menu list.
Step 3. In the section, you are required to click Summary. If you want to back up some important files, you may choose the Back Up Now option.
Step 4. After back up, simply touch the Restore iPhone button to unlock your iPhone quickly. Once completing this, you ought to get all data back to your device with the Restore Backup button.

Restore Unsynced iPhone in Recovery Mode

Step 1. Connect iPhone to computer and run iTunes.
Step 2. Put your iPhone into recovery mode or DFU mode.
Step 3. Click the Restore option on the prompt to restore your device.
4.2

Apply iCloud to Unlock iPhone with Broken Button

You know, iTunes doesn't always work well. Occasionally, some failures like the device can't be detected are inevitable. In such a situation, how to unlock iPhone without using Home button by yourself? At this time, iCloud may be a suitable choice for you. However, this way can function only if you turn on Find My iPhone on the iPhone. Now do as outlines below.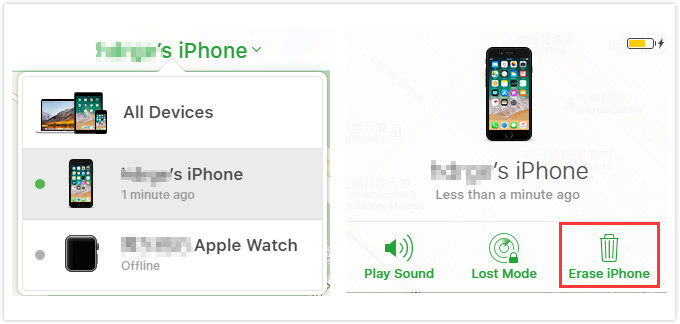 Step 1. Firstly, get into the official website of iCloud then sign into it with your Apple ID and password.
Step 2. Click on Find Devices and followed by All Devices.
Step 3. Find and select your iPhone under the devices list.
Step 4. Lastly, click the Erase iPhone icon to unlock your device by remotely erasing all the content.
4.3

Employ Find My to Unlock iPhone without Home Button

Cause that Apple allows the user to manage their Apple devices with the Find My app, you can see all of your devices on any of the trusted device by using the Find My app. Also, it allows you to remotely erase your device and then you can unlock your device without a password.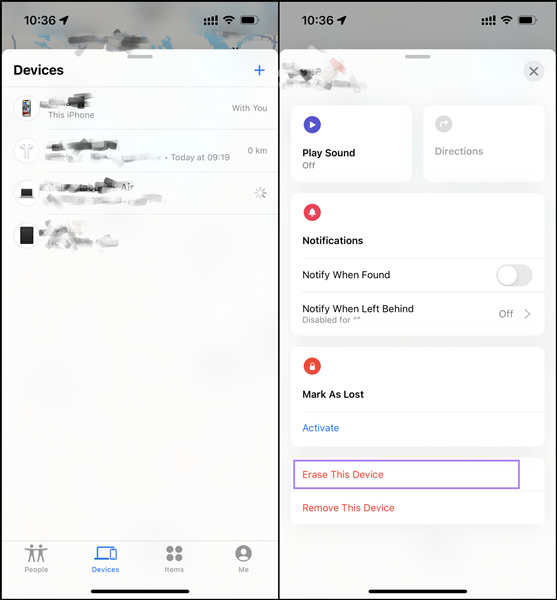 Step 1. Go to open the Find My app on your iPad or iPod.
Step 2. Press the Devices icon at the bottom of the screen.
Step 3. In the pop-up window, find your iPhone and tap it.
Step 4. Select Erase This Device and tap Continue then Erase This iPhone to wipe up all the data and contents, including the Touch ID on your device.
4.4

Erase iPhone on Unavailable Lock Screen (iOS 15.2 and Later)

On iOS 15.2 and later system versions, there is a feature helping you erase iPhone or iPad on the lock screen when the device becomes disabled or unavailable. If Find My has been enabled and your iPhone is connected to the Internet, when you constantly enter the wrong passcodes, you can see the Erase iPhone option on the Security Lockout screen. Tap it and enter your Apple ID password, your iPhone will be successfully unlocked without the Home button.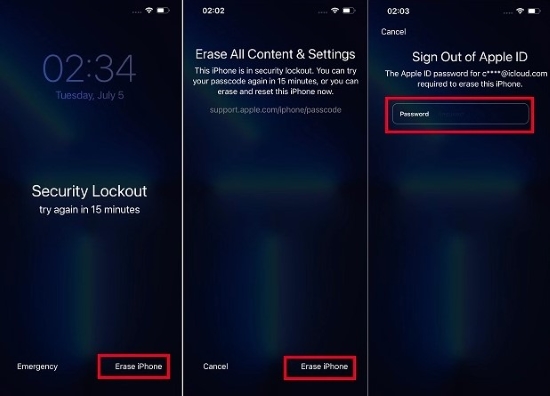 Part 5. Conclusion
The above expounds 7 feasible ways to tell you how to unlock iPhone without Home button. If you want to unlock iPhone screen without pressing Home button, then you can enable the Rest Finger to Open feature on your device. When just the Home button is broken, you can enable the Assistive Touch to head to the Home screen as well as access the digit passcode screen to unlock iPhone. When both Home button and screen are not able to work normally, just apply iTunes, iCloud, Find My or Joyoshare software to your device to erase device so as to unlock it without effort. Among them, Joyoshare iPasscode Unlocker is worth mentioning again.