It is not a rare situation where Touch ID requires your passcode when iPhone restarts if you access your device with fingerprints. But it may be vexed that the problem occurs every time while your iPhone is restarted. For those who remember the screen passcode, this is just a little bit annoying issue that can be worked as easy as pie. To others who might forget passcode because it is not used for a long time, it is indeed a challenge. Rest assured, in either case, you could follow the methods sketched out below to free yourself from such a matter.
Part 1: Why Touch ID Requires Your Passcode When iPhone Restarts?
The following lists several possible reasons for the problem. You can take a look at it in order to settle this problem more intuitively.
1. Your iPhone was powered off and restarted. Like that, your iPhone will require passcode to get into it after restarting;
2. You do not use passcode to unlock your iPhone in the past week;
3. Or the iPhone has been not unlocked within 48 hours;
4. Using Fingerprints to unlock failed, 3 times in a row;
5. Maybe your iPhone gets a remote lock instruction from iCloud.
Part 2: What If Touch ID Requires Your Passcode When iPhone Restarts?
Are you getting trapped in the situation that touch ID asks for a passcode after rebooting iPhone? To be honest, if remember the screen passcode, it can not even be described as a "problem". Under the circumstances, please enter passcode to access your iPhone and do as follows to avoid the recurrence of the same issue.
The simple and frequently-used way to prevent the problem that Touch ID requires passcode when iPhone restarts from happening again is to disable touch ID and re-enable it. Then how to disable Touch ID on your iPhone? You can get it done as instructed below.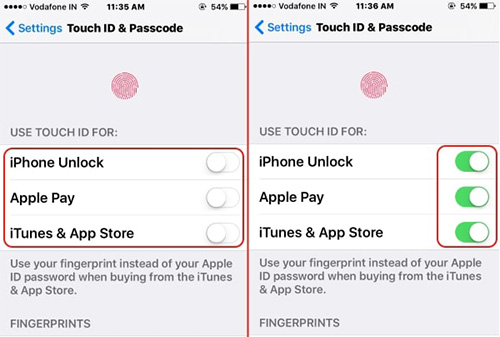 Step 1: Firstly, go to "Settings" on the home screen and then choose the "Touch ID & Passcode" option;
Step 2: Enter passcode to enter this interface and click to turn off "iPhone Unlock", "iTunes & App Store", and "Apple Pay";
Step 3: Restart your iPhone and later please repeat the above steps to enable them again.
Without forgetting passcode, suppose the above approach fails to work, then another great solution to "Touch ID requires passcode when iPhone restarts" is deleting the existing fingerprint and add a new one. The steps to do it are illustrated below for your reference.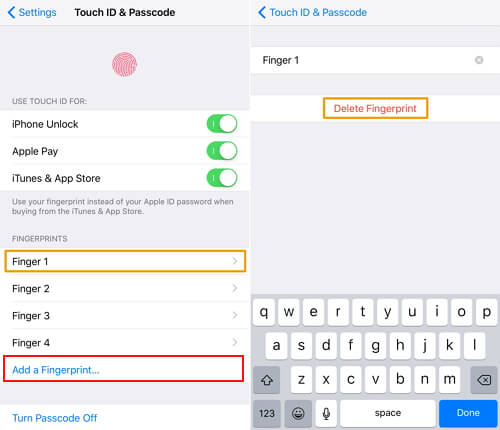 Step 1: Get started by heading to "Settings" and followed by "Touch ID & Passcode";
Step 2: Then you will be asked to enter passcode. Choose and click the fingerprints you set;
Step 3: After that, tap on "Delete Fingerprint" to delete it;
Step 4: Now, reboot your iPhone and still go to "Settings" - "Touch ID & Passcode";
Step 5: Enter passcode and touch "Add a Fingerprint" to set up your fingerprint anew according to the on-screen indications.
Method 1:

Disable and Enable Touch ID

Method 2:

Delete and Add Fingerprint
Part 3: How to Resolve The Problem without Remember Passcode?
In this case, how to bypass "Touch ID requires your passcode when iPhone restarts"? In fact, this question is as same as how to unlock an iPhone without knowing passcode? This is public knowledge that using iTunes to restore iPhone or trying iCloud to remotely erase iPhone can reach the goal of unlocking the screen passcode. However, there is no guarantee that iTunes and iCloud are able to come into play all along. Thus, here introduces a specialized iPhone unlocking tool - Joyoshare iPasscode Unlocker.
Developed as an omnipotent iOS passcode unlocker, Joyoshare iPasscode Unlocker is in a position to bypass 4 sorts of screen locks covering digital passcodes, Touch ID, and Face ID in a variety of different situations. For instance, bypass iPhone lock screen, unlock a disabled iPhone, and all that. Beyond that, this unlocking program is equipped with a succinct interface, which is applicable to all users even some who are ignorant of relevant technical skills. It gives all iOS device models the full backing, by the way.
Key Features of Joyoshare iPasscode Unlocker:
Be able to remove 4 kinds of screen locks from iDevices
Be compatible with every iOS device model and even iOS 13
Fix "Touch ID requires passcode when iPhone restarts" at ease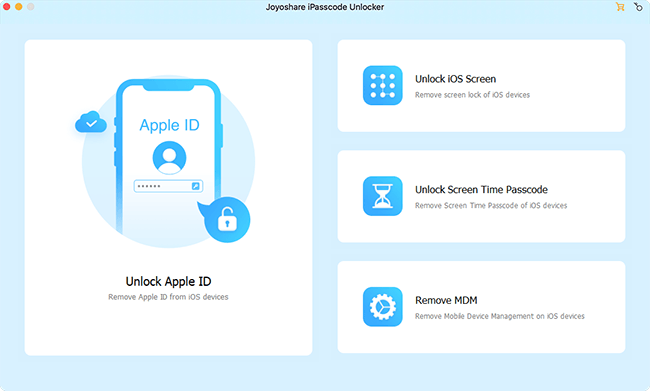 For your convenience, the following come the detailed steps to bypass this issue with Joyoshare iPasscode Unlocker for Windows on the computer. Please read through the content below if necessary.
Step 1: Install and run Joyoshare iPasscode Unlocker

To begin with, you need to install and run Joyoshare iPasscode Unlocker on your computer. Then plug your iPhone and touch "Start" to get down to the process after the iPhone is successfully detected.

Step 2: Set iPhone into recovery mode

Select your iPhone model for passcode unlocking and later it is demanded to set the iPhone into recovery mode in the light of prompts shown on the screen. The link at the bottom is clicked to switch to another mode once your iPhone fails to enter one mode.

Step 3: Download and verify the firmware package

Now, please confirm all the information about your iPhone. If wrong, just correct it. After that, easily tap on "Download" to gain a new firmware package and verify it.

Step 4: Remove iPhone screen lock

The last thing to do is clicking the "Unlock" button to unzip the firmware package. Once unzipped, Joyoshare iPasscode Unlocker will remove the screen lock form your iPhone.