Q: "How do you unlink 2 iPhones which have been linked through iCloud and Apple ID, we already made a new account for both iCloud and Apple ID on one of the phones so they're not the same accounts. We still keep on getting each other's messages who we send to other iPhones." – from Apple Community
Signing in with the same Apple ID on different iPhones brings much convenience to you as the data and purchases could be shared with each other. But sometimes you need to stop sharing between devices with the same account, for example, when you are going to sell one of the iPhones. To know how to unlink two iPhones with the same Apple ID, this article first answers and explains some relevant information about the sync of Apple ID, and then provides 4 methods of separating one iPhone from another. Keep reading to settle your problem.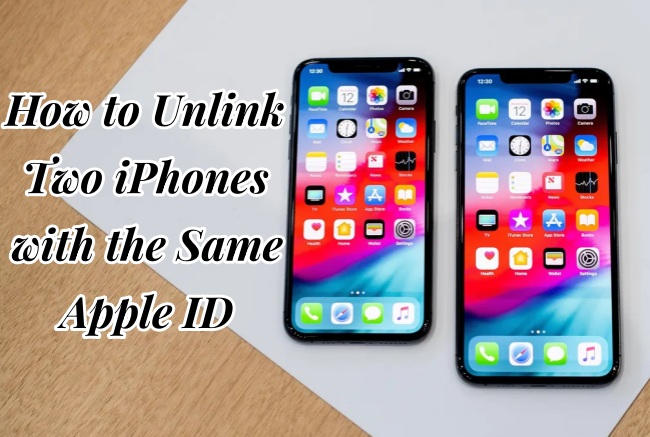 Part 1. FAQs about Apple ID and Devices
Q1: Why are my two iPhones linked?
A: Because you have logged the same account into two iPhones and enabled the Find My feature, these two devices are associated with the same Apple ID.
Q2: What happens when two iPhones share the same Apple ID?
A: When two iPhones are linked to each other, your data that is synchronized in iCloud and iTunes, and your purchases on App Store can be shown and checked on the other device.
Q3: Can I have two Apple IDs for two iPhones?
A: Yes, you can create two different Apple IDs by using different phone numbers or email addresses, then sign in them to different devices. Hence the accounts and devices are separated and can be used independently.
Q4: Is there a way to sync data on two iPhones but with different Apple IDs?
A: Yes. To synchronize information by using different accounts, you can take advantage of Family Sharing. Turn on Family Sharing on Settings - Apple ID, and add the other account to your family group. In this way, your problem is solved.
Part 2. How to Unlink Two iPhones with the Same Apple ID
Method 1. Separate Two iPhones from Settings
To untie two iPhones that signed in with the same Apple account, it is invalid to sign out of the account from one of the devices. On the surface, you have not received the message from the other iPhone, but it just not shows up. Therefore, the only solution is to remove the Apple ID from a device.
Go to Settings → tap your Apple ID → scroll to the device you need to unlink → tap Remove from Account → hit Remove to unlink them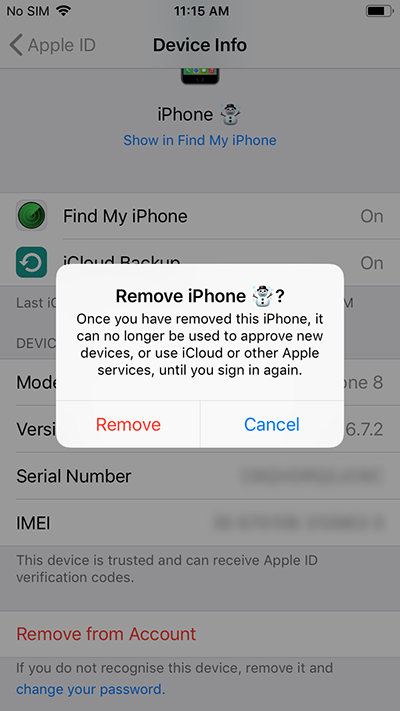 Method 2. Unlink Two iPhones by Using iCloud
How to unlink my iPhone from another phone? Likewise, you could utilize iCloud to remove one device from the Apple ID. With the enabled Find My features, the iCloud webpage, iCloud app, and Find My app are all reachable to untie devices from the same account. Here are the instructions on the iCloud page to achieve this.
Step 1: After entering the iCloud page, sign in with your Apple ID that is linked to different iPhones.
Step 2: Choose Apple ID section and you will be guided to your account details page.
Step 3: Locate the Find Devices link and click it, you will see the All Devices list at the top bar.
Step 4: Choose the iPhone you want to unlink, and click on the Remove from Account option.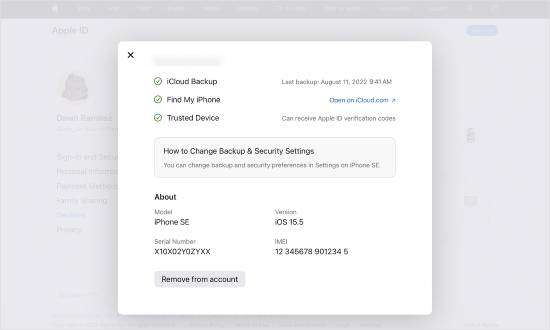 Method 3. Unassociate Two iPhones via iTunes
Another method to answer how to unsync iPhones from the same Apple ID is to apply iTunes on your computer. If you remember your Apple ID, launch iTunes or Finder on your Windows PC or Mac and log into the account. After that, scan the top bar to find the Account menu and select View My Account. On the next interface, click Manage Devices and choose the device you need. Then, hit the Remove button to unassociate it from your account. In the end, click the Done button to complete.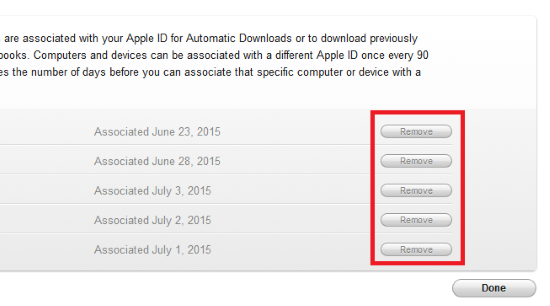 Method 4. Untie Two iPhones with Unlocker
The above 3 methods are available and efficient to unlink two iPhones when the Apple ID is kept in your mind. What if you cannot get the Apple ID password? What should you do to separate two iPhones from each other? Don't fret, Joyoshare iPasscode Unlocker could give a hand to you. No matter whether you need to remove Apple ID from your iPhone or unlink two devices signed in with the same account, this program could help you unlock Apple ID with zero data loss. Unlike the foregoing methods, you don't need to back up data in advance, which is a wonderful time-saving feature.
Possesses high compatibility, Joyoshare iPasscode Unlocker not only supports all models of iPhone, iPad and iPod touch, but also the newest iOS and iPadOS 16. If you are finding a way to unlink an iPhone and an iPad from the same Apple ID, Joyoshare iPasscode Unlocker is still effective. Apart from this, this software could be applied to unlock all kinds of screen locks, turn off Screen Time and bypass MDM restrictions. All the procedures do not require your passcodes; thus, your devices can be safely unlocked without hassle.
Key Features of Joyoshare iPasscode Unlocker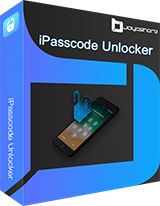 Remove Apple ID from iPhone without data loss
Bypass screen locks on iPhone/iPad/iPod touch
Turn off Screen Time with a high success rate
Remove remote management without effort
Step 1

Plug One iPhone into Computer

Install and run Joyoshare iPasscode Unlocker on your PC. Choose one of the two iPhones you want to unlink from your Apple ID and plug it into the computer. Select the Unlock Apple ID section on the main interface and click the Start button.

Step 2

Check Find My Status

If you have disabled the Find My function on the iPhone, you will be led to the next page to start unlocking Apple ID. On the contrary, you are required to check and confirm that you have enabled the screen lock and two-factor authentication. After clicking the Yes buttons to confirm their status, you can move to the next step.

Step 3

Remove Apple ID from iPhone

Download the corresponding firmware package and you can begin the progress of removing Apple account. Once the whole progress finishes, your iPhone is unlinked successfully.
Part 3. Conclusion
In this post, your question about how to unlink two iPhones with the same Apple ID is discussed carefully. Generally, there are 3 conventional methods you can apply to achieve this goal. Even though Settings, iCloud and iTunes are easy to be reached, it is still inconvenient for some users on account of the limitations. Therefore, here recommends Joyoshare iPasscode Unlocker to you. You can remove Apple ID from either device without losing data so as to make two iPhones separated. If you have other questions related to Apple ID, leave your comment below and we'll try our best to help you.