Apple's security is unmatched, one of the reasons why Apple has crazy fans. It is almost inaccessible to break through the iCloud barrier unless you have an Apple ID and password. But of course, everyone forgets their login credentials once in a lifetime.
That said, good thing is that Apple's activation lock can be bypassed with the use of an Apple ID remover tool. To do this, it connects to your iTunes account online to synchronize your music library and provide you access to your mobile device's data.
Fortunately, there are a plethora of Apple ID removal tools on the market – thus making it difficult to choose the one that best suits your needs. Here is a curated collection of the best Apple ID removers, including in-depth descriptions of their essential features, pros, and cons. Further, stick around to learn how to remove Apple ID from iPhone.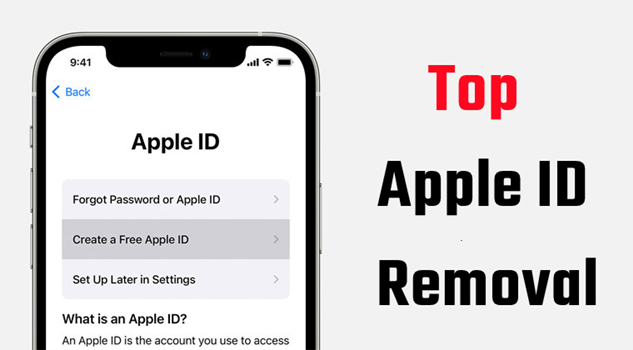 Part 1. Why You Need to Remove Apple ID?
An Apple ID is a user account that allows you to connect your personal devices to iCloud, iTunes, and other Apple services, as well as preserve and access crucial data from iOS-based services. Nevertheless, if you conclude that you no longer want to use Apple products overall, you might want to remove your Apple ID. If you delete this account, all your information will be removed, and you will be able to begin over with a "clean slate".
The removal of a secondary Apple ID, the cancellation of an account that was created by mistake, or the cancellation of the account of a loved one who has passed away are all examples of other reasons to remove Apple ID permanently. Not to mention, its easy to forget your password when your mind has lots to remember. Apple gives users in this situation two official alternatives to choose from: either they can permanently erase their account, or they can temporarily disable their Apple ID.
Part 2. Top 5 Apple ID Removal Tools for You
Below, we have reviewed some of the best Apple ID removal tools that will make it easier for you to bypass Apple ID without any rocket-science.
No.1 Joyoshare iPasscode Unlocker
Joyoshare iPasscode Unlocker lets you remove screen lock, delete Apple ID, or even invade MDM and Screen Time passcodes on a wide range of Apple mobile devices like iPhone, iPad, and iPod touch. It is recognized as one of the most dependable password removal software.
Joyoshare unlocking tool can assist you in effortlessly doing a variety of tasks, like unlocking iPhone without a password and removing Apple ID from iPhone. One of the most significant benefits of Joyoshare is that it can be used to unlock an iPhone even if the screen is damaged or black. In addition to this, it is very user-friendly and is compatible with all versions of iOS up to iOS 17.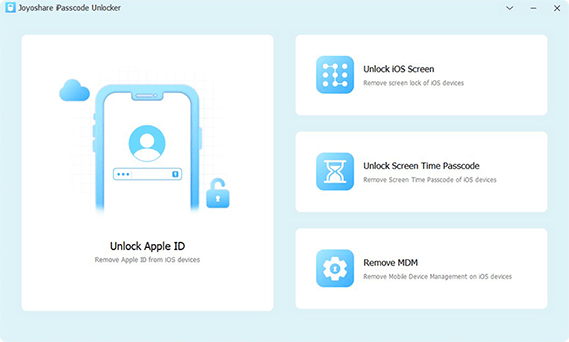 Pros
● Capable of bypassing any screen lock
● Useful and simple enough for everyone to grasp
● Apt for use with iPhone, iPad, and iPod touch
● Available on both Mac and Windows computers
● Remove Apple ID, Screen Time passcode, and MDM locks

Cons
● DFU Mode is a potentially dangerous process

No.2 MagFone iPhone Unlocker
Your iPhone can now be unlocked with a single click, no password required. You can be concerned about losing access to your iPhone or any used iOS device you purchase if you tend to forget passwords, but don't be anymore. MagFone iPhone Unlocker makes it simple to disable Touch ID, Face ID, and Apple ID. You can use this iPhone unlocker on a locked iPhone with a shattered screen.
You'll be able to delete everything from your phone's memory and start over without entering any passwords. It works with iPhone, iPad, and iPod touch and can be used to get access to your locked device. It's normal to forget the passcode when you haven't used it in a while and find yourself unable to get access. Worrying about how you'll get into your iPhone and access your files might be stressful, but MagFone iPhone Unlocker is here to help.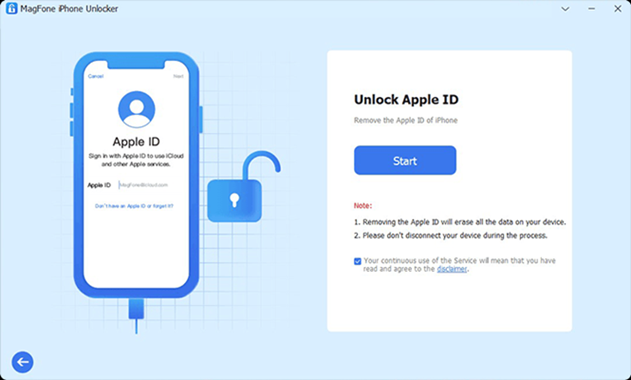 Pros
● Bypass all versions of screen locks on iPhone
● Remove Apple ID from iPhone, iPad, and iPod touch
● Reset devices to factory settings without password
● Compatible with the latest iOS version

Cons
● Erase all the data and settings while removing screen locks

No.3 iMyFone LockWiper
iMyFone LockWiper is a sophisticated software that can unlock an iPhone or iPad that has been disabled. This tool comes with a plethora of innovative capabilities that are not often seen in other iPhone unlocking solutions. It makes it easy for you to recover access to your iPhone by allowing you to circumvent the iOS security lock.
You should go for LockWiper if you're looking for a piece of software that can unlock an iPhone or iPad in a matter of minutes. If you have LockWiper installed on your Windows or Mac PC, you won't need to stress out or get anxious whenever your children pick up your iPhone or iPad in the fear that they will enter the incorrect passcode and lock your device. Instead, you can simply let them use your device without worrying that they will accidentally lock it.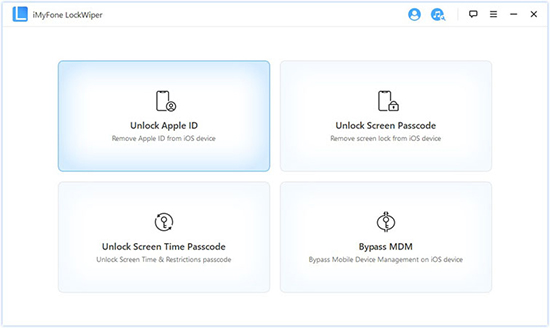 Pros
● Regain access to iPhone or iPad without passcode
● Delete password for Screen Time without corrupting data
● Delete password for Screen Time without corrupting data
● Works with iOS 16 on iPhone, iPad, or iPod touch

Cons
● Bypassing Apple ID takes some time
● Results aren't as satisfied as the website boasts

No.4 iMobie AnyUnlock
iMobie AnyUnlock is a software that will unlock you as well as the device you're using. This could be the only master key you ever need, regardless of whether you've lost the password, the phone is deactivated, the screen is damaged, the phone has an MDM lock, or any number of other potential scenarios. The MDM lock can then be circumvented in three simple steps, even if you do not have the MDM login and password or have jailbreak your device. It is interesting to note that the administrator will not be informed or made aware of the fact that the lock has been removed by you.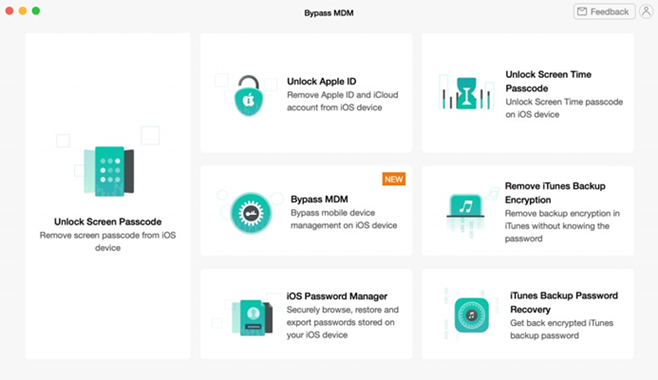 Pros
● All features are supported in iOS 25
● Require zero extra effort to utilize
● Secure and devoid of any viruses or other malware
● Remove Apple ID from iPhone, iPad, and iPod touch

Cons
● Not all the features are available in the freemium model

No.5 Wondershare Dr.Fone
iPads and iPhones that have been locked can be unlocked with the help of the iOS device unlocking software Wondershare Dr. Fone. In contrast to most of the other iCloud bypass activation approaches that are accessible, this software enables you to sidestep Mobile Device Management.
Wondershare Dr.Fone is compatible with both current and older models, including those that are incompatible with typical utilities, yet it still collaborates with them all. It just takes one click for the user to delete their Apple ID from compatible devices, which must be running iOS 14 or an older version.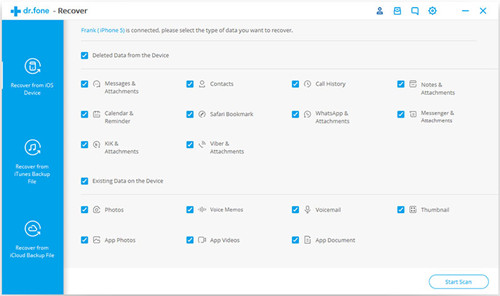 Pros
● Excellent for screen unlocking
● Have the data sharing options on offer
● Compliant with iOS 16 and iPadOS 16
● Bypass all the logins and passwords

Cons
● Might not recover all the data
● Takes too long to bypass Apple ID

Part 3. How to Remove Apple ID from iPhone/iPad without Password
If you use an iPhone, iPad, or any other iOS device, you boast about how safe it is and how no one can steal your information or use it maliciously since the passcode is so impossible to crack.
Joyoshare iPasscode Unlocker is a well-known software that can remove Apple ID from iPhone, iPad, and iPod touch without password and data loss. The software makes the claim that the work will be finished in a couple of minutes and that users do not need any prior understanding of technical matters to utilize it. Because of this, if you have a problem with Apple ID and need to get around Apple ID, this software should be the first thing that comes to mind.
Key Features of Joyoshare iPasscode Unlocker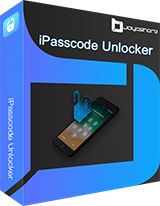 Turn off Screen Time and MDM without passcode and data loss
Remove Apple ID from iPhone, iPad, and iPod touch in three steps
Delete all kinds of screen locks like Face ID and Touch ID on iDevice
Compatible with the latest version of iPadOS and iOS, as well as, iDevice
Step 1

Select Remove Apple ID on Joyoshare

To begin, download and install Joyoshare iPasscode Unlocker on your computer. Then connect your iPhone or iPad to it. When you startup Joyoshare iPasscode Unlocker, your device will be found immediately. Choose the Unlock Apple ID option from inside the primary user interface of Joyoshare.

Step 2

Go to Check and Confirm the Device Status

If you have the Find My iPhone feature turned on for your smartphone, you need to check to make sure that the screen passcode is set up and that Two-Factor Authentication is turned on for the device. Continue by clicking the Yes button to validate the current condition of your device.

Step 3

Start to Download the Matching Firmware

If you have the Find My iPhone function turned off on your device, you can skip this step and go straight to clicking the Start button to delete your Apple ID from your iPhone without sacrificing any of your data. After reviewing and validating your device information, choose the option to download the appropriate firmware package by clicking the Download button.

Step 4

Remove Apple ID from iPhone without Password

Finally, click the Start button to start removing Apple ID from your iPhone. Wait for a while, and Joyoshare iPasscode Unlocker will immediately delete Apple ID on your device. But during the whole process, you need to keep your device connected to your computer.
Part 4. Conclusion
We hope that by utilizing Apple ID removal tools mentioned above, you will have no trouble removing Apple ID from your iPhone or iPad. All of them come with significant positive aspects, and among these, we strongly suggest that you give Joyoshare iPasscode Unlocker a try for free since it has some of the best features. Because even while none of them can truly guarantee your success one hundred percent of the time, we have evaluated these tools, and Joyoshare does not disappoint.