Q: "When trying to set up a new Apple ID on an old iPad it says Could not create Account, your account cannot be created at this time. What can I do to set up an Apple ID" – From Quora
Beyond doubt, it is a frequently asked question on a wide variety of question-and-answer platforms. Supposing that you buy a new iPhone or iPad, the first priority is to set up a new Apple account. To your disappointment, you are stopped from creating a new Apple ID. In reality, many iOS users who have an account have possibly been alerted by the error message. If you are encountering this issue and your device shows "cannot create Apple ID at this time", you might as well view this full-guide tutorial to find effective methods, all of which are collected and tested by those technical forums.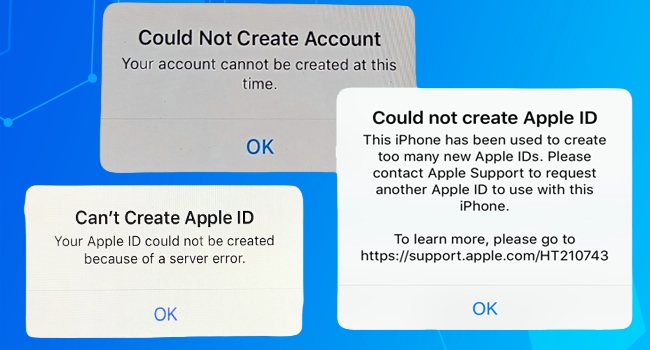 Part 1. Why Can't You Create Apple ID at This Time?
Generally speaking, the message represents that the number of new Apple IDs has exceeded that you can set up with iCloud on a single device in one year. According to the claims on Apple Support, if you create Apple ID too frequently or too many times, it will be regarded as unnormal action. Under this circumstance, you can attempt to set up Apple ID through App Store on iPhone/iPad.
Nevertheless, some iOS users also report that they hardly create an Apple account at all, especially a newbie who never sets up Apple ID has no idea why this error appears. As iPhone is a kind of complex and sophisticated tool, an issue can occur due to various reasons, such as malware, virus attack, Apple service error, poor Internet connection and system glitches. But don't worry, with the following methods, you can get your problem fixed.
Part 2. Troubleshooting for "Apple ID Cannot Be Created at This Time"
Method 1. Create Apple ID Online
This method works on the same principle as creating Apple ID through App Store. iOS users are often accustomed to setting up Apple accounts through Settings on iOS devices. Actually, there is more than one access to create it. But if App Store shows the error message as well, another way you can try is to create Apple ID online by navigating to appleid.apple.com in a browser. You can find the "Create Your Apple ID" option on the right-hand corner of the menu bar. Meanwhile, in spite of the network requirement, you'd better choose a stable network. If your network connection continues displaying weak signal, you can switch to cellular data or check the WIFI router.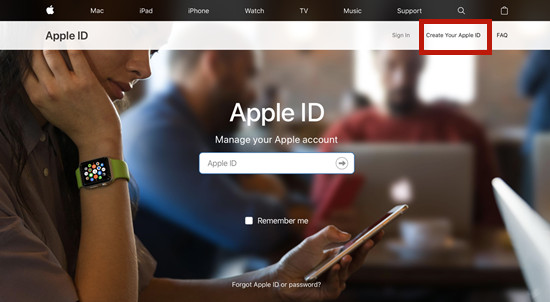 Method 2. Restart Your iPhone/iPad
It has been widely mentioned when your mobile devices encounter various stuck issues, app crashing, and other system problems. As a matter of fact, restarting devices is definitely as effective as what we always hear about. It not only helps clear RAM but also inspects minor system errors in the reboot process.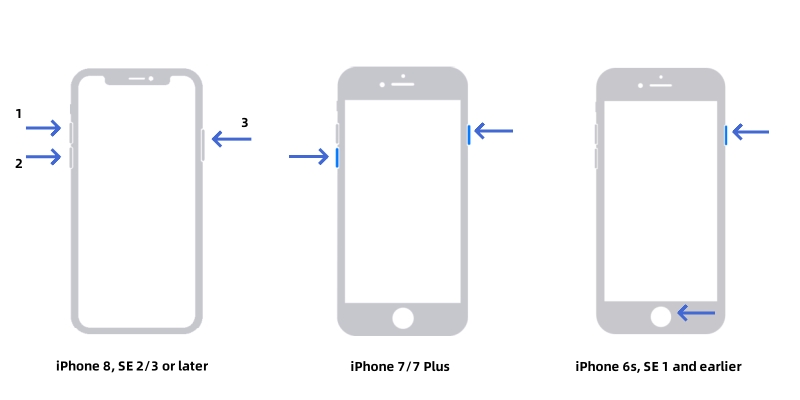 For iPhone:
● Hold the Power button, drag the power-off slider and wait 30 seconds for turning off your iPhone. Then press the Power button again. As for iPhone x, 11, 12, or 13, you need to press the Volume Down button and Power button at the same time to turn off your iPhone.
For iPad:
● Just directly press and hold the Power button to start turning off your iPad. Drag the power-off slider and then turn on your iPad by holding the Power button.
Method 3. Upgrade iOS Version
It proves helpful as well when you find the message "you cannot create an Apple ID at this time" pops up. An outdated iOS operating system may lead to this problem as it may carry hidden bugs and crashes at times. If you are not sure whether you have the newest iOS version, you can go to Settings, enter General screen and find Software Update option. You can tap it to further check if there is an update available. If any, tap Download and Install. After the installing process is done, try to add new Apple ID once more.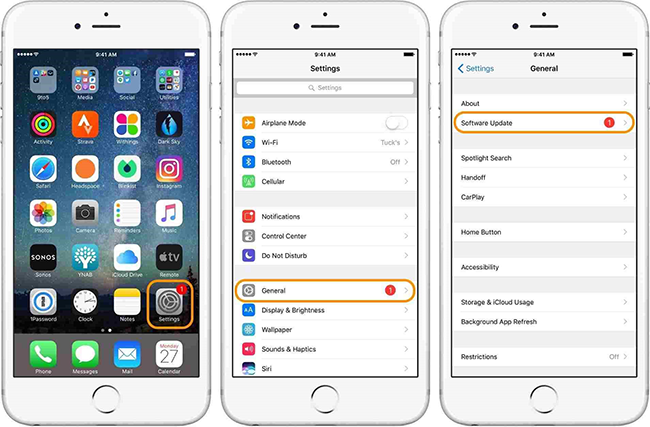 Method 4. Apply Professional iOS System Repair Tool
Joyoshare UltFix, acting as a great helper in fixing various iOS system issues, is designed with standard mode and advanced mode to repair 150+ problems by yourself. It is highly compatible with all models of iPhone, iPad and iPod touch, covering all iOS versions. What makes it stand out is that it is able to fix all errors with no risk of data loss in 3 steps, whatever the problems you come across. In addition, it is capable of entering and exiting recovery mode for free, which is accessible as long as your iPhone connects to your computer successfully.
Key Features of Joyoshare UltFix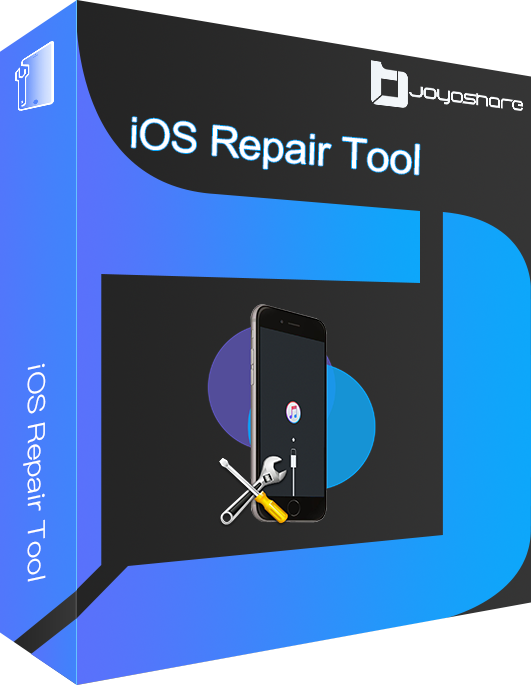 Fix various Apple ID issues easily and quickly when you can't sign in Apple ID
User-friendly instructions and intuitive interface make it easy to operate for all iOS users
Advanced mode can fix serious issues in locked or disabled iDevice
30-day refund guarantee and quick customer support
Step 1

Open Joyoshare UltFix

First of all, launch Joyoshare UltFix on your computer, connect your iPhone/iPad to computer. You can choose "Enter Recovery Mode" option now or go straight to the next step by clicking "Start" button.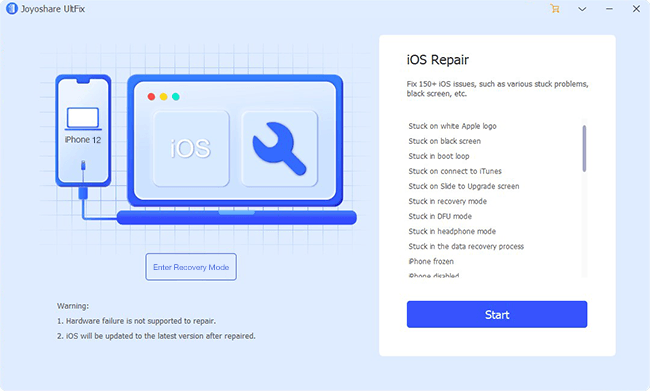 Step 2

Select Standard Mode

It's better to select "Standard Mode" so as to protect your data intact. Usher your device into recovery mode or DFU mode according to the operation instructions. When the "Next" icon turns blue, hit on this button.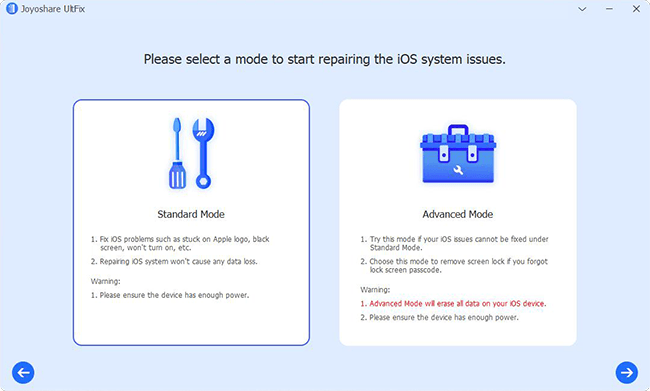 Step 3

Download Required Firmware Package

The software will show some relevant device information. Confirm them and click "Download" button to download the required firmware package and repair your device. Wait a while to download and verify it.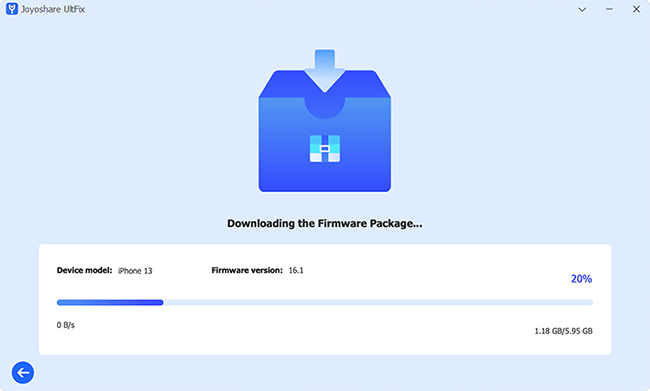 Step 4

Repair Unable to Create Apple ID at This Time

As soon as the downloading process is completed, choose "Repair", and then it will unzip the firmware package and fix your problem automatically. In this process, you have nothing to do except waiting. After successfully repairing, it will show "Done" button.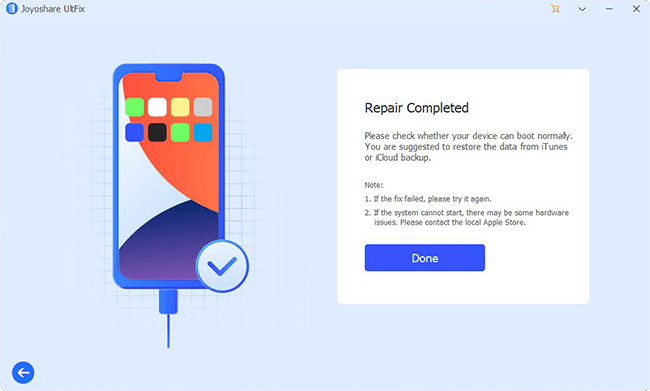 Method 5. Reset All Contents and Settings
In the most extreme situation, these 4 solutions can't take any effect, and the final fix is to factory reset your iPhone as a new one. Consequently, it will eradicate essentially hidden system faults that might lead to this issue. However, it is not recommended because it will erase all data and contents stored on your data. If you are going to reset your device, you should back up your device in advance.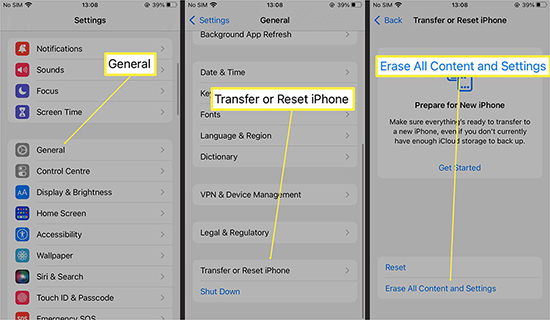 Step 1: Head over to Settings – [your name] – iCloud. Then select iCloud Backup, tap Back Up Now, and it will back up your data with iCloud.
Step 2: In Settings, enter General and choose Transfer or Reset [Device].
Step 3: Locate Erase All Contents and Settings option and enter your passcode if asked.
Part 3. Conclusion
In this article, we talk about addressing the frequently asked questions – "Why couldn't you set up an Apple ID" and "What to do if you cannot create Apple ID at this time". With all information we provide, we wish that you have gained more insights on the Apple ID creating issue. The patience you spend reading this tutorial will certainly save lots of time and effort finding solutions on your own. Finally, we feel sincerely happy that you can get rid of the trouble and thus have a better experience with iPhone or iPad.