iPad may be restricted by device management and placed in kiosk mode, which will limit a single application. Organizers always configure this mode on devices that have sensitive company data. As a result, these devices are not allowed to access some applications, websites and other services. In this post, some questions related to kiosk mode will be answered in detail. Meanwhile, you will get to know how to turn on and turn off iPad kiosk mode. Keep going to get the information you want.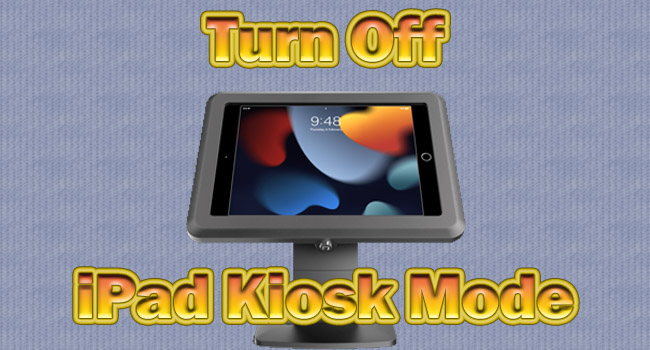 Part 1. FAQs about Kiosk Mode
Q1: What is kiosk mode on iPad?
A: Kiosk mode is equal to the Single App Mode. This mode might limit you to using a single app on your iPad. To configure this mode, it is necessary to put your device into the supervised mode, which means that your iPad is inserted with an MDM when you are in kiosk mode.
Q2: Will my data be erased after turning off kiosk mode?
A: Exiting kiosk mode will not erase your data if you merely turn off it. But if you haven't made a backup before turning off iPad kiosk mode through factory reset or third-party tools like Joyoshare iPasscode Unlocker, it could cause data loss.
Q3: What to do before turning off iPad kiosk mode?
A: To avoid data loss, you need to back up your data using iTunes or iCloud before turning off kiosk mode on iPad. Also, a stable network and the permission to change device settings are required during removing iPad kiosk mode.
Q4: What is iPad kiosk mode for?
A: Parents can use kiosk mode to limit their child's use of certain apps and content on iPad. iPad's kiosk mode can be applied to collect money in the store, order for customers, display products, and more. Using kiosk mode to restrict students to a single app is helpful in reducing distractions.
Part 2. How to Put iPad in Kiosk Mode
Method 1: Enable Guided Access on Settings (Video Guide)
Before turning off kiosk mode, let's quickly learn how to set up kiosk mode for iPad. You are able to use the Guided Access feature on your iPad to activate this mode.

Step 1: Open Settings, scroll to Accessibility and tap Guided Access.
Step 2: Toggle on the Guided Access option and choose Passcode Settings.
Step 3: Tap on Set Guided Access Passcode and enter a passcode, which will be used for turning on and off kiosk mode.
Step 4: Enable the Face ID or Touch ID option according to your needs.
Step 5: After setting up, you could open a specific app you want to restrict, triple-press the Home/Side button to turn on Guided Access, and you successfully enter the kiosk mode.
Step 6: To turn off iPad kiosk mode, triple press the Home button or the Top button on iPad with Face ID, tap the End option at the upper left corner and enter the passcode you set just now.
Here is a short video showing how to use Guided Access. In case you are confused about this feature, follow it accordingly.
Method 2: Start Single App Mode with Apple Configurator
The kiosk mode, aka Single App Mode, could be configured by Apple Configurator 2. With it, you can enable the kiosk mode remotely when your iPad is inserted with the device management. You can download and install it on App Store or iTunes.
Step 1: Launch Apple Configurator 2 on your computer and make sure that the Find My feature on your iPad is disabled.
Step 2: Connect your iPad to the computer and choose Supervised Mode when your iPad is detected.
Step 3: Select Actions on the top menu, choose Advanced and click on Start Single App Mode.
Step 4: When the Single App Mode is turned on, choose the app you need on the list.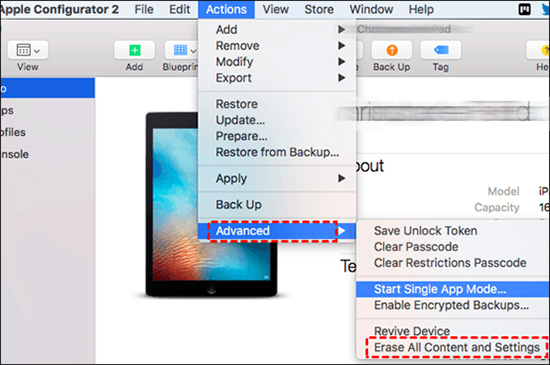 After leaning how to apply Apple Configurator 2 to put your iPad into kiosk mode, you may also want to know how to exit this Single App Mode with it. Here is how it's done.
Step 1: Run Apple Configurator 2 and plug your iPad into your computer using a USB cable.
Step 2: On the menu, click Actions, then Advanced, followed by Stop Single App Mode.
Part 3. How to Turn Off iPad Kiosk Mode via MDM Removal
If you can't access the administrator's password, or the kiosk mode is configurated with other tools, you need to use Joyoshare iPasscode Unlocker to turn off iPad kiosk mode. Joyoshare iPasscode Unlocker is a powerful software that offers a feature to bypass MDM without password. By using this program, you can remove device supervision from iPhone or iPad with a high success rate. When your iPad is no longer supervised by the MDM profile, the kiosk mode is turned off as well. Joyoshare iPasscode Unlocker is compatible with the latest iOS 17 and all models of iPhone, iPad and iPod. Also, you could take advantage of this tool to unlock all kinds of screen locks and bypass Screen Time without passcode. When using Joyoshare iPasscode Unlocker to remove Apple ID, it won't cause data loss.
Key Features of Joyoshare iPasscode Unlocker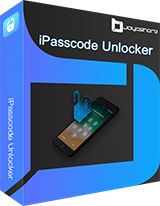 Remove remote management from iPhone, iPad, and iPod
Unlock screen locks, including digit passcode, Face ID and Touch ID
Bypass Screen Time and remove Apple ID easily
Tech-free operations and little time consumption
Step 1

Connect iPad and Choose Remove MDM

Download and install Joyoshare iPasscode Unlocker on your computer, and connect your iPad to it with a USB cable. On the main interface, choose Remove MDM at the bottom right section.

Step 2

Start to Turn Off Kiosk Mode

Make sure that the Find My feature on your iPad is disabled. Click the Start button to remove the MDM restrictions. When you see the Done button, iPad kiosk mode is successfully turned off along with the device management.
Part 4: Exit Kiosk Mode on iPad by Factory Reset
How to get rid of kiosk mode for free? Most of you may consider the free methods to turn off iPad kiosk mode first. Thus, if you don't know the administrator's password, consequently, the kiosk mode cannot be turned off on your iPad, please make an attempt to factory reset your iPad into default settings. Just go to Settings → General → Transfer or Reset iPad → Erase All Content and Settings. Then, enter your password to proceed.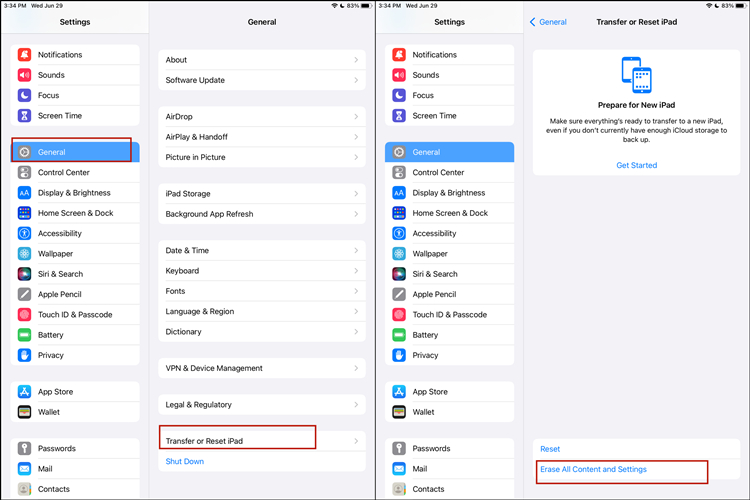 Summary
With kiosk mode, you are able to lock your device to a single app. This article tells you how to use Guided Access and Apple Configurator to put iPad into kiosk mode. However, some users are annoyed about the restrictions brought to this mode. Here Joyoshare iPasscode Unlocker is recommended for removing device supervision so as to turn off iPad kiosk mode. Also, some relevant questions about kiosk mode are answered in this article. If you are still unclear or have other queries, leave your comment below.