"Hi guys! I need help to fix my iPhone. I forgot my iPhone's passcode and entered the wrong passcode. I tried to remember it but entered the wrong passcodes about six to seven times. Now my iPhone is locked and showing an "iPhone Unavailable" screen. I don't know how to fix it. Does anyone know how to fix iPhone's Unavailable Screen? Please suggest me helpful ways to solve this issue. Thank You!"
Is your iPhone also showing iPhone Unavailable Screen? If yes, you are in the right place to find a useful solution. This article will provide you with the best possible solutions for fixing iPhone Unavailable Screen. Go through the article and have answers to your queries.
Part 1. What Does iPhone Unavailable Mean
iPhone Unavailable is the result of providing wrong passcodes to an iPhone. The passcode is a feature of the iPhone concerned with the device's security. When the device receives six wrong passcodes, it shows the screen with an "iPhone Unavailable Try Again" message.
The try again time will increase with the number of wrong passcodes. The more you enter wrong passcodes, the more the device will be locked up. After seven times, it will lock up for 5 minutes, then 15 minutes and one hour. Sometimes, the device gets locked completely and does not show a timer for trying again.
Part 2. 3 Solutions to Fix iPhone Unavailable Screen Issue
You are now aware of why iPhone Unavailable screen shows up and stops you from entering more passcodes. It's time to fix this issue with easy and useful methods. We have four useful solutions for you to solve the issue of how to fix the iPhone Unavailable Screen. Following are the four common and helpful methods for solving iPhone Unavailable.
Way 1. Tap Erase iPhone on Screen Directly
Suppose you forgot the passcode of your iPhone and entered the wrong one. Your iOS device will lock after several tries. Usually, software issues are solved by the use of a computer, but with this method, you don't need a computer. If your iPhone screen is locked, you will see some options on the screen. The options include "iPhone Unavailable," "Security Lockout", and also "Erase iPhone" option.
Erase iPhone option solves how to fix iPhone Unavailable without computer issue. The process for unlocking your iPhone with the "Erase iPhone" option is easy. You need to follow the given steps:
Step 1: On the bottom right corner of your locked iPhone screen, you will see the "Erase iPhone" option. Tap on it.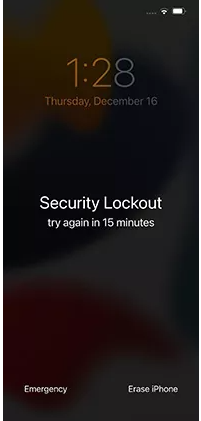 Step 2: A notification about losing data will appear on the screen, ignore it and go ahead.
Step 3: Sign out of the Apple ID screen will appear. You must provide your Apple ID password to delete all the data on your iPhone. Enter the password, and the erase process will start.
Now your device is cleaned. All the data, along with the device passcode, is erased. You can use the device as a new one.
Way 2. Use iTunes to Fix iPhone Unavailable Screen
You can try using iTunes if you don't have the "Erase iPhone" option on your locked iPhone screen. iTunes runs your device with factory settings. Sometimes, your iPhone is locked, and iTunes does not detect the issue. Follow the given steps and fix iPhone Unavailable Screen issue via iTunes.
Step 1: Put your iPhone in recovery mode and run iTunes on your computer.
Step 2: Connect your iPhone to the computer by using a USB cable.
Step 3: iTunes will show you a message window. Along with the update option, you will also see the "Restore" button.
Step 4: Click on the Restore option, and the device will start the process. After a few minutes, the "Hello" screen will appear on your iPhone.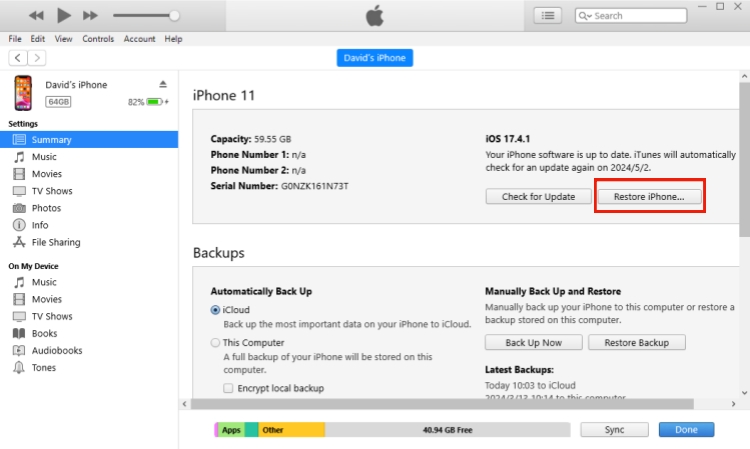 You have now restored your iPhone, and the issue of iPhone Unavailable how to fix it is solved now. If not, you can try the next solution.
Way 3. Use iCloud to Fix iPhone Unavailable Screen
If the iPhone Unavailable screen issue is still there, you can use the "Find My iPhone" feature via iCloud and erase your iPhone. This method requires good internet, your Apple ID, and another device. The process is easy because you don't need to download any firmware package. The method only requires a few steps to follow.
Step 1: Use a browser and open icloud.com on it.
Step 2: Sign in to your iCloud account with your Apple ID.
Step 3: Select the "Find iPhone" option and choose your device with"iPhone Unavailable".
Step 4: Under your device name, you will see some options. Click on the "Erase iPhone" option. iCloud will erase your iPhone, and you will have access to your device again.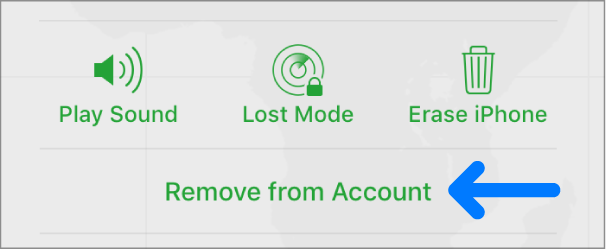 Part 3. Best Way to Fix iPhone Unavailable Screen
If you cannot unlock your iPhone, the "iPhone Unavailable" Screen is still present. You need to use a third-party tool to unlock your iPhone and remove the passcode. It would help if you used a third-party tool to remove the passcode from your iPhone. We recommend you use Joyoshare iPasscode Unlocker, which easily unlocks your iPhone screen in a short time. Joyoshare offers instructions on how to put your iPhone into DFU Mode or Recovery Mode in order that you can delete all data on your phone. It supports removing 4 password types from device screen, including Face ID, Touch ID, 4-digit passcode and 6-digit passcode.The software is very easy to use, and you can unlock your device in a few steps.
Key Features of Joyoshare iPasscode Unlocker: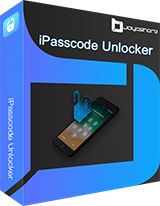 It is designed to unlock all iOS devices.
Able to remove 4 password types
Remove any kinds of screen passcodes
It is compatible with all iOS devices such as iPad, iPhone, iPadOS, and iPod touch.
It has an easy-to-use interface.
Point to remember: Install and download Joyoshare iPasscode Unlocker on your computer. Also, ensure to have a strong internet connection. Follow the given step-by-step guide to fix iPhone Unavailable Screen issue:
Step 1

Launch Joyoshare Unlocker and Connect your iPhone

After successfully downloading the Unlocker, run it on your computer. Use a USB cable and connect your iPhone to the computer. On the main interface, some problems with iPhone will appear; choose the "Unlock iOS Screen" option.

Step 2

Put iPhone into Recovery or DFU Mode

Unlocker will guide you to follow some steps according to your iPhone model. Follow the guide to put your iPhone into DFU or Recovery Mode.

Step 3

Download the Firmware Package

While running your iPhone in DFU or Recovery Mode, the Unlocker will show you details about your iPhone. Read them carefully and if something is wrong, correct it. After that, click the "Download" button to download the firmware package. After downloading, verify it to unlock your iPhone.

Step 4

Unlock the Apple ID on the iPhone

Once the downloading process is finished, you will see the option of the "Unlock" button on the screen. Click on it to start unlocking your iPhone. Ensure to connect your iPhone to the computer during the process. Wait for the process to complete. Joyoshare iPasscode Unlocker has successfully removed the passcode on your device.
Part 4. Conclusion
iPhone will show "iPhone Unavailable Screen" if it receives wrong passcodes several times. Your device will lock, and you must try the above mentioned methods. All the methods are simple, and you can easily unlock your device.
You need to set an easy passcode for your iPhone, so you will not face issues like this in the future. We recommend you use Joyoshare iPasscode Unlocker for unlocking any iOS device. Try the software and have a great experience.