Q:"My iPhone is disabled for 22,000,000 minutes, which is 40 years. Is there a way to unlock it completely?" - From Reddit
The user must be worried about this disabled iPhone problem since 40 years is probably longer than the lifespan of iPhone. Does that mean we couldn't get access to iPhone disabled for years? The good news is that it's a totally solvable problem. No matter your iPhone is disabled for 40 years or permanently, you could fix this issue at home independently as long as you grasp some basic knowledge. We have tested several ways to confirm how to get iPhone off disabled mode and 4 reliable ways would be recommended in this article.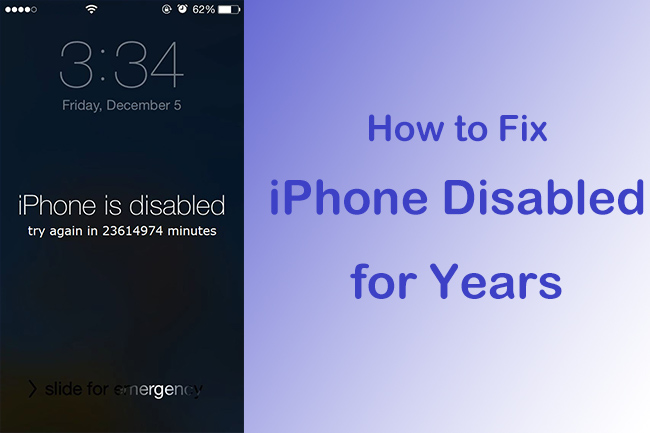 Part 1. Why Is iPhone Disabled for Years?
The reason why iPhone is disabled for years is mainly that the passcode has been wrongly attempted too many times, and its built-in privacy and security protection would prohibit your device from unauthorized access. There are still some other users' feedbacks to reflect their iPhones disabled for years. One is that the iPhone has been left for over a year uncharged, and it is disabled for almost about 50 years after it was eventually booted up. Another user's iPhone is disabled when trying to reset the date and time and put the SIM card into the device. More cases are shared by users that would get their iPhones disabled, yet the following methods can help fix this problem efficiently.
Part 2. 4 Ways to Unlock a Disabled iPhone
There are many methods to unlock a disabled iPhone widespread on the Internet. However, not every one of them is a real solution. The following 4 ways' authenticity is confirmed by us and you are free to choose the better one to fix your problem.
2.1 Unlock a Disabled iPhone through Joyoshare iPasscode Unlocker
A greater answer to the iPhone disabled problem is Joyoshare iPasscode Unlocker. It can crack 5 types of screen locks from your iDevices. Except for the usual digit passcodes, it also can be applied to unlock Face ID and Touch ID, as well as remove Apple ID, MDM, and screen time safely and easily. No matter what scenarios your iDevices have been locked, it basically allows you to safely remove them. The problem that iPhone locked for years is just a piece of cake with the help of this professional software. It's also compatible with the latest iOS 17, which allows more users to choose it without worrying about compatibility issue.
Key Features of Joyoshare iPasscode Unlocker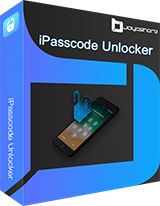 Bypass disabled iphone in mere minutes
Compatible with all Apple device models and iOS 17
Remove Screen Time, Apple ID and MDM
A high rate of success and user-friendly interface
Step 1

Install Joyoshare iPasscode Unlocker and Connect the Device

You need to download Joyoshare iPasscode Unlocker from the official website and get it launched on your computer. Then plug your iDevice into the computer with a USB cable. After opening up the interface, select "Unlock iOS Screen".

Step 2

Get iPhone into DFU or Recovery Mode

Here you are going to see a detailed instruction to help you put the device into DFU or recovery mode. Just follow the instruction step by step.

Step 3

Download and Check Firmware Package

When your device enters the DFU mode or recovery mode, Joyoshare iPasscode Unlocker will require you to download the corresponding firmware package. Before downloading, make sure that the info is correct, or you can adjust it manually. Then you can start to download and wait a little while.

Step 4

Unlock Disabled iPhone

If the package has been downloaded successfully in the last step, you can get started to unlock the device by clicking the Unlock button. When the interface appears "Unlock Completed", the problem, iPhone is disabled for years, will be fixed perfectly, and you can get access to your iPhone without any trouble.
2.2 Unlock a Disabled iPhone through iTunes
If you have synced your device with a trusted computer, you can simply reset your iPhone with the help of iTunes. Notice that if you have a Mac whose version is Catalina or later, use the Finder to unlock your device. Both approaches are very similar, and you can follow the steps below to fix your device.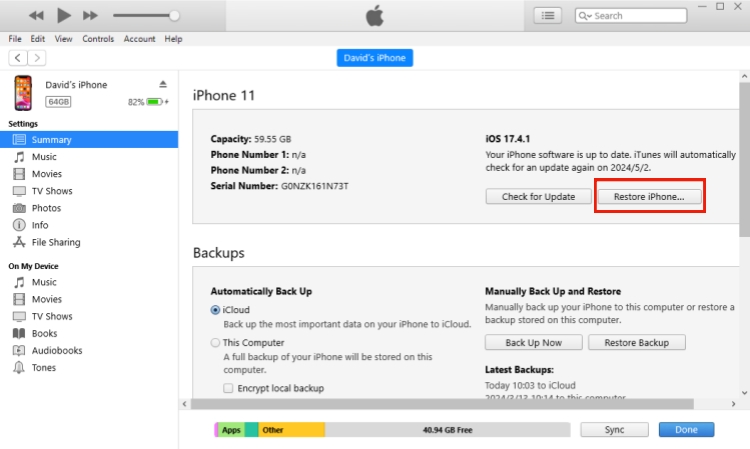 Step 1. Connect your disabled iPhone with the trusted computer.
Step 2. Open iTunes/Finder and find the "Summary" tab, then you will see there is ""Restore iPhone on the interface and click it.
Step 3. Follow the instruction to erase your device. You can recover your data from iTunes backup later. And you won't be bothered by the iPhone being disabled for years anymore.
2.3 Unlock a Disabled iPhone through iCloud
iCloud is also a good solution to restore the disabled iPhone, yet it requires you to turn on the Find My iPhone in advance as well as remember your Apple ID and password.

Step 1. You need to open the home page of iCloud, and log in with your Apple ID and password.
Step 2. From the top, you'll see "All Devices", select that option and choose the device that you want to fix.
Step 3. Click on "Erase iPhone". This step requires you to enter your Apple ID password to confirm.
Step 4. The device will restart after it's erased, and the screen won't appear that your iPhone disabled for years. You are free to use your device again and you can restore the data from a recent backup.
2.4 Unlock a Disabled iPhone through Recovery Mode
What if you never synced your iDevices with iTunes or opened Find My iPhone in iCloud? Don't worry, you can use recovery mode to reset your device to factory conditions.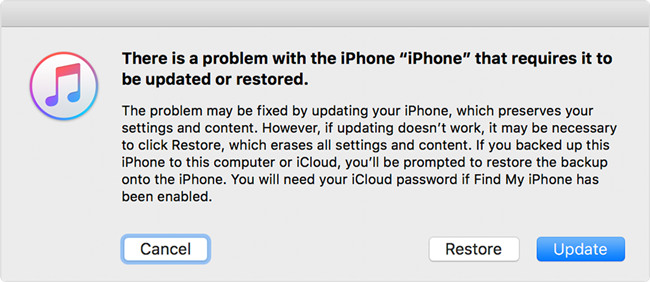 Step 1. Connect the disabled iPhone with your computer via a USB cable. Then open up iTunes or Finder according to your current operating system.
Step 2. You need to force your device into recovery mode then.
For iPhone 8 and later, including SE (2nd generation): Quickly press and release Volume Up button, then press and release Volume Down button like the same. Then, press and hold the Side button until the device is in recovery mode.
For iPhone 7/7 Plus: You should press and hold both the Top (or Side) and Volume Down buttons simultaneously. Keep holding until the screen shows it enters recovery mode.
For iPhone 6s or earlier, including iPhone SE (1st generation): You should press and hold both the Home and the Top (or Side) buttons at the same time until you see the recovery mode screen.
Step 3. Once your iDevice enters recovery mode, select "Restore" button in the interface of iTunes or Finder.
Step 4. The whole process will take some time. Here is something to note that your device would exit recovery mode if it's over 15 minutes. You can try again to put your device into recovery mode. After the whole process is completed, the disabled iPhone will return to normal and it can be used immediately as usual.
Part 3. Some FAQs of iPhone Disabled for Years
These are some frequently asked questions about the disabled iPhone, hope this will answer your query.
Q1. How long can an iPhone be disabled for?
A: Normally for 5 incorrect passcode attempts, your iPhone will be disabled for 1 minute. The more attempts you try, the longer the disabled time. For the 10th time, the iPhone will be totally disabled.
Q2. Will my iPhone be permanently disabled?
A: If you enter the wrong passcode more than ten times continuously, your iPhone would be permanently disabled.
Q3. How do I get my iPhone out of disabled mode?
A: All methods mentioned above could help your iPhone out of a disabled mode. If you want to get instructions whenever you get trouble in the process of unlocking iPhone, Joyoshare iPasscode Unlocker offers quick customer support to assist you.
Q4. Can I get access to iPhone again without syncing with iTunes or forgetting Apple ID password?
A: Yes, you can choose to unlock the disabled iPhone through recovery mode as well as Joyoshare iPasscode Unlocker.
Part 4. Conclusion
The article aims at how to fix iPhone disabled for years. If your iPhone is accidentally disabled by entering the wrong passwords too many times or some other possible reasons, there is no need to panic anymore. You can resort to any methods above to unlock your device. If you are choosing a professional iPhone unlock tool to fix your problem in an easier way, Joyoshare iPasscode Unlocker would be your first choice. Its elegant interface, simple operation and multifunctional feature stand out in the market. Don't miss it and give it a try.