There are so various situations where you may get a disabled iPhone. At this time, searching for a perfect solution rather than investigating the reason matters. When it comes to how to enable a disable iPhone independently, maybe you are out of your depth. However, it is not worth worrying about. Here several effective methods proposed in this article will bring you out of this problem. It should be noted that some solutions can restore iPhone to factory settings. To avoid losing important data, you can get all the data and settings on your iPhone backed up first. Then check our guide on how to enable iPhone after it has been disabled.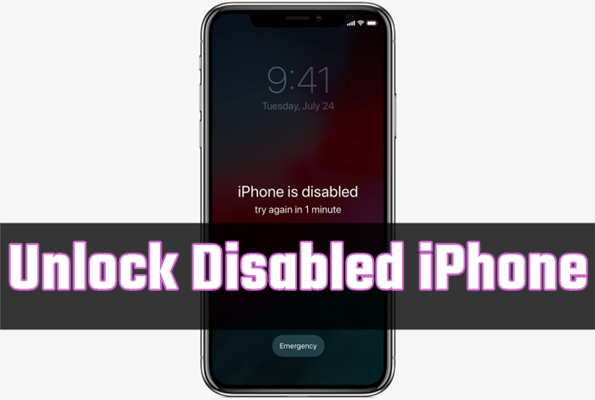 Part 1. FAQs about Enabling a Disabled iPhone
Q1. How do you enable an iPhone that has disabled?
A: To enabled an iPhone that is disabled, you can try using iTunes, iCloud, or an iPhone unlocker like Joyoshare iPasscode Unlocker.
Q2. Can Apple enabled a disabled iPhone?
A: Apple can enable a disabled iPhone. It would suggest that you use iTunes to restore your iPhone that has been disabled.
Q3. How to enable a disabled iPhone without losing data?
A: In fact, there is no way of enabling a disabled iPhone without data loss. If your disabled iPhone is not updated to the latest iOS version, then you can restore it without data loss by using Siri.
Part 2. How to Enable Disabled iPhone Without iTunes or iCloud
If your iPhone is disabled because of entering wrong passcode for many times or other unforeseen incidents, it is not necessary to feel rather anxious. The best way to fix it is to use Joyoshare iPasscode Unlocker as it can be applied to enable a disabled iPhone in all possible cases. Except for a disable iPhone, broken iPhone or locked iPhone can be comfortably enabled or unlocked with it. So is the program omnipotent that it has the ability to remove passcode from iPad and iPod touch as well.
Moreover, with technical unlocking features, Joyoshare iPasscode Unlocker gives you permission to successfully bypass all types of screen locks including 4-digit and 6-digit passcode, Face ID, and Touch ID. Also, it can bypass Screen Time passcode and MDM restrictions, as well as, remove Apple ID from iOS devices. As to realize the full compatibility, it is designed to be operated on all iOS device models from iPhone 4 to iPhone 13. Additionally, it promises a high success rate and simple operation.
Key Features of Joyoshare iPasscode Unlocker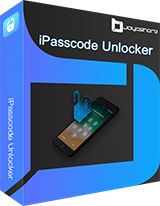 Bypass iPhone lock screen without difficulty isntantly
Support all the latest iOS devices and iOS version
Unlock 6-digit passcode, 4-digit passcode, Touch ID, and Face ID
Remove Apple ID, MDM, and Screen Times passcode from iPhone
Even if you lack the expertise in this field, you can make use of Joyoshare iPasscode Unlocker without any pressure. The specific steps to enable your disabled iPhone are given below. Suppose you don't have the slightest idea how to do, you do pay all your attention to reading this.
Step 1

Run Joyoshare iPasscode Unlocker

Download the new version of Joyoshare iPasscode Unlocker from the official website. Once done, run it on your computer and utilize a proper a USB to connect your disabled iPhone with the computer. When your iPhone is detected, you can go forward by selecting Unlock iOS Screen and clicking Start.

Step 2

Put iPhone into DFU/Recovery Mode

Follow the indications on the screen to put your iPhone into DFU mode. If your iPhone screen stay black and the Next icon turns blue, your device should have been in DFU mode. If not, click the link to switch to recovery mode.

Step 3

Download and Verify the Firmware Package

Now you must confirm the device information of your iPhone detected by this software. Then click the Download button to get the latest firmware package and you cannot perform the laste step until it has been verified.

Step 4

Start to Enable a Disable iPhone

At length, you can start clicking the Unlock button to unzip the firmware package. Within a few minutes, your disable iPhone is to be enabled. In the process of enabling a disabled iPhone, you need to keep your device connected to the computer.
Part 3. How to Enable a Disable iPhone Without Computer or iTunes
The official way to unlock a disabled iPhone is employing iTunes, but it doesn't mean there is no other way to do it. If you would like to enable your iPhone without iTunes or computer, you may consider trying iCloud and Find My app to help you. This method can be operated on all iOS devices. Merely, you have to know your Apple ID password and have turned on the Find My iPhone function. If so, do as follows.
3.1

Enable a Disable iPhone via Find My iPhone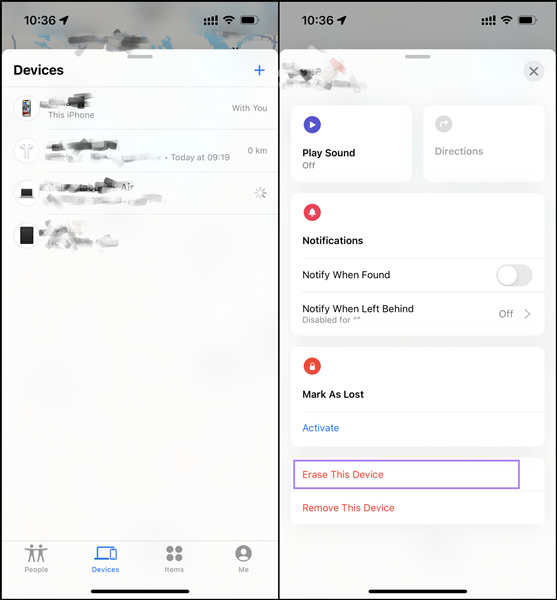 Step 1. Open the Find My app on your other iOS device and tap Devices within the app.
Step 2. In the list of devices available, find your disabled iPhone and tap it.
Step 3. Scroll down to the bottom and tap Erase This Device.
Step 4. Tap Continue to confirm that you want to erase this device. Then your disabled iPhone will be unlocked.
3.2

Enable a Disable iPhone via iCloud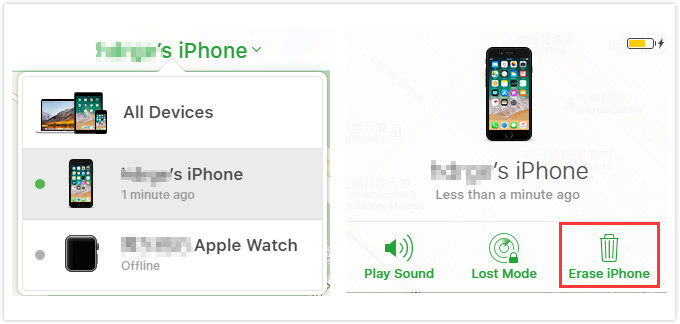 Step 1. Begin by visiting www.icloud.com on your other device and then log in to your Apple ID account associated with your disabled iPhone.
Step 2. After that, get into Find My iPhone and choose All Devices in the Find iPhone section.
Step 3. A list of devices will appear on the screen. You just select the iPhone that is disabled.
Step 4. Click the Erase iPhone button and confirm it. Your disabled iPhone will be enabled no more than 3 minutes.
Part 4. How to Enable Disable iPhone with iTunes
As has been said above, applying iTunes is an official method to enable a disabled iPhone. With iTunes, you are able to back up all the data on your iPhone before restoring it. Well, when you have synced iPhone with iTunes on your computer, you can use iTunes for restoring a disabled iPhone directly. If not, that's another matter. It just demands you to set iPhone into recovery mode while using iTunes to restore. In case you don't have a clue, follow the tips below.
4.1

Enable a Disable iPhone on a Trusted Computer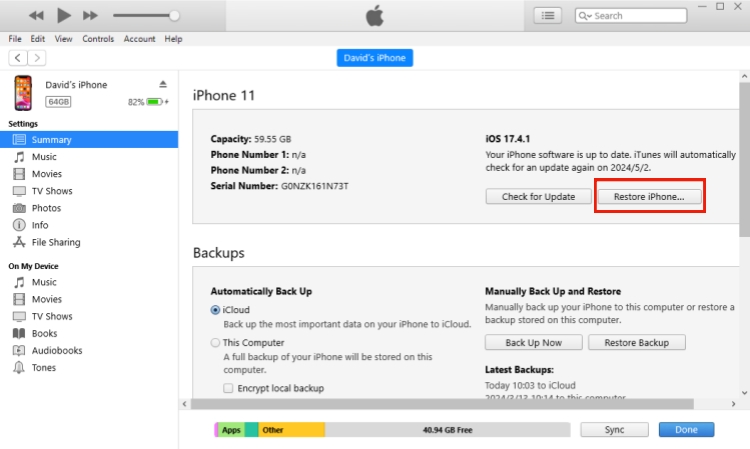 Step 1. Run iTunes and connect your disabled iPhone to an authorized computer.
Step 2. Click the icon of your iPhone in the upper left of this window and select the Summary option from the sidebar.
Step 3. If needful, choose Back Up Now first under the section of Manually Back Up and Restore.
Step 4. After finished, click on the Restore iPhone button. Everything on your iPhone will be removed, but you can recover all the data by clicking Restore Backup.
4.2

Enable a Disable iPhone in Recovery Mode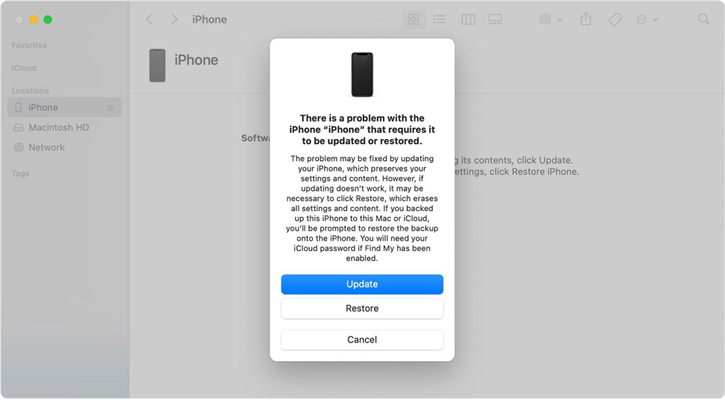 Step 1. First of all, connect your disabled iPhone to the computer with a USB cable and then open iTunes.
Step 2. Afterwards, manually boot your iPhone into recovery mode. Simply hold down both the Home and Power buttons for about seconds at the same time. When iPhone is turned off, release the Power button and keep pressing the Home button until you see Connect to iTunes displaying on the screen of your iPhone.
Step 3. Once iTunes detects your iPhone has been in recovery mode, a window will pop up to ask you to restore or update iPhone. Selecting Restore can get your disabled iPhone enabled.
Part 5. How to Enable Disabled iPhone Without Losing Data
With the above methods, you can successfully enable your iPhone when it is disabled. But those methods will result in data loss as they fix your disabled iPhone by restoring or erasing it. Fortunately, there still exist a method to help you unlock disabled iPhone without data loss. If your iPhone runs on iOS 8.0 to iOS 11, then you can try using Siri to unlock your disabled iPhone. To restore a disabled iPhone through Siri, follow these stepwise instructions.

Step 1. Activate Siri on your iPhone and say something like, "Hey Siri, what time is it?"" then the Clock app will appear on the screen.
Step 2. Tap on the Clock app and you'll be directed to the page of World Clock.
Step 3. Tap the + icon at the top right corner and type anything you want then tap on the Select All option.
Step 4. There are four options like Cut, Copy, Define, and Share, available for you to choose, and tap Share.
Step 5. On a new window, tap Message and type anything in the To filed then tap the return button on the keyboard.
Step 6. Once the text in the To filed becomes green, select it and tap on the + button.
Step 7. Tap the Create New Contact button and choose to add a photo to tap Choose Photo.
Step 8. Go to your photo library and select a photo you want to add. Instead of selecting a photo, press the Home button to exist the interface and you'll be directed to the home screen of your iPhone.
Conclusion
It's easy to enable your iPhone after it is disabled by using the above methods. If you want to unlock your disabled iPhone without using iTunes, you can try using Joyoshare iPasscode Unlocker and iCloud. For the iPhone running iOS 8.0 to iOS 11, you can make use of Siri. Now go to solve your disabled iPhone with the above methods.