Q: "I use iPhone 13 Pro. For the past 1 month, my Face ID hasn't been working properly, sometimes my phone used to unlock but sometimes it didn't. And when I reset my Face ID and try to make a new Face ID, I can't register my Face ID. It keeps on saying 'Move your iPhone a little lower', and no matter how much I put my phone lower it doesn't work." – from Apple Community
On the recent iPhone models, users set up Face ID to lock their screen as it is much safer and more convenient. However, many of them complain that the Face ID is not working when they want to unlock their iPhone, and it requires them to move iPhone a little lower. Even though do as required, iPhone Face ID still cannot recognize their face. If you are facing the same problem, it's glad that you are at the right place. This article will provide some fixes on the Face ID not working 'Move iPhone lower' issue. In the meantime, it gives you an extra tip if your iPhone cannot be locked on account of the malfunctioning Face ID.
Part 1. Why Does My Face ID Keep Saying Move iPhone Lower
If you are asked to move iPhone a little lower when unlock your device with Face ID, you could just do as it says to move your iPhone lower so that it can detect your whole face. Hence, the wrong position of iPhone will lead to the Face ID not working issue. However, if your Face ID keeps alerting you to move iPhone lower, the reasons could be different.
The TrueDepth Camera is blocked with dust and dirt, which will affect the recognition of Face ID.
The system bugs result in the malfunctioning Face ID and constantly asking you to move iPhone lower.
The iOS system you are running is out of date.
Part 2. How to Fix Face ID Not Working Move iPhone Lower
2.1 Clean Up the TrueDepth Camera
Seeing the message "Move iPhone lower", you will do as follows until expose your entire face to the camera. If Face ID still requires you to move lower, you could consider if your iPhone camera goes wrong. Thus, the first thing you need to do is to clean up the camera sensors. Please remove the iPhone case and the screen protector, and use a clean cloth to wipe the camera, making sure that there is no dust or dirt blocking the sensors. Then, unlock your iPhone with Face ID to see if it works well.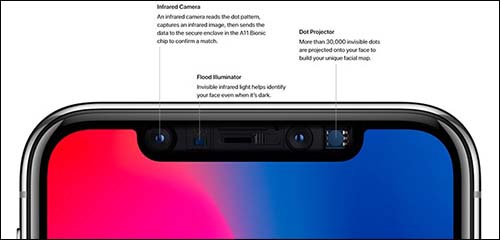 2.2 Reset Face ID
When you found it not working to unlock iPhone even if you move your iPhone lower, it's time to reset your Face ID. Moreover, since the different costumes or makeup will influence the detection of Face ID, you could add some alternative appearances in case that this problem happens again. Here is how to do it.
Step 1: Enter passcode instead of Face ID to unlock your iPhone when you are asked to move the device lower.
Step 2: Go to Settings, scroll to the Face ID & Passcode option and type in your screen passcode again.
Step 3: Tap Reset Face ID to set up a new face.
Step 4: Tap Set Up an Alternative Appearance, and set up an alternative from a different angle.
Step 5: Lock your iPhone and try to unlock your it with the Face ID to see whether the problem is fixed.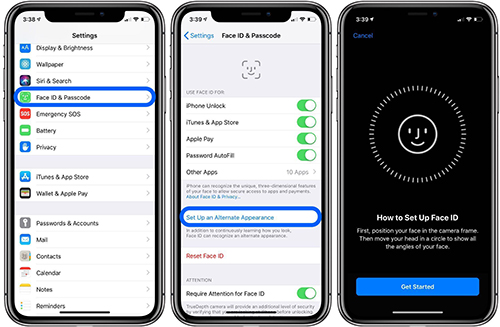 2.3 Restart iPhone
Restarting iPhone is a common method to get rid of most of the system glitches. If your Face ID is suddenly not working saying "Move iPhone lower", you can simply restart your iPhone to refresh the system. iPhone X to iPhone 14 series with Face ID could be turned off by holding the Side button and either Volume button, then dragging the power-off slider. After that, long press the Side button to turn your iPhone back on.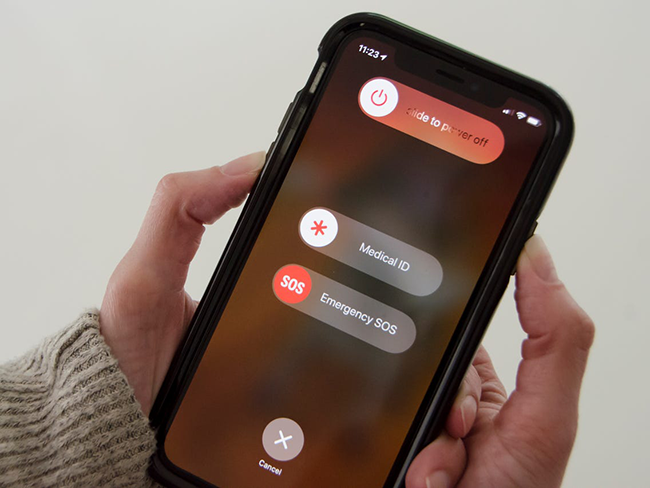 2.4 Update iOS System
There is a possibility that system bugs existing on the outdated iOS system cause Face ID not working "move iPhone lower". In case the iOS software you are running is out of date when facing this issue, you'd better upgrade your iPhone. Head to the Settings app, choose the General option, select Software Update, and tap on the Download and Install button. Once your iPhone gets restarted, the latest iOS system is installed.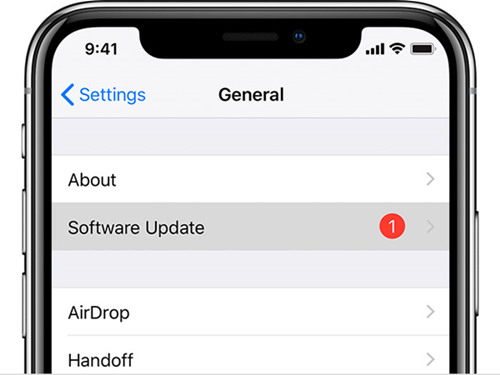 2.5 Reset All Settings
Another way to fix the unworkable Face ID is to reset all settings on your iPhone. In this case, the Face ID you have set up before will be removed as well. Just open Settings, tap General, choose the Transfer or Reset iPhone option, tap the Reset option and select Reset All Settings. After that, you can set up a new Face ID, then unlock your iPhone to check if it works.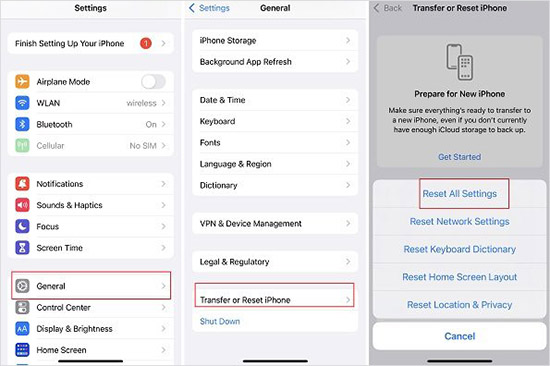 2.6 Erase All Content and Settings
Some of you may find that the foregoing methods are unable to solve the Face ID requiring to move iPhone lower problem. What to do now? You could factory reset your iPhone to delete all the data. But do remember to make a backup in advance if you don't want to lose important information. Then, navigate to Settings → General → Transfer or Reset iPhone → Erase All Content and Settings. When the whole progress ends, your iPhone will be turned on, and you could restore your information.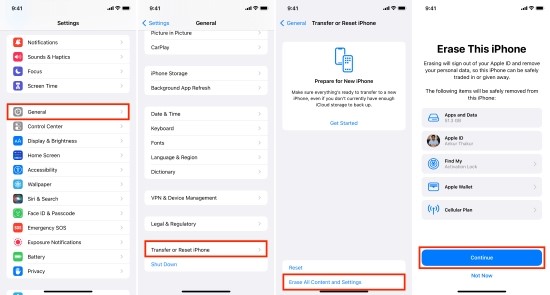 Extra Tip: How to Unlock iPhone with Unworkable Face ID
What if you have only set up Face ID to unlock iPhone without setting a passcode? What to do if the Face ID doesn't work and constantly asks you move iPhone a little lower? How do you unlock iPhone if forget the screen passcode? Joyoshare iPasscode Unlocker is capable of helping you out with these issues. This software could be taken advantage of unlock all kinds of screen locks, including digit passcode, Face ID, Touch ID, etc. With no technical skills, even a newbie could get into a locked iPhone with simple steps. Apart from iPhone, all models of iPad and iPod are supported to be unlocked safely. Meanwhile, if you want to remove Apple ID, turn off Screen Time or bypass device management, Joyoshare iPasscode is a good choice.
Key Features of Joyoshare iPasscode Unlocker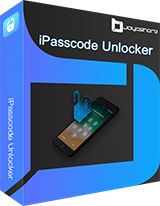 Compatible with the latest iOS 17 and the newest iPhone 15
Easily remove Apple ID without data losing
Bypass Screen Time and MDM with a high success rate
Step 1

Select Unlock iOS Screen and Plug iPhone

With Joyoshare iPasscode Unlocker installed and launched, select the Unlock iOS Screen feature. Then, plug your iPhone into the computer and click the Start button.

Step 2

Enter DFU or Recovery Mode

Follow the on-screen instructions to put your iPhone into DFU mode or recovery mode. Some of you may feel hard to get into DFU mode, just click the bottom link to find an easier way to enter the recovery mode.

Step 3

Download and Verify Firmware Package

After entering the DFU mode or recovery mode, check your device information shown on the screen. Then, click the Download button to download and verify the corresponding firmware package.

Step 4

Unlock iPhone When Face ID Is Not Working Move to Lower

Click on the Unlock button to begin unzipping the firmware package and removing Face ID. When you see the Done button, your iPhone will get restarted and you can unlock it without passcode and Face ID. Then, you could set up Face ID to check whether it asks to move iPhone lower.
Final Words
Why is Face ID not working "move iPhone lower"? What to do if Face ID keeps saying move iPhone a little lower? If you have read the entire article, you may have already known the reasons and solutions. The methods to fix this issue are common like refreshing iPhone by restarting, resetting settings, deleting data, and so on. Bear in mind that the precondition is to make your camera sensors unblocked. If you cannot enter your iPhone due to Face ID not working, Joyoshare iPasscode Unlocker could assist you to remove the Face ID. In case Face ID asking to move iPhone lower is caused by system errors, you can also adopt Joyoshare UltFix to repair the iOS system without data loss.