Q:"How can you unlock iPhone X without Face ID/passcode? I mean, is there a way to not ask Face ID each time?" - From Quora
iPhone XS/XR/X has an amazing feature called Face ID which enables you to unlock screen on your iPhone XS/XR/X with just a glance using facial recognition system. However, there are occasions when you get locked out of your device because of a malfunction of such kind of biometric authentication. In this similar situation above-mentioned user encountered, you might wonder how to unlock iPhone X/XS/XR without Face ID. Now let the solutions in this article come to your rescue.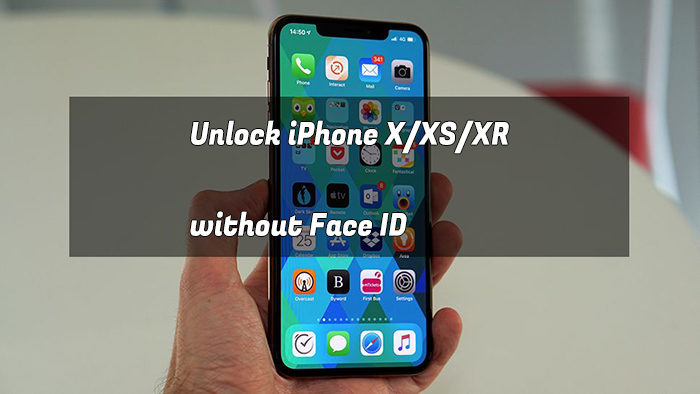 Part 1. How to Unlock iPhone X/XR/XS (Max) Using Passcode
Every iPhone asks you to create a passcode when you set it up for the first time. A passcode is simply a combination of numbers which you can use to unlock iPhone XS/XR/X without Face ID. It is simply the perfect way to unlock your iPhone if you clearly remember your passcode. Here is a list of ways in which you can make the passcode screen appear on your iPhone to fill the passcode if the Face ID fails to work.
#1

Swipe Up Screen

This is the simplest way to unlock iPhone XS/XR/X without Face ID using the passcode. Here is how you can do it step by step:

Step 1. Awake your iPhone screen by tapping or simply raising it in your hand;
Step 2. Now Swipe up the screen in order to display the passcode screen;
Step 3. Enter the correct passcode to unlock your iPhone XS/XR/X.

#2

Cancel Power Off

Another way of unlocking your iPhone XS/XR/X using passcode is by trying to power off the device. Here is the step by step guide to do it.

Step 1. Press the Side button and any of the Volume button (Up or Down) at the same time;
Step 2. Now a power slider screen will appear on your device. Just tap on "Cancel" at the button;
Step 3. This will make the passcode screen to appear on your iPhone. Just enter the passcode to unlock your iPhone.

#3

Cancel Emergency SOS

This is the last method of unlocking your iPhone XS/XR/X using the passcode. Here is how you can do it.

Step 1. Quickly press the Side button 5 times in a row;
Step 2. Now, an Emergency SOS option will appear your screen with a counter. Cancel the call by pressing the "Cancel" option present at the bottom of the screen;
Step 3. Doing so will stop the call and you will see the passcode screen on your iPhone. Now you can simply enter the passcode to unlock your device.
Part 2. Unlock iPhone X/XR/XS (Max) Using iCloud
iCloud offers a number of features which every iPhone user finds very helpful at some point. You should know that you can unlock iPhone XS/XR/X without Face ID or passcode using iCloud. But for this process, you need a remote device like a PC or tablet. Besides, only users who have signed up for iCloud or have already enabled Find My iPhone feature can use this method.


Step 1. Visit iCloud.com and sign in using your Apple ID and Password;
Step 2. Click on Find My iPhone section;
Step 3. Click on "All Devices" at the top and select the device you want to unlock without Face ID;
Step 4. Now click on "Erase iPhone" to remotely erase your iPhone and its Face ID lock.
Part 3. How to Unlock iPhone X/XR/XS (Max) Using iTunes
This is another useful way to unlock iPhone X without Face ID or passcode. However, there is possibly a problem where iTunes cannot normally detect and recognize your iPhone when its screen gets locked. In this case, you should put your iPhone in recovery mode first. Simply press and release Volume Up button, then quickly press and release Volume Down button, lastly press and hold the Side button until the recovery mode screen appears.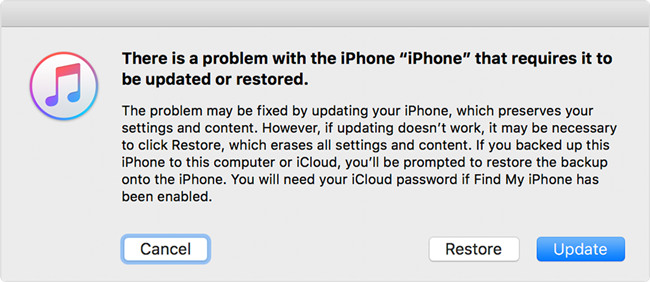 Step 1. Open installed iTunes on your PC and connect your iPhone in recovery mode.
Step 2. Now you will see two options to update or restore your iPhone. Select "Restore".
Step 3. iTunes will do the rest of the work by itself by downloading the software for your iPhone and the recovery mode screen will automatically exit.
Step 4. Once the process is finished, your iPhone will be restarted with no Face ID screen lock.
Part 4. Unlock iPhone X/XR/XS on Locked Screen
Want to directly unlock your iPhone without Face ID and passcode? You can actually do that on iPhone locked screen without using computer or another device. This "Erase iPhone" solution was introduced to iDevice running on iOS 15.2 and later, which is luckily suitable for your iPhone X/XS/XR. Before using this way, make sure that you have turned on "Find My iPhone" feature.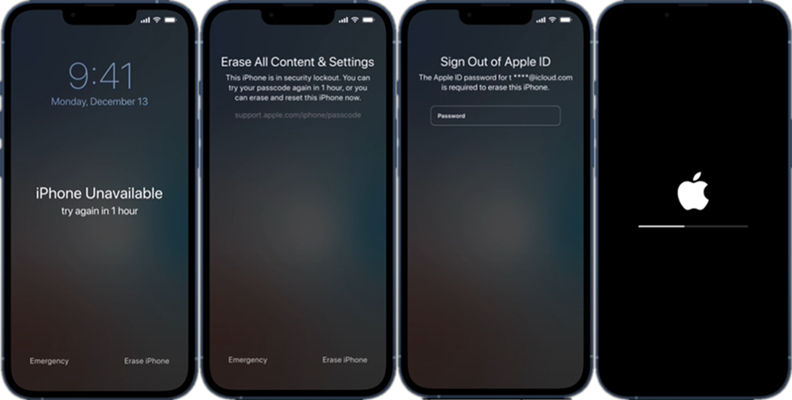 Step 1. When you enter wrong passcode or Face ID many times, you screen will be locked and become unavailable;
Step 2. Find "Erase iPhone" at the right bottom and tap on it;
Step 3. Confirm "Erase iPhone" and enter your Apple ID password;
Step 4. Your iPhone will be erased without Face ID and screen lock now.
Part 5. How to Unlock iPhone X/XR/XS (Max) Using iPhone Unlocker
In case none of the above-mentioned methods works, you can use a 3rd party iOS unlocker like Joyoshare iPasscode Unlocker. The benefit of using Joyoshare iPasscode Unlocker is that it never fails like the above-mentioned methods which have failed at times in the past also and it doesn't care if you don't know your iPhone passcode or not or if you have synced your device to anything in the past or not. It is designed to unlock iPhone XS/XR/X without Face ID or passcode at any cost. Here is how you can use Joyoshare iPasscode Unlocker to unlock your iPhone.
Key Features of Joyoshare iPasscode Unlocker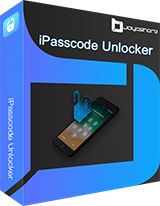 Unlock device to solve issues like iPhone X Face ID not working
Good compatibility to any models of iPhone, iPad and iPod
Additionally support removing numerical digital passcode and Touch ID from screen
Bypass Screen Time passcode without data loss
Reset iPhone without Apple ID and password
Include full support for different iOS version, even the recent iOS 17
Step 1

Run iPasscode Unlocker and Connect iPhone

Install and launch Joyoshare iPasscode Unlocker on your PC after downloading. Connect your iPhone to the computer using an original USB cable. This program will recognize your device and you can click on "Unlock iOS Screen" option now. Simply go on with "Start".

Step 2

Set iPhone into Recovery/DFU Mode

Joyoshare iPasscode Unlocker will ask you to boot your iPhone into DFU mode. Follow every step just as stated to do that. If your device fails to do so, click on the instruction at the bottom to set recovery mode. When the right arrow turns blue, it means that you can click it and head to next step.

Step 3

Download and Verify the Firmware Package

This iPhone unlocking software will show you all the information about your device. If there's something wrong, correct it manually otherwise click on "Download" to download the firmware package.

Step 4

Begin to Unlock iPhone X Series without Face ID

Once the download and verification finishes, click on "Unlock" to start unzipping your firmware package and unlocking your iPhone. When the unlocking bar finishes, your iPhone will be successfully unlocked and passcode will be removed.
Part 6. FAQs about Face ID on iPhone X/XS/XR and Later
Q1. How to disable Face ID on my iPhone X?
A: If you prefer to use passcode on your iPhone to lock the screen, you can surely turn off Face ID by going to Settings → Face ID & Passcode → turn off "iPhone Unlock" option under "USE FACE ID FOR:".
Q2. Can you open an iPhone X without facial recognition?
A: Yes. You can disable your Face ID feature on iPhone and turn passcode on. Then set up 4-digit passcode, 6-digit passcode, or custom numerical passcode in the way you want. After the operation, you can open your device with passcode.
Q3. Why does my iPhone suddenly not recognize my face?
A: Make sure that your eyes, nose and mouth are clearly shown on the TrueDepth camera. If you cover a mask or wear a glass, remove items from your face. Besides, keep your iPhone 10-20 inches from your face and guarantee that you're in an environment that's easy to recognize, not too bright or too dim.
Conclusion & Suggestion
These are some of the most efficient ways in this article to solve how to unlock iPhone X/XS/XR without Face ID. To better safeguard your device, aside from Face ID, you're suggested to set a screen passcode for unlocking without data loss. If there is no such alternative, you can try iTunes, iCloud, and Erase iPhone option on locked screen. Sure, Joyoshare iPasscode Unlocker has the highest success rate among these as another methods show a higher frequency of failures. You can test them in the way you like and remove Face ID to use your iPhone again.