Face ID is now one of the major features of the latest iPhones, giving users an innovative and convenient method to unlock their iPhones. However, it is still common to see users reporting Face ID not working problems, which costs every bothered user a considerable amount of time to solve. Therefore, based on actual experiments and information research, our team has concluded the best 10 solutions, from easy ones to hard ones, to clear out your doubt – "why is my Face ID not working on my iPhone". We're sure that one of the solutions will help you get rid of the trouble.
Part 1. Why Is Face ID Not Working?
* Frequent switch of the devices
* A frequent restart of the device
* The iPhone has not been unlocked for a fairly long time, e.g., over 2 days
* Too many failures when unlocking iPhone with Face ID
* If your iPhone battery power is 10% or below. This cause needs extra attention when iPhone X Face ID fails
* Emergency SOS has been turned on
Part 2. How to Fix Apple iPhone Face ID Not Working?
Solution 1. Check TrueDepth Camera
As primary hardware, the TrueDepth Camera installed on the notch of the iPhone needs to be taken care of. Even when covered by some dust, the TrueDepth might hinders the identification of Face ID, not to mention when it is broken. Therefore, it is important to always keep the TrueDepth Camera as clean as possible, especially for users who are used to applying screen protectors on the delicate iPhone screen. There is nothing wrong with screen protectors, but dust may hide between them and the touch screens.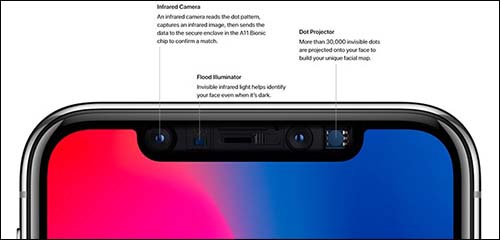 Solution 2. Check Lighting Conditions
The lighting around you is also something to consider when Face ID stopped working. Your iPhone's sensors and cameras may find it difficult to recognize your face if it's too dark or too bright outside. A well-lit room with natural light should be the best place for your Face ID.
Solution 3. Check Face ID Settings
If Face ID is set up improperly, it will not work on your iPhone. You can check your Face ID settings by visiting Settings → Face ID & Passcode and entering your passcode whenever prompted.
Set Up Face ID in blue letters indicates either you've never set up Face ID or someone has erased your face. You can fix the problem by clicking Set Up Face ID.
If your Face ID is already set up, go to the top of the screen and make sure the toggle for iPhone Unlock or whatever use you want to use it for is on. Hopefully, this will allow Face ID to work again, so long as you don't have any bandages and a lot of facial hair to obstruct the process.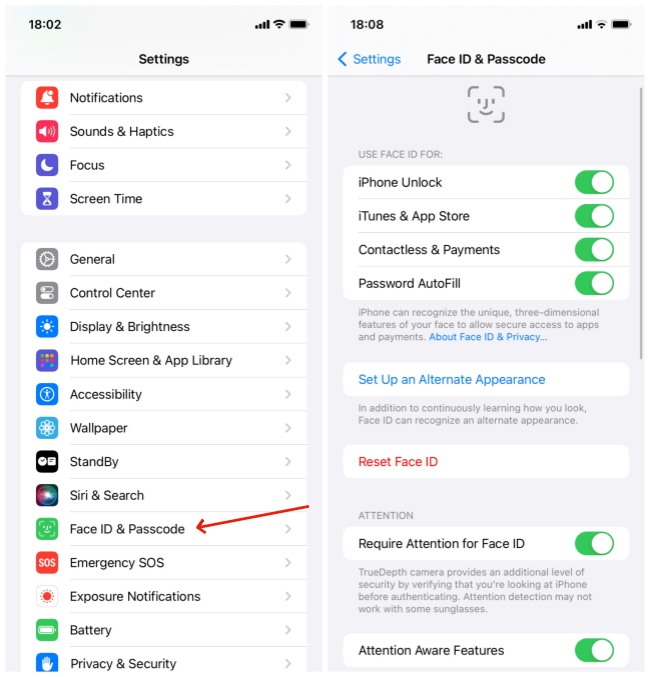 Solution 4. Force Reboot iPhone
In fact, whenever you run into problems on your iPhone that cannot seem to be solved, you can try hard to reboot your iPhone to fix the Face ID stopped working. A force reboot can be carried out even if your iPhone cannot be unlocked. No matter whether you are using the iPhone X series or iPhone 11, 12, or 13, the method of force reboot is the same. Press and quickly release the Volume Up button and then the Volume Down button. Press and hold the Side button until the Apple logo appears.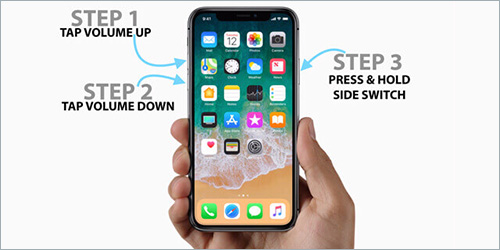 Solution 5. Maybe It's Your Face
It's funny that some users keep asking "why my Face ID is not working", and It's inevitable that our faces change over time, whether we like it or not. Thanks to the people over at Apple, however, your iPhone will usually learn and adjust. However, if you have drastically changed your appearance in a short period, your iPhone may not recognize you.
Regardless of whether nothing changed, you should try resetting Face ID data entirely next.
Solution 6. Reset iPhone Face ID
Another effective solution to Unable to activate Face ID is resetting Face ID on your iPhone. That's because the Face ID data on your iPhone may suffer from damage or it is not correct right from the start. What we need to do is delete the existing Face ID and then add a new one, then turn on the Face ID Unlock option to ensure the iPhone allows you to unlock it with Face ID. To do this follow the steps below.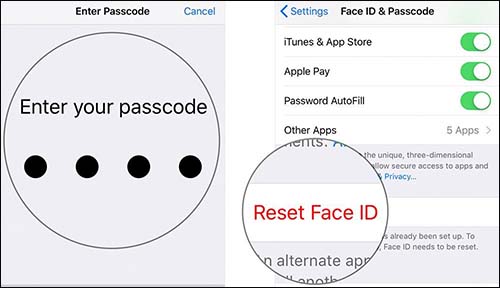 Step 1: Go to "Settings", scroll down to the "Face ID & Passcode" option and tap it. You will be asked to enter your passcode;
Step 2: After entering the menu, tap on the Reset Face ID option;
Step 3: Tap on the Set Up Face ID to set up a new Face ID;
Step 4: Toggle on the Face ID Unlock option on the top of the menu. Now you should be able to unlock your iPhone with the new Face ID.
Solution 7. Repair System Glitch with Joyoshare UltFix [Clean & Safe 100%]
The Face ID not working resulting from system errors or bugs is difficult to resolve, because it is hard to identify which part goes wrong exactly. However, Joyoshare UltFix iOS System Recovery can help you fix it simply.
Joyoshare UltFix, as a mighty iOS system recovery program, can fix more than 150 iOS-related problems, including iPhone 11 or iPhone X Face ID not working. The most important advantage of this program is that it can repair your iPhone without data loss. Even if you are an amateur iOS user, the perfect learning curves designed by our engineers will make you resolve the issue with just 4 simple steps. Besides, we have provided a complete guide to this software below.
Key Features of Joyoshare UltFix iOS System Recovery: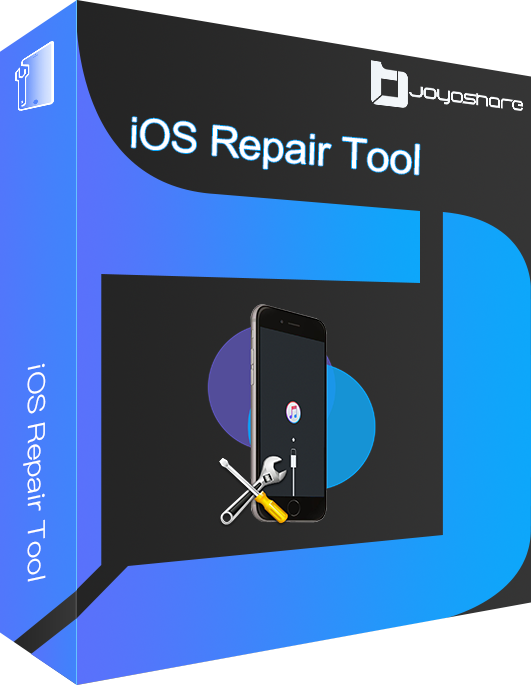 Compatible with iOS 15 and the latest iPhone
Fix iPhone Face ID failure without data loss
Enter/exit recovery mode without payments
Guarantee to solve 150+ problems
Step 1

Download the Program and Connect to Computer

Download the software from the link above, and connect the phone with your computer. After the program has detected your device, press the Enter Recovery Mode button to usher the iPhone into recovery mode. Then press the Start button to continue.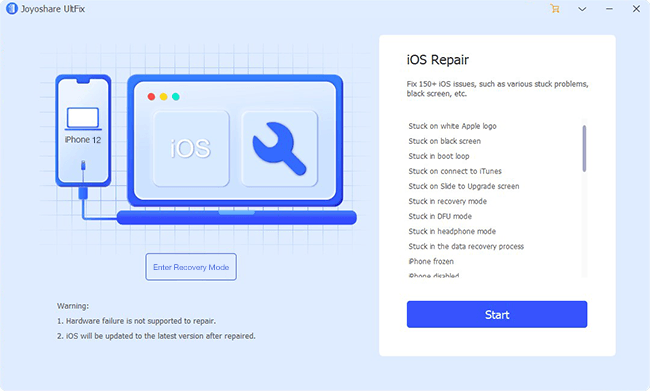 Step 2

Select Repair Mode

In this step, you will be asked to select the mode to fix the Face ID. It is advisable to choose the Standard Mode, which can resolve the issue without data loss. However, if you are unable to unlock the iPhone with Face ID or passcode, the Advanced Mode, we help you unlock it.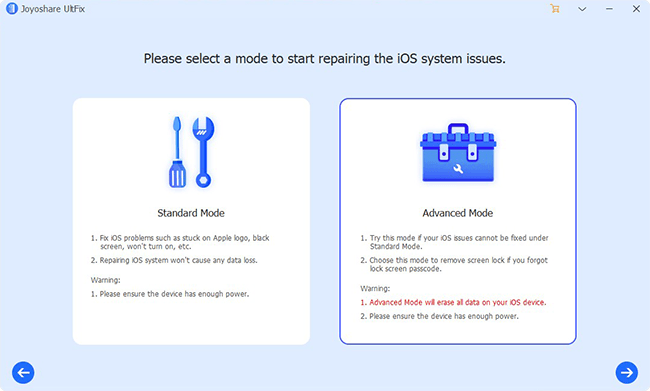 Step 3

Download Matching Firmware

The basic info of your iPhone will be displayed on the screen, and you should check whether they are correct. If so, press the Download button to download the matching firmware;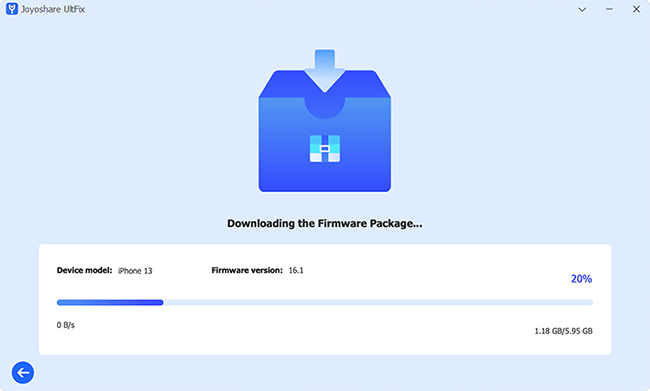 Step 4

Repair iPhone Face ID Failure

Finally, press the Repair button, and Joyoshare UltFix will unzip the firmware package and fix the iPhone Face ID.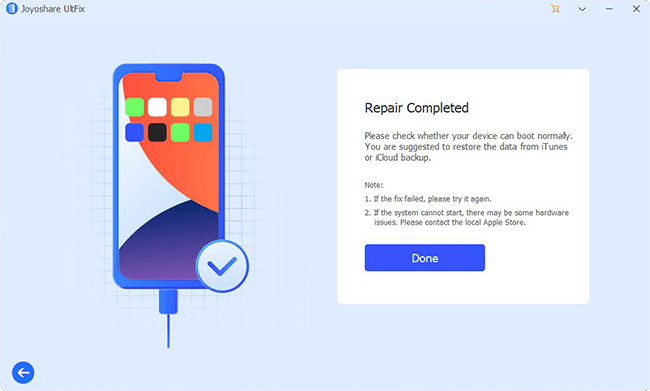 Solution 8. Update iPhone iOS
Face ID is a new technology applied to mobile devices, and it needs to be moderated and improved constantly. As users, you need to always update the latest version to keep up with the newest moderation if Face is not working. Besides, keeping the latest iOS may prevent potential issues. Follow the steps below, and you will be able to update iOS to the latest version.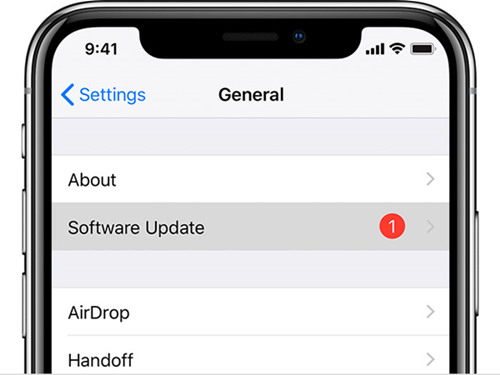 Step 1: Please go for "Settings" first and next tap on the "General" option;

Step 2: Afterwards, navigate to "Software Update". If there is a new iOS version, then you will see a red mark next to it;

Step 3: Tap the "Software Update" button, and press the "Download and Install" button to update.
Solution 9. Reset All Settings
Trying resetting all settings on your iPhone may still work if you still can't use Face ID. Resetting all settings in iPhone's Settings app will return your device's settings to factory defaults. There is sometimes a way to fix a troublesome software issue that may be hard to track down.
To do that: open the Settings app and tap General → Transfer or Reset iPhone → Reset → Reset All Settings. Enter the passcode, then touch Reset All Settings when the confirmation pop-up flashes on the screen. After the settings are reset, your iPhone will reboot.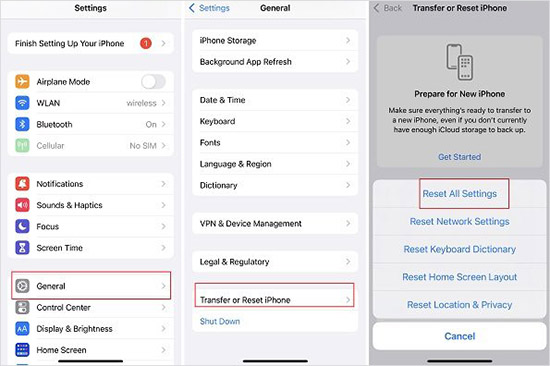 Solution 10. Contact Apple Support
Malfunctioning camera or motherland is a major cause of iPhone Face ID not working. However, their malfunctions can only be repaired safely by Apple specialists. The specialists in the Apple retail stores will help you repair or replace the malware. Some users may try to repair the hardware by themselves. However, this action is not secure in that personal repairing may do unexpected damage to the iPhone.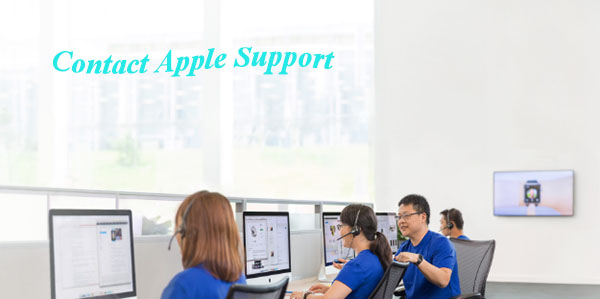 Part 3. Final Words
The Face ID feature on the iPhone and iPad is very handy, and you can easily set it up and use it. These steps may be a help if using a passcode bothers you (or you can't remember the password). If you don't want to try the complex methods one-by one, jump to Joyoshare iOS System Recovery. It has helped millions of customers address and enjoys the iOS problem they irritated most. Face ID issues are no exception.
Remember to share this post on social media before your friends and family turn blue in the face with confusion about "why is my Face ID not working on my iPhone". Hope this guide useful for you.