Confronting the prompt showing "This Apple ID has not been used in the iTunes Store", you tap the Review button and are required to enter your Apple ID password reviewing the detailed information about your account. Even though you enter it correctly, the overlay pops up over and over again. Usually, it appears when you are going to download apps, or you are using a new Apple account to get into iTunes. But there are other situations leading to it. To know the real causes and the corresponding workarounds, go ahead to read this article.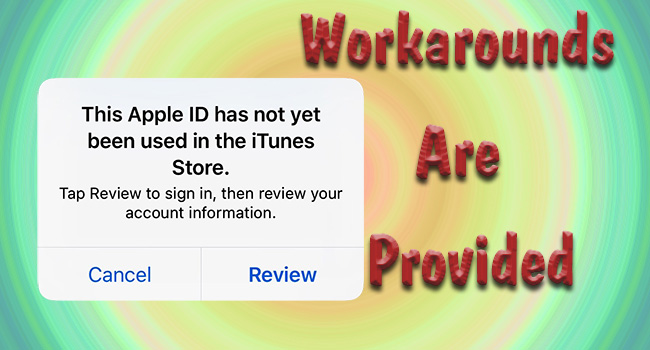 Part 1. Why Does It Say "Apple ID Has Not Been Used in the iTunes Store"
Normally, if your device is new and your Apple account is created recently, this overlay will occur the first time you download something in iTunes or App Store. The common solution is to follow the instruction it shows signing your Apple ID. Nevertheless, abnormal situations may be caused by the possible reasons listed below.
Wrong payment information
Unstable Internet connection
Purchasing or downloading under a different and untrusted network
Apple ID is suspected to be compromised
Did not accept terms and conditions of creating Apple ID
Incorrect Apple ID and password
Part 2. How to Fix "Apple ID Has Not Yet Been Used in the iTunes Store"
2.1 Update the Information on Payment and Shipping
To exit the "Apple ID cannot be used in iTunes Store" error, you need to check the payment information of your Apple account first. Go to Settings, tap Apple ID, select Media & Purchases, choose View Account, hit Manage Payment, and choose Add Payment Method. Alternatively, enter the Apple ID screen, and choose Payment & Shipping so that you will be directly guided to the Add Payment Method option. This is where you can select your credit card and change your billing address. Meanwhile, you can tap None for your credit card so that you are able to download apps.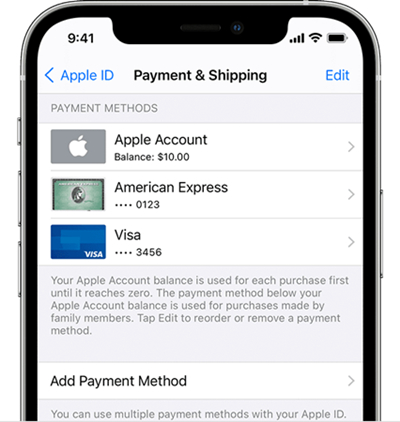 2.2 Check Internet Connection
Downloading apps from iTunes requires a stable Internet connection, thus, this problem may result from the fluctuating network. First, turn off and turn on the Wi-Fi network; second, enable and disable Airplane mode; third, on the WLAN interface, delete the network you connect by tapping the info and Forget This Network and add it later; fourth, toggle off VPN or get out of the VPN app; last, if all of them fail to solve your problem, use your cellular data instead.
2.3 Verify Apple ID Email Address
The invalid email address of your Apple ID will not allow you to use any Apple platform, which includes iTunes. Therefore, you need to ensure that you enter a verified email address when creating your Apple account. If it is not, you'd better get it a verification or change it to the correct address.
Step 1: Open appleid.apple.com and sign in with your Apple account.
Step 2: Choose Sign-In and Security module and click the Apple ID option.
Step 3: Type a new email address as your Apple ID.
Step 4: Enter the verification code sent to this address. If you can't find them, go to check the spam and junk in your email.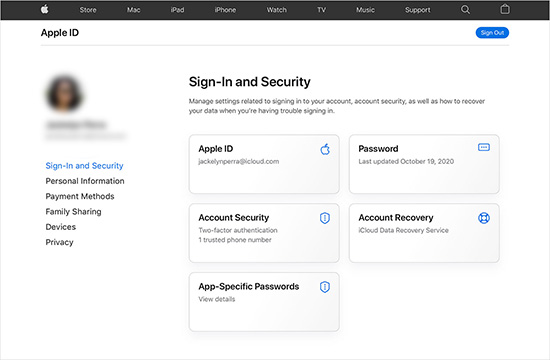 2.4 Sign out of and Sign in to Apple ID
The "This Apple ID has not yet been used in the iTunes Store" notification will probably disappear by exiting and reentering your Apple account on your iPhone. Head to Settings, hit Apple ID and scroll down to the bottom. Now, you could enter the password to sign out of your account. Wait for a while, then you are able to re-login to it on the Apple ID interface.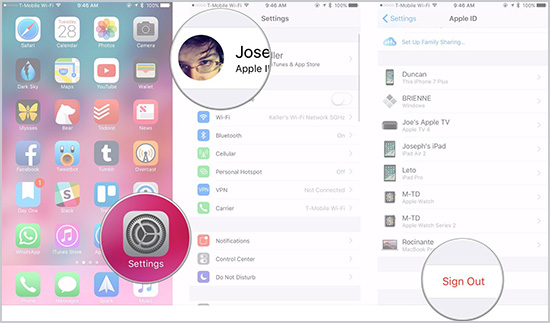 2.5 Login to Another Device
When your Apple account works badly on your iPhone, you could try to sign in to another Apple device and even remove it from your iPhone. If you have more than one Apple ID, check it carefully to avoid entering the wrong one. Remember this time to accept the terms and conditions. After you log in, it will ask you to enter your billing address again. To the end, go to download apps in iTunes to see if the problem is solved.
2.6 Update iOS Software
Usually, your previous iOS system has the possibility to bring you into these kinds of dilemmas. The easy way to resolve it is by updating the system software. Navigate to the Settings app, hit General, and tap Software Update. Then download and install the latest iOS version compatible with your iPhone. If you prefer to use a computer to get an upgrade, connect your iPhone to it in advance. Later, run iTunes, locate your iPhone, click the Summary section, and select Check for Update. Once you successfully update to the newest version, you are able to use your Apple ID as usual.
2.7 Remove Apple ID by Joyoshare iPasscode Unlocker
Theoretically, Apple ID-related errors could be fixed by refreshing the Apple ID and setting up a new password. Apart from changing the Apple account password on Settings, you could use Joyoshare iPasscode Unlocker to remove it. However, it works better in situations where you forget the password or your Apple ID locked for security reasons. If you are in desperate need of unlocking Apple ID, this program is a wonderful helper, which supports all models of iPhone, iPad and iPod touch. Also, it is compatible with the latest iOS/iPadOS 16. It is unnecessary to worry that you are a newbie in technology, because this program only needs several clicks.
Key Features of Joyoshare iPasscode Unlocker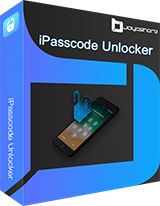 Remove Apple ID with several clicks
Unlock screen passcode, Screen Time passcode and MDM
Compatible with the latest iOS/iPadOS system
Support all models of iPhone, iPad, and iPod touch
Step 1

Connect to Computer and Enter Unlock Apple ID Section

Connect your iPhone to your computer and open Joyoshare iPasscode Unlocker. On the main screen, click and enter the Unlock Apple ID section.

Step 2

Check the Find My Feature

Confirm the status of the Find My function on your iPhone. If it is disabled, you could click Start moving to the next step. If it is enabled, it is essential to make sure that the screen lock and the Two-Factor Authentication are in the open state. The disabled Find My feature will not cause your data loss while the other might not preserve it that well.

Step 3

Remove Unusable Apple ID

Click the Download button to get the matching firmware package after checking the device information. Then the removal progress is ongoing, and you could check if the problem is settled after its complement.
2.8 Contact Apple Support
The final solution with Apple ID not used in iTunes Store is to ask Apple Support for help. You could decide on a suitable way like chat, calls and so on to illustrate your problem and they will troubleshoot it in a one-to-one way.
Step 1: Visit https://getsupport.apple.com/topics
Step 2: Choose iTunes Store & App Store
Step 3: Click Purchasing and downloading content, or other options, or type your problem on the bottom bar
Step 4: Hit Continue and select a way to contact Apple Support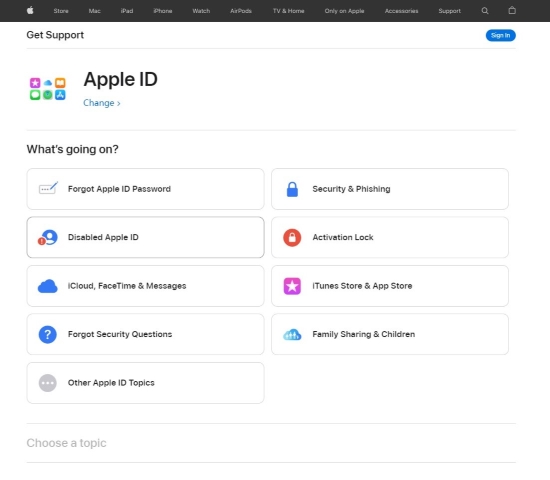 Part 3. Conclusion
I believe you have known that the unusable Apple ID in the iTunes Store occasionally appears because of the unstable network, incorrect payment information, etc. Hence, this article collects 8 workarounds to solve the "Apple ID has not been used in the iTunes Store" problem. But one thing should be admitted - not all methods are effective based on your personal situation. All you can do is try them one by one and step by step until get succeed. Otherwise, you can directly go to a physical store asking for assistance.